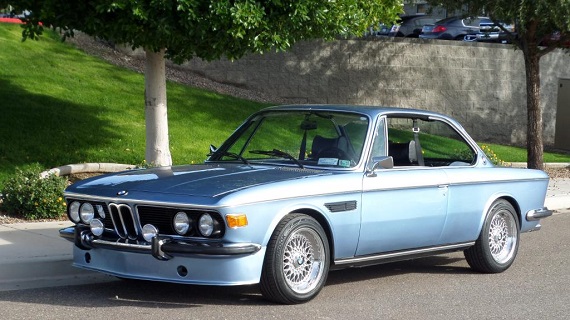 I've made several references comparing the BMW 8 series to a few Ferraris, suggesting that it was perhaps a budget alternative to running a 456GT, for example. However, the E31 isn't the only Ferrari-esque design to come from Munich; in many aspects, the E9 coupe shared some visual DNA with the Ferrari 330 2+2 from the 1960s. Now, for some that may sound like heresy and I can appreciate that; but take off the Rosso-colored glasses for a moment and look at the side profile of a 330 GT versus the E9 coupe; it's nearly identical. The rear end treatment was quite similar as well, and while the grill on the BMW was obviously quite different the two even shared a quad-headlight setup. Obviously, underneath the Ferrari had that wonderful Colombo V12 versus the rather pedestrian inline-6 in the BMW; but pound for pound the BMW punched hard, especially in CSi trim. With 200 horsepower on tap it was certainly no slouch, especially in the midst of the oil crisis which neutered most V8s in America. It would take another two generations for the Big Three to break back into the 200 horsepower realm with nearly double the displacement of the E9. But the E9 wasn't about straight line performance; it was a whole package – a speedy grand touring coupe with luxurious appointments and gorgeous looks: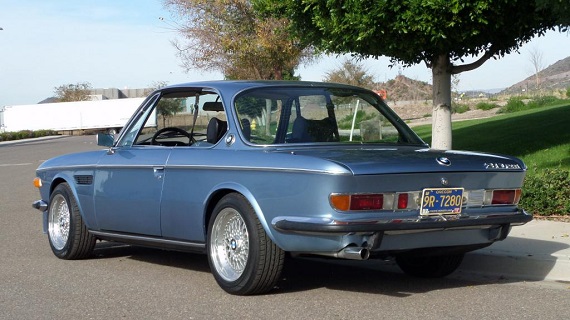 Year: 1974
Model: 3.0CSi
Engine: 3.0 liter inline-6
Transmission: 5-speed manual
Mileage: 103,000 mi
Price: $65,750 Buy It Now
1974 BMW 3.0 CSi !!!
Here is an absolutely beautiful 1974 BMW 3.0 Csi that is in excellent condition and is an absolute blast to drive. This gorgeous BMW has been well cared for since new and it truly shows. This is one of the nicest 3.0Csi I have seen and is really a nice car. This is a euro car with the slimmer bumpers that started out life in Verona Italy. The story of this car is as follows: This Fjord metallic coupe was built November 11, 1973, and delivered to its first owner in Verona Italy, where, according to its document file, traveled 120k kilometers when its engine was replaced by a factory new unit, in Lausanne, Switzerland, in 1982. It was later imported to the USA, and presently shows 167,204km. or about 103k miles. Over the years, it has been maintained, more than "restored" Having its first repaint in 2007, they checked everywhere for any rust issues, only to find a few surface rust areas which were properly sanded, sealed, and refinished. There are some pictures below of when they removed the notorious "tar paper" from the engine compartment to check there as well…Only to find nothing. Updated to a 5 speed transmission, modern BBS wheels, headers with a proper sounding muffler, larger radiator, other minor enhancements. The A/C was also recently gone through on this car and was converted to R134a. Many of the original parts can be included with the sale of this car such as the original steering wheel, transmission, factory exhaust manifolds, radial spoke wheels etc… This car has a spectacular look that grabs everyone's attention. These are great cars to go for a family outing at a weekend car show or for a nice scenic drive. This car feels like a new car!!! Classic BMWs only seem to be getting more and more pricey and sale prices keep climbing. There are over 200 high quality pictures of this beautiful BMW Please let the ad load completely and then scroll down.

This is a Buy It Now or Best Offer listing and can be purchased at any time!!! Please feel free to call me with any questions!

Click to enlarge

Exterior: This beautiful BMW coupe looks great finished in its beautiful Fjord Blue paint. The paint has a very "deep" look and has a great shine. This car was repainted only once several years ago and it still looks beautiful. It does not have any dents or paint damage other than rock chips from driving the car down the road. Every panel lines up great and all of the doors, hood and trunk all open and shut with ease and have a solid feel. I have not found any accident damage on this car and I have only spotted some delamination on the front windshield. All of the chrome and trim is original and in very nice condition for being original. This is a solid car that has only need minor rust repair and the areas where these cars typically rust have been sanded showing virtually no rust, and treated with a rust preventative process. There are pictures of the undercarriage towards the bottom of this ad as well as photos of when the engine bay was stripped to bare metal. The exterior of this car is in beautiful shape and can be driven and enjoyed daily or taken to local weekend car shows.

Click to enlarge

Interior: The beautiful Black interior of this BMW is in great condition for its age. The interior is in excellent shape. I do believe the carpet has been replaced because it is just too nice. The dash and wood paneling is all in very nice shape only the wood is showing minor signs of age (it is 40 years old). All of the gauges are in great working order except for the clock. Even the AC works!!! Overall the interior of this car is beautiful and is a great place to be.

Click to enlarge
Engine: The classic Fuel Injected BMW Straight 6 fires right up and runs like a top. This engine, like the rest of the car, has been well cared for and was just treated to a service and full detail. The engine compartment is so clean you could eat off of it. The engine bay is truly beautifully presented. The car starts right up and does not blow any smoke on start up or while driving. The car runs incredibly smooth and never skips a beat. Whether you are idling or 60 mph the car runs incredibly smooth. This car, has plenty of power for modern day traffic and with power steering and brakes makes it an easy car to drive daily and in modern traffic. It really is amazing how well these cars drive and I can only imagine that anyone who test drove these cars when new bought one. These cars were so far ahead of there time in the 70s it really is amazing. The 5-Speed transmission shifts perfectly through all the gears and the gear change is nice and smooth. The power brakes stop the car incredibly well and have a great solid feel. The car tracks down the road straight as an arrow and feels solid driving down the road. All of the lights, signals, wipers etc. are in great working order. This is an extremely reliable car. This is a great driving BMW that is truly turn-key and can just be driven and enjoyed. This really is a great car to spend time in!

Click to enlarge
Classic German cars are getting more and more collectible and are quickly on the rise. Clean original low mile well documented cars are VERY difficult to find. The BMW 3.0 Csi is a very appreciated model due to rarity and classic styling. This is a great opportunity to own a very nice example that drives excellent and looks beautiful. Lots of love, attention to detail and money have been poured into this car. This car earns lots of thumbs up everywhere you go and is a pleasure to drive. It would make a great addition to any collection or a weekend show piece.

I can help arrange shipping anywhere in the world and international buyers are welcome to enjoy this great 1974 BMW 3.0 Csi!

All Reasonable Offers Considered

Please do not hesitate to call me or email me with any questions.

Justin 602-339-2416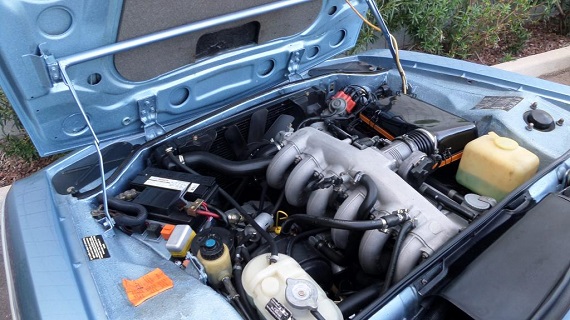 This car is a great counterpoint to the modified 2002 from Tuesday. Like the 2002, this car has some modifications, including the exhaust, wheels and steering wheel. Also like the 2002, it's been repainted; however, this car has much more going for it. Here's a car which at it's base is arguably more appealing and certainly more rare that the 2002. The respray looks to be well done and documented – and importantly, is done in the original Fjord Blue. The BBS wheels are probably a bit much for some but I think look nice though arguably a generation too new; swap them for some nice 16″ Mahles with a similar polished lip and I think the look would be more in period. However, they're high quality wheels that are on there and the originals are included. Also included is the original steering wheel, though I like the aesthetic of the currently installed wheel. The seller also took extensive amounts of time to detail the condition above and below the car, and all of the pictures are not only welcome but reassuring that the car has been cared for properly. With good documentation, a desirably and rare injected European model and an incredible and mostly original look, this is certainly a great E9. However, the asking price is above what Hagerty values a condition 1 car right now by the best part of $10,000 with a flat market. Still, we don't see nice examples like this one turn up everyday, so some careful negotiations could yield a classic BMW that will surely appreciate in value if kept well.
-Carter