Prices of the venerable Merc 116s are continually creeping up. 30+ years later and these sedans still can hold their own. Some may say they fall in no man's land right now. Comfortable daily driver? Classic vintage saloon? Outside of the 6.9 they aren't that expensive to fix and are easy to maintain.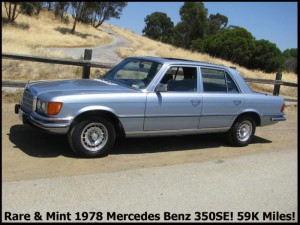 The car featured here is a rare bird in the states. The Euro only 3.5 liter V8 is lighter on its feet and had a higher compression ratio than the U.S. 4.5 liter V8. Couple that with the shorter wheel base SE model and you have your self a nice little package. The peppy, compact 3.5 liter unit, most believe is one of the better to have tucked under the wood of a W116. If the car had the manual instead of the auto transmission that package would truly be complete.
This being a grey market car it features the body hugging bumpers. Unfortunately, sometime during the federalization process the car got U.S. headlamps and the owner didn't switch back in the Euro units.
This 350SE has the velour interior, which was common on Euro cars, even the top of the line 6.9. The sunroof is an interesting option, apparently put in instead of air conditioning, note the single dial climate system. The Becker Monza right below the climate controls wasn't the best looking W116 radio option, the Mexico I think looks better.
Finding one of these in this nice shape, in Euro trim, in the states, with a measly 57,000 miles on the clock does not happen every day. You'd actually have to do some decent searching to turn up a similar one of these. A no reserve auction with low opening, currently the price is just over $1,500, is a fantastic deal. The seller seems to describe the car as being in great shape, but that price is so cheap it makes me want to check it out in person.
A very nice find that might find a new home for just a song.
~Evan