Warning!
This post is in our archives. Links in this post may have been updated to point to similar cars available to bid on eBay.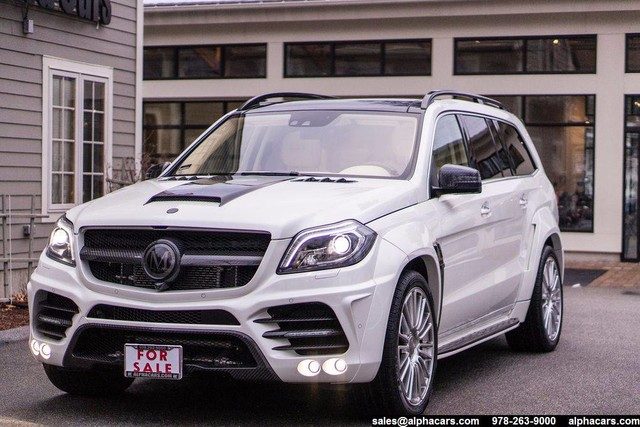 You may of heard of the name 'Mansory'. If not, the short of it is they are a German-based company that modifies European cars with aggressive body work and generous amounts carbon fiber. On the inside, vehicles are hit with even more carbon fiber and usually extravagant upholstery in exotic materials. Their over-the-top design and taste may not suit everyone, but you can't deny their quality of work is extremely good. Today's car for sale outside of Boston is an already bonkers Mercedes-Benz GL63 AMG and it was taken to another level once Mansory got their hands on it.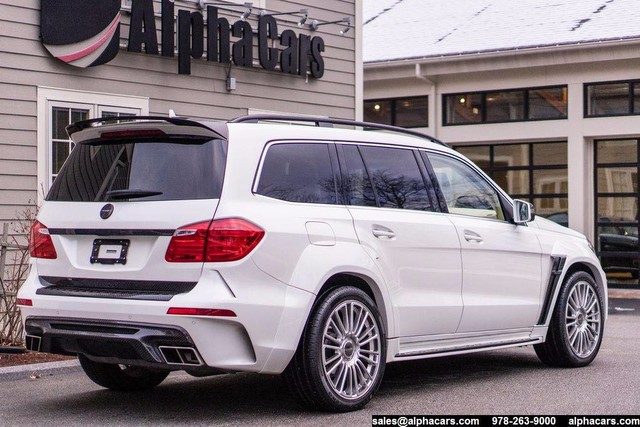 Year: 2014
Model: GL63 AMG Mansory
Engine: 5.5 liter twin-turbo V8
Transmission: 7-speed automatic
Mileage: 10,164 mi
Price: $178,995 Buy It Now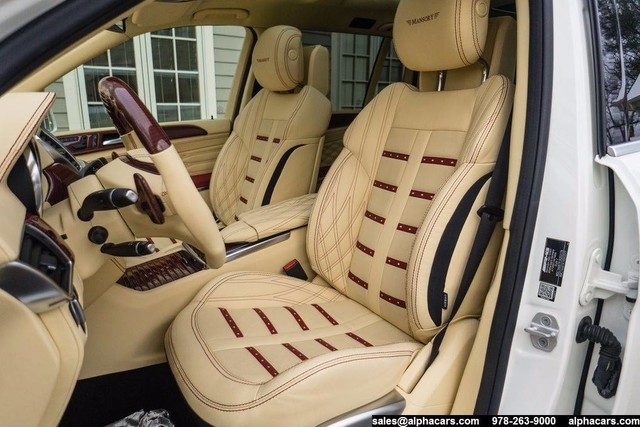 2014 Mercedes-Benz GL63 AMG Mansory
978-263-9000 alphacars.com

NOT FOR US MARKET- EXPORT ONLY

Nothing that sounds this good could be wrong.

This 2014 Mercedes-Benz GL63 AMG is a one owner 7 Passenger SUV with only 10,164mi (16,357km). Truly one-of-a-kind, it was custom built by Mansory on a platform of a brand new GL63 AMG. In 2016 it was brought over to the United States by the original owner on a one-year tourist visa. It is now located in our AlphaCars Showroom in Boxborough, MA and has a US title from the State of Massachusetts, where it was registered in 2016. It is offered for sale outside of United States.

NOT FOR US MARKET- EXPORT ONLY.

Being such a rare and extraordinary vehicle we are honored to have it listed with us. Right after this Mercedes Benz was purchased brand new, it was shipped to Mansory to have it completely customized.

Mansory is a custom coach builder located in Germany that specializes in creating luxury, styling and performance that consistently exceeds expectations of the most demanding drivers of the most exotic automobiles in the world.

This Mercedes Benz has the most comprehensive and most inclusive level of customization by Mansory. Just some of the features are front fascia with all carbon fiber versions that add both a more aggressive look and added weight savings. Continued along the sides of the Mercedes are custom tailored side skirts, also fabricated out of carbon fiber. Lastly, on the exterior, the rear end is fitted with a carbon fiber rear valance that has room for custom air diffusers and a spot for the custom exhaust system.

With the wide-body kit completely manufactured from carbon fiber the GL 63 is eye-catching one of the most eye-catching SUV's you will see on the road. One of the best features on this menacing SUV is the front fascia, with its massive air intakes, flared sides, and ultra-bright lights to illuminate the road ahead. An ultra-light hood, with ventilation ducts ensures additional fresh air supply for the engine. Added width on its wings, give the MANSORY SUV its highly individual appearance. Supplemented by its side skirts, an impressive 50 mm is added to the production-series body, conveying an image of pure power even when standing still. The MANSORY rear spoiler with integrated diffuser provides enough space for the sports exhaust system with its four tailpipes. It flows seamlessly into the overall package of the vehicle. The roof spoiler provides additional surface contact pressure and improves the stability of the vehicle at high speed. Further visible carbon parts such as the mirror housings are optionally available in gloss or matt finish. Perfect surface quality and precision-fit processing characterize the lift-reducing MANSORY bodywork design.

A highlight of the interior is the use of a combination of crocodile and cowhide leather. Red and white elements of the natural leather with the striking crocodilian texture dress the interior.

Like all vehicles AlphaCars offer this has all service items and maintenance items up to date. Cosmetically and mechanically this vehicle is close to perfect with a few very minor blemishes. This is a fully loaded GL63 AMG, therefore items such as navigation, high intensity headlights, and a world renowned sound system come as standard.

This is your chance to own a world class exotic vehicle and save close to $200K compared with the replacement cost for the new Mercedes Benz GL63 AMG with Mansory Customization. Worldwide shipping is available directly through AlphaCars.

NOT FOR US MARKET – EXPORT ONLY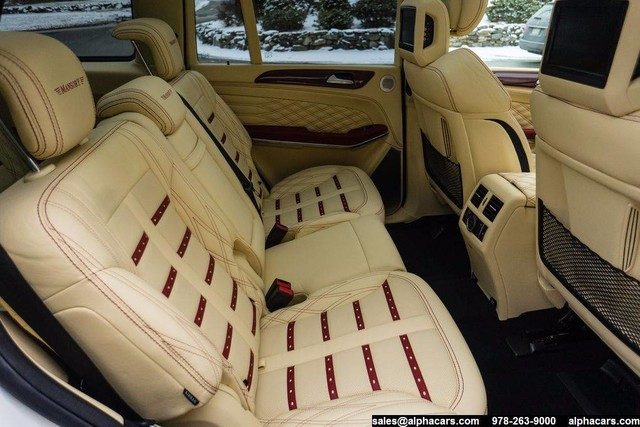 Lets get this out of the way first. According to the seller, this car was brought over to the United States by someone on a tourist visa. The crazy thing is, this isn't the only car they brought with them. The story checks out because this GL63 was made for the German market. So even though this vehicle is for sale in Massachusetts, it can't be registered in the United States. I'm just trying to wrap my head around feeling the need to bring two vehicles worth hundreds of thousands of dollars to the U.S. for only a year, as if America didn't offer up plenty of extremely expensive cars already.
As for this specific car, it's wild, that's for sure. Mansory has never been one to be conservative like some of the other German tuners and this monster of a SUV surely is unique. The interior leather is so brash that I feel like they went crazy with the stitching just because they wanted to see a bunch of red stitching. Even the door cards are stitched in unique pattern. The standard black carbon fiber wasn't enough so it was all swapped out for red weave to match the leather stitching. There is just so much going on with the X166, I can't look at it in any kind of logical way.
Now the price of this GL63 is nearly $179,000. That is literally $100,000 more than the standard used 2014 GL63 AMG on the market currently. Is it worth it? Of course not. I don't know exactly how much this Mansory jobs cost, but usually they are six-figure jobs. But I guess if you are the kind of person is uses Mansory as a way to differentiate your vehicles, words like "How much does it cost?" don't get used all that often. My guess is that this thing will be packing its bags for Dubai.
– Andrew