The current Mercedes-Benz C Class is not a bad car, but I can't help but feel as if something is lacking. A lot of people in my neighborhood drive them and while they aren't bad looking, there is nothing groundbreaking about the car's styling. I assume this is why I obsess over older Mercedes-Benzes. The W201 chassis 190E was the car that broke the mold for Mercedes-Benz, as it was significantly smaller than any of their other sedan offerings while offering the same great driving experience and build quality as other, higher-end cars that carried the Three Pointed Star. Our feature car represents the second to last year of 190E production and is the more desirable 2.6 model. With 72,800, this car is just starting to get broken in, as these "Baby Benzes" can regularly cover 200,000 to 300,000 miles with few hassles.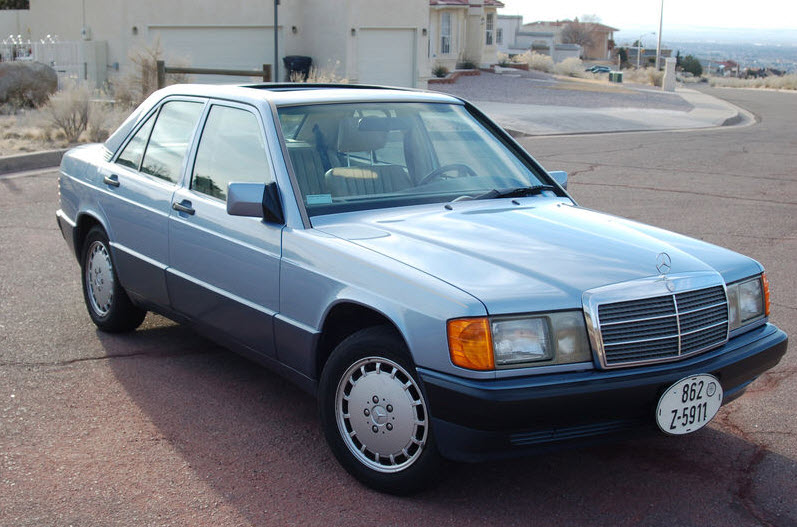 For sale a 1992 Mercedes 190E 2.6 with less than 73,000 miles, made in Stuttgart. We are the 2nd owners of this vehicle that was previously taken care of by a retired couple. Smoke free, excellent condition interior. They drove an average of 3,650 miles annually. The interior and the paint lustre testify to a vehicle that was always garaged and well maintained. There was rear-fender repair work done from a minor rear-end collision, as reported by Carfax. That required repainting the rear trunk lid and left rear fender, and the paint quality and match is excellent. If I didn't point it out you would never have know, and that is the observation of friends when they see the car. There is a small amount of trim compression on the left bumper, as can be seen in the photographs. No other issues reported.

It is probably rare to find a vehicle in this condition with this few miles. Aside from the rear bumper there are some minor scratches on the trunk lid, and a few other minor nicks on the paint. Other than that I can say without hesitation that the vehicle is "like new". We have another Mercedes on the way and don't have the garage space. This vehicle should make the purist very happy, or anyone that wants a simple and reliable vehicle. There's something to be said for a vehicle that doesn't have multiple control modules intercepting each driver input. I had my mechanic perform the 60,000 mile service and take care of a timing cover leak. The recent service included: New air filter, oil change & filter, tune-up, new spark plugs, wiper blade, chassis lubrication, replaced brake fluid, resealed timing cover, replaced transmission flex disk, a/c service, replaced belt tensioner, wheel balance and alignment. 90% of brake pads remain. I can't measure the tire tread, but the photographs show that the tires have little wear. Engine runs beautifully and transmission shifts are smooth and firm. You can see Consumer Reviews on Edmunds here: http://www.edmunds.com/mercedes-benz/190-class/1992
The starting bid of $6,500 does not leave a lot of room for bids, as high retail usually hovers around $6,000 to $8,000 for exceptional 190E models, and those are usually the later model 2.6 versions such as our feature car. This particular car really tugs at my heart strings because it is the exact same model, year and color combination that my dad drove a little over ten years ago. Sadly, the car was totaled when someone broadsided him in an intersection. I still have fond memories of that car. The early 1990s were a great time for vehicles. You still had safety features such as an airbag and anti-lock brakes on a car of this caliber, but little in the way of complex electronics and computers to deal with. Couple that with the old school Mercedes-Benz build quality we know and love without any of today's over the top styling and you have a winner in my book.
-Paul