Interesting piece here. We have a 190E 2.6 that has had some interesting upgrades.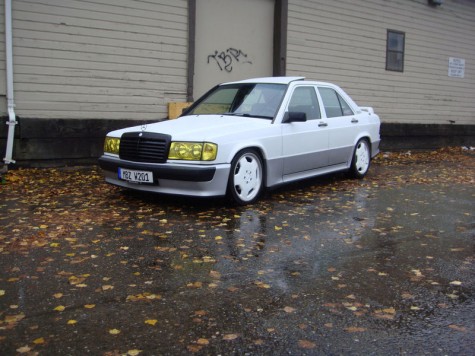 Note this listing might get pulled down as it is violating eBay policies with massive keyword spamming, a practice that is incredibly lame, makes the seller come off as a tool and is a reason why some car guys have taken their car buying business away from eBay.
Aside from the dumb ass listing strategy the car itself is a looker and unique. The stock engine has been pulled out for a 3 liter unit and the car has had a body kit added to make it look like a Cosworth 190 clone. It is unclear if the 122k miles are on the engine or the chassis, probably the engine as the history report is showing 359,857 miles and a failed emissions test back in 2002.
The car's look are extenuated with the Cosworth clone body kit, painted AMG rims, smoked badges, blacked out grille, and French style yellow headlights with HID bulbs.
Suspension upgrades include C43 AMG brakes, and some E420 components. An LSD, exhaust, and remapped ECU help with performance. Another selling point is the Getrag 5 speed manual.
The car has a rebuilt title and there seems to be some weird things going on with the vehicle history mileage check so a potential owner should check into that. The seller says the damage was a parking lot ding that creased a quarterpanel and bumper cost $2k thus getting the car the branded title, probably because an 89 190E with high miles won't be valued very highly in the insurance  actuary tables.
Owner claims $20k invested and the car is at $2,000 with the reserve not met. I would want to check this one out in person since there seems to be some sketchiness with the car. I'm not sure how high this is going to go I'd be surprised if it gets more than $4,000, but it is a pretty nice looking take on the 190E. The good photos almost make up for the key word spamming.
~Evan