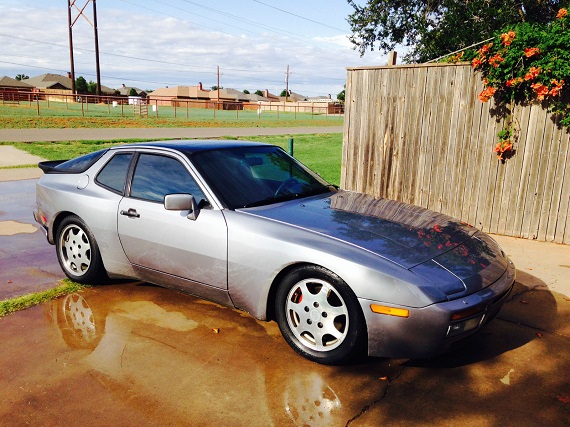 For some time, there has been an ongoing conflict in my head. All of me agrees that the Porsche 944 is a pretty awesome car; great looks, handling and performance in a bargain package with classic Porsche reliability and build quality. But I fight with myself over just which of the Porsche 944s I prefer. Some days, the forced induction Turbo captures my imagination; there's been a 1989 Turbo in my family now for two decades and it's a wonderful car. But I have to admit that it's not been without its problems, and while it's a cool package it seems almost too predictable as the "go to" "cheap" Porsche. Should it be criticized for being a spectacular performance bargain? That may not be fair, but just like the BMW E30 represents a good balance of performance and practicality, it's sometimes just too popular for me. What's the alternative? Well, the 944 has its own answer: the 944S2. Visually, the two are nearly indistinguishable to most non-enthusiasts. But the driving experience is quite different; the M44/51 turbo motor is legendary as a tuning platform and offers typical '80s lag-prone explosive launches, while the M44/41 big 3.0 16V motor has seemingly effortless torque at your disposal but loves to run up the tach as well. Stand on it in a drag race, and the Turbo will win – nearly a second faster to 60 miles per an hour and 5 m.p.h. faster on the top end. But if you're a clever S2 driver and catch the Turbo slightly off-guard, you'll be right with them – and the S2 isn't about drag racing, it's about making a better all-around driver. So the S2 is the better choice? Well, perhaps – but then there's the mystique of the Turbo model. Who doesn't want to say they own a Porsche Turbo, really? Today I have an example of each – which will be the winner?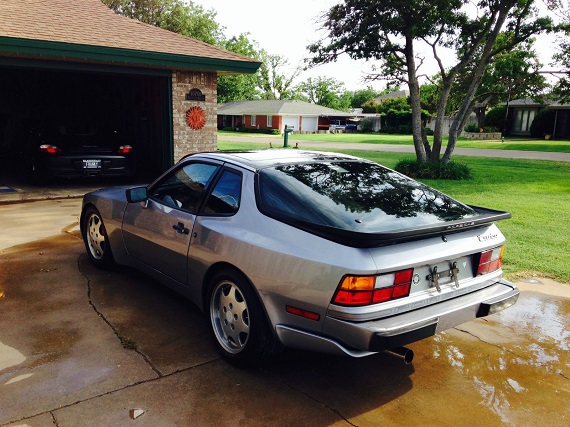 Year: 1987
Model: 944 Turbo
Engine: 2.5 liter turbocharged inline-4
Transmission: 5-speed manual
Mileage: 230,000 mi
Price: No Reserve Auction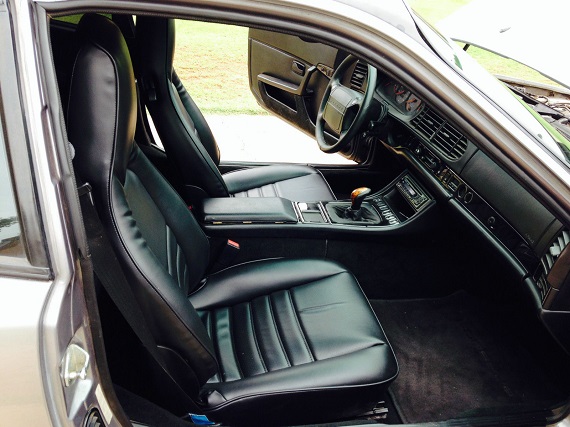 I have a 1987 Porsche 944 Turbo with 5 speed manual transmission. Power steering, power brakes, power windows and power lift roof. Also the car has a fresh motor and transmission from a low mileage 944 Turbo. The front seats are newly reupholstered with a new dash kit. New windshield. The mods on the car: vented brakes, camber thrust, Lindsey racing supports and Koni shocks.

The vehicle runs and drives well and would make a great daily driver or track car. The car needs some minor paint repair (see pics). A/C works.

A $500.00 deposit is due within 48 hours of auction close.
Car is sold "as-is" with no warranty.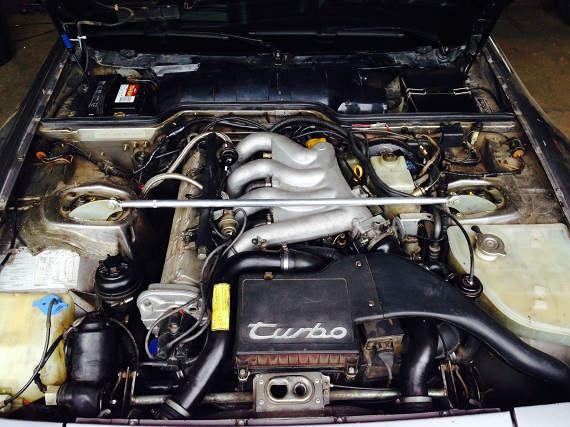 At first look, this car looks really nice. The color is reminiscent of the Silver Rose cars; it even features the later Club Sport alloys up front. Inside looks nice and the exterior shines well. But as you look closer, there are quite a few details that are lacking. Most notable are those aforementioned wheels; in front, they're the forged Club Sports – but in the back, they're Design 90s. That's an odd detail that would really tick me off. '87s should have the bigger offset phone dials since they added ABS, but the switch to the '88 Club Sport wheels wouldn't be bad – were it complete. There's a slim chance this car is a M030/M637 car which would have come with the CS forged wheels originally, but more likely they've just been updated along the way. Then step inside; the seats look great at first glance, but when you compare them to the OEM S2 interior below, the difference really stands out. The shift knob should be an easy fix, but the wood inlay model that's in there really seems to stick out like a sore thumb. And then there's the mileage; 230,000 should have been plenty to develop all of the squeaks and rattles you can't stand in that hatch. The engine and transmission are reportedly "fresh" but also from a "low mileage" example – the question is if they're really rebuilt and fresh, or just swapped for lower mile units. On top of all of that, the next owner of this example will be the 7th – not a particularly ringing endorsement. Still, there's no reserve on the car, and bidding is quite low in the $5,000 range. I'd want to keep the price well under $10,000 and figure for some repairs on this driver. It could be a fun project – but it could also be a money pit.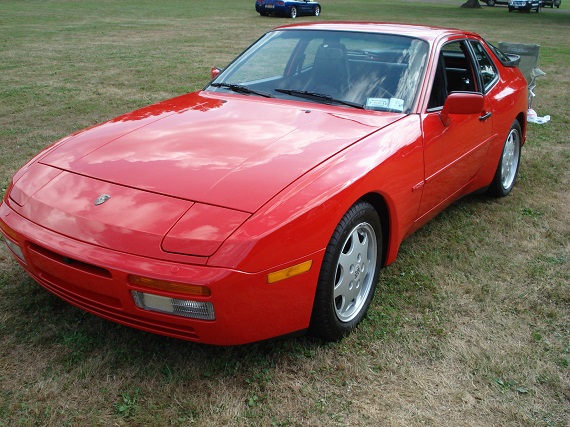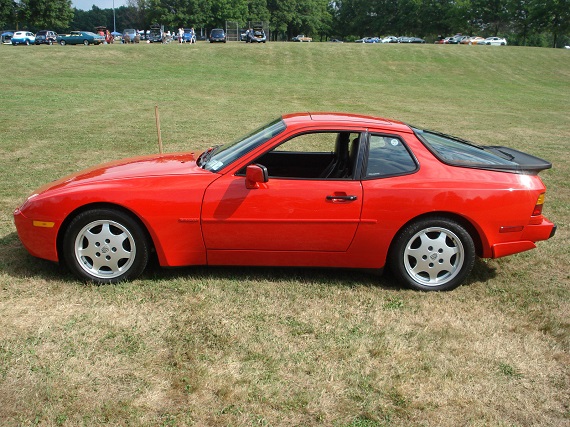 Year: 1989
Model: 944S2
Engine: 3.0 liter inline-4
Transmission: 5-speed manual
Mileage: 27,117 mi
Price: No Reserve Auction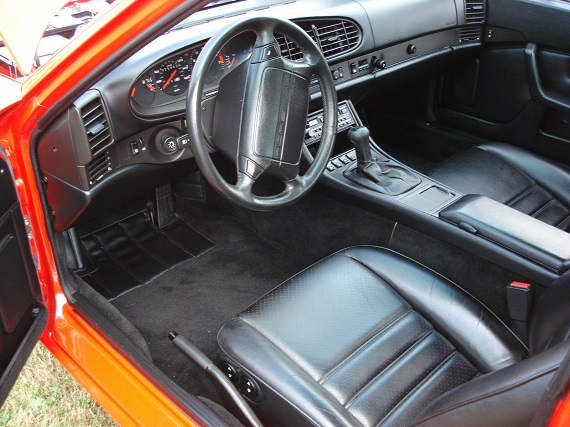 1989 PORSCHE 944S2

27,117 original documented miles

I'm the second owner and have owned this car for 22 years. The car has never seen rain and has always been stored in a climate controlled garage.

It was only driven in nice weather and has only been parked in the sun once each of the last four summers. My daughter decided to enter it in a few car shows. The car has won it's class. (3) 1st place and (1) second place for each of the four years entered. The class was Original 1969 to 1994 foreign sports car. This past summer it was in the top three for Best Of Show foreign and domestic, in a show of 400 cars.

The condition of this car is amazing, everyone that looks at it swears that its new. The interior looks and smells like a new car, theres not a single issue or flaw within. All controls, buttons and systems work perfect, AC could probally use a charge. Everything is original on this car right down to the air in the tires. I've always done my own maintenance and oil changes. Cars exterior shows very well, NO dents scraps or scratches anywhere. There is however a few paint chips on front of car, the worst is shown in the pictures.

This car is part of a collection and needs to be driven and enjoyed by someone. I had a state inspection done in September, that it passed without any concerns. Only thing reported was a minor oil leak from back of engine, it only drips a couple of times after being driven then stops. It dosen't seem to be an issue while driving or after its been parked for a time. Porsche service tech recommened that i drive the vehicle more often, and most likely it would stop all together. I managed 200 miles this past summer, but not nearly enough.

I would be glad to answer any and all questions about car. All i ask is that your serious about purchasing the car. If you know about these cars then you will realize how special and rare the S2s are.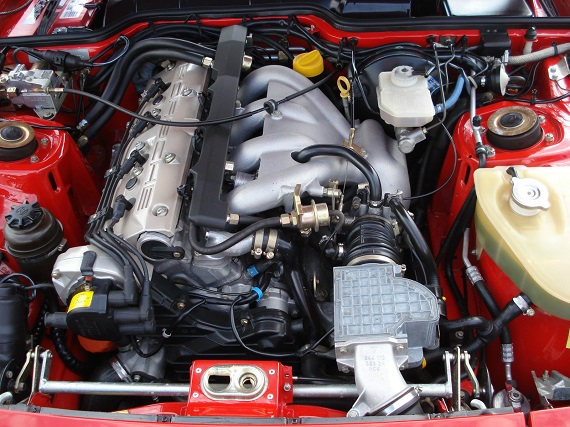 With only around 1/10th of the miles of the Turbo, it's no surprise that the condition of this S2 is quite impressive. It's one of the lowest mileage S2s I've seen recently. Outside looks fantastic in Guards Red, but as mentioned above the interior really stands out on this particular example. It really does look just about new. The S2 is harder to get speed out of if you're looking for a track weapon, but this car hopefully won't go that route. It could, however, pretty easily continue what it's been lately – a show-worthy original driver in impressive condition. As such, it's no surprise that bidding has been extremely strong on this example – already past $18,000 at writing on its way up. As a comparison to the E30 M3, this car offers much of the same performance and pedigree for less than a third of the asking price and, amazingly, if anything might be cheaper to run than the BMW.
Without a doubt, in my mind the S2 in this comparison is the one I'd want, even if it's going to end up more than double and perhaps even three times the value of the Turbo. You can't replicate original condition easily or cheaply, and that 1989 is simply stunning.
-Carter