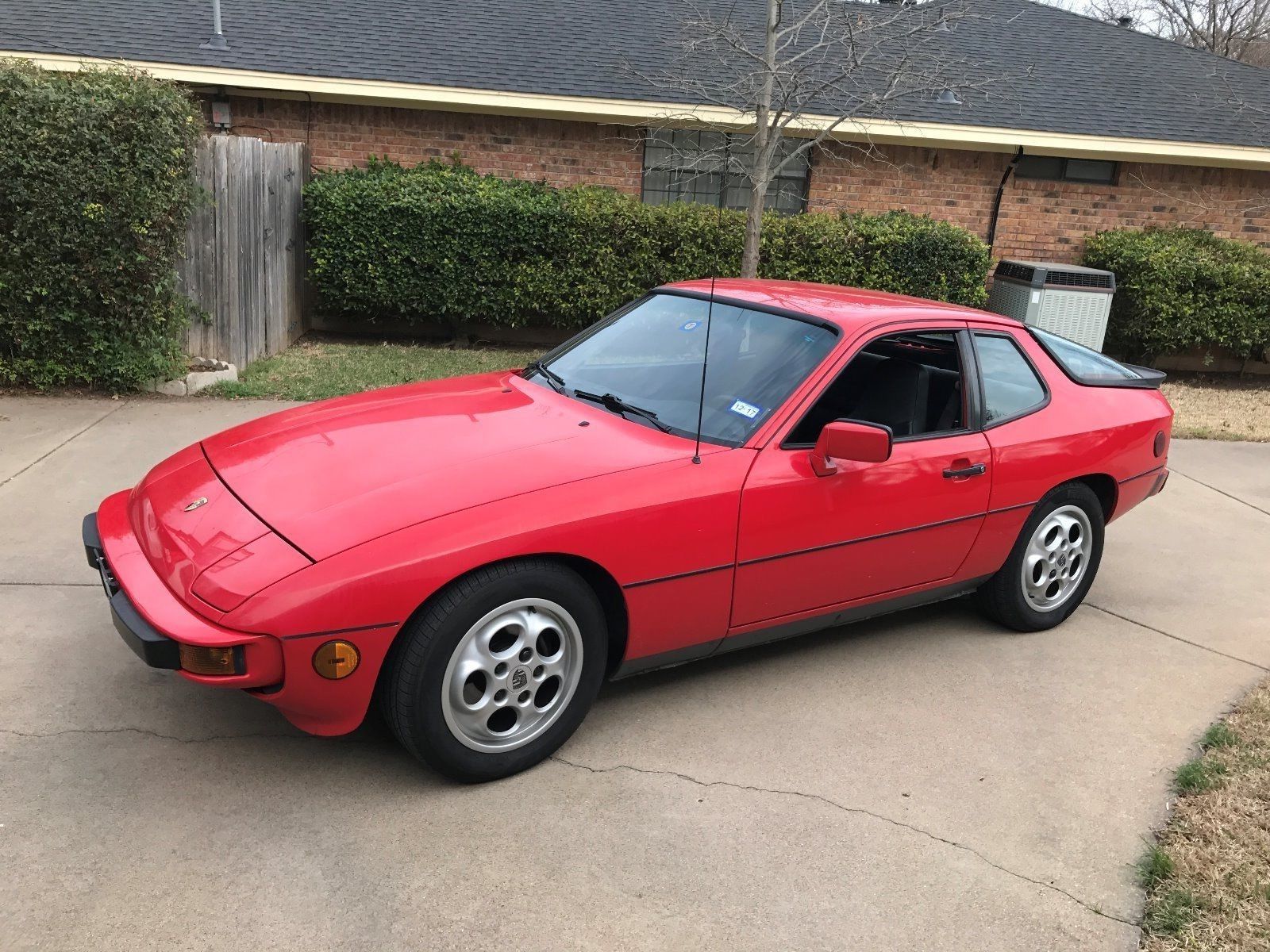 If you wanted to dip into the Stuttgart catalog in 1987, Porsche offered you a slightly less expensive option with the reintroduction of the budget-friendly 924S. For about $2,000 more than a loaded Audi Coupe GT, you could treat yourself to a real Porsche! And unlike the original 924, the "S" designation really did add some substance to the bargain offering. Though the basic shape and dashboard were retained from the 2.0 version of the late 1970s and early 1980s, little else was. The 924S instead was effectively a 944 underneath; minus the flares, but with the important upgraded suspension, brakes and 2.5 liter Porsche motor installed.
While the 924S was a sales success in general, it was particularly so in the United States; over half (9,137) of the 16,669 924Ss produced were sold here despite it only being available for two of the three production years! Yet the 924S has never really been accepted by the Porsche world, and few aspire to save up enough to buy one. That means, generally speaking, they've remained the most affordable way into a true Porsche. Despite that, it's not uncommon to find well loved, lower mile and very clean examples up for sale today. For your consideration, I have three Guards Red with Porsche script examples from the 1987 model year to compare – which one is the best bargain Stuttgarter?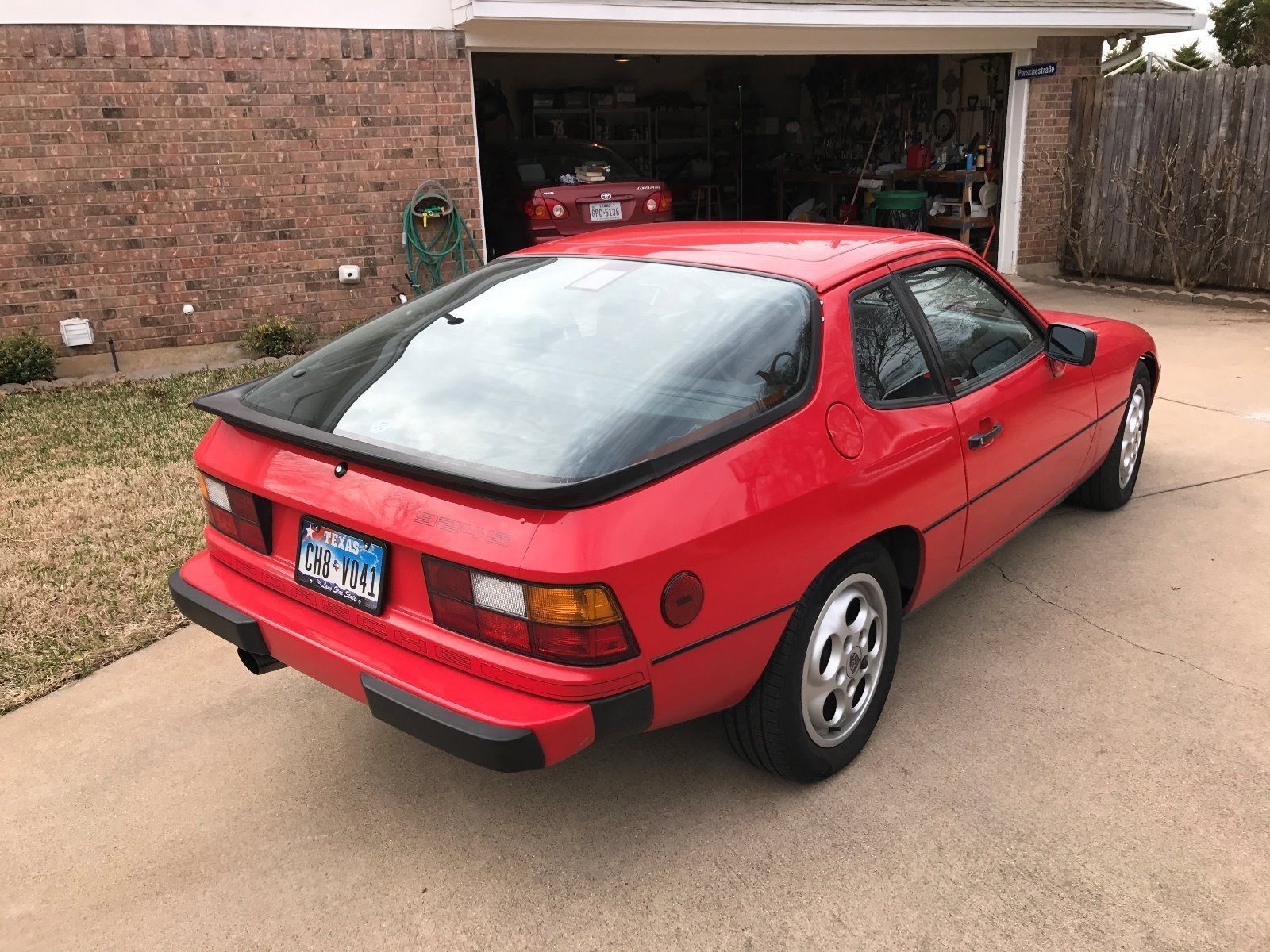 Year: 1987
Model: 924S
Engine: 2.5 liter inline-4
Transmission: 5-speed manual
Mileage: 82,866 mi
Price: No Reserve Auction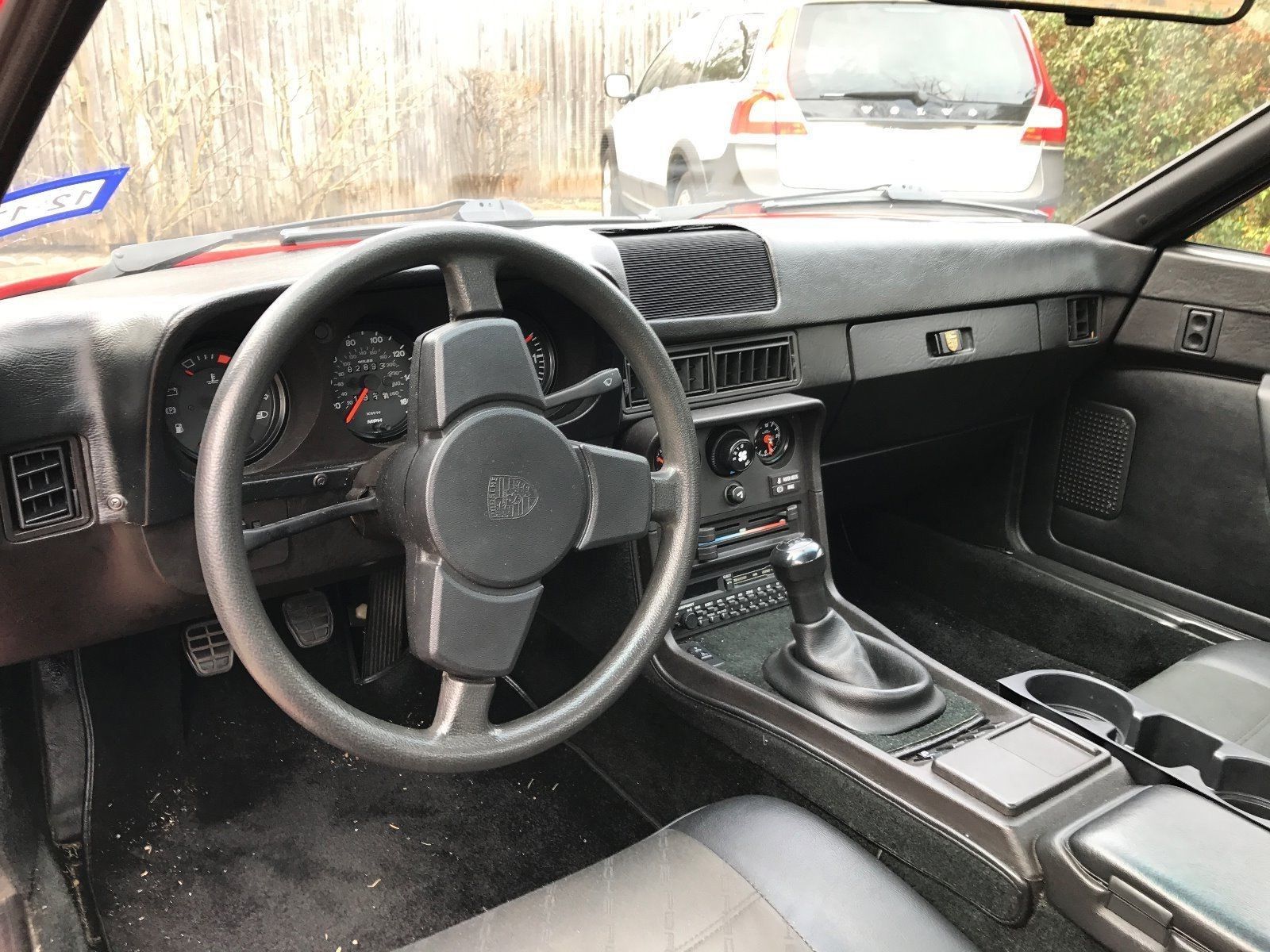 I am selling my Guards Red 1987 Porsche 924S, one of 6947 sold in the USA in that year. The Hagerty classic car insurance site estimates this car to be worth $7800 since it is in good condition. I have listed this car on eBay and Craigslist for several weeks – had lots of interest and I am sure it will find a home soon. This is a daily driver, I would not hesitate to take this car anywhere I need to go. This was a 2014 Tandy – Radio Shack contest car so when I got the car it was in great shape and has remained so. I have had the necessary work performed on it to continue it to be a special car. All parts used were correct Porsche replacement parts. The car does not leak any fluids and AC works great. Car includes many features like tools, detachable roof cover, inside hatch cover, manual, books, literature, extra parts and etc. The car is in correct original condition except for a plastic dash cover. The dashes on many of the 70-80's Porsche's could not handle the sun and heat, most have been replaced or covered. Please consider purchasing this car since it is a low cost Porsche, fun to drive, very inexpensive to own and still turns heads. The only reason why I am selling it is to get a newer model Porsche 911. The car does not have any defects that I am aware of. I do not know if it has been repainted or in an accident in its 30 year lifespan. The car's paint looks original to me and I have not noticed any body work performed. I have owned the car for 3 years. Pleaser check the car out!

Repairs include:
1. replaced left side light bulb
2. replaced hatch struts
3. replaced hatch key gasket
4. replaced washer jets
5. replaced car speakers, original Blaupunkt cassette stereo stills works!
6. replaced carpet mats
7. fixed decal
8. replaced tires at Discount Tire
9. replaced shocks and struts, wheel alignment
11. radiator flush and rear differential flush
12. replaced front parking bulb
13. gas filter installed
14. brake job
15 . Replaced right hatch strut (again)
16. power steering fluid flush
17. oil changes Mobil One 6/15/15 and 10/15/16
18. Replaced water pump and timing belt plus gaskets
19. power steering hose repair/flush

On Mar-10-17 at 11:16:18 PST, seller added the following information:

Just replaced the passenger's window switch.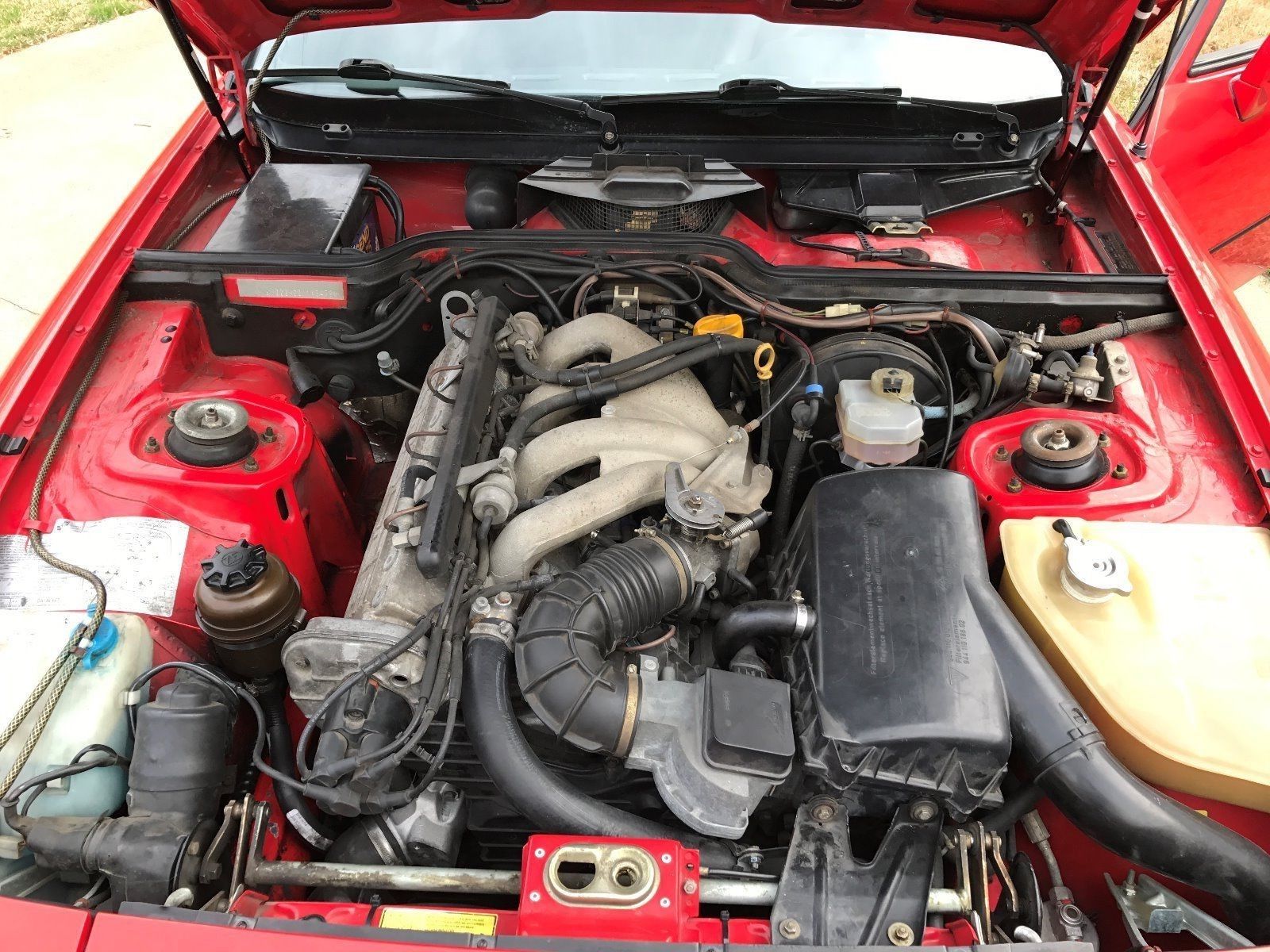 I know this car's auction will have ended by the time you read this, but it's come up for sale repeatedly over the past few weeks and I still can't understand why no one has bid. The no reserve format means a single bid of $4,800 will have grabbed it. For under $5,000, you get a car which looks to have gone through a light mechanical restoration to make it functional, and everything is claimed to work. Condition throughout seems to be quite good, miles are lower, and this example appears to be all original outside of the dash cover. Admittedly, that cover is pretty awfully executed, but for the price here I think it can be lived with. There really is little to complain about, frankly, and off the bat this one looks like a winner. But you could be wary that there wasn't an expensive clutch replacement on file, and when was the timing belt last changed? Those two combine for an immediate 50% increase to the price, so let's see what else is out there.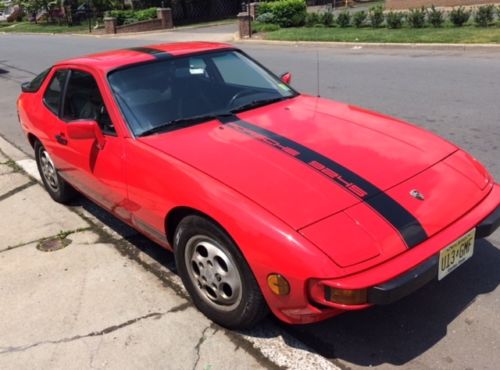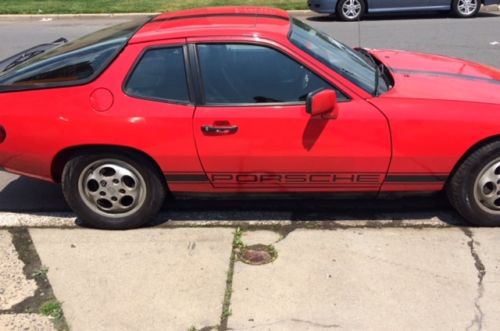 Year: 1987
Model: 924S
Engine: 2.5 liter inline-4
Transmission: 3-speed automatic
Mileage: 101,000 mi
Price: No Reserve Auction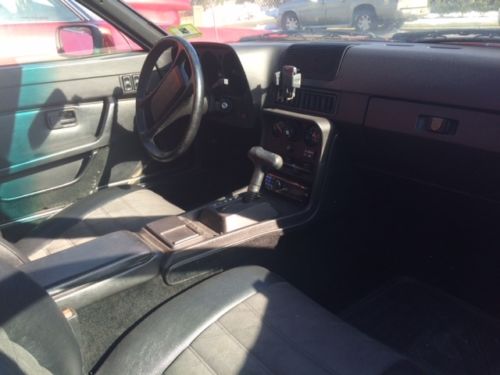 1987 Classic Porsche 924S . Like almost new . QQ Plates (my yearly insurance is $150 where car is valued at $15K) and a very fun car to take to car shows.

Very Historic CAR — this is the first year the engine was built by Porsche (not VV). Its also the first year it came to US in Automatic Transmission option. Always garage kept . Engine runs strong . Automatic transmission . Not a dent , scratch or rust anywhere. Red Exterior , Black Leather Interior . 101,000 Miles . Garage kept , driven on weekends only. Removable Sun Roof .

I own a classic restoration shop and this car has been totally rebuilt in 2015 and has been a fun vehicle to drive around with my 13 year old son. Its a real looker.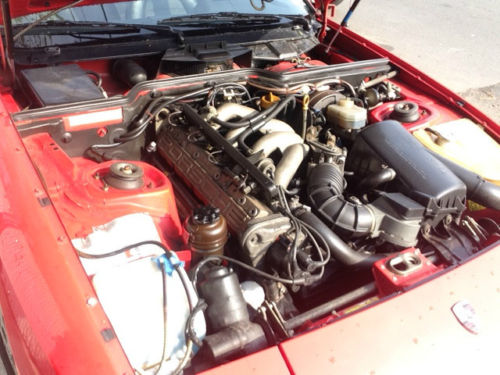 If the first 924S looked like a winner off the bat, this one fails to launch. The pictures aren't great, but we do see a similar Guards Red/Porsche Script color combination that generally looks good – though the photos lack any real detail. Mileage is similar, but claiming the car is "like almost new" seems to be a misnomer since immediately the wheels appear more worn, the interior looks more tired and under the hood a tad more crusty than the first one. I wasn't familiar with any factory "Euro Stripe", and indeed the graphic applied to the hood looks to be a custom job I found here – the car in the picture has Virginia plates, and I'd wager is the same example we're looking here. The seller's information that this was the first year the 924S was built is also incorrect (1986 was available in the rest of the world), that the engine is not "VV" is an obvious typo for the original Volkswagen engine, and they're again incorrect that the 924 wasn't available earlier with an automatic, since you could select that option a full decade earlier.. Speaking of the automatic, if the other items didn't at first sway you towards the lower mile one, the Audi 3-speed automatic should even if you don't need to worry about a clutch replacement. What did the "total rebuild" mean, as well, and if it's so perfect, why not include better photos? I mean, my several year old iPhone 5 takes better shots. Despite this car also having a no reserve auction and generally being in good condition, there's just no reason from what's shown to purchase it over the first one (especially for a premium).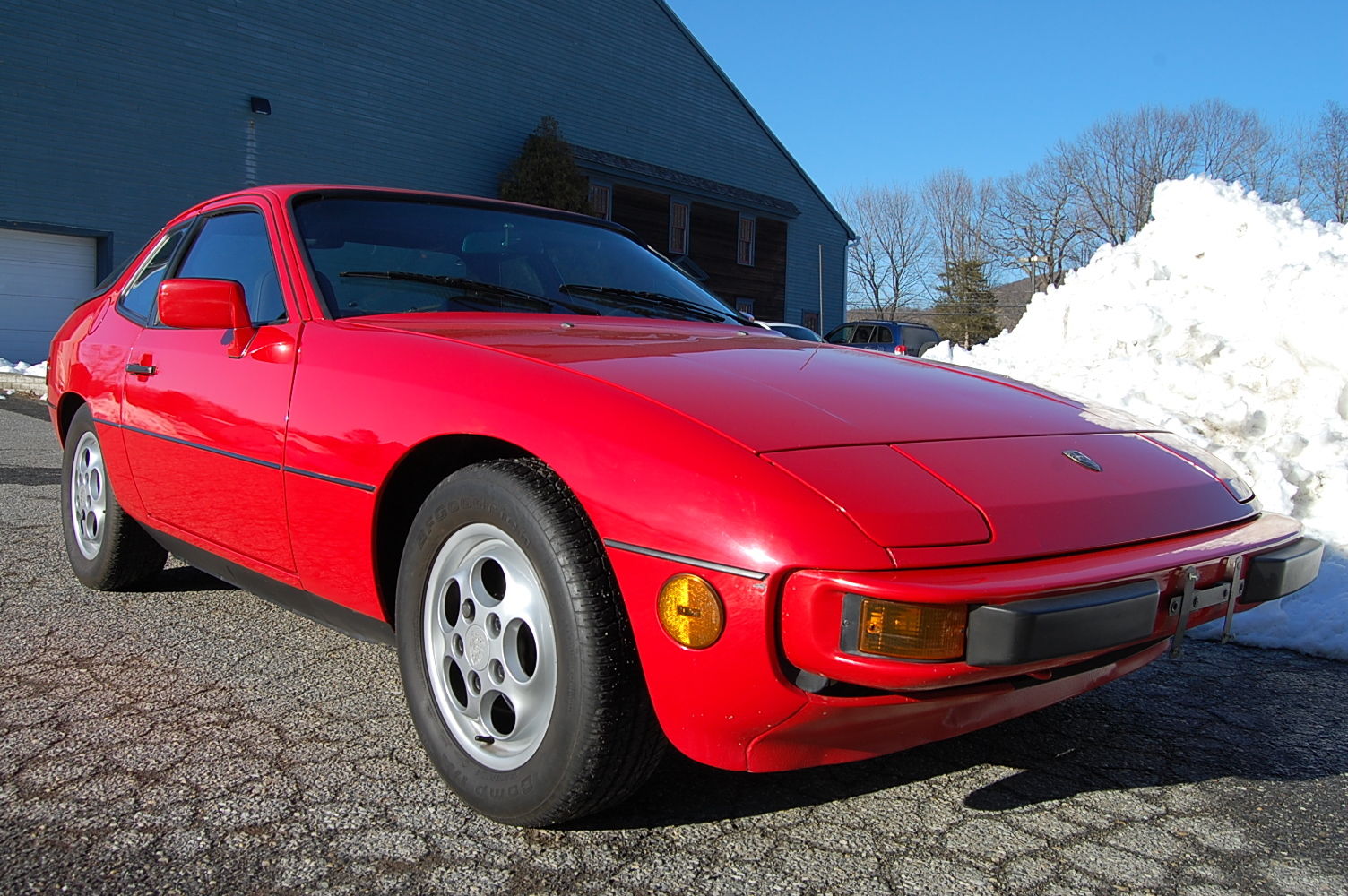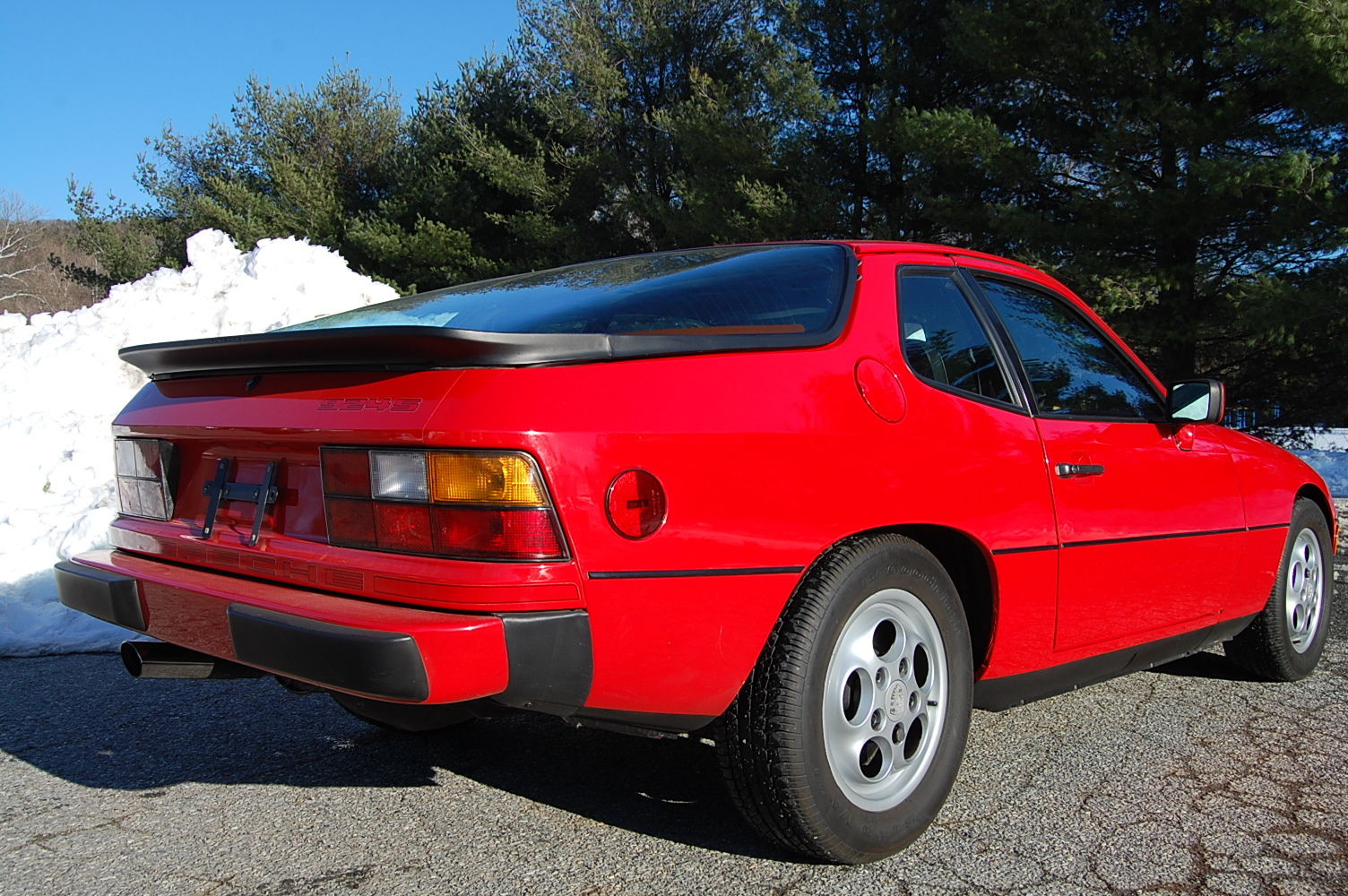 Year: 1987
Model: 924S
Engine: 2.5 liter inline-4
Transmission: 5-speed manual
Mileage: 75,000 mi
Price: Reserve Auction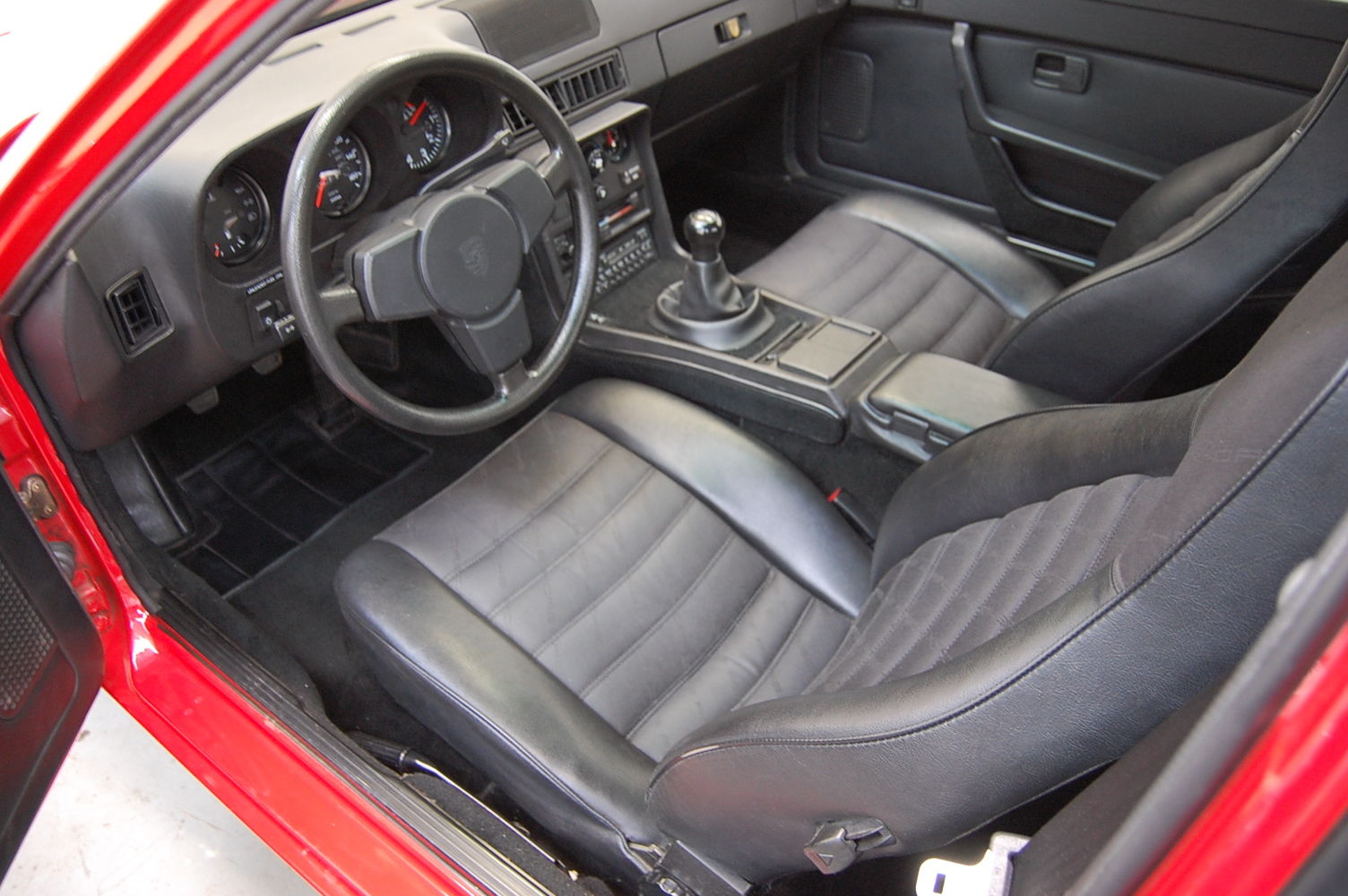 1987 Porsche 924 S Red with a Black interior 75,000 miles. 1 owner.Clean car fax. With service history.Timimg belt and waterpump done at 73,000 miles The clutch was just replaced in December of 2016. The car shows very nicely with a few chips and the rear rocker in front of the passenger side rear wheel is slightly bent up but otherwise this is probably one of the nicest example of a 924S that you are going to find. The car is great fun to drive, very nimble and handles beautifully as well.

The car is located in the northwestern corner of Connecticut about 75 miles north of New York City. If you have questions you can reach me thru ebay or call 860-350-1140. I have page with many highly detailed photos of the car. forzamotorsports with the usual com ending. International buyers welcome I can help set up shipping but you must pay for it. Thanks for looking at my listing.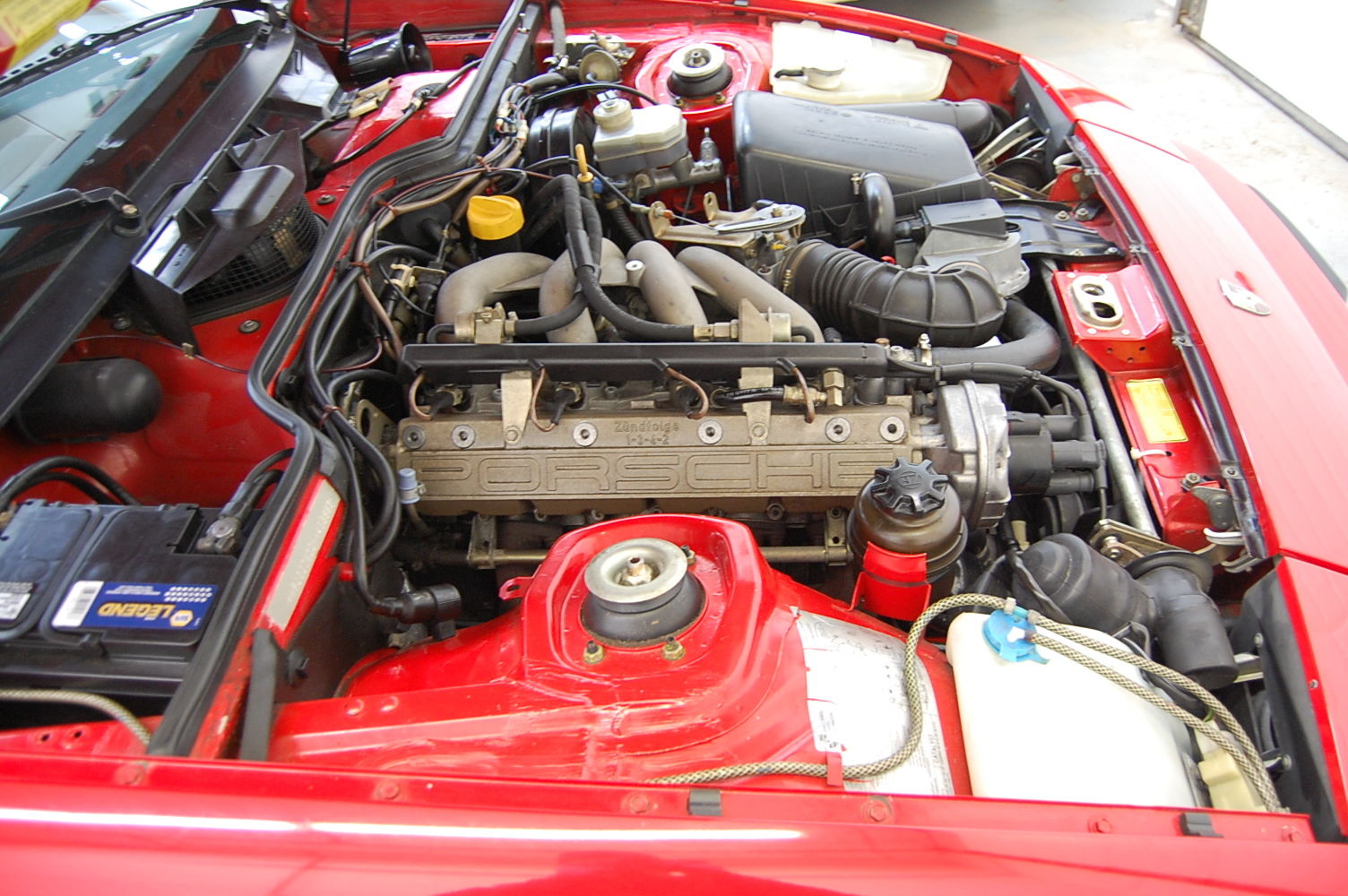 Of the three, this '87 appears to be the one to get if you're diving in to the 924S market. A one-owner car with service history, the highlights are the expensive clutch replacement and timing belt service – but the general condition is clearly the best of the three, and the miles are the lowest. There's an aftermarket alarm fit which may cause havoc with wiring, but otherwise this car appears to be in near show-ready survivor condition. As a result, bidding has been active but the reserve is still on at around $6,000. Despite being the nicest of the trio, it's hard to imagine the value going much over $8,000 – at that price point, you can get into a clean, later 944 or even a budget Turbo. While those cars might not be as ready to draw a crowd at a Cars and Coffee, the 924S doesn't really offer many tangible benefits at a higher price point. You'd have to really want a 924S to pay over $10,000 right now, and despite being the best driving of the 924 lineup, they're not the most desirable in 1987 form. A clean '88 or desirable Special Edition '88 would push the value upwards if it were presented in this condition, or of course one of the later 924 Turbo models might get some high bids. It will be interesting to see if this car breaks reserve, and if so, for what amount.
Which is the winner? Factoring in slightly better condition and expensive maintenance, I'd pay a $2,000 – $3,000 max premium for the 75K example over the 82K one. That would put the price at the $8,000 I quoted above. You'd be getting a lot of car for what is short Porsche money, but I'm not sure I'd be willing to stay in the 924 lineup for anything more than that. If you're going to pay top dollar for one of these, it's best to hold off for a limited model or the more powerful (and more rare) '88 model, since great examples of each do come up for sale regularly. One thing that is interesting about the 924S market, though, is that sellers seem to often overvalue their cars. With that in mind, I'm going to assume that the reserve on the last one is probably too high for the market and it won't sell, which brings us back to the first one – at under $5,000, it's probably the best value even if you do need to undertake a timing belt and clutch replacement in the not too distant future.
-Carter