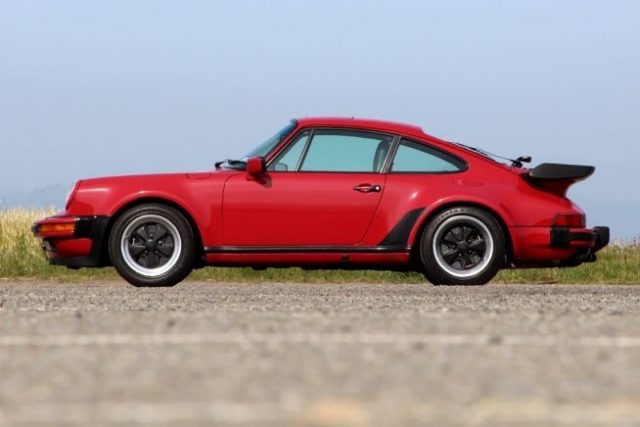 Been a lot of 930s lately. We discussed that fact in a previous post regarding declining 930 values. There are a lot of them on the market and due to that increase in supply prices have come down. It's certainly not a bad thing for fans of the model! This particular 930 stands apart for a couple of reasons. First, the seller appears to have a pretty good knowledge of its history. That in itself sets this 930 apart as so many of them we see come with little available provenance. Second, it's a subtly different shade of red in Carmine Red. I like subtle differences. They are the kind of thing that can really draw us in to appreciate the nuances that distinguish it from more standard colors, which in the case of the 930 would be Guards Red. Whether it is a better color than Guards Red will be in the eye of the beholder; it is certainly more rare.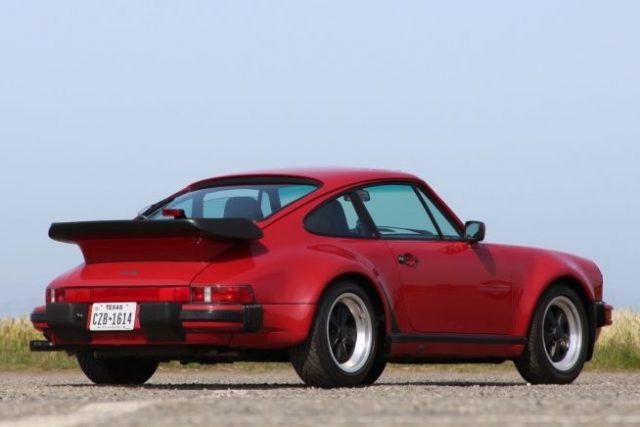 Year: 1987
Model: 911 Turbo
Engine: 3.3 liter turbocharged flat-6
Transmission: 4-speed manual
Mileage: 62,339 mi
Price: $115,000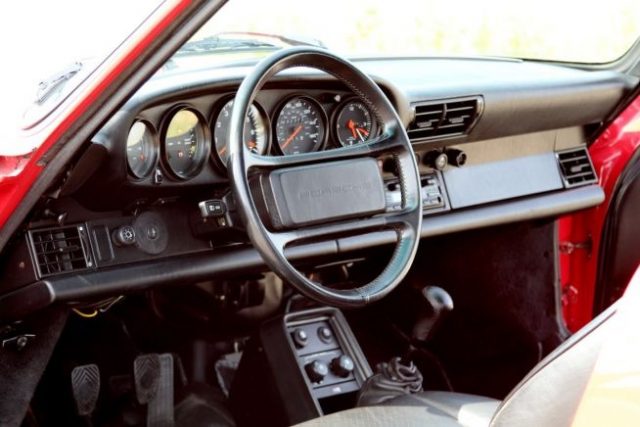 Very Correct 930 in Rare Color. $25,000 in Recent Work Including Completely Rebuilt Engine

1987 Porsche 930 Turbo Coupe
VIN WP0JB0932HS050359, engine no. 68H00370
Carmine Red with Black Leather Interior

Although the Porsche Turbo is now a natural fixture in the consciousness of car buffs because it is such an iconic car, it was genuinely earth-shattering when it emerged in the mid 1970s. After massive success pioneering the use of turbochargers during the first half of the 1970s in the 917 Can Am and 911-based sports cars, Porsche had the knowhow to bring a reliable and capable turbocharged road car to market. The 930 was hugely impressive when new, and contemporary road testers gushed about its effortless ability to gain speed with deceptive composure, an attribute that seemed positively alien in a period when few drivers had experienced turbocharged cars. And indeed the car's massive performance by contemporary standards made it a genuine contender for supercar status, placing Porsche in a different category than it had previously occupied in the eyes of performance car junkies for the first time.

In many ways, the production 930 was diametrically opposed to Porsche's previous high performance 911, the Carrera RS. Where the RS of just a few years earlier was a raw and elemental homologated race car adapted for the road, the 930 was a proper flagship: a luxurious and refined car meant to effortlessly cover great distance at high speed. However, during this period, competition prepared Porsche Turbos were cleaning up on the race track, and the 930's lurid fender flares and rear spoiler gave the car a distinctive, purposeful, and aggressive presence that would be immortalized, among other places, on the walls of many schoolboys. Although relatively affordable and overlooked by collectors for many years, early 930s are rapidly emerging as collectible cars thanks to their iconic styling, innovative technology, and direct connection to some of Porsche's most successful race cars, which by extension, means some of the most successful race cars of all time.

Initially available in a non-intercooled 3.0 liter variant that is now highly collectible, albeit curious to drive, a 3.3 liter intercooled variant superseded the 3.0 for the 1978 model year. By 1980, US laws had evolved enough to prevent the further sale of the 930 by Porsche North America, and it was not until 1986 when the incorporation of oxygen sensor, electronic assistance for the mechanical fuel injection system, and three-way catalytic converter permitted its return to the US, and with 29 more horsepower than when it left after the 1979 model year. The wheels were larger too, 16 inches in diameter, and 9 inches wide in the back, and the various updates performed over the years to the SC and the Carrera 3.2 were also in places, such as the revised interior and integrated fog lamps.

This particular car is a fundamentally original and unmodified example in a rare color. It has just had a complete engine rebuilt at a cost of over $25,000 and is complete with books, tools, jack, and compressor. It was sold new on the 26th of December 1986 by the Porsche dealer in Cincinnati, Ohio, although it was originally registered in Iowa. It was serviced in December of 1987 with 1745 miles on it at the Porsche dealer in Sioux City, Iowa, and again in August of 1988 with 3120 miles at the Porsche dealer in Omaha, Nebraska. Its next annual service was exactly a year later with 3797 miles at the Porsche dealer in Overland Park, Kansas. Mileage was gradually accumulated and the car serviced regularly at the Porsche dealer in Omaha into the early 1990s. The car was then sold to an owner in Minnesota in 1994, and made its way to the San Francisco area by 1997, where it would remain for the next 15 years until 2012. It passed through the hands of two dealers before being sold to a collector in Texas.

In 2014, the car saw major servicing including a completely rebuilt engine. Additionally, much other work was performed, including balancing the wheels, new alternator, new axles, new brake fluid, new oil lines, new sound deadening pad, rebuilt warm up regulator, new ignition wires, seals, ignition components, hardware and many other parts required when rebuilding an engine. Additionally, major components were also replaced as required, including pistons and cylinders, bearings, chain guide rails, timing chain, and all parts associated with the valve job, including machine work, valve springs, guides, rocker arms and shafts, and new valves as required. The total for this work was $30,423.73 and it was performed by Moorespeed in Austin, Texas. It was completed in September of 2014.

Cosmetically, the car makes a strong impression. The paintwork is glossy and is of high quality, and the body is straight with excellent panel fit. The car has been partially repainted and shows some wear to the front of the car from road use, and a handful of small blemishes but the overall presentation is crisp. There are two small dents in the right front fender and some chips that have been touched up. The trim is excellent throughout other than some aging to the rubber fender-cowl seals. The wheels are in excellent condition save for minor curb rash on the rear wheels. There are no modifications.

The interior is in excellent condition and is unmodified aside from a Momo shift knob and an aftermarket stereo. The leather is excellent throughout, as are the carpets, and the interior appears to be entirely original. The dashboard is excellent with no cracks or warping, and the switches, controls, and instruments are in excellent original condition. The headliner is also excellent and the car has Lloyds rubber-backed over mats, which were a dealer accessory when these cars were new. The driver's side door seal is expiring, a common wear item that can easily be replaced.

The engine compartment is extremely clean and quite fresh. The attention to detail that went into the rebuild is impressive and it is clear that the cosmetic presentation of the engine was a priority in addition to the mechanical aspects. Many components have new cadmium plating, as well as many other refinished components, and even the correct yellow markings on the bolts as was used at the factory. The trunk is in excellent condition, with correct carpet (although the left fender section is missing). The correct spare is in place, as are the jack and tool roll with tools.

The car runs and drives extremely well. The motor is fresh and crisp in its feel, pulling with the famous 930 ferocity once the engine speed passes 3500rpm. The gearbox shifts well, with slop free operation and a positive and confidence inspiring feel to the clutch. The entire driveline feels particularly crisp and eager compared to other stock 930s. The chassis has the liveliness of a vintage 911 coupled with impressive grip of the wide tires and track of a newer car, providing the best of both worlds. The brakes are derived from the 917 race car that provided Porsche's first Le Mans victory and are impressively capable.

This is an excellent opportunity to acquire a very nice driver level 930 with a fresh motor in an interesting color. The car is also fundamentally unmodified, which is increasingly difficult to find as many of these cars were altered in various ways over the years. The car is also very complete, with books (including stamped maintenance book and pouch), tools, jack, air compressor, and Certificate of Authenticity.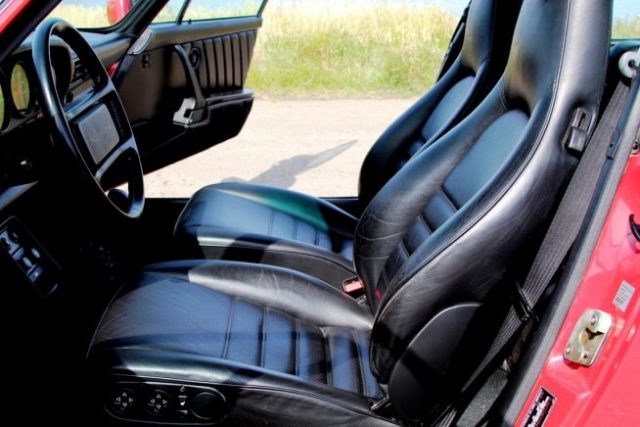 Given our previous posts on declining 930 values it's probably safe to say that I think this $115K asking price will out of reach on the current market. Given its available history and recent service, which included an engine rebuild along with some other major items, a current buyer might be persuaded to pay a bit more relative to other examples. Add in the rare bright red color and we move up a little more. But I'm not sure we'd even reach $100K, let alone $115K. We shall see.
Regarding its recent service: it was performed at the behest of a recent owner (perhaps current owner though that isn't entirely clear) who was a Porsche collector. However, it does make me wonder whether previous owners were keeping the car in the sort of condition that we'd prefer to hear about. Given that many of the problem areas may have been addressed by this recent service, we might find this is of little concern. While a PPI is generally a given anyway, I think this would push me more firmly in that direction so as to make sure that all areas of neglect were addressed. That's probably the biggest negative I see with this 930 as it otherwise presents very well inside and out. The seller does mention a partial repaint and we'll want to ask questions about that as well. As I said, I don't think we'll see it sell for this price, but this is a nice looking 930 in a subtly rare shade of red that will most certainly turn a lot of heads.
-Rob