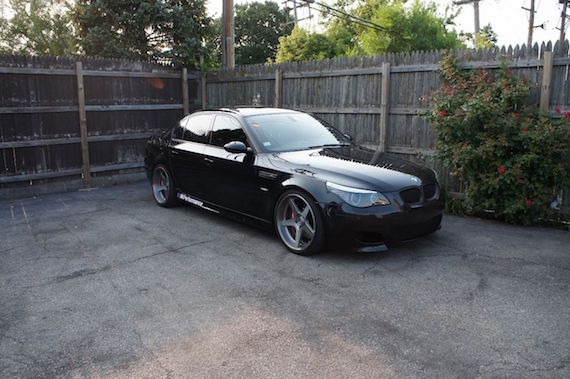 You might think that a car that has a simple button to raise its power by 100 horses might have enough, but today we have two E60 M5s that will explain to you why that kind of thinking makes you a peacenik ninny. I mean, if you can get a V10 in used Audis, then you have to do something to make your M5 stick out, right? These two E60s take pretty different approaches to power and style – supercharger vs. stroker, manual vs. SMG, Eurotuner vs. Roundel – but both represent about as insane of Autobahn stormers as you can find.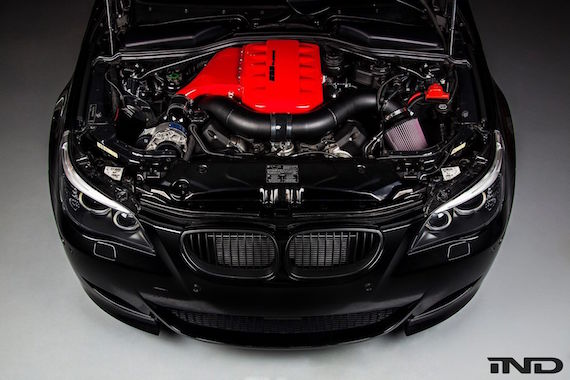 Year: 2008
Model: M5
Engine: 5.0 liter supercharged V10
Transmission: 6-speed manual
Mileage: 57,500 mi
Price: $47,500 OBO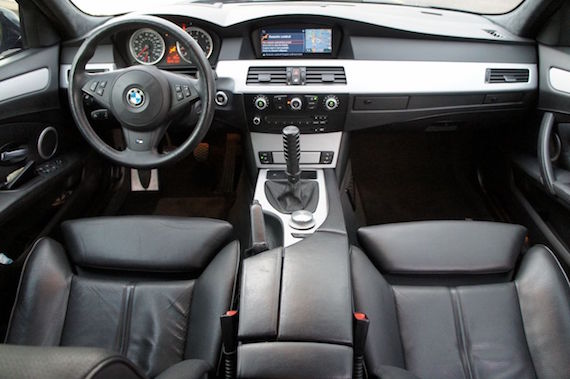 Bought the car in 2011 as a certified pre owned with 17k miles on it. Car is in great mechanincal condition and no issues at all. Paint is in really good condition with no scratches or swirls. There is some rock chips on front bumper and hood which makes it not perfect. Has a lot of high end aftermarket parts, bought brand new and most of them are installed around 11-13k miles ago.
Those include: Evolve race headers, Eisemann Race muffler, RPI oil cooler, K40 anti radar, 20 inch ADV5 20×9.5 in front and 20×10.5 in rear. Brand new Michelins in rear. ESS VT2 supercharger, KW coilovers, Brembo brakes,P3 vent digital gauge. Custom painted front headlight mounts with the brightest angel eyes on market orion v4s from umnitza, Custom tinted taillights. Car puts 580 whp on a mustang dyno. Its not driven in winter or rain and always pampered by a real BMW enthusiast. Hand washed, oil changed every 5k miles with full synthetic and always wait to warm up to at least 120F before start rolling. It has all factory options but soft closed doors. Head Up display, vented front seats, heated steering wheel and seats,etc.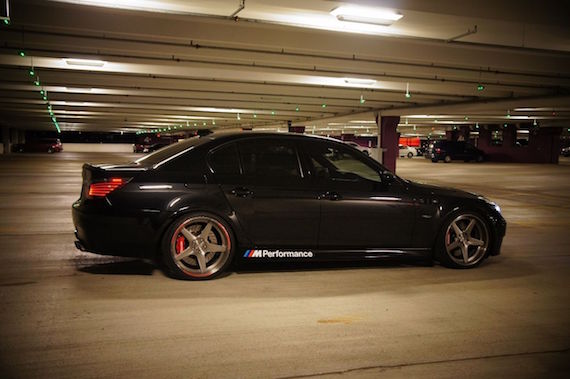 I'll admit it, it was the looks of this M5 that first drew me to it, but upon closer examination some of the choices are a bit too much for me. Why black everything out and then put incongruous stickers on the car and wheels? I am quite taken by the big blocky 5-spokes though, and without the stickers this is a beautiful E60. But what am I talking about the looks for? The real headline here is power, and this M5 has all of it. As in 580hp at the wheels, which means over 660 at the crank. Scary power. Brakes, suspension, headers, exhaust, and oil cooler further the performance package while it retains its original 6-speed manual gearbox, a huge plus for this car. Why have Ferrari power in a sedan if you can't drop the clutch and do rolling burnouts at highway speed? What would you rather have, a new 340i or this?!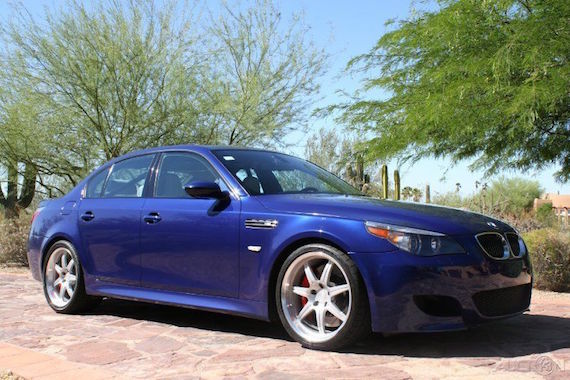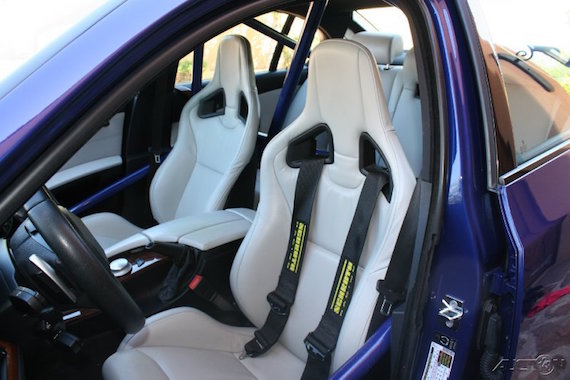 Year: 2006
Model: M5
Engine: 5.8 liter V10
Transmission: 7-speed automatic
Mileage: 57,853 mi
Price: $42,900 OBO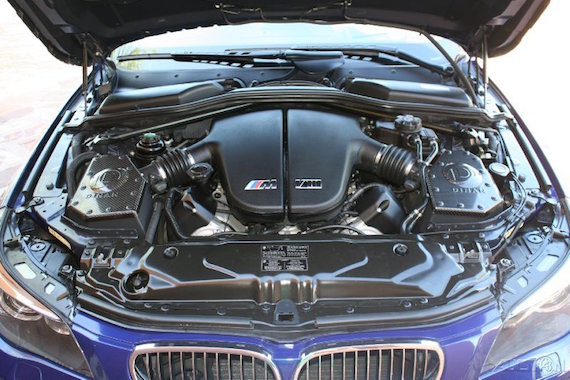 Brighton Motorsports is pleased to present this very distinctive 2006 BMW M5 finished in Interlagos Blue Metallic paint. While the 2006-2010 BMW M5 is known for its V10 power, excellent handling, and its luxury refinements, this 2006 BMW M5 has been treated to some Dinan modifications that really wake it up and allow it to significantly outperform a standard M5.

The DINAN modifications start with a bored and stroked 5.8L version of the 5.0L V10. For those seeking the ultimate high performance driving experience, Dinan has once again redefined M5 performance with a bored and stroked 5.8 liter version of BMW's V-10 engine. The engine produces over 600 horsepower along with stump-pulling torque that exceeds 400 lb-ft from just 3000 rpm right to 8100 rpm.
As incredible as BMWs V-10 is in stock form, just imagine the acceleration that results from an additional 126 horsepower @ 5800 rpm and 116 lb-ft torque @ 5600 rpm! Equally impressive is the fact that all of this performance is available without sacrificing BMW-like driveability. The engine is supplied as an assembled long-block, fully prepared to directly replace the stock engine without modification. The 5.8L Stroked engine produces an incredible 611 hp @ 7500 rpm and 468 lb-ft torque @ 6000 rpm. Acceleration Test Results for the DINAN BMW M5 with 5.8L Stroked Engine is 0-60 MPH: 3.8 seconds 1/4 mile: 11.9 seconds at 124.8 mph.

To compliment the increased displacement, This BMW was also treated to Dinan's high flow Carbon Fiber air box's and mass air flow meters. Dinan's High Flow Air Mass Meter and Intake Assemblies reduce the intake restriction presented by the stock configuration for a better breathing engine. Increasing the flow of cool, oxygen rich air increases power output by 21 horsepower, as well as providing improved throttle response. The Dinan® High Flow Air Mass Meters are also included, providing a full 22% increase in air flow. A Dinan free flow exhaust system was also added to the mix. The mufflers are manufactured from 100% 304 stainless steel inside and out for maximum resistance to corrosion and nearly a 30% reduction in weight, eliminating over 20 lbs.

19" Dinan wheels were added along with Dinan by Brembo Front & Rear brakes. The upgraded Dinan / Brembo front & rear brakes feature 380mm Rotors with Aluminum Hats, 6-Piston Mono-Block Aluminum Calipers, Goodridge DOT/TUV Approved Stainless Steel Brake Lines, Mounting Brackets and Assembly Hardware, Dinan-spec Ferodo Brake Pads with Sensor Provision.

A Dinan Carbon Fiber front strut tower brace along with a Dinan Carbon Fiber Rear Shock Tower Brace were installed to help increase rigidity between the front & rear shock towers and overall handling.

The E60 M5 was introduced in 2005, with an uneven firing V10 engine and 7 speed sequential manual gear box linking the car with the BMW Sauber Formula One program. The E60 M5 was the world's first production sedan to feature a V10 petrol engine and 7 speed sequential manual gear box. As with some of its predecessors, the E60 variant of the M5 was both the quickest and fastest 4-door sedan in the world at the time of its release.

Other unique M5 features include a wider track, unique body panels, 7-speed SMG III sequential manual gearbox, also known as a single-clutch automated manual transmission, a color heads up display featuring navigation, control messages, speed, rpm and gear selection information, automated seat side bolsters, heated/ventilated seats and power rear curtain. The larger, flared front guards on either side also featured cooling vents, reminiscent of the 1970s BMW CSL.

The E60 M5 was the most successful M5, despite being on the market for one year shorter than the E39 M5. During its five-year run, 20,548 units were built composing of 19,523 saloons and 1,025 wagons. 8,800 were sold in the U.S., all of the sedan variety.

The E60 uses an odd firing V10 which has won multiple World Engine of the Year awards, S85 engine produces 500 hp and 380 lb·ft of torque. The engine and transmission were designed from scratch for this particular model; they are not based on other models.

The BMW M5, was designed to use the new Getrag SMG III single-clutch seven-speed semi-automatic transmission, that performs gear shift in 65 milliseconds. The SMG III sequential manual includes features like a hill holder, a designated drive program for steep climbs and descents, and a downshift assistant, which briefly dips the clutch to avoid destabilizing wheel spin as well as a pseudo-automatic mode

The M5 features several Formula One-inspired engine and transmission controls. There is launch control, which allows maximum performance standing starts automatically. The Getrag SMG III single-clutch semi-automatic transmission has the option of changing to either automated or manual, as well as the speed at which shifts are completed (there are 11 shift programmes in total, forming what BMW calls Drivelogic). Manual shifting can be done with either a console shifter, or the steering wheel mounted shift paddles, both of which are fitted to all SMG M5s.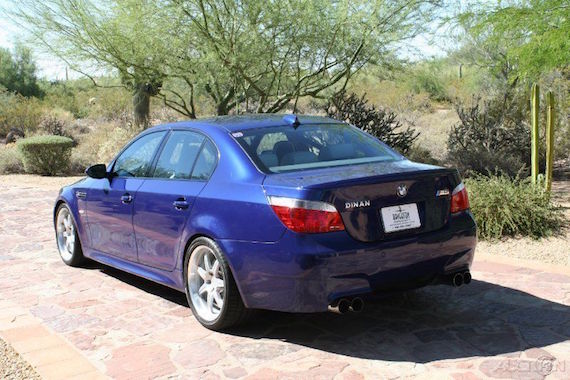 This blue M5 doesn't go quite as crazy as the black one, opting for a full Dinan package rather a piecemeal set of mods. The engine bay can't match the drama of the ESS's demonic black-and-red theme, but Dinan carbon intakes continue the motif of stock looks/scary performance Dinan is so good at. The exterior is limited to proprietary 7-spokes, belying the monster that lurks beneath. Dinan has a history of going for the best rather than the easiest, and this has helped them become a BMW certified tuner, warranty and all. Dinan's 5.8 liter Stroker upgrade for the S85 V10 is one of their most ambitious and complete upgrades, lifting power and torque by over 100 units each and helping the M5 crack 4 seconds to 60. This package also brings brakes, chassis reinforcements, and significant breathing improvements. The big disappointment here is the inclusion of the much-maligned 7-speed SMG single-clutch sequential transmission, pretty good for banging away on the track but bad for just about everything else. Despite this weak point, getting a full, 600+ hp Dinan M5 for just under $43k is a pretty amazing opportunity, especially when considering the Stroker package alone cost $40k new!
Of the two, I'd have a hard time passing up the holistic package of the Dinan. On the other hand, the manual and aggressive style of the black supercharged M5 are much more attractive to me. A combination of the two seems ideal, but for today you'll have to weigh those pros and cons for these two M5s that reach similar levels of craziness in very different ways.
-NR