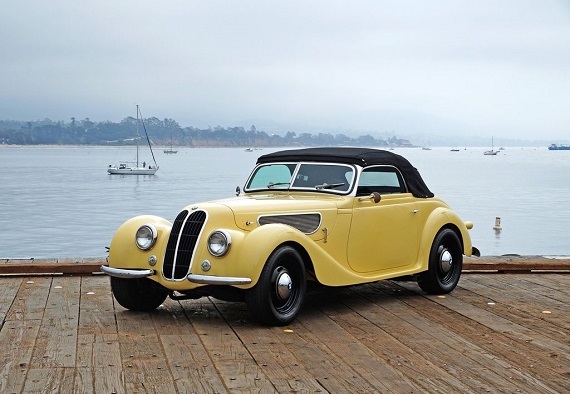 Pre-War cars aren't often featured on these pages; for Germany, the number of available machines manufactured before 1939 just isn't huge compared to some other countries. That's because in part the image of the modern nation of Germany rising like a Phoenix from the ashes of World War 1 to become a nation of drivers was entirely a construct of the Nazi party. If anything, pre-World War 2 Germany was a nation of riders, as motorcycle ridership far outstripped automobile ownership. Hitler spent considerable resources not only building the Autobahn, but in advertising its success by having cars do loops up and down the road while cameras filmed. By the time the German economy had rebounded to the point where people could actually buy cars and companies had the productive capacity to provide them, material shortages due to rearmament meant established companies like Daimler-Benz and Auto Union – fresh from their victories in international Grand Prix races – could not deliver cars to meet the demand. Imagine how it was for an upstart company like BMW, then, who struggled to put together a race program based upon its sporting 328. Yet achieve success it did; while BMW failed to get the headline attention of the Silver Arrows, the 328's success drove sales of the more pedestrian 326 sedan, and the 327 cabriolet model which was derived from it. Light, nimble and quick, they were driver's cars in the great tradition BMW has come to be known for since. But since only around 1,400 were manufactured in Germany before the War and how many survive today is far short of that number, they're pretty rare to see today. And, generally speaking, if you want to get into a nice one your bank account better have a quarter million dollars that you're ready and willing to part with.
Now, all that said, what's this 327 doing in a Tuner Tuesday feature? Well, it turns out that the 327 wasn't always so highly valued in the used market. So, around 25 years ago when this car was restored, the decision was made that the 55 horsepower 1.9 liter inline-6 just wasn't enough to motivate it. Instead, it now sports a 5.7 liter V8 motor from the General. Is this an allied victory?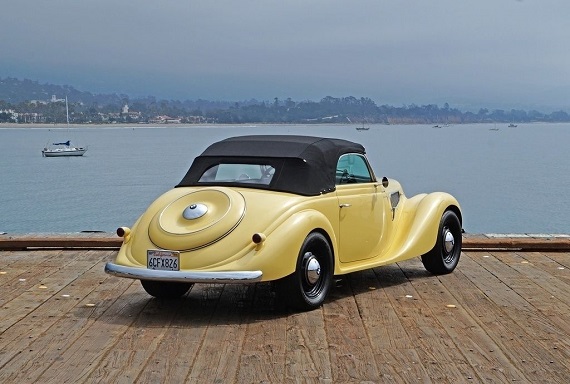 Year: 1938
Model: 327 Sport Cabriolet
Engine: 5.7 liter V8
Transmission: 3-speed automatic
Mileage: "395" mi
Price: $115,000 Buy It Now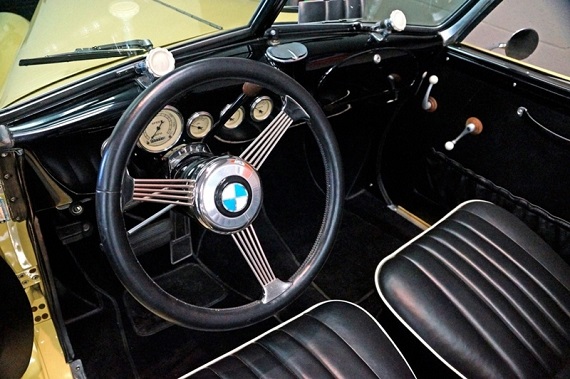 1938 BMW 327 Sport Cabriolet Hot Rod
0
Message
– Beautifully Restored
– GM ZZ4 5.7L 350ci V8
– Original Body & Chassis
– Impeccable Cosmetics
– Gorgeous & One of a Kind

Dealership Information
Goodman Reed Motorcars
805-202-4557
info@goodmanreed.com
www.goodmanreed.com
Santa Barbara, CA
Description

Offered for sale is a beautifully restored 1938 BMW 327 Sport Cabriolet powered by a GM ZZ4 5.7L 350ci crate engine and a three speed automatic transmission. While unconfirmed, the lore accompanying the car is that it was a literal spoil of war, found by a U.S. Army officer in the barn of a German officer and shipped back to the United States in crates. It remained unrestored until the late 1970s, at which point it was put back together by a restorer outside of Cleveland, Ohio.

It was subsequently acquired by an executive at one of the world's largest corporations, and it would remain in his and his wife's care for the ensuing 31 years, during which time he became that corporation's CEO. In 1999, the car's engine was replaced with the current 5.7L crate engine, installed by a retired NASCAR mechanic at his shop in Minneapolis. The car would eventually make its way out to California when the owners acquired a vacation home in Santa Barbara. The car was titled here and therefore assigned a California VIN, garaged and used sparingly over the last 17 years, driven a mere 395 miles during that period.

It comes as no surprise then, that the car's cosmetic condition is effectively as clean as when it was first restored in the 1970s. The gorgeous pastel yellow finish is deep, lustrous and consistent, marred by only the most insignificant of imperfections and cloaking an entirely straight and solid original body, modified only slightly from the gorgeous lines originally created by the coachbuilder. The chassis too was only slightly modified – necessary to sufficiently support the 5.7L power plant – and giving the car a much meaner stance than a factory 327 Sport Cabriolet, especially when considering the wider custom wheels, which are wrapped in Michelin Pilot 225x55x16 tires with plenty of remaining tread.

There are no dings or dents, no glaring paint imperfections, and the chrome, glass and rubber are all in spectacular condition. It truly appears as though the car was restored a year or two ago, not 35+. The car's interior is equally as clean, the seats, carpets and interior panels showing effectively no wear whatsoever and the dash impeccable. The car's soft-top shows very little – if any – wear and is easy to operate manually. The car's engine compartment is tidy and the undercarriage is entirely solid and free of rust, evidence of its 35+ year garage queen status.

Mechanically the car is fantastic. When the determination was made to put it on the market, we had a specialist go through the car mechanically and ensure it was fully serviced. A new fuel tank was fabricated, the fuel pump was replaced and everything was confirmed to be turn-key. The 5.7L 350ci engine starts effortlessly, idles consistently and emits an ominous low rumble through the car's custom side exhaust pipes. The car pulls strongly and smoothly through each of the transmission's gears and is an absolute blast from behind the wheel, a head-turner whether tooling through town or bombing down the highway.

This is an incredible opportunity to acquire a stunningly beautiful, truly one-off 327 Sport Cabriolet resto-mod, exceptionally well restored, mechanically strong and entirely unique. 327 Sport Cabriolets are rare and ceaselessly elegant, reflected in their continuing appreciation. Factory stock examples have sold for more than $300k, and while obviously more original, they certainly aren't as fun or reliable, sporting a small 1.9L, 55hp I6 engine and utilizing parts that are unsurprisingly nearly impossible to source. This gorgeous example offers all of the amazing looks while ensuring that its next owner can truly enjoy the car on the road. Priced reasonably when compared to factory correct examples, it will undoubtedly provide its next owner the same pride of ownership its current owners have enjoyed for the last three plus decades.
From the photos provided, the condition of the car certainly looks very good and above driver quality. You get the beautiful lines of the pre-War BMWs in a pleasing color and a generally understated package – there is no hint at what lies below other than slightly larger than original rubber. What keeps this one at around half the market value it should be at is the lack of originality. From a "wouldn't that be cool" perspective, it would have been neat to see this car with a S38 or M88 motor instead of the V8, but in sheer bang for the buck it's hard to argue with the Detroit motors. While not in any way original or adding value to the package, the GM swap means that you can actually drive this car without fear of hurting the value or running the expensive to maintain M78 inline-6. You also don't need to worry about keeping up with traffic, as the V8 should provide plenty of grunt to overwhelm the tires and brakes. From a purist standpoint this car is obviously blasphemous, but looked at as an affordable classic you could actually drive, it really is a pretty unique opportunity.
-Carter