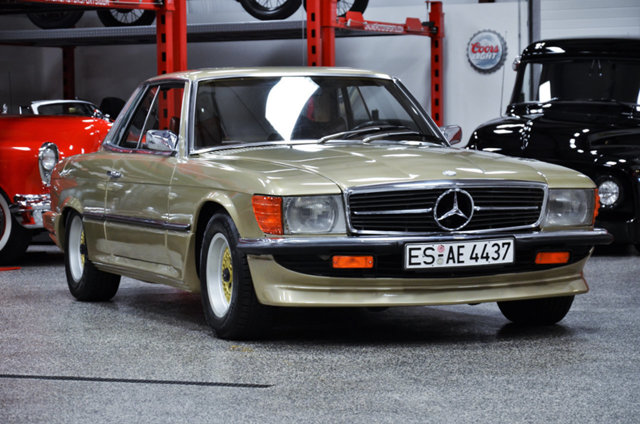 The C107 is to me a very strange car, yet I'm often compelled to look at them. They're certainly not the prettiest or best proportioned Mercedes-Benz product and the attempt to make a Grand Touring coupe out of a roadster was perhaps a bit too ambitious. Yet sometimes I see one and am captivated by the look; long, low and with a tremendous amount of presence, the C107 demands attention even if it's not the best looker. This is especially true of the European versions, which had the trifecta of being more powerful, a little bit lighter and were all-around better looking. Throw in some period wheels and a body kit from a respected tuner and the results can be great as shown by this first model year Euro example: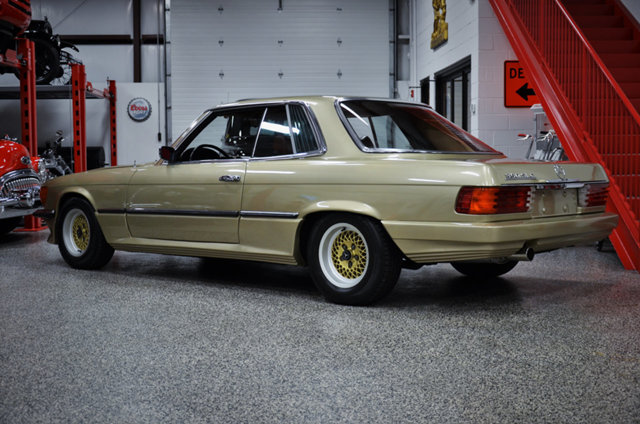 Year: 1972
Model: 350SLC
Engine: 3.5 liter V8
Transmission: 3-speed automatic
Mileage: 79,371 mi
Price: $19,900 Buy It Now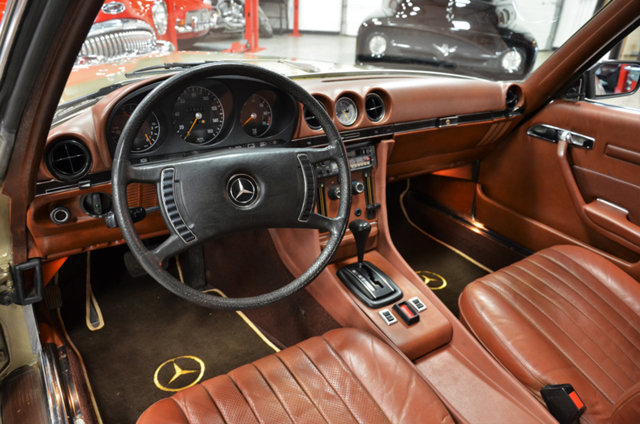 1972 MERCEDES-BENZ 350SLC COUPE RARE EUROPEAN VERSION

THIS IS A RARE EUROPEAN VERSION OF THE SLC. ACCORDING TO MERCEDES-BENZ WEBSITE ONLY 5,562 COUPES WERE MANUFACTURED IN 1972 AND ONLY A HANDFUL IMPORTED TO THE U.S.A.

THE COUPE MODEL WAS 8 INCHES LONGER THAN THE CONVERTIBLE MODEL (SL) TO ALLOW FOR THE BACK SEAT.

*A TRUE RARE FIND!

*THE PREVIOUS OWNER/COLLECTOR PURCHASED THIS CAR IN 1986 AND KEPT IT IN A CLIMATE CONTROLLED FACILITY, AND DRIVEN LESS THAN 7000 MILES IN 29 YEARS TO CAR SHOWS, ETC.

*THIS CAR HAS ONLY 79,371 ACTUAL MILES
(CERTIFIED BY TITLE) (SEE SCANNED TITLE FOR VERIFICATION)

*RARE "ZENDER" BODY KIT INSTALLED IN GERMANY

*RARE "RIAL" 7JX114 ALLOY WHEELS

*POWERFUL 3.5L V-8 ENGINE

*AUTOMATIC TRANSMISSION

*FACTORY POWER SUNROOF

*FACTORY A/C

*ORIGINAL BAMBOO LEATHER SEATS

*POWER WINDOWS

*CAR WAS PAINTED ABOUT 3 YEARS AGO

*NEW SPORT EXHAUST SYSTEM

*NEW REAR BRAKE CALIPERS AND FLEX HOSES

*NEW BRAKE MASTER CYLINDER

*ORIGINAL OWNER'S MANUAL AND DOCUMENTS WRITTEN IN GERMAN

*SOLID SOUTHERN U.S. CAR

*ORIGINAL FIRST AID KIT

Please view the photos of this very rarely seen Euro Version Mercedes. If you have been following these early to late 1970's SL and SLC models you have probably seen them exploding in popularity and best of all values. Examples like this very rare Euro model are super high on collector's radar and will only escalate in value as time rolls on. This is not the time to sit on your hands and watch a very rare opportunity to slip by.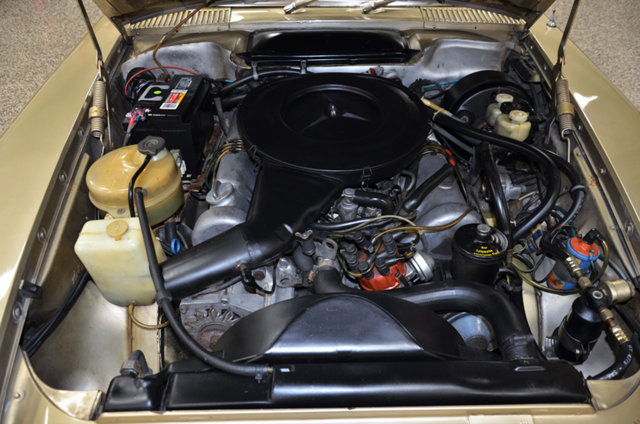 The long shape is really accentuated by the shorter bumpers and the smooth, color matched Zender kit works well both front and rear. Viewed from the side, though, the somewhat awkward shape of the C107 is highlighted and arguably the rockers aren't particularly flattering, nor are the Rial wheels. But viewed from the front 3/4 angle, the car really stands out. This is to me the paradox of the C107; some angles are fantastic, others really point out how lacking the design was. This is drawn into even sharper focus when one considers the C126 that replaced the C107 because at least in my mind it does everything better. This car is a claimed low mileage car and generally condition appears to be very good, but the closeup in a few shots reveals some abnormal orange peel in the paint that has me wondering if it has had a respray at some point. That wouldn't be surprising given the Zender additions, but I think this one would need to be seen in person. The asking price is also very high for the market, with most original SLCs coming in between $10,000 and $15,000, but exceptional examples are currently valued over $20,000. Whether this is one of them remains to be seen, but I'd wager it is slightly below that level.
-Carter