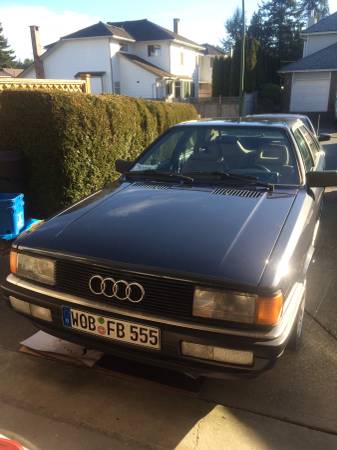 The flexibility of Audi's B2 platform and the huge number of engine choices that manage to fit under the hood make it a natural choice for swaps. Most popular are the all-wheel drive quattros, but the Coupe GT models are also well built, hugely capable cars that react pretty well to increases in power. And just about every period Volkswagen/Audi motor has made it under the hood of the Coupe GT; from 10 to 32 valves, rev-happy DOHC 16Vs and turbocharged inline-5s to narrow-angle VR6s and even the 4.2 V8s. But this car caught my attention because of the very unusual choice of mill to squeeze juice from. This no-spark Coupe GT has a tuned and turned up 2.0 inline-5 turbo diesel: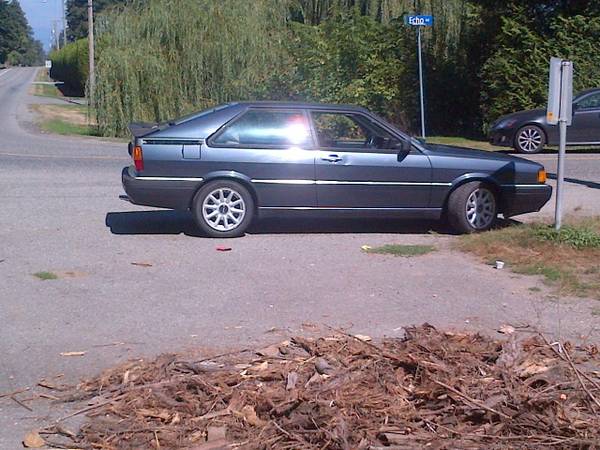 Year: 1986
Model: Coupe GT
Engine: 2.0 liter turbocharged inline-5
Transmission: 5-speed manual
Mileage: Not Listed
Price: $6,200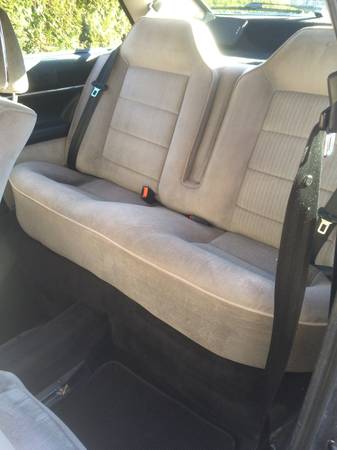 Here I have up for sale is my 1986 Audi coupe gt with a rare 2.0 inline 5 turbo diesel with a giles built injector pump fitted. finding parts for this motor is no issue, because all of the internals are identical (connecting rods/pistons etc) to the 1.6n/a / 1.6 td that VW fitted in golfs and Jettas. For those who aren't familiar with the giles built pumps here's a bit of info http://www.performancediesel.ca/performance.htm. Over the past few years that I've owned this car I have had the front end bushings all replaced, a cup kit has been installed lowering the car tastefully (not too low to affect driveability), new parking brake cables, new brakes all around, new tyres (approx. 8000km put on them), exhaust is turbo back, new shifter bushings. I've only every used Castrol edge 5w50 synthetic with proper German Mann/mahle filters. High/low beam HID kit installed, boost and pyrometer also. The cars paint/bodywork is reasonable for its age, but there are a few blemishes and one rust spot. This is a very reluctant sale, but since I have two other cars, this one needs to go. status says rebuilt on reg, but I'm assuming that's because it was converted from an auto gas to diesel years ago. I can provide the vin for anyone interested. All receipts for new parts/repairs are in hand also. Would like to see this go to a fellow VW/Audi enthusiast *car isn't insured at the moment and before anyone asks, the car is not from Alberta, that's just my old number plate.

spare parts include;

intake
turbo,
turbo manifold
couple of instrument clusters
i'm probably forgetting a few things

price is obo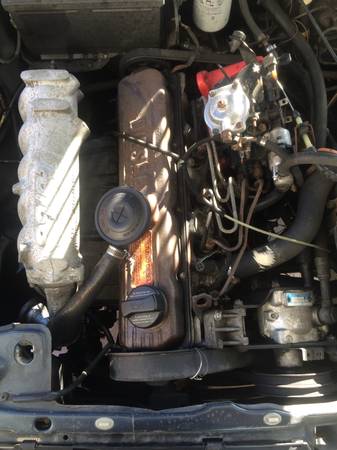 I've seen a few diesel swaps before but they're generally to quattros. This is the first time I can remember the oil burner sliding into a Coupe GT. The result should be pretty pokey all things considered, with the Giles pump offering increased performance over the stock setup. Unfortunately, specific details and good pictures are lacking here so it's hard to get a good judgment on how well the conversion was done. Also, if it's a Canadian GT originally, it should have a fiberglass rear trunklid that did not come to the U.S.. Pricing is fairly high for any Coupe GT, but then this is a pretty unique package and if it's truly in good shape and turn-key, it's not a horrible value though it will take just the right person to plunk down the resources.
Thanks to B2 guru Casey for the spot on this one!
-Carter