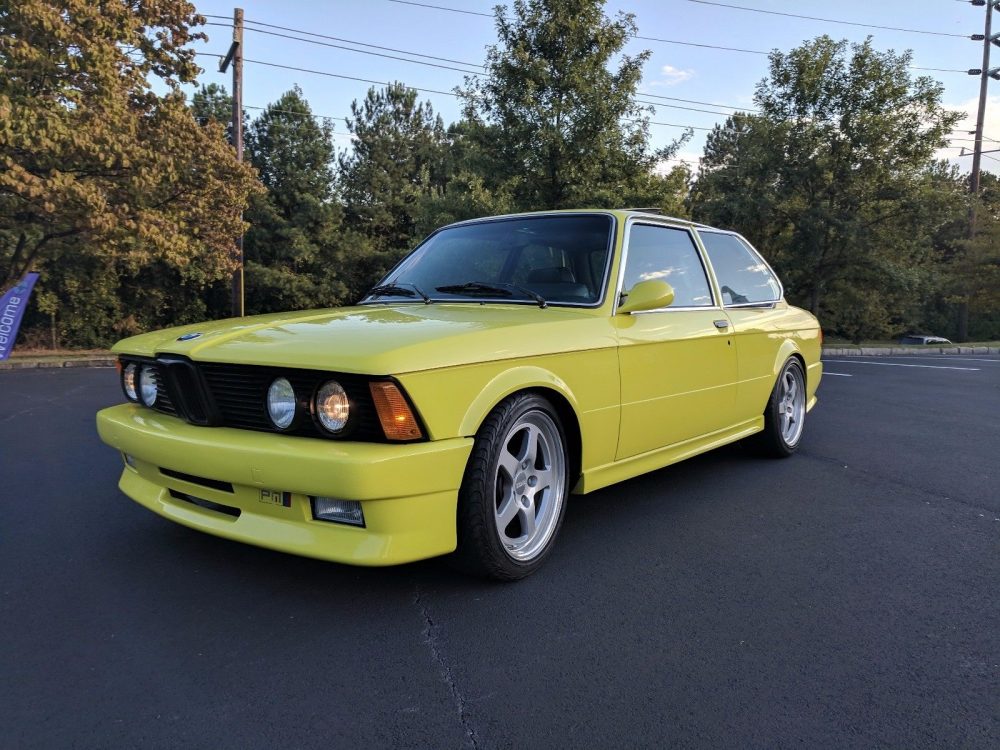 Edit 12/9/2017: With new photos, a new description and apparently a few things fixed, the current owner of this '346i' that we looked almost exactly one year ago has it back up for sale in a reserve auction format. Last time it didn't meet reserve at only $10,000. Will it clear the reserve this time around?
The E21. By far, it is the 3-series we feature least frequently (barring new models). In U.S. trim, it is also by far the least sporting 3-series. But don't throw the baby BMW out with the bath water, because it's still a classic BMW, it looks nice and it's quite affordable relative to some other hyperbolic models.
For one, I really like the E21. I've even enjoyed driving a few. Of course, never once did I think when driving one "You know what this needs? A M60 V8." And certainly, even in the very unlikely scenario that idea sprang into my head, there's no way I would have said "Right, now, off to Dinan to bump it out to 4.6 liters!"
But, if nothing else, this Golf Yellow example of an extreme E21 dispels the myth that they're all underpowered?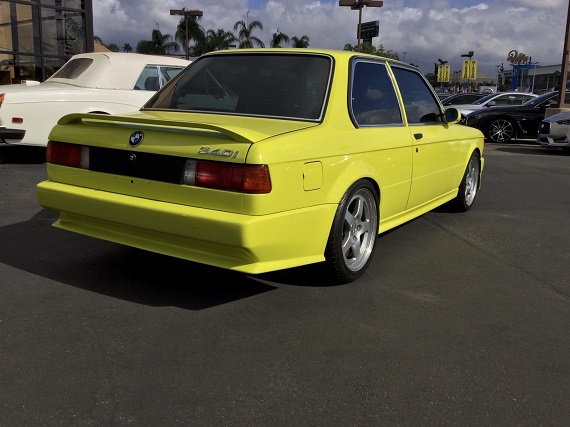 Year: 1979
Model: 320i Dinan 4.6
Engine: 4.6 liter V8
Transmission: 5-speed manual
Mileage: ~25,000 (engine)
Price: Reserve Auction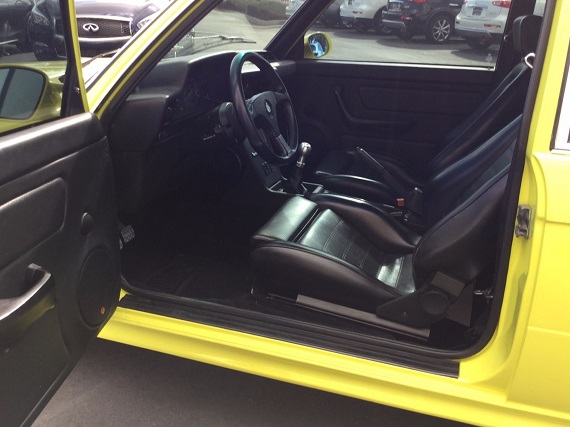 New Description
Hello. I've got a resto-mod BMW E21 with a swapped BMW M60 engine that's been bored out to 4.6L! It's a real head turner and one of the most unique BMW builds in the county and was even featured in BMW Magazine.

The Good:
-Just had all the fluids changed and a few electrical bugs fixed
-M60 Engine rebored by Dinan to 4.6L (approximately 25,000 miles on engine)
-GPS speedometer installed in stock cluster
-Custome fuel supply system
-Brembo Big Brake conversion on all four corners (not power assisted)
-Custom Fiske wheels (valued at about $8,000)
-Koni Coilover suspension
-530i 5-speed transmission
-M5 Rear Slip Diff
-M30 body panels
-Fresh paint in factory color Golf Yellow
-Incredible engine compartment
-Custom stainless exhaust and headers

The Not so Good:
-The AC is all there but doesn't work – needs electrical help
-Tires have plenty of wear, but might need to be replaced soon
-Drivers side door doesn't have lock
-I pulled out the old carpet and haven't replaced it yet, but the kit drops in and is $280
-Needs a new custom center console which incoporates the power window and power door lock switch
-Has custom amp and speakers, but no head unit

Please let me know if you have any questions!

BMW M5, M3, E30, E28, E21, resto-mod, hot rod, V8, E21

Old Description
Up for grabs is our custom built BMW 3 Series. 4.0 V8 (Dinan tuned to a 4.6) built by Pacific Motorsports in Portland Oregon. If you know Beemer performance then we're certain you're familiar with Pacific Motorsports and Dinan.

Suggested build price per Pacific Motorsports exceeds $125,000 but you can purchase it today for much lower.

If you're looking for the Ultimate Driving Machine that's as unique as you are and will out run any production car built today; then look no further.

*** WE SELL AND CAN SHIP WORLDWIDE***

Any questions about the build you can contact Pacific Motorsports directly at 503-232-5545.

This BMW was recently featured at the Mecum Auction. https://www.mecum.com/lots/CA0816-244391/1979-bmw-320i-resto-mod/

PLEASE NOTE: Due to the engine modification this BMW cannot be registered for street use in California.

This 3 Series comes equipped with the following:

BMW 4.6, Dinan tuned from a 4.0

Ireland Engineering Sway Bars

E30 M3 Front and Rear Bumpers

E36 M3 Mirrors

340I badging

17 inch, 3 piece wheels

Brembo Brakes

M5 Differential

Ground Control Coilovers

Clif Design speakers

Polk MOMO Subwoofer

Alpine MRP-F550 Amp

Alpine 7 inch VGA touch screen

*** THIS BMW CAN NOT BE REGISTERED FOR USE IN CALIFORNIA***

Whether you need financing or have a trade Cordy can make it happen. We have plenty of finance options and banks who are competing for your loan. Please contact Cordy directly @ 909-518-7222 for details.

***PLEASE REVIEW BIDDER REQUIREMENTS PRIOR TO BIDDING***

***This BMW 3 Series is worth the afternoon to come and inspect. YOU WON'T BE DISAPPOINTED***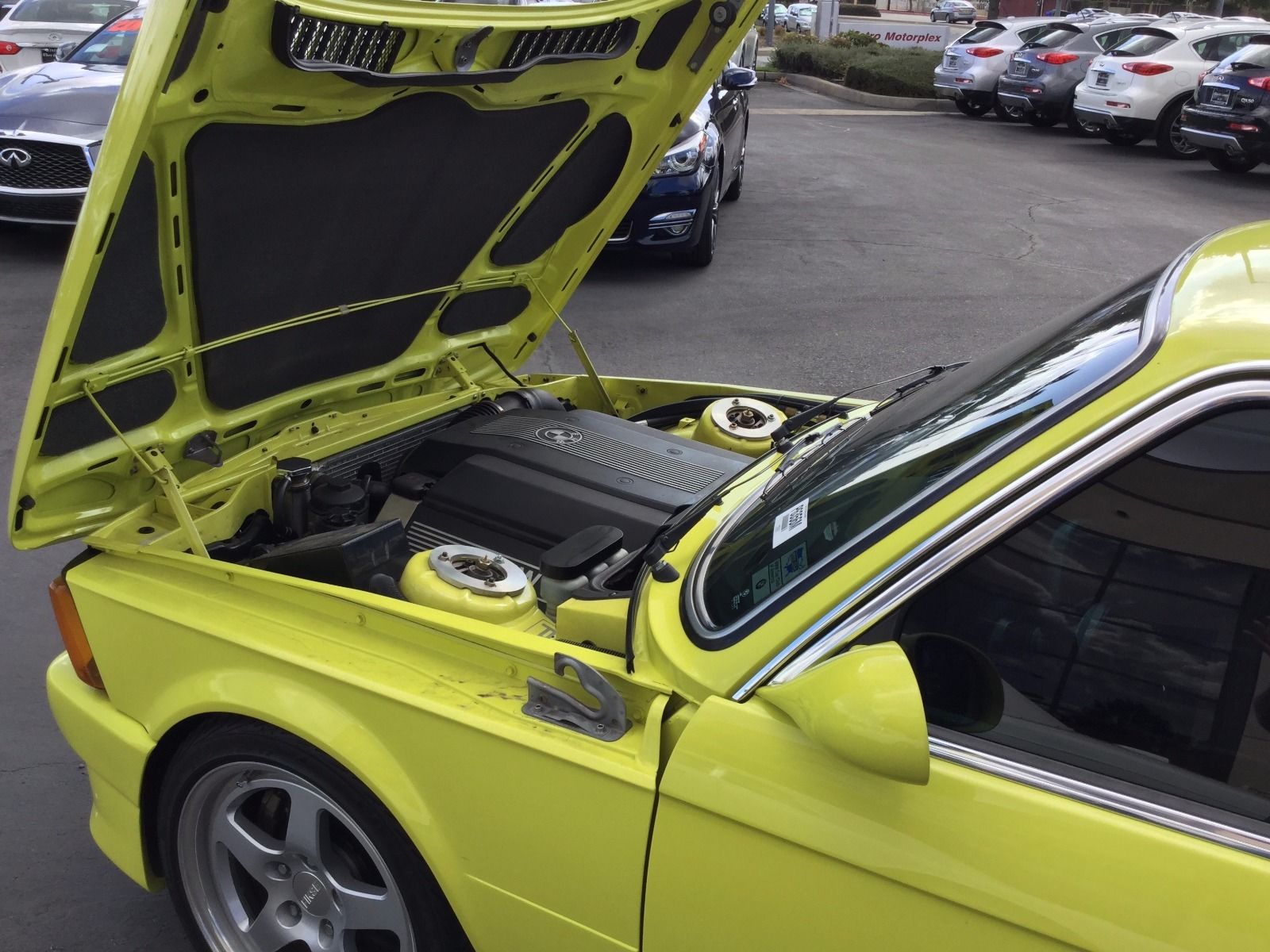 It's a shame that the seller didn't just lift the Mecum Auction's much better photos and writeup. I don't doubt the cost of the build at the best part of $100,000 or more. The workmanship appears top-notch, and even though some aspects – such as the modern wheels and M3 bumpers – are a bit unusual and out of sync with the current vintage-look market, it's a neat package all in all right down to the very slickly grafted "340i" badge.
Usually these builds are very hard to value, but again Mecum's recent auction of the car (August, 2016) allows us to know exactly what the market thinks this car is worth – $17,000. It's a lot of shocking E21 for that money, no doubt, and what appears to be a very well executed swap. However, it's also unlikely the current seller is going to let it go for that amount. What may even be more unlikely, though, is finding someone to pay more than that right now.
-Carter