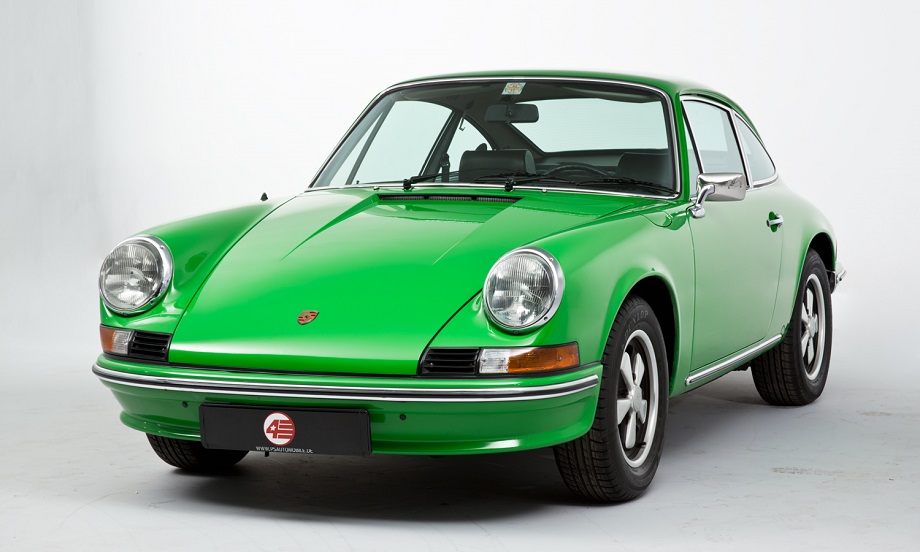 There's a reason certain colors persist in Porsche lore and continue to show up as paint-to-sample options many years later. Which of those (typically pastels) is best definitely is a worthy debate. This one makes a compelling argument for its case.
Viper Green is one of those early pastels. It has gone through some changes in its precise shade and at one point even was a metallic rather than the more traditional non-metallic pastel. Here, on this 1973 Porsche 911T Coupe with just 24,613 miles, it shows the allure of this color in particular and these pastels in general about as well as I could imagine the color doing so. It shows such wonderful brightness and depth to its green that there's little I can say to convince you of its appeal. Like any very bright color you'll like it or you won't, but generally these colors tend to transcend to some degree and garner appreciation from a wide array of buyers.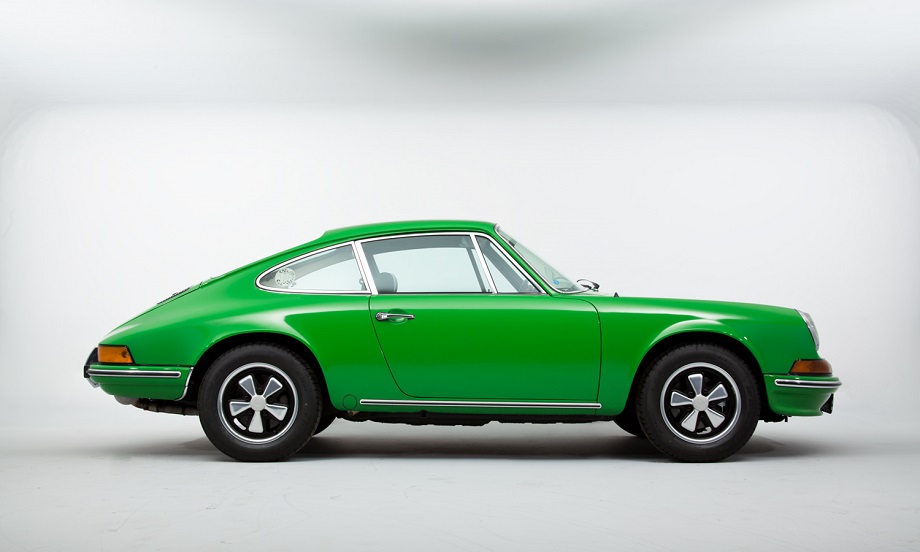 Year: 1973
Model: 911T
Engine: 2.4 liter flat-6
Transmission: 5-speed manual
Mileage: 24,613 mi
Price: £159,995 (~ $214,000)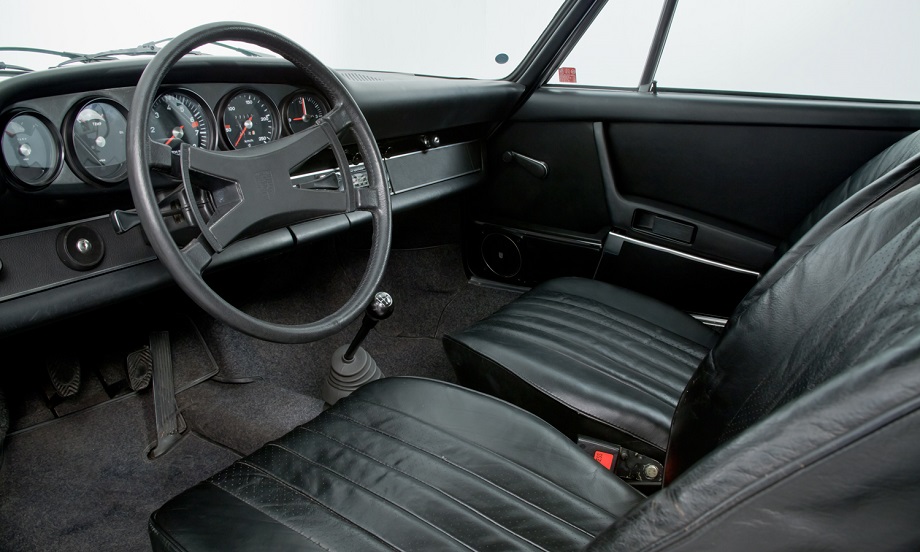 MODEL HISTORY
The 911T was added to the line up in 1968 as the "Touring" form of the 911. The first 911T had 2-litre engine, but with only 110hp. As of 1969, the 911T got the 2-inch lengthening in its wheelbase as did the other 911s. It retained its Weber carburetor while the other 911s received Mechanical Fuel Injection (MFI).

1970 brought on the first engine displacement increase, to 2.2-litre (2,195cc). That upped the output to 125hp. For both 1970 and 1971, the engine had Zenith carbs, and kept the same compression ratio of 8.6:1. In 1972, the 911s received the 2.4-liter (2,341cc) displacement.

By the time the F series came along in 1973, the entry-level 911T was becoming more like its more expensive stable mates. The main difference was that it now sported the front spoiler, which had become standard fitment across the range.
However, the F series 911T deserves a place in Porsche history, in that ones bound for the USA were the first 911s to be fitted with Bosch K-Jetronic fuel injection. Also called CIS injection, this all-new system was fundamentally mechanical but did utilise some electronic sensors and overrides. Porsche adopted K-Jetronic because it gave precise injections of fuel as required, thus keeping emissions down and improving economy. It was also a relatively cheap and reliable mechanism. K-Jetronic was to go on to feature more prominently in the 911 range from 1974.

For other markets, the 911T used Zenith 40 TIN triple-choke carburettors, which may not have been as efficient as the fuel-injection, but gave the engine a throaty sound. This was the final year that carburettors were fitted to production 911s, so for this reason alone a late 911T is an attractive purchase today.

EQUIPMENT
Front spoiler, Leather upholstery, 15-inch Fuchs wheels, 5-Speed manual transmission, Becker Europa radio, Dash clock, Front seat belts, Folding rear seats, Cigar lighter, Ash tray, Lockable glove compartment, Leather tool roll, First aid kit, Fuchs spare wheel, Porsche indoor car cover.

EXTERIOR
This sublime Viper Green 911 is in extraordinary, original condition and remains almost entirely in its first coat of paint. In this day and age it is very rare indeed to find an untouched example such as this, with most Porsches of this vintage having been partly or fully restored. Sporting all its original panels the 911 presents as-new throughout with almost no imperfections to be found, even on close inspection.

The highly polished trim retains a pristine finish, and the original door seals also appear fresh. Boasting a mere 24k miles from new this incredible 2.4T has always been carefully stored, as evident from its exceptional, unspoiled condition. It is possibly one of the very best early examples left, and offers an outstanding opportunity to purchase one of the very last pre-impact bumper 911s.

INTERIOR
The front seats are upholstered in their factory black leather covering, a rarely specified option for the time. They remain in excellent original condition, still feeling soft to the touch with few signs of age. The remainder of the cabin is in equally good order and perfectly in keeping with the car's low mileage. Commonly worn items such as the steering wheel and door cards are free from any significant wear and present beautifully. The headlining is also unmarked.

Under the bonnet you will find the original trunk carpet still equipped with the stiffening wood. Lifting the carpet reveals the spare Fuchs alloy and leather tool roll. Furthermore, the internal panels remain exactly as they left the factory; the dust coating and black protective wax around the suspension turrets are notably original.

ENGINE & TRANSMISSION
The original 2.4-litre flat six erupts into life first turn of the key and idles up to temperature without fuss. As a 1973 car, this Italian-supplied T was one of the very last production 911s to be equipped with carburettors. Furthermore, the engine bay has an immaculate appearance with no signs of damage or poor repair. Both the engine and transmission are matching numbers, and both perform without fault. The car is undoubtedly a pleasure to drive, shifting through each of the five gears with ease.

WHEELS, TYRES & BRAKES
The 911 sits on its original 15-inch Fuchs wheels that are wrapped in a matching set of Dunlop Sport tyres. The alloys present extremely well and retain a smart polished appearance, with only very light marking to one or two of the outer rims; the black areas are free from any imperfections. On test the vented disc brakes do a great job of stopping the car quickly and in a straight line.

HISTORY FILE
This stunning 1973 2.4T is one of the final 911 F-series Coupes, and also one of the last production 911s to be equipped with carburettors, making for a particularly attractive purchase today.

The car was originally delivered to Italy where it had just two owners. In the early 2000s it was sold to Germany by an Italian dealer, still wearing its original tyres. In 2006 the recorded mileage was about 35,000km. It remained as part of a German collection until 2015, covering just 3,000km during that time. Since then the 911 has resided in the UK as part of a collection over here. An extensive history file that includes the original handbooks, maintenance booklet, and a folder packed full of paperwork accompanies the car.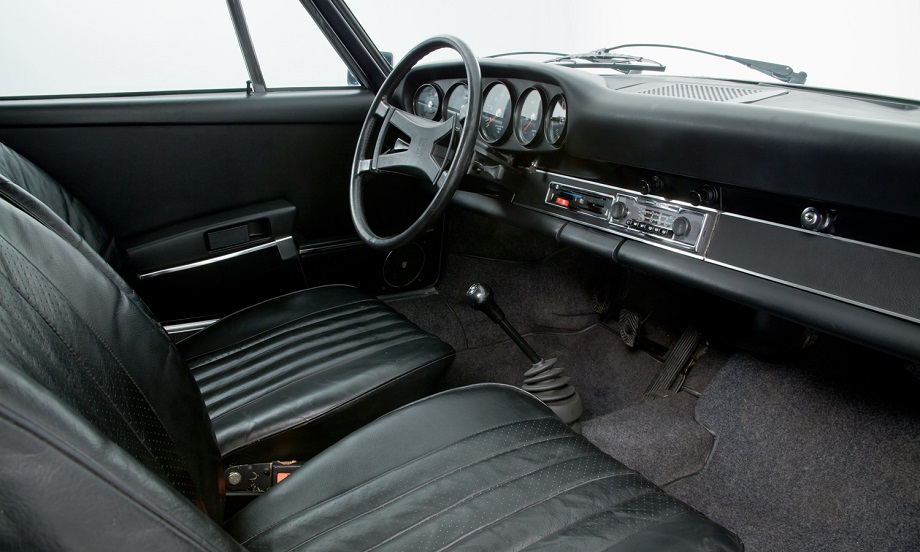 With an asking price over $200K I believe this is the highest priced 911T I've come across. I'm not sure if the British market, where this car resides, is vastly different in terms of value, but in the US this would even be a lot for a 911S let alone a T.
There is a lot for us to appreciate with this 911 though. For starters it's an unrestored example stated to be wearing almost entirely original paint and its original interior. That's a very rare thing in and of itself. The interior shows the sort of patina that we tend to see when original and as I noted the paint looks phenomenal. The very low mileage also appears to be original miles and documented. In terms of the sort of qualities we would look for in an early 911 this one checks nearly every box. So this surely is a 911T worthy of a very high price, but probably not one like this. Still, I think we can appreciate seeing such a great looking example.
-Rob