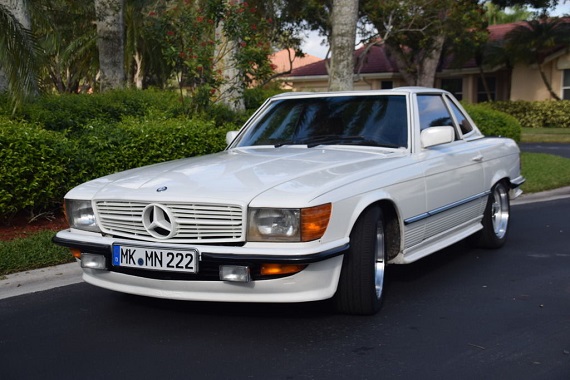 It would be easy to assume that AMG didn't breath on the R107 chassis, instead focusing on the coupes and sedans that made them famous. The feel of the roadster is decidedly different and more cruiser than the Autobahn destroyers that the company produced. But AMG did produce parts for the SL – it's just that not many were modified in the same vein as their stablemates. When properly presented, though, they do manage to channel AMG's best qualities well. Subtle upgrades all around led to a more aggressive aesthetic, but not one that was ever over the top. And the SL remained one of the few premium convertibles you could buy in the 1980s, so unless you undertook an expensive conversion to a coupe, the topless R107 was a natural choice for the well-to-do who also loved wind in their hair. Yet most of these SLs ended up primarily as appearance packages – but they still make a statement: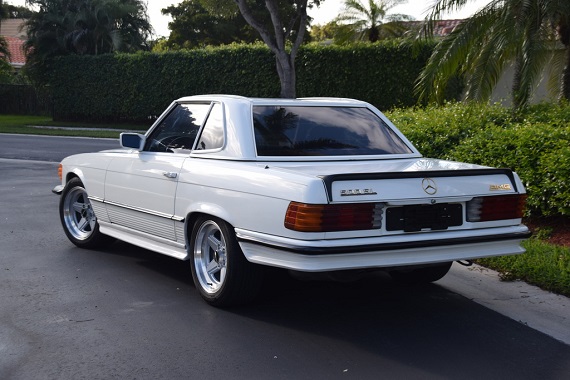 Year: 1985
Model: 500SL
Engine: 5.0 liter V8
Transmission: 4-speed automatic
Mileage: 53,877 mi
Price: Reserve Auction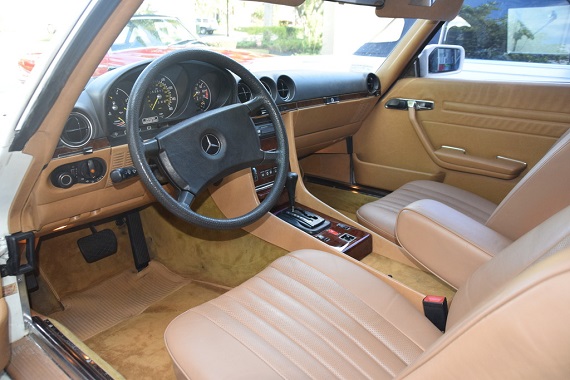 Rare, fast, beautiful, collectible. Not an ordinary R107, but one of the few European 500sl with AMG package.
The car has lowered suspension, cross drilled rotors (I believe also larger brakes). All the side mouldings are new, at a cost of several hundreds. The original moldings are in the trunk, and these were painted the same color of the car, as most AMGs were.
The car came from factory with Centra wheels, I bought a new set of penta wheels. Tires are great, 225-60-16, which give the car a nice stance.
The soft top is light tan color, in good condition, replaced a few years ago. Plastic windows are clear. I did not have anyone to help me remove the hard top to take pictures.
I believe the car has also an AMG differential and other things, but cannot verify it as I don't have the build sheet. The exhaust has a beautiful roar, different from all stock cars, but looks stock underneath.
No leaks, rust free, starts at first, runs great, powerful and fast. I believe this car can be driven anywhere, it is very reliable.
The tool set is all there. The emergency aid kit is also there, in great condition. The emergency reflecting triangle and jack are like new.

Rare, rust free and low mileage R107s will be worth a fortune in the near future. This car is, without a doubt, a great investment for its rarity and condition.
You will not find another like this. Nice 107s are being offered at even higher prices than my buy it now, and there is simply no comparison.

The VIN does not show up in ebay because it is a Euro number. However, the car is registered and has a clear Florida title in my name. I did a Carfax and the report showed an accident free history.
Mercedes EPC catalog show this car has the SA Code 256, Limited Slip Differential, which is very rare.

Please note: Car is sold as-is, where-is. No warranties of any kind. There are no refunds or returns, so please make sure you do your research. I recommend you order a pre-purchase inspection at my house. That way you will get an unbiased report from an expert.
This is a used, vintage vehicle in great condition, but not new. It is not perfect, and will show minor imperfections consistent with its vintage.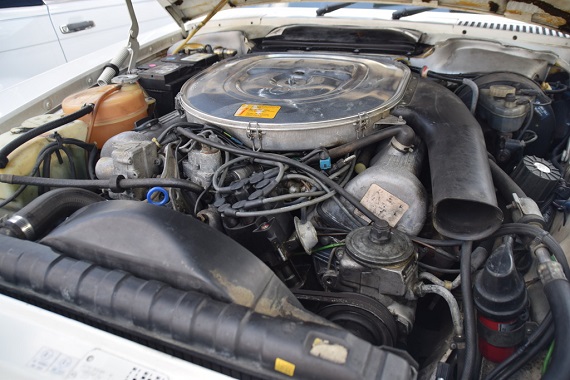 Without a doubt, my favorite part of this listing is the original AMG of Missouri ordering form. I wouldn't have thought Missouri would be a hotbed for AMG products, but there it is! You can see a cost breakdown on the a la carte add-ons; $1,000 for the aerodynamic kit, $1,295 for headers and exhaust, $2,250 for limited slip, $1,500 for suspension and $350 a wheel (not including tires) for the awesome AMG ATS alloys. Then there were a further few hundred dollars worth of appearance items you could equip inside. Low on the page is "AMG Engine Kits" where they proclaim the availability of a 275 horsepower motor. This particular example is moderately equipped with some AMG details, but there doesn't appear to be much supporting evidence that it was optioned with anything outside of the body kit. The suspension may be AMG or another make, and the limited slip was a factory item. However, it's a Euro model, meaning it's got 240 horsepower and 296 ft.lb of torque – both numbers higher than the 560SL U.S. spec car, as well as the European model being around 150 lbs lighter. The more recently added Penta replica wheels look great but even the catalog shows them properly being white. Why stop now, when you've got the dipped look going so well? Condition looks top overall, color is spot on for the 1980s, and it should offer plenty of top-down motoring fun in the future. R107s made a huge leap in value about a year ago, such that condition 3 and 4 drivers are now valued close to $20,000 for later 560 models. The bodding here is still well under that and the reserve is still on, but Euro cars that are modified typically don't seem to hold as much value as the pristine original U.S. 560s. Even at $20,000, though, what's it's competition? As in 1985, there simply isn't any. This is the ultimate expression of 1980s excess in convertible form.
-Carter