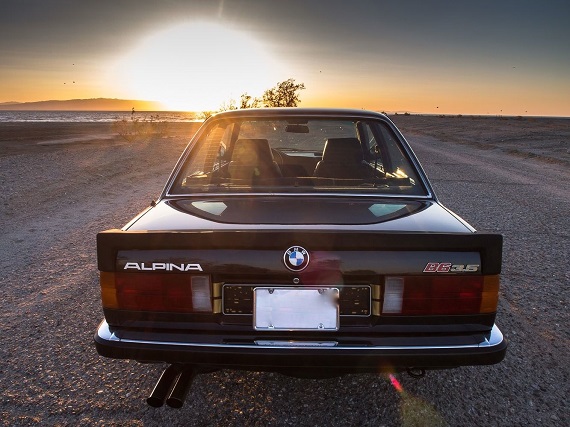 These days, I think you could slap an E30 badge on just about anything and the cult of the small sedan would perk up and pay attention. If the E30 was the natural choice for a sporting executive in the 1980s, it's become the defacto way to instant street credentials in the European scene. "Sure bro, you might have a 2JZ-GTE Supra, but I got an E30 dawg!" you might overhear being conversed with a heavy beat from Ludacris pumping in the background and scantily clad women draping themselves over your Claus Luthe designed hood, for example. Is that not what happens? Well, the appeal of the E30 is such that you could easily believe that might be the outcome of turning the key in one. As an Audi fan from the same period, I have to admit a certain amount of jealousy; not so much in the design, but in the plethora of choices of what's available in the market and the amount of manufacturer and aftermarket support. It's something you just don't really see in the Audi camp, for example. That means that you can have some mild to wild examples of E30s to choose from each and every day of the week. They've also hit importation status on some later models, so the flood gates have quite literally opened and a steady stream of Euro market cars is popping up for sale, trying hard to capitalize on the car made popular by the success of capitalism. As such, today for Tuner Tuesday I have two E30s to consider; a wild Alpina B6 3.5 from 1986, and a 1990 325i right hooker with a host of Hartge upgrades. Who wins the tune-off?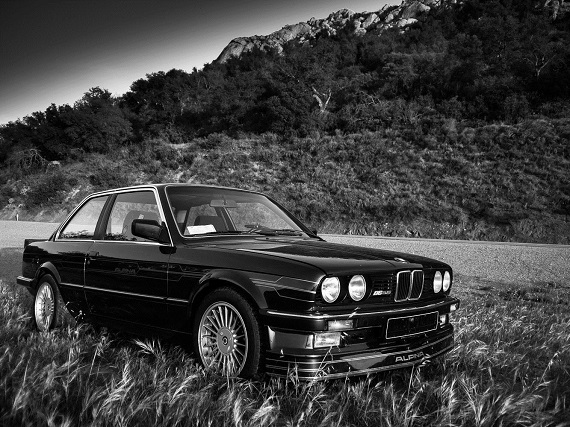 Year: 1990
Model: B6 3.5
Engine: 3.5 liter inline-6
Transmission: 5-speed manual
Mileage: 88,250 mi
Price: $62,000 Buy It Now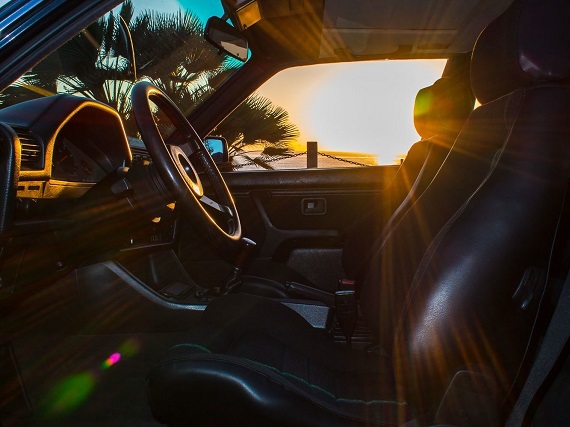 The Alpina B6 3.5 is based on a 1986 BMW 325i. But it has an Alpina 3.5 liter inline six engine with 261 horsepower, 93 more than stock. And even more importantly, gives an additional 91 ft/lb of torque.

I entered the BMW chassis Vin because Ebay doesn't recognize Alpina vins. The BMW VIN was actually struck and replaced with an Alpina vin as required by the German government because Alpina is considered a manufacture. All the paperwork for the car and the certificate of authenticity from Alpina reflect the Alpina vin of: WAPB635006BA20030

The gearbox was replaced by the dogleg, close ratio gearbox.

The suspension was Alpina specific and features progressive springs, swaybars and Bilstein shocks.

The brakes are Alpina and have larger ventilated disks.

The wheels were Alpinas and this car has upgraded staggered wheels in 7 and 8 x 16.

The seats, upholstery, steering wheel and shift lever are all Alpina specific. And there is a digital gauge in the vent that shows four readouts.

The body is modified with an Alpina front and rear spoiler as well as Alpina stripes in gold, which look amazing over the Royal Blue Metallic paint.

There were only 219 Alpina B6 3.5s made by Apina and this is number 40. It has only 88,250 miles.

It is the only B6 3.5 known to exist in the United States, and the only one for sale in the world. It has had a full service, is in impeccable condition and needs nothing.

Comes with Certificate of Authenticity from Alpina. I ordered it from Germany.

The 3.5 liter engine puts out the same power as an E28M5. Imagine what that is like in an E30 chassis. But unlike an M5 the Alpina 3.5 is all about the midrange. It lives in the 2000-5000 rpm range, where most people drive. You keep it there with a close-ratio 5-speed, dogleg transmission, capped by a wood Alpina knob.

In almost perfect condition with a recent respray in Royal Blue Metallic, number 40 is ready for the discriminating buyer who wants the power of an E28 M5 in an E30 chassis.

The car has the BMW vin with an X stamped over it, which was done by Alpina and replaced by Alpina's own VIN, indicating the 30th car B6 3.5 because they are considered "manufacturers" by the German government, because they modify the car to such an extent that it is not modified but manufactured.

Flaws: two tiny burn marks next to the ashtray (see photo). Alpina front spoiler was repaired by German dealer from whom I bought the car. There is a small crinkle in the spoiler (please see photo).

Below is information from the Alpina Archive website:
"Alpina [installed a 3.5 liter engine] modified the cylinder heard and combustion chambers, fitted lighter, higher compression Mahle pistons, a new camshaft and exhaust system, to increase the [3.5 liter BMW engine] from 218 to 261 horsepower." Torque went up from 214 to 255 ft/lb of torque. (this is what they did to the 3.5 not a comparison to the 325i.)

Clear Nevada title and available for PPI at buyer's expense.

There haven't been any B6 3.6s for sale for about 2 years and I bought the last one. Now you can too. Alpina B6 2.8s cost 35,000 euros (see screen shot from today) and are much less of a car and are often on the market. That's $41,300 for a B6 2.8. A 3.5 is a whole different beast and is easily worth 25% more, which would be $51,625 in Europe. Then there is the shipping to the port and shipping across the ocean which ads another $4000 ($55,625), and then the custom duties of 2.5 percent ($57,015) and then a full mechanical service, top end rebuild, and full detail costing around ($5000) and you can see that the buy it now price is right on target.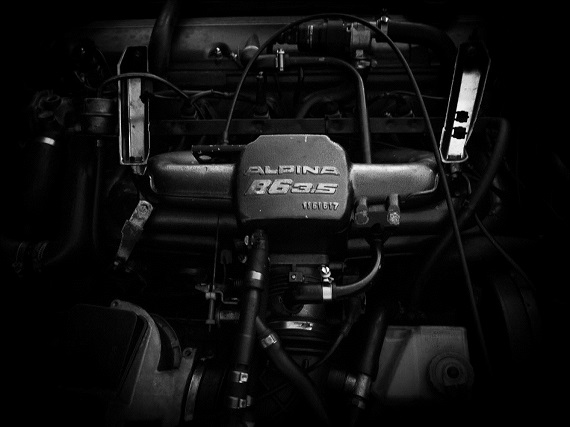 The seller does go on in length about what makes the B6 3.5 special, and indeed it's a very neat car. Peruse the Alpina Archives and indeed you'll find that #30 is the only one listed in the U.S., though admittedly they've only accounted for 79 out of the 219 produced. The Royal Blue with Alpina gold decals is a great combination and accented nicely by the Alpina cloth interior. The B6 3.5 also offers performance on par with the bigger brother M5 thanks to a hefty increase in power and torque. So that makes this example the top dog of the E30 world? I'm afraid not, because missing from the recipe is the all-important "S" designation. That would have transformed this car into an Alpina-modified M3, of which only 62 were produced. Though the performance between the is effectively the same, in the crazy world of E30 M3s right now the difference would clearly justify a premium in price. And justifying the price seems to be what the seller is doing; asking $62,000 for a non-M E30 would certainly require as much. As we've seen with a few Alpina models, the asking price can seem a bit out of line with the market even if they are quite desirable. However, this seller's claim of a $5,000 detailing job has me thinking a fool and his money are soon parted. Is it a cool car? Undoubtedly, but unless this thing was heading to Pebble Beach it's hard to think you're doing anything other than paying the "E30 tax". Notably, the car came up for auction on Bring A Trailer a few months ago and fetched a max bid around half the current asking price. Is $30,000 the right price? It's probably hugely disappointing to the seller and clearly not what they're looking for, that seems significantly more realistic to me.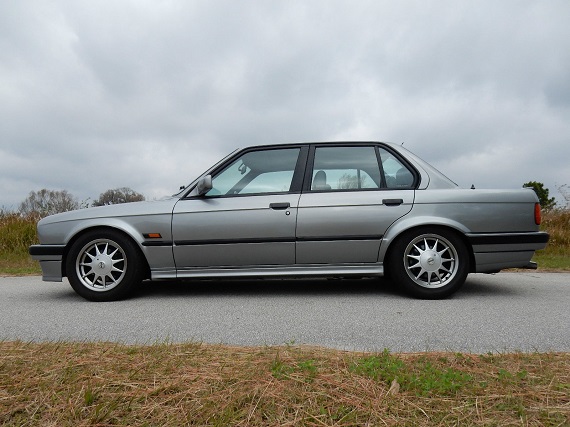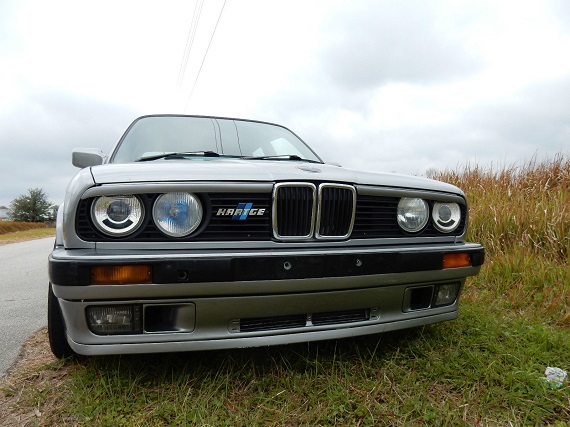 Year: 1990
Model: 325i
Engine: 2.5 liter inline-6
Transmission: 4-speed automatic
Mileage: 145,841 mi
Price: Reserve Auction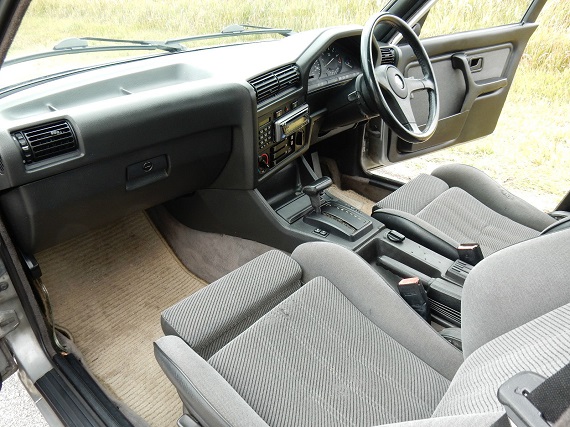 Myeuronow is offering this very clean 1990 BMW 325i Auto Sedan with Hartge upgrades purchased and installed at BIRDS UK

*Authentic Hartge Upgrades include Sport Camshaft, early production 15″ 4×100 Wheels, Muffler, Exhaust Tip, Suspension, Steering Wheel, and (4) Front and Rear Emblems.(roundels, grill emblem, and trunk emblem.
*Lachssilber exterior paint in excellent 9 out of 10 condition.
*Strong running motor with no issues
*Locking Differential
*Sport Automatic transmission. Ready for a 5-Speed Swap, or enjoy as a little second cruiser with the auto.
*Factory Shadowline Trim and rear model emblem delete.
*Very clean engine bay, undercarriage, and fender wells free of rust issues.
*Body skirts, and trunk spoiler are BMW
*Crack Free Dash
*Front Sport Seats
*Gray cloth interior trimmed in Black Leather in excellent condition. 9.5 out of 10 (half inch tear in driver seat), extremely minor wear.
*Center Fold Down Armrest
*Front and Rear Headrests, Door Cards, and Seat Backs trimmed in Black looks really good!
*Power Steering
*AC
*Front power windows, and mirrors
*Power Sunroof
*BMW Eyebrows
*Foglights
*"13 Button" Trip Computer
*E30 Elipsoid (Euro Smileys) Headlights
*Original Manual, service documentation, and BIRDS UK receipt and emails.

Thank you for bidding on this very clean 325i. With the amazing overall condition, and "more than a tribute authentic Hartge upgrades from BIRDS UK, this little sedan is sure to catch the attention of some genuine BMW and Hartge enthusiasts.

The car is being offered in excellent running and driving condition with No Warranty.

Call me directly with any questions or to schedule a test drive or inspection.

Happy Bidding!

Richard 407.619.3692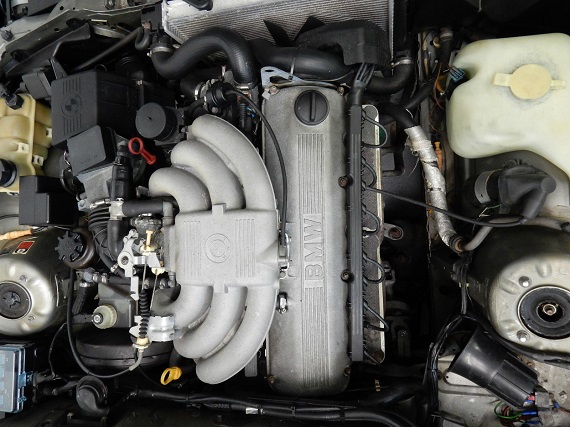 Of course, if you don't mind the original tuner build, you can get a car modified with period details at a significant savings over standard. In this case, we have a late build 325i sedan with some Hartge details. The obvious addition is the Hartge wheels, but the seller claims the car also has the correct Hartge suspension, exhaust and cam. The power gains are probably minimal, but it's still some cool kit and the car wears Hartge badges – a step that may be slight overstatement, but it does help to set the car apart in the E30 world. The Lachssilber is accented by a nice grey cloth interior, but a few things will keep the value in check on this Euro 3; the automatic transmission and the right-drive configuration. Bidding as a result is significantly more attainable to most; currently the car sits at $3,900. I'd expect the reserve is probably set a tad too high, but this car should likely fall in the $6,000 – $7,000 range at most.
Which is the winner? In terms of looks, desirability and performance, the B6 3.5 is the clear winner to me. However, I just think the price is too far out of line with the market; perhaps I'm wrong and I'm sure I'll be told so, but at $60,000 there are many more desirable cars I'd prefer to own than an E30 BMW – and frankly, even within the BMW E30 market though I think they're strongly overpriced I'd opt at that point for a clean M3 instead. So the default winner, in a mixed decision, has to be the 1990 with Hartge mods. It's a good looking car and has a lot of appeal, but not one that I'd probably want to buy really – which, unsurprisingly, sums up my feeling on most of the E30 market right now.
-Carter