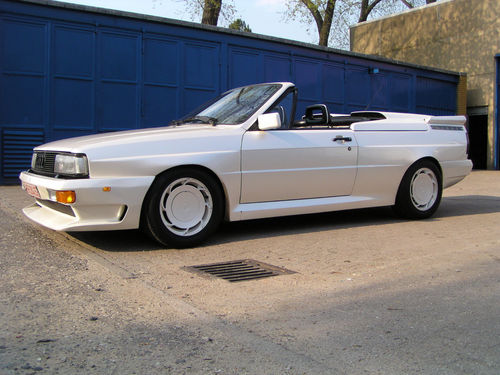 Not satisfied with the already exotic Audi Quattro he had helped to create, Walter Treser went on a mission to take the Quattro to the next step. His cars featured bespoke TRX wheels (the largest available to the mass market at the time), upgraded 250 horsepower engines (more boost – that could never go wrong!), and perhaps the largest chin spoiler fitted to any road car ever. Seriously, this is the Jay Leno of cars. Treser also revised the interior, rear spoiler and rear bumper cover, and for the exclusivity of one of these gems, he upgraded the price tag substantially. For some, even the Treser Quattro wasn't enough, and for 39 lucky and wealthy individuals who just had to take it to the next level, Walter cooked up one of the stranger conversions ever done to an Audi at that point; he chopped the top and made a folding hardtop. The Treser Roadster marketed for the equivalent of around $125,000 in 1986. Rare doesn't begin to describe these cars, but every once in a while one pops up for sale, like today's Pearlesant White Treser in Germany :
Year: 1986
Model: Treser Quattro Roadster
Engine: 2.2 liter turbocharged inline-5
Transmission: 5-speed manual
Mileage: 112,000 km (69,593 mi)
Price: €34,999 Buy It Now ($46,666 today)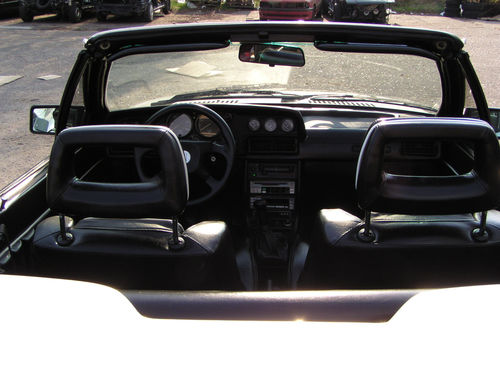 Treser Roadster
Build date 12/86
112,000KM
Timing belt replaced 300km ago.
Air conditioning disinfected, renewed dryer, and filled with CFC – free refrigerant 300km ago.
Extras:
– Hydraulic top (which is currently not fuctioning due to burst line) will be repaired for the Buy It Now amount!
– 250 hp Motor
– Electric windows
– Treser Front spoiler
– Treser Rear spoiler
– TRX wheels with 250 tires (Super Rare!)
– Treser widened fenders
– Black leather ( Treser heated seats, Treser dashboard and door cards )
– CD player and Radio with equalizer, multiple amps and speakers as originally delivered !! )
– Treser Cockpit
– Treser Sport suspension
– New muffler (2000 km)
– Central locking
– Tinted glass
– Pearlesant White Metallic
Price 34,999 Euro
Any questions: 01712129070
Trades accepted
Car is located in Hamburg, Germany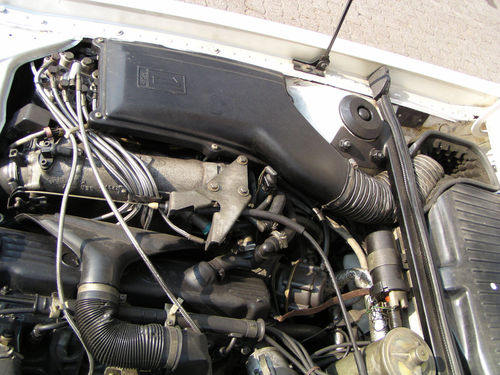 If you had to have the ultimate non-Sport Quattro in the 1980s, this was your car. It is over the top in nearly every way. It certainly isn't to everyone's taste, but many of the modified cars from the 1980s weren't. As Rick James said, "Cocaine is a hell of a drug." Compared to some of the modified Porsches and Mercedes, the Treser cars were downright pedestrian and civilized; but next to the original, this car looks outrageous. Interestingly, I think this car ends up looking more Japanese than German, but to the right buyer, I doubt that would matter.
The car's condition appears to be good and it's not surprising that the top is not functioning, but the seller has promised to fix prior to the sale at full amount. Still, like older modified cars, there is a lot to go wrong here, so be prepared for plenty of visits to the mechanic to sort it out. Like the TRX wheeled BMWs, plan on getting different wheels and saving those original Tresers for show only. The driver's side headlight seems to be at an odd angle, but that could be an easy fix; Pearlesant White is so difficult to color match and that bumper is so rare, I doubt it saw an impact that wouldn't show in the photos.
Even among the die-hard Audi aficionados, the Treser cars are polarizing. $46,600 is top dollar for a Quattro that isn't a sport, but these cars are so rare it's hard to put a value on it. There are very few originals left, and even fewer in Pearlesant white. In comparison to some of the rare convertible Mercedes and Porsches from the 1980s, this isn't outlandish money, and the Quattro values have steadily been on the rise over the past decade. As a 1986, it's eligible for import to the U.S. without too much difficulty, so the question is – will you be the only one in the U.S. with one of these cars?
-Carter