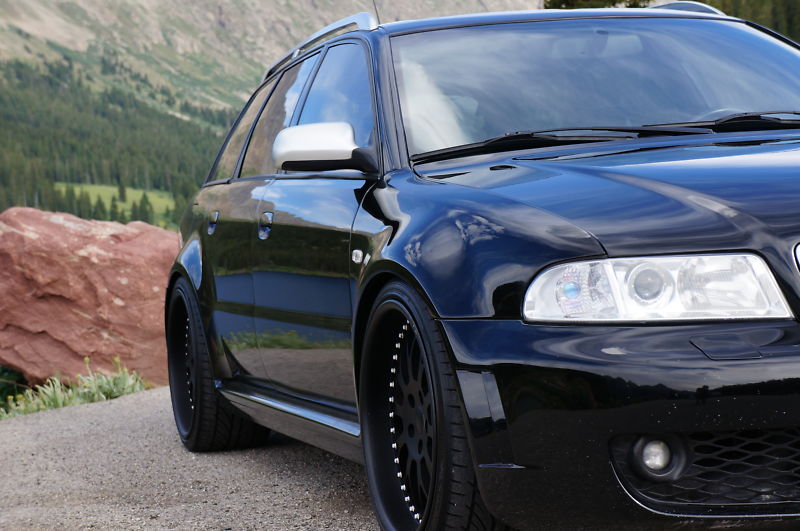 It appears that the general consensus that the original B5 RS4 we featured from 2Bennett was well overpriced, and that even the replicas were on the high side considering the value of a real RS4 in Europe. As if on cue, the black RS4 replica that Paul wrote up in early July is still available at a new lower price of $28,000. While some of the modifications might not to everyone's taste (I'm looking at you, black wheels), with a 30% price drop we think this car is now more in line with the market. It sure seems like a lot of fast Audi wagon for the money invested and represents only a fraction of what the owner put into it. Ski season is approaching – and with this car you can approach it even more rapidly!
-Carter
The below post originally appeared on our site July 8, 2013: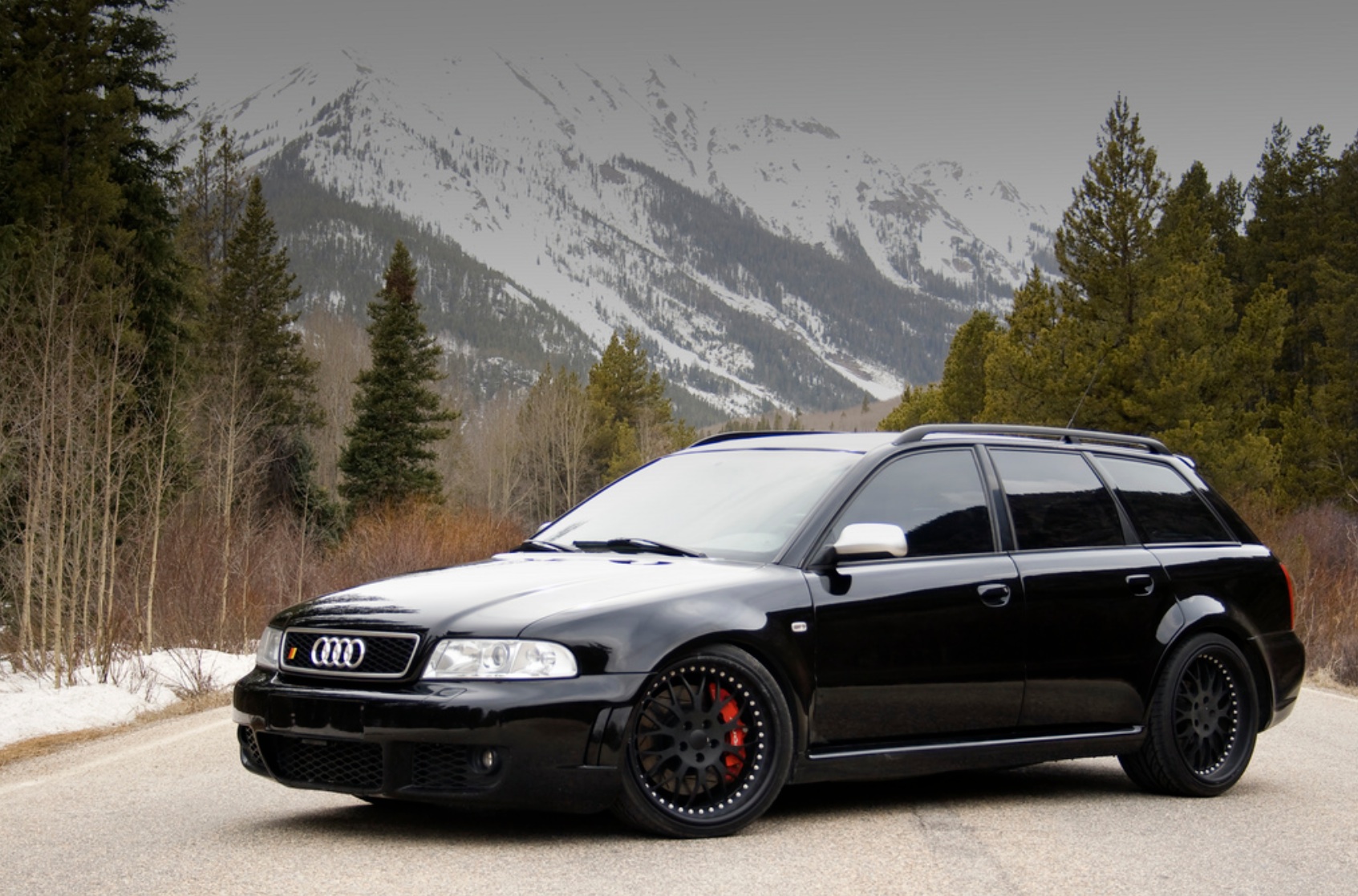 Some might say the Audi RS4 Avant had the unfortunate task of following on to the remarkable RS2 Avant, but that always seem to be the case when following on to the original formula. Nevertheless, the RS4 was another 375 bhp tower of power available in Avant form only. US customers would have to wait until the B7 RS4 arrived in 2006 as a sedan and later (for one year only) as a Cabriolet in 2008. This hasn't stopped Avant enthusiast stateside from trying to get their hands on one. RS4 Avant recreations are a popular way of getting around the whole importation hassles. This RS4 Avant clone for sale in Colorado is one mean looking estate sure to please the Quattro enthusiast.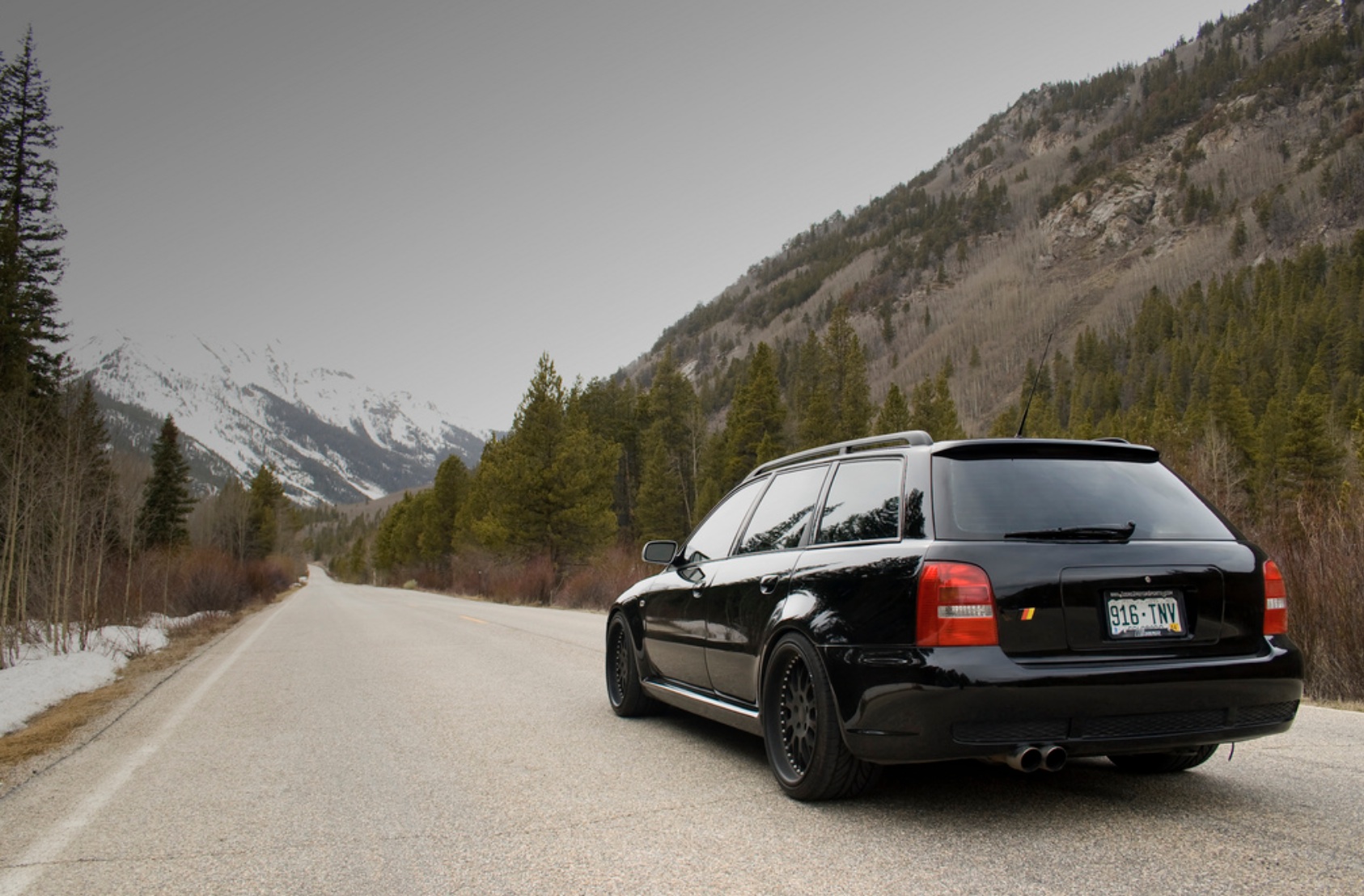 Year: 2001
Model: S4 (RS4 Conversion)
Engine: 2.7 liter biturbo V6
Transmission: 6-speed manual
Mileage: 9,500 miles
Price: $28,000 Buy It Now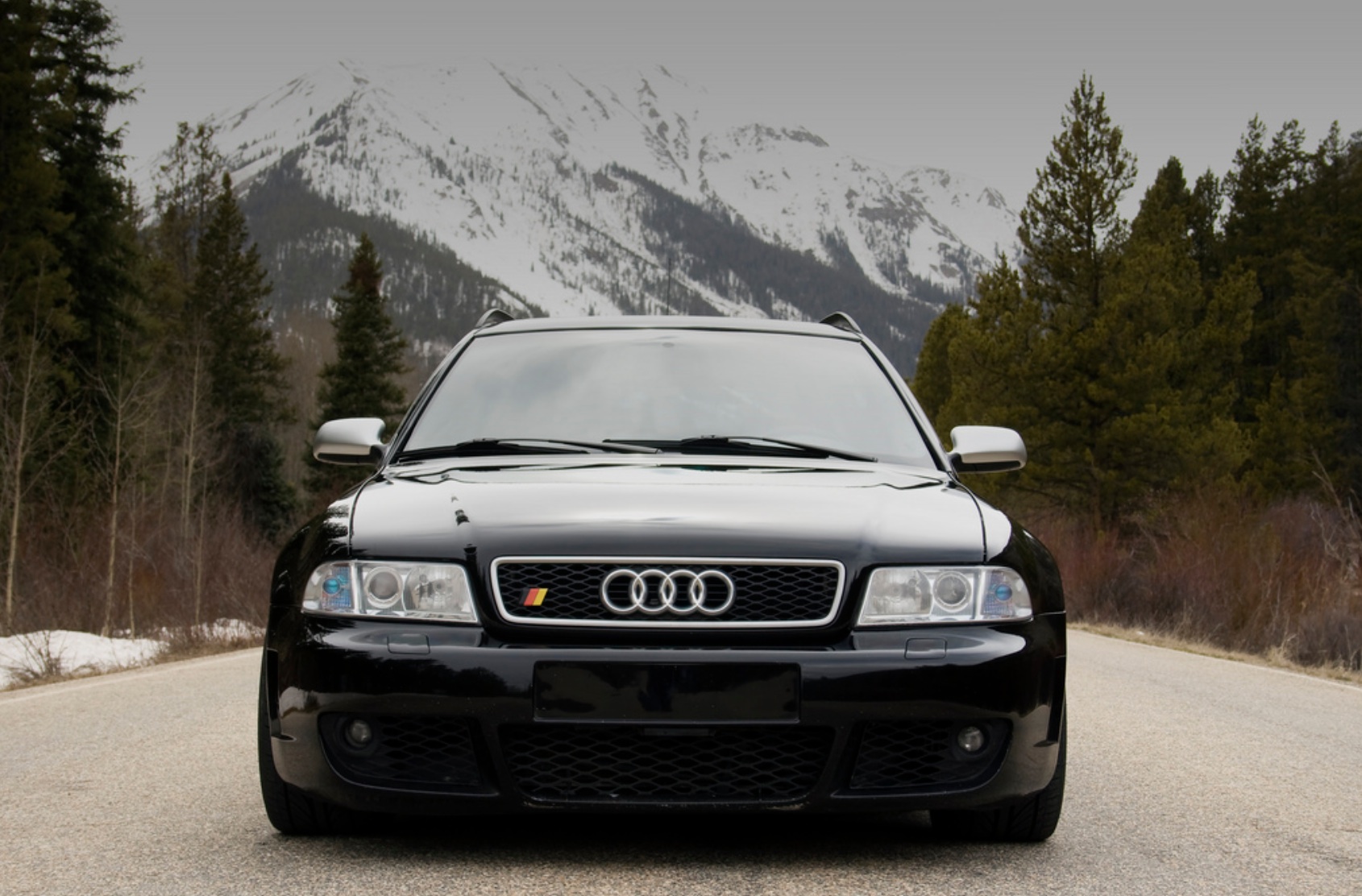 I am selling my project car, a 2001.5 Audi S4 that has been converted to RS4 body and interior and new engine tuned to RS4 stock specs. The car is available now for the BIN price BUT will be re listed on Aug 1st 2013 for a 24 hr auction with NO RESERVE. The car was bought in 2010 from the third owner in Kentucky (2nd owner was auction). I bought the car with 102K on it and drove it to 140K before any major work was done. After reading and learning about the problems this car runs into at high miles I decided to invest some serious time and money into it.

A shop in Denver had a Audi Euro code AGB motor in the crate for sale on craigslist that I purchased. This was a complete engine with turbos, clutch, all sensors and vacuum lines. I pulled off the stock K03 turbos and replaced with brand new K04's, swapped the intake manifold with a updated one, (crate motor was assembled in 99), installed new Bosch starter and alternator, new driveline belt, tensioners, ect. When I bought the car it was a automatic transmission. I converted it to a manual while doing the engine swap.

Here is a list of all things done/parts used when project began. All new when installed and now has 9500 miles on it:

Audi crate motor

Borg Warner K04's

Bosch Starter and alternator

Bosch EV14 injectors

OEM RS4 motor mounts and tranny mounts

RS4 Airbox

Bosch RS4 MAF converted to Hitachi

Bosch platinum plugs

New oil temp/level sensor (was not on euro motor)

Other mods:

3″ catless downpipes to Borla exhaust (used)

2 Vast stage 3 tuned ecu's, 1 for high altitude

RS4 Y pipe, accordion hose ect

Aftermarket inlet pipes for K04's

AWE RS4 style side mount intercoolers with carbon shrouds

Deatschwerks high flow fuel pump

Transmission details:

Rebuilt C90 OE1 (work done by Gbox Race Transmissions in Boulder CO)

New reverse light switch

RS4 clutch, DM flywheel, pilot bearing and pressure plate

OEM slave cylinder

New axles

Other new parts installed:

Bilstien PSS9 coilovers- http://www.fcpeuro.com/products/audi-suspension-kit-s4-48-086165

FCP Groton complete front suspention kit- http://www.fcpeuro.com/products/audi-volkswagen-suspension-kit-passat-a4-a6-s4-13-piece-4d0498998

After completing the driveline I got bored pretty quickly and started searching Germany and the UK for a RS4 body.

OEM RS4 body

Front and rear seats, stearing wheel, shift knob and gauge cluster

The body was installed, taken off for prep, primed, blocked then painted Brilliant black then re installed. The body/paint has less then 2k on it. I do have (not installed) OEM euro tailgate that will come with the car. All final body work was done at Apex in Denver (Porsche restoring shop).

Other stuff…

RS4 handles

S4 blue carbon weave trim

OEM RS4 side mirrors

RS4 aluminum window trim (not complete set)

Brand new front windshield

iforged senacas 19×10 with brand new Hankook evo tires

Porsche 18Z 6 piston front brakes with 350 mm rotors completely rebuilt with new crossovers, bleeder valves, seals and dustboots (less then 2K on brakes), powder coated red

Pioneer Avic D3 touch screen nav with bluetooth, CD and DVD player

Nearly all driveline parts are genuine Audi OEM parts for reliabilty reasons. My goal/s were to build a fun/reliable car and restore to like new condition. And when you drive it thats what it feels like! I was not trying to build a race car. The car has never been tracked or beat on. I live off of I70 in the mountains of Colorado and I only really get on it when getting on the highway on ramps. It was dynoed last month at Bluewater in Denver @ 390hp with 440 torque. This was plenty for me. The car was completly looked over at 3zero3 motorsports in Denver and then again at Elk mountain AUDI in Glenwood springs. It passed both their inspections on all work done. Please feel free to ask any questions and I will answer as soon as I can.

I really looked into importing a genuine RS4 but it truely did not make sense to spend 40+ K on a high mile RS4. After shipping, importing, paper work, DOT inspections, smogging, ect it was just to much for me to justify. Or you can but a genuine a 60K miles one that is already imported here http://www.2bennett.com/body_audis_for_sale.html for $75K

Here is a link to my Flickr to see detailed work done. I will have more things/photos listed for Aug 1st auction http://www.flickr.com/photos/01vailshred/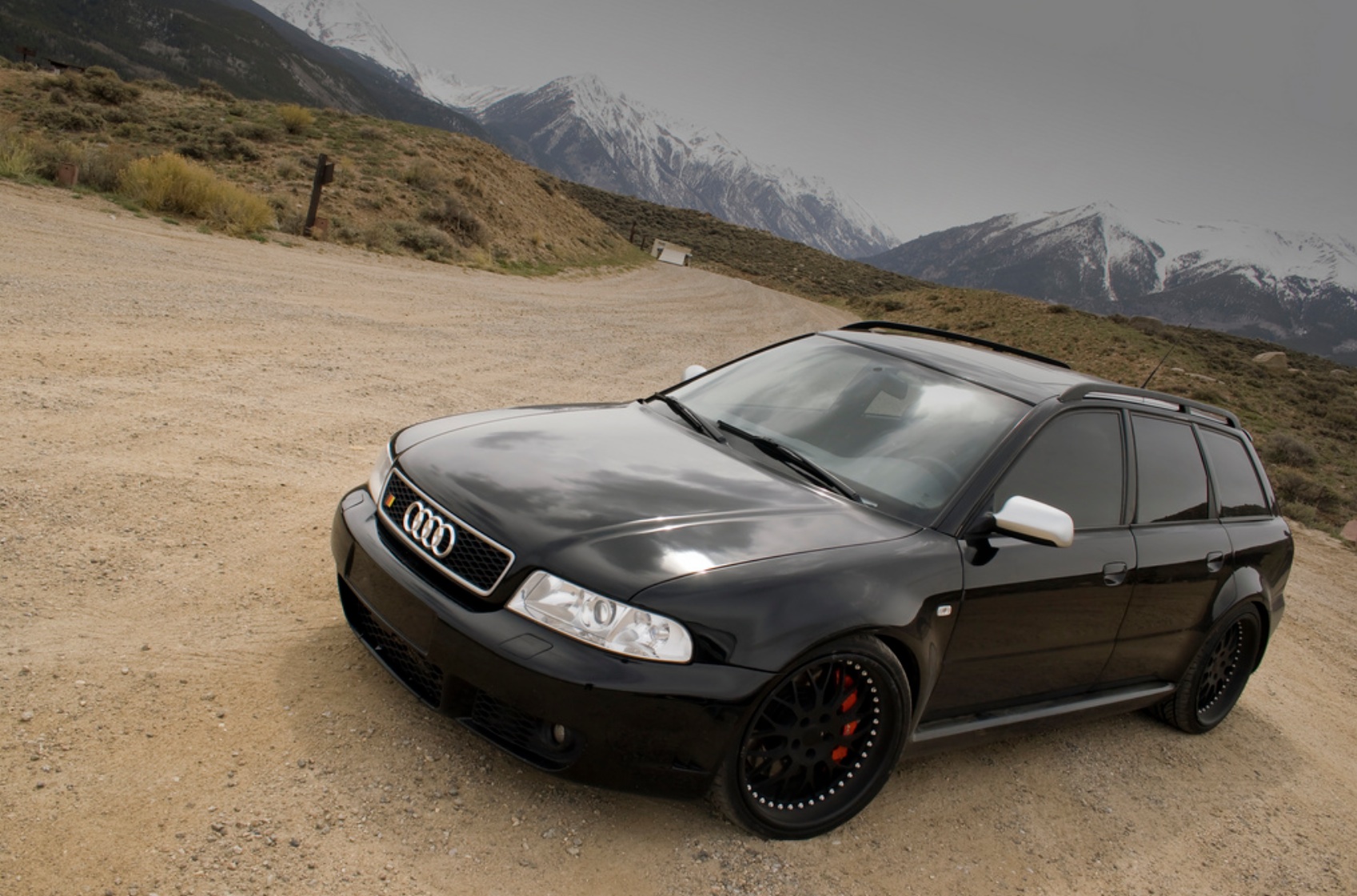 It's hard to say how many enthusiasts have undertaken a conversion similar to this, but it's certainly not that many. The amount of genuine RS4s on US soil is less than that. So either way, if you want one of these fast Avants, they won't come cheap. For those not initiated to the RS4, the asking price will certainly be high, but until the first examples of these become legal to import under the 25 year rule, it will keep values strong. An enthusiast build at this price is certainly not for everyone, but for the die hard Audi RS enthusiast, a car like this hits the spot.
-Paul