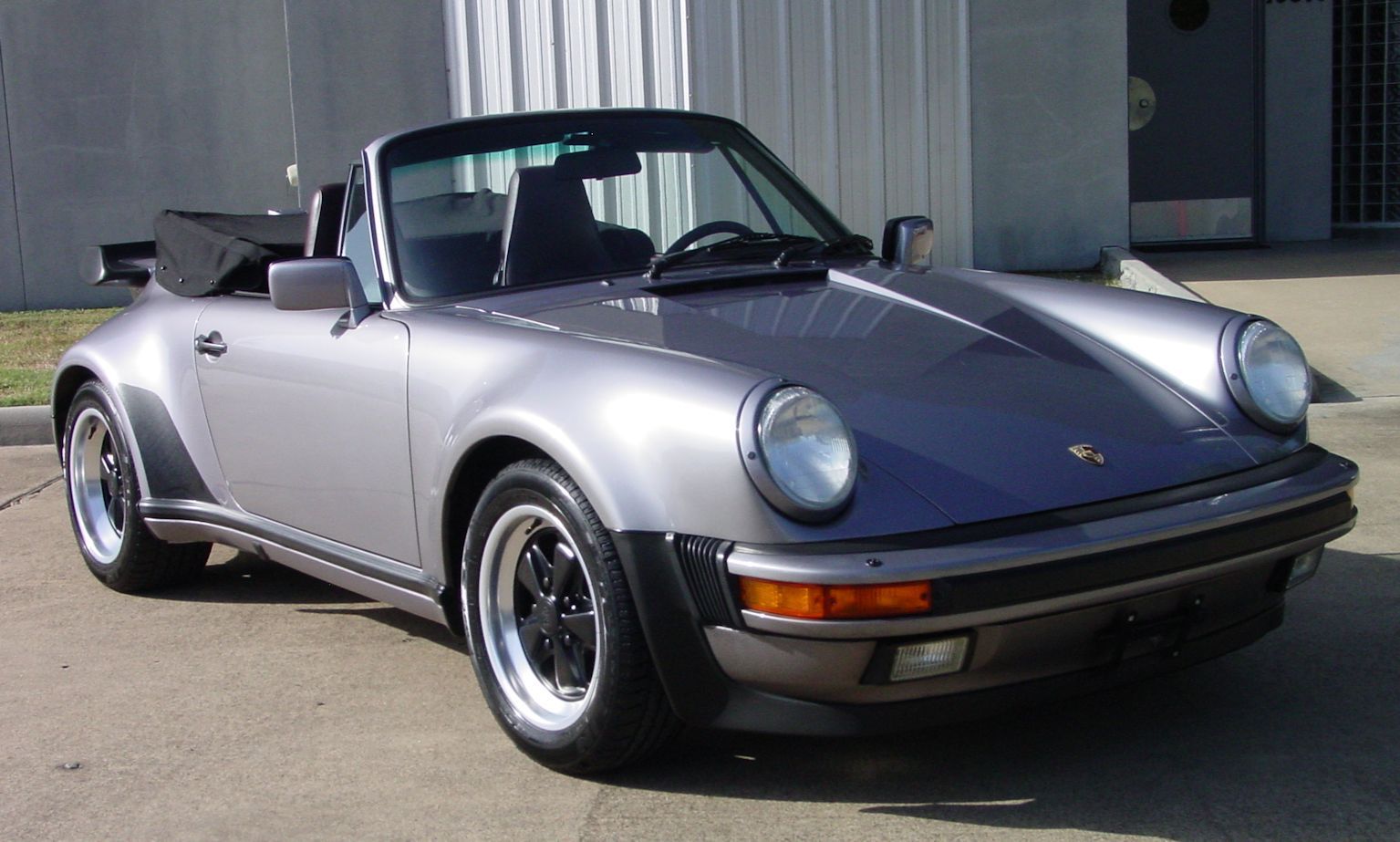 As the last of the classically-styled 911 models, I've always had a particular fondness for the late-80s 911s more than any other iteration. Known also as the 930, the Turbo version of these cars was introduced in 1975 as the first turbo-charged version of the 911 and featured a 3.0 liter flat-6 that produced 256 bhp. Enlarged to 3.3 liters in 1978 and fitted with an intercooler, engine output was raised to 300 bhp, which resulted in a very quick car that, due to being rear-engined and suffering from turbo lag, was somewhat at odds with the laws of physics.
After briefly being removed from the US lineup due to emission regulations, the 930 returned in 1986 with a slightly lower output 3.3 liter engine (282hp) and for 1989, the last year of this model's production, it received a 5-speed manual transmission. In addition, Porsche's Sonderwunsch ("Special Wishes") Program allowed 911 buyers to customize their car in a variety of ways, most famously through the availability of a flatnose version of the 930. But sometimes an owner simply wanted to upgrade the interior, which brings us to the car featured here today. This 1989 911 Turbo Cabriolet, located in Texas, with just under 21,000 miles has had its interior specially fitted almost entirely in burgundy leather.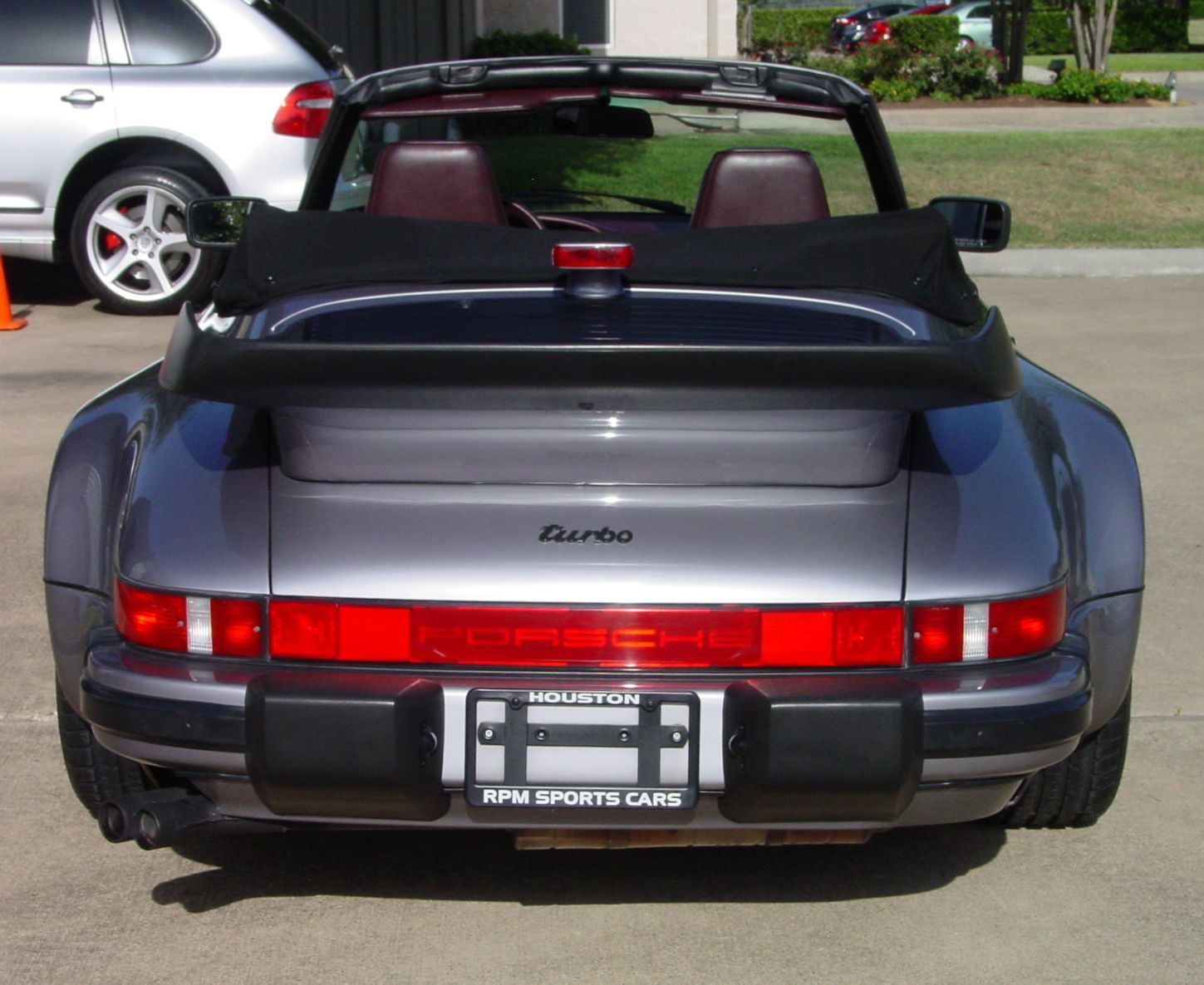 Year: 1989
Model: 911 Turbo Cabriolet
Engine: 3.3 liter flat-6
Transmission: 5-speed manual
Mileage: 20,900 mi
Price: $92,500 Buy It Now
Diamond blue metallic/Burgundy, 20,900 mi, factory "Special Wishes" leather interior options, limited slip, supple leather, heated seat-left, short shifter, steering wheel with raised hub, velour luggage compartment, fresh service with new tires, $102,999 MSRP, immaculate condition.

Factory "Special Wishes" Options

Special leather enclosed speakers
Special leather center console with additional instruments
Light rootwood dashboard
Leather instrument rings
Leather door lock rosette and knobs
Leather ignition lock rosette
Leather control knobs (4)
Leather glove box knob
Leather turn signal/wiper switch
Leather fresh air vents side dash
Leather heat/vent control knobs
Leather shift lever cover
Leather shift lever knob
Lighted make-up mirror, right sunvisor
Belt line leather- burgundy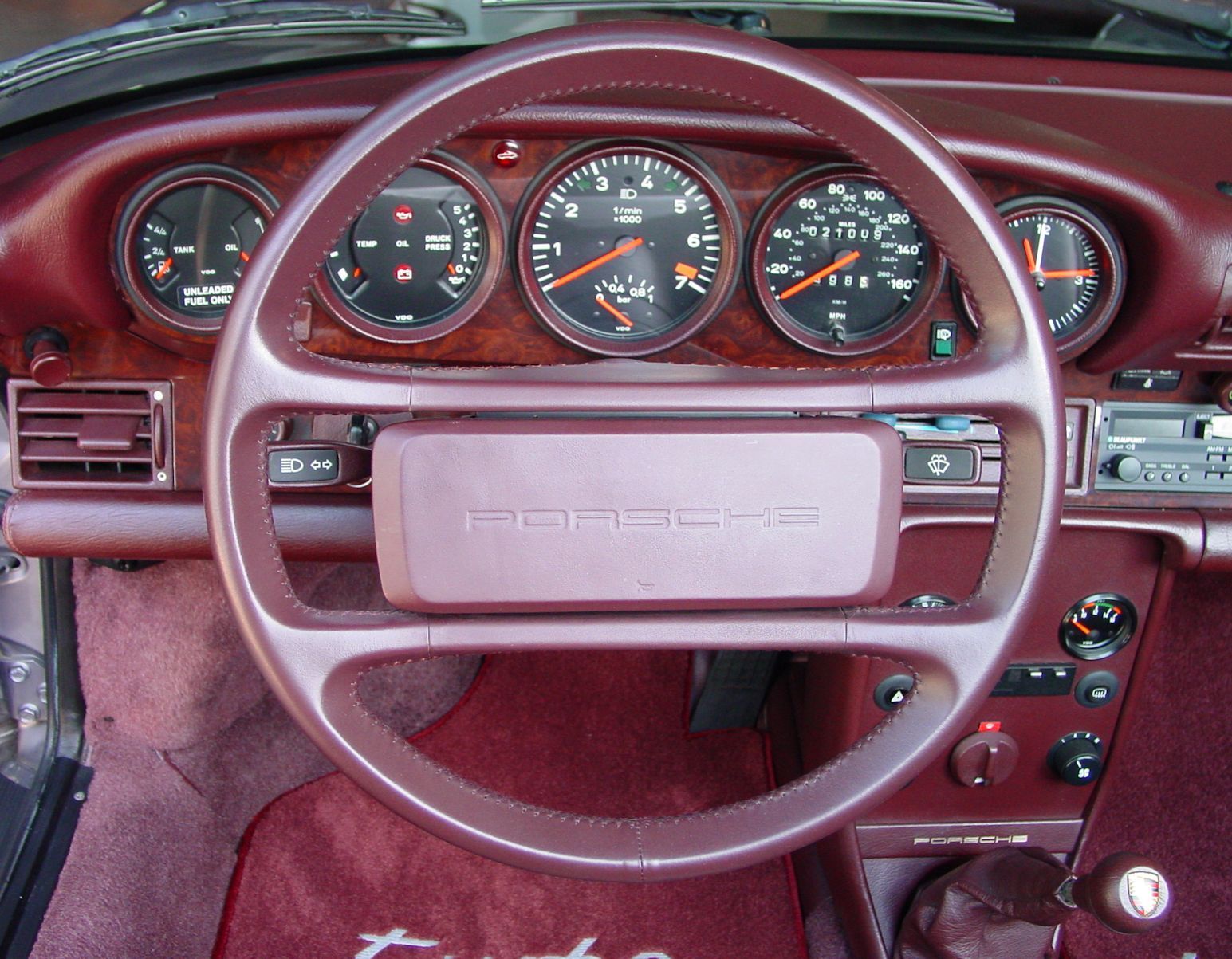 I'll just come right out with it: I love the interior. Burgundy is easily my favorite color for a leather interior and I wish it was available more frequently. The original buyer of this car clearly felt the same since it appears that anything that could be covered in burgundy leather, has been covered in burgundy leather. For some, it might be a bit too monochrome, but I think it's gorgeous. I'm not sure I'll ever appreciate the dissymmetry of the whale tail on a cabriolet (I love a whale tail on the coupe), but regardless, it's still an eye-catching car. The asking price, however, is at the top of the scale for a 911 of this vintage and while it is low mileage, quite unique, and the Sonderwunsch options were very expensive, I think it would take a very particular buyer for it to sell at $92,500. Without the "Special Wishes" options a car like this probably goes for around $70,000. So at $90,000+ we're looking at a pretty high premium, no matter how beautiful the leather.
-Rob