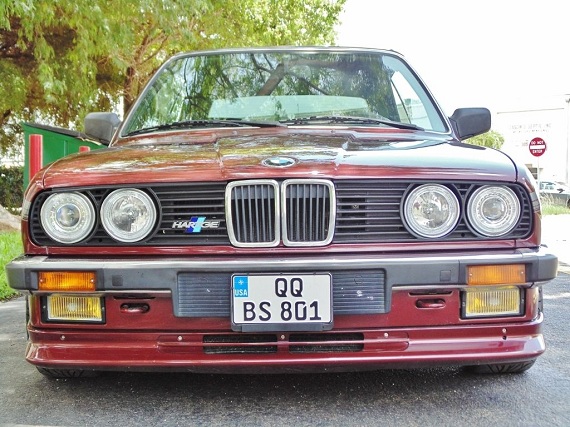 The Hartge/Weismann modified European market 1987 325i convertible is back up on eBay with a reasonable price drop from $20,000 to $16,900. It's still expensive, but considering the clean build with rare parts the price seems more in line now.
The below post originally appeared on our site July 22, 2014: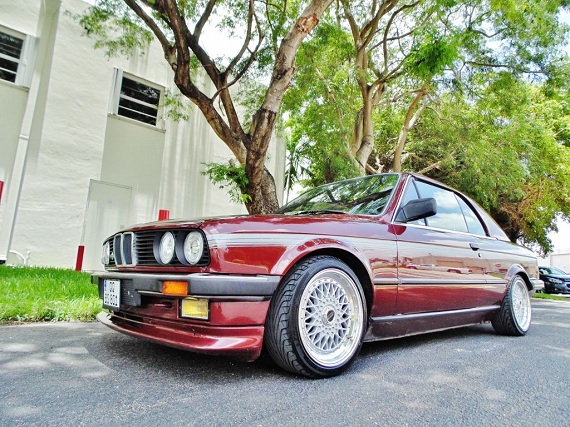 I was joking around with our editor, Paul, saying that I was pretty sure we could just feature E30s all day long and everyone would be happy. There's a seemingly endless supply of examples that come to the market every week. There are the normal S50/S52 swaps, some crazy turbo editions, mint condition original examples, tired daily drivers and everything in between. But occasionally something special pops up that really makes you take notice. Much like earlier's H26 modified 325i, here is a 325i that was apparently originally modified by Hartge in Germany. Sporting some of the really tasty Hartge bits but not a full H26 conversion, the Coup de gras has to be the Weismann hardtop: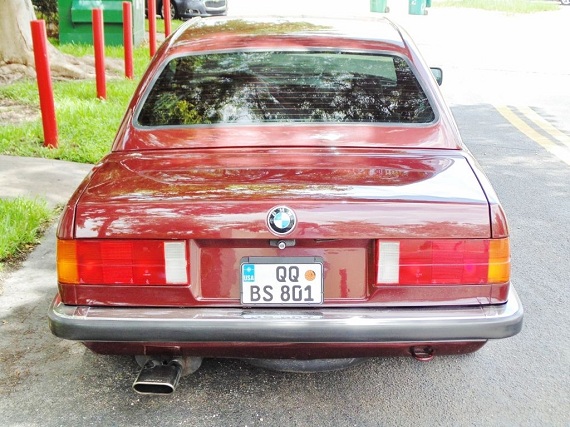 Year: 1987
Model: 325i
Engine: 2.5 liter inline-6
Transmission: 5-speed manual
Mileage: 51,888 mi
Price: $16,900 Buy It Now
Prime example of e30 325i history… I took this car in trade from a friend of mine who was deployed to Germany and brought it back on his way home.

This is a very rare opportunity to own a low mileage, one of a kind, beautiful, turn key e30. Everything is new on this car with solid documentation on the hartge package and documentation on the light restoration this 27 year old beauty under took. There was a big chunk of money invested in this car and it definitely shows for it…

I am available for any questions that I can answer to the best of my knowledge, although if there is something I can not help with the previous owner is still available for questions or any type of help needed to get this beauty to a new home. This car has been featured all over the web for being one of the harder to find and tastily modded e30's left, but never was properly advertised (No offense Eric haha). Below the pictures is the PO's original posting.

I can be contacted at (786) 291 – 3622 Danny … For the previous owners number please contact me first.
I am interested in other cars/ shipping is available anywhere in the world.

$20,000 open to offers.

realmuscle1's 1987 BMW 325i hartge album on Photobucket
"1987 BMW 325i convertible Hartge German Spec

83507 kilometers or 51888 miles

It was dyno'd in Germany at 127.6 KW or 171.11 HP to the wheels with dyno sheets

It was completely restored in Germany by a German Auto Miester.

The Hartge package includes Suspension parts, Headers, valve cover, exhaust, Pin striping, and steering wheel. From what I was told, it was bought from BMW and taken to Hartge Germany for the upgrades. I have the German titlebook with the documentation. I bought it from the German auto Miester with the restore complete and I imported it when I PCS'd back to America.

Paint matched extremely hard to find Weismann hardtop, Mtech bumper and sideskirts. I didn't install the side skirts because I thought I could drill into the car but felt too bad. They are not installed but I have them and they go with the car.

The seats, door, steering wheel, and rear panels were sent to Poland where it was reupholstered in real leather and double stitched. I also had the Hartge label embroidered into the front and rear seats.

I am the first American owner and am the person who imported it. (I have all documentation)

I brought it to One Way BMW in Sherwood Arkansas for a presale inspection and we replaced:
All 4 tires, Diff axle shaft seals, oil pan gasket, 2 shock mounts, 2 sway bar links, 2 tie rod assemblies, Control arm bushings, 2 strut mounts, 2 brake pad sensors. I have all documentation and a clean bill of health from them.

Before I left Germany I had the following replaced/upgraded:
New spark plugs and wire harness, slotted ported rotors, angel eye HIDs, new stereo, new OEM carpets, coolant flush, oil etc.
I have the original headlights and CD player with code. It was the first year the CD player was available. They can easily be put back in. I used butt connectors and didn't cut wires. I also have the full OEM wheels to go with it.
I am sure I am missing things and will add them when I think about it. "

This car is sold in as-is condition with no warranties expressed or implied like any used car is. I reserve the right to end this auction at anytime. Please do not make an offer or click on the buy it now if you are not serious or ready to buy. Also, don't waste my time.

(Car was taken off of eBay do to the vin being input incorrectly)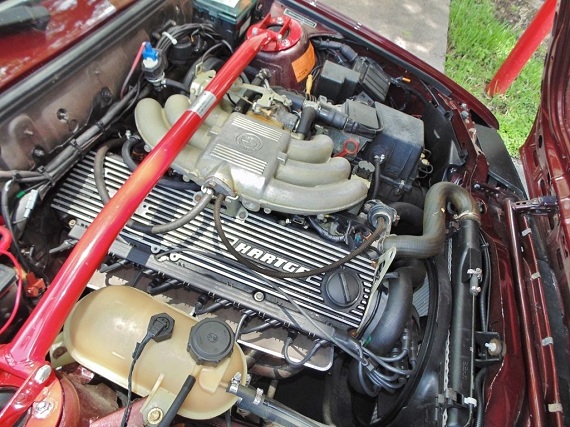 In terms of originality, this car isn't the best; the custom interior and Hodge-podge of parts means that it's not a perfect example. I believe that the wheels it currently sits on are replica BBSs and not originals – partially because the look is slightly off, but mostly because they're not listed and big BBS RSs like that would generally make the top billing. However, the rest of the parts are a really neat collection, and as the seller notes this is a rare opportunity to get this many options together in one package as a turn-key car. Does that make it worth $20,000? To me, no – I think like the 325i from earlier, the pricing is pretty optimistic on this car though it's really a rare collection of bits. While cool to see, I'm not sure that this is the 325i I'd want to own; I prefer the smooth lines and understated nature of the earlier example more – but at this price, I'd either want a real H26 or a M3.
-Carter