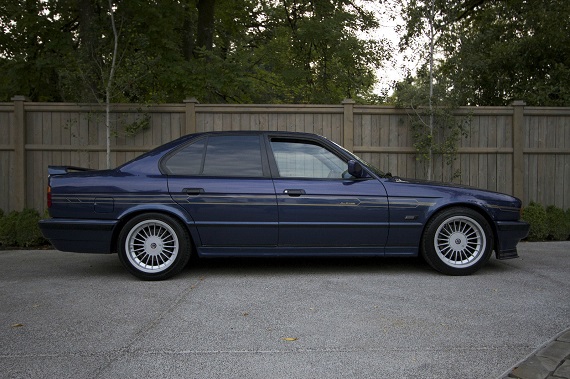 Alpina is a name which holds as much weight in enthusiast's minds as names like AMG and Ruf, and for good reason. Since the infancy of BMW's mainstream involvement in both motorsports and road cars, Alpina has been intrinsically linked to the marque and has developed some of the more memorable fast alternatives to BMW's own M series. They have a different character; you could say they were less aggressive, but the signature Alpina Blue with large turbine wheels, character stripes and spoilers paired often with the combination of specially upholstered interiors replete with rich woods results in a package that many view is more special than the standard production cars. Their complete reworking of models right down to special engines and suspensions has resulted in a bespoke BMW made in limited quantities and with its own unique character: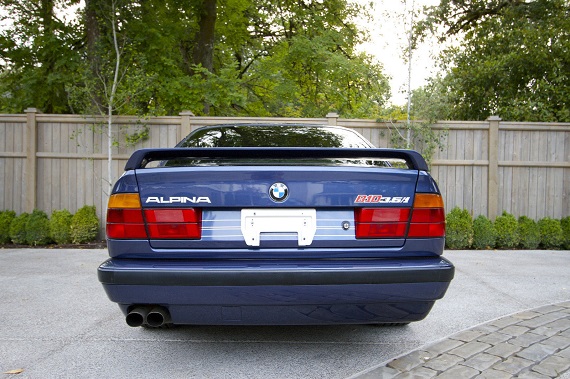 Year: 1989
Model: B10 3.5/1
Engine: 3.5 liter inline-6
Transmission: 5-speed manual
Mileage: 71,000 mi
Price: $24,999 Buy It Now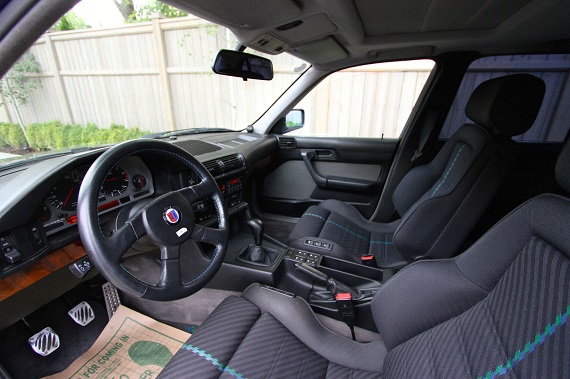 Offered for sale is a 1989 BMW Alpina B10. A rare to find in the US "naturally aspirated B10's offer approx. 251HP and 255 lb.ft of torque from a modified M30 straight six, increases of nearly 45 and 30, respectively." The car was brought form Japan and is in excellent condition throughout. Odometer reading approximately 114,000km or 71,000mi and is subject to change. The car is rust free, straight panel lines throughout & strong engine. The signature Alpina purplish-blue paint seems to be all original except at the rear quarter, drivers door and front fender indicating they have been blended, however the color match is highly accurate. Alpina turbine wheels, graphics, body kit and badging. Nicely preserved cabin w/a 4 spoke Alpina steering wheel, sport cloths, Alpina dash plaque, Alpina logo veneer inlay. Functional Recaro seats, sunroof, a/c, windows, some typical LCD readout bleeding on the OEM radio, but gauges, lights, and accessories work. Lots of space in trunk with the e34 snowflake alloy spare and factory tool kit/ flashlight. The 5-speed manual trans. swap came from a 70k mi 535i that had accident damage, not affecting transmission. During swap, there was no cutting or other permanent mods done to the car or drivetrain & a new clutch was installed. Overall, impressive job done by Euro Auto Repair out of Philadelphia. Original auto trans. is included although the manual is a much more fun experience from an enthusiasts perspective. Car is sold with partial service history from new, factory books & manuals mostly in Japanese. Contact with any other questions.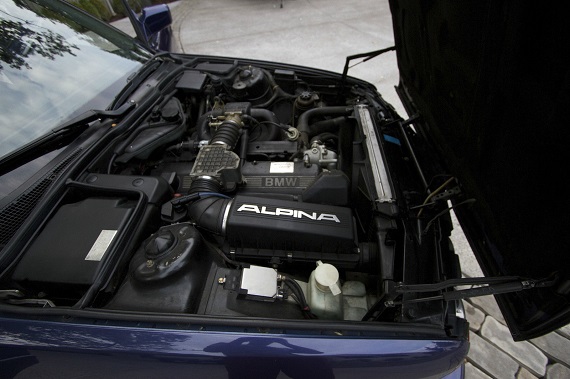 The B10 3.5/1 is the most numerous of the E34 Alpina models, and it's not the fastest or most desirable. But with only around 570 produced, it's still quite rare to find them and this one overall appears to be a good example. Number 51 appears in the Alpina Archives, and confirms what isn't really fully explained in this listing – it was originally an automatic, and it has been converted to a 5-speed. For enthusiasts, that's undoubtedly an improvement, but I'd have to think it some regards it hurts the collectability value slightly. The other oddity is that the car is pictured in the Archives with a bright blue leather interior when it clearly has Alpina Decore today. Overall, this is a quite desirable package with one problem – the price. Only a little over a month ago we looked at another original 5-speed B10 3.5/1 for some $5,000 less. Others we've looked at have traded in the high teens. Frankly, at much more than that you've got some serious competition in very nice E34 M5s, and I'm not sure the great look of this car outweighs the draw of the Motorsport edition for me.
-Carter