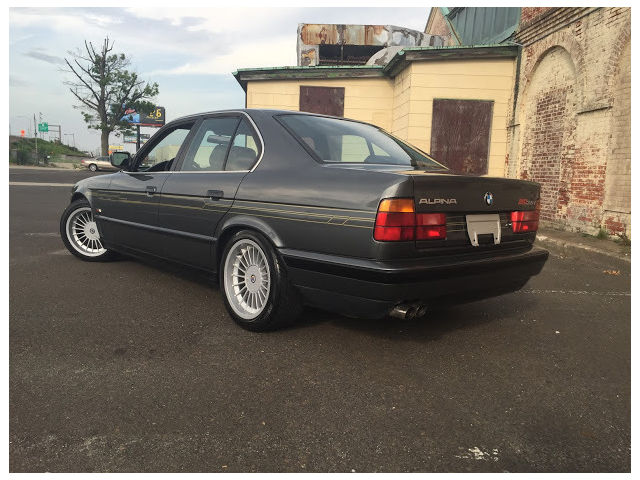 I have a business plan to suggest to the audience; go to Japan, find all of the low mileage AMGs, Rufs and Alpinas that businessmen snapped up in the late 80s and early 90s, buy them and a large number of containers, and bring them over here to eager fans who snap up anything late 80s-spectacular quicker than a cocaine line at a Charlie Sheen party. What's that? Someone's already thought of it? We've seen a few repeat sellers pop up with surprisingly mint, lower mile examples of some rare German metal – all of which spent time in the land of the rising sun. Again today, it's another Japanese-import Alpina – this time, an E34 based B10 3.5/1 model:
Year: 1988
Model: B10
Engine: 3.5 liter inline-6
Transmission: 5-speed manual
Mileage: 86,370 mi
Price: $19,900 Buy It Now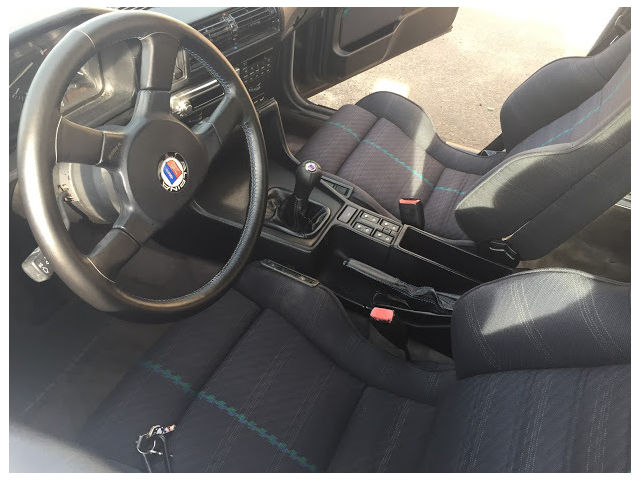 This 1988 Alpina B10 was recently brought over from Japan and is said to be in excellent condition throughout. This is a stock example with catalytic converters in place, and 139k kilometers works out to just over 86,000 original miles. This car original Buhloe build 5-speed car ,not a conversion.. The car is both rust and accident-free with largely original paint and a strong engine. Electrics are fully functional including cold-blowing A/C, and the car is offered with all factory book and manuals. The car is sold with a clear Pennsylvania title and all importation documents.

As photos show, paint remains in nice condition on top of straight panels with good fit.. This greish-green is a signature Alpina shade, and in combination with un-curbed Alpina turbine wheels, graphics, body kit and badging, helps set it apart from standard E34 5 series. The seller says the car has no evidence of prior accident repair.The cabin is very well-preserved and we like the 4-spoke Alpina steering wheel and signature sport cloth seats. Note the numbered dash plaque and Alpina logo veneer inlay. There is no OEM radio, All gauges, lights and accessories are fully functional. The trunk retains a standard E34 snowflake alloy spare as well as a factory tool kit.

Based on the 535i, these naturally aspirated B10s offer 251 HP and a nearly identical 255 lb. ft. of torque from a modified M30 straight six, increases of roughly 45 and 30, all gears are shifting smoothly around town and positively on bigger throttle inputs under load. This is a very rare model to find in the USA

This vehicles vin is WAPBA35018BB30009

This vehicle was legally imported from Japan and currently has a valid PA title. The mileage is displayed in kilometers which we cnverted to miles for the add.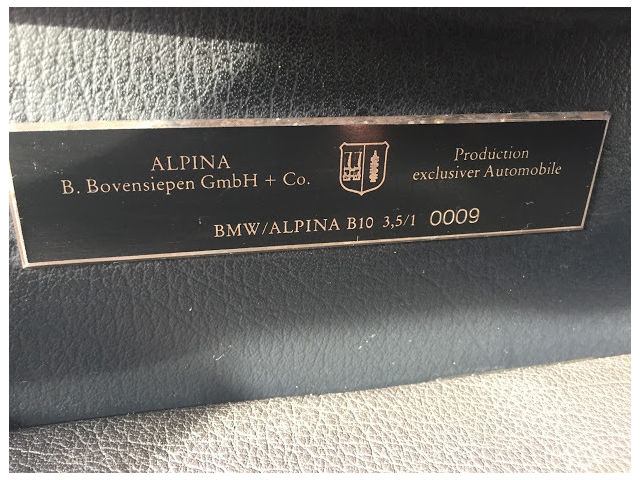 I'll get this out of the way first; the VIN decoder, normally 100% accurate in my use, turns up an E34 with this ending VIN, but not this example. However, the first part of the VIN is different when it sources the information, and scrutiny of this example seems to corroborate that it's a real-deal Alpina B10. Unlike the C2 from last week, this example – number 9 – does appear in the vintage Alpina archives to back up its existence, and yes – it's Delphin Metallic with Gold decor just as shown. The VIN plate seems to match up, along with every other detail – so I'll suggest that the VIN decoder must be wrong on this one. Condition is top notch for a now 27 year old E34, and desirability of the B10 might even be slightly higher amongst the general populous than BMW's own M5 model from the same time period – though, the B10 3.5/1 can't really compete with the inhouse M for speed. Alpina produced a "lot" of these B10 3.5/1s at 572; with greater performance than the standard 535i, it was a bridge model between that and the forthcoming E34 M5. Let's not forget that in typical fashion, Alpina was leading the market – the E34 M5 wouldn't launch until the year following production of this example, in 1989. Therefore, in 1988 this was the fastest E34 money could buy. However, it's not as desirable amongst E34 Alpinas as the velvet hammer BiTurbo that was released in 1989 to compete with the M5, and that keeps pricing down. The entire E34 market – especially the inline-6 cars – still seems depressed in comparison to the E28 and E39 market, and this is no exception. For a touch less than $20,000, you can have some real Alpina wizardry with a high-compression inline-6 matched to a 5-speed manual and the best looking kit and colors for the interior and exterior stripes. You get some monster but fitting wheels, too, along with the bespoke suspension, brakes and exhaust. But that interior – as always, the Alpina seats are the real treat to see. This isn't the cheapest E34 on the market, nor is it the fastest. But as a package, this looks to be one well priced classic that will set you apart.
-Carter