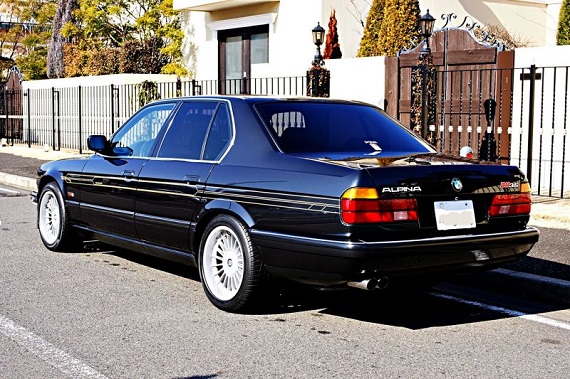 Another week, another Alpina treat from our favorite new tuner seller from Japan. This time, unlike the mostly 5-series based models that have popped up for sale there is a E32 model on offer. The E32 was a big step up in terms of luxury and driving dynamics from the E23, fully modernizing the high end lineup for BMW. As they had with previous models, Alpina immediately had their hand with the new model and breathed their normal aftermarket life into the large executive sedan. That meant a turned up engine good for 250 horsepower (261 without catalyst) although that engine – from the E28 B10 and E30 B6 – was replaced with a 254 horsepower version in 1988 which was shared with the E34 B10 3.5/1. In addition, the normal suspension, wheel and interior treatments were complimented by some minor aerodynamic tweaks and exhaust upgrades to create a decidedly more performance oriented luxury car: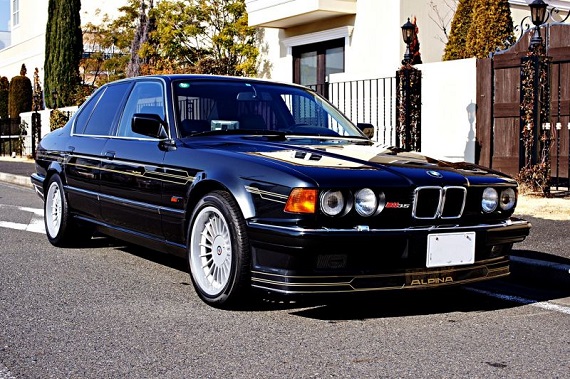 Year: 1989
Model: B11 3.5/1
Engine: 3.5 liter inline-6
Transmission: 4-speed automatic
Mileage: 75,000 mi
Price: Reserve Auction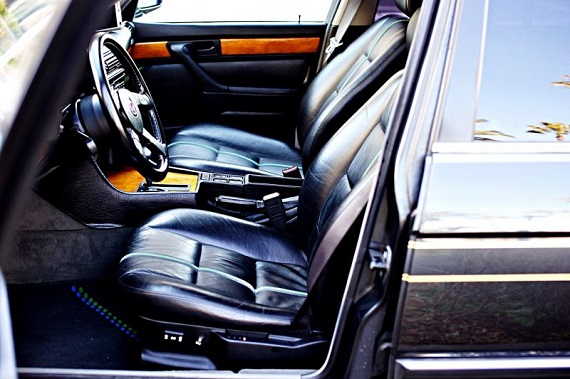 This is Original Alpina B11 3.5 complete car. Prodution number 275 out of world limited 332 cars.
This Japanese Alpina authorized dealer model sold in Japan 1989 Dec. No accident, original 120000km (75000miles) all authentic mint condition car. 254hp with top speed 248km (155miles)
Now US market allowed to import this car so dont miss this rare super saloon. so dont miss it!
US buyers=> past 25years old so you can import this car. Shipping charge 2200USD included export service and ocean freight to US RoRo line available port. (TACOMA,LONG BEACH,Galveston (Direct or T/S),Vitoria (T/S),Santos (T/S),Guayaquil (T/S),Cartagena (T/S),Zarate (T/S),SAVANNAH,NEWPORT NEWS,BALTIMORE) Hawaii 4500USD(Long beach transit)
Euro buyers=> You can import this car. Shipping charge 2500USD included export service and ocean freight to Euro RoRo line available port.
Australia buyers=> you can import this car. Shipping charge 2200USD included export service and ocean freight to Australia RoRo line available port.
model, engine

Make: BMW
Model: Alpina B11 E32
Type:
Year: 1989
Body Type: Standard Car
Doors: 4
Seats: 5
Steering Position: Left-hand drive
Owners: 3
VIN Number: 00000000000000000
Body Stamp Number: WAPBB35009BB30275
Alpina B11 No 275 / 332

74,564 miles, 120,000 km

exterior, electric

Exterior Color: Black (Metallic)

Super clean. always kept inside garage. no dent no scratches no fade perfect exterior.
Alpina original spoliers. 17inch wheels. Alpina B11 originally lowered suspension.
Diamond BLK with gold Alpina stripe. All perfectly working order. A/C works really good too

Interior Color: Black

Alpina B11 BLK leather seats. Original Alpina B11 interiors (very good condition soft leather)
Alpina caution plate (Production 0275) door panels even carpets all original Alpina B11(Blue with Green stripes) Alpina B11 originaly has Builstain gas stiffer shockes and shhorter springs. very tight and stiff. staible handring.
17inch original ALpina wheels are perfect shape. 235/45+265/40 wide tires looks so cool. Pirelli P-zero nero 70% threads.
engine, equipments

Engine Size: 3430 cc
Cylinders: 6
Power: 250 Bhp (186 kW)

Engine mainteined perfectly and sounds very healthy. Stlong power (check Video)
Especially driving on freeway amaging!! CHECK 2 MOVIES !!
transmission, special features

Mission: Automatic

Perfect. no time lag, no shocks very smooth Only 332 cars were producd offically. This is original authentic Alpina B11 # 275
high cost effective car and vale won't last forever.
Add this car to your collection.
1989 BMW Alpina B11 #275
history records
Sold at Alpina authorized dealer (Nicole Japan) on Dec 1989.
3 owners most records available
maintenance records
Mainteined perfectly. most records available
Nicole ALpina hand book comes with the car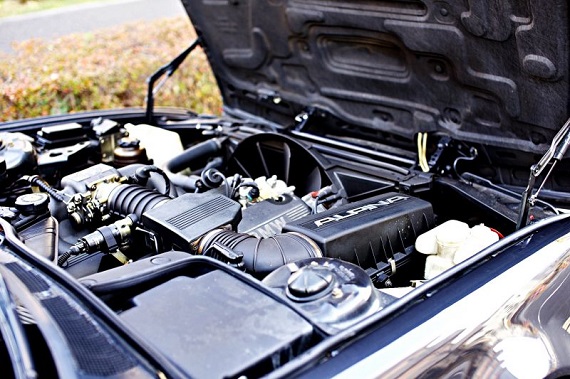 As with previous examples, the condition of this car looks to be really great. The car is in all-original condition from what can be seen, and appears fairly pristine overall. I especially love the leather interior with Alpina stripes; an interesting departure from the typical cloth interiors that adorn the 5-series models. Outside the great Alpina gold stripes work well with the black paint, and the "Softlines" match the style of the car very well. They're simply great looking wheels on what is a very good looking large sedan, and one that isn't often seen. If there's one downside, it's that the car is the optional automatic rather than the 5-speed that was available with the early E32s; however, this is still one heck of a package and a rare bit for BMW and Alpina fans considering only 330 were made. Value is pretty hard to peg considering the rarity with which these E32 based Alpinas come up; condition is a big plus over most E32s but the location will scare away many U.S. based bidders. I'd guess the reserve is set between $11,000 and $13,000, and it will probably struggle to get past that amount. It's a neat piece of Alpina history, but one that only a very select group would be interested in paying for.
Thanks to our reader John for the great spot!
-Carter