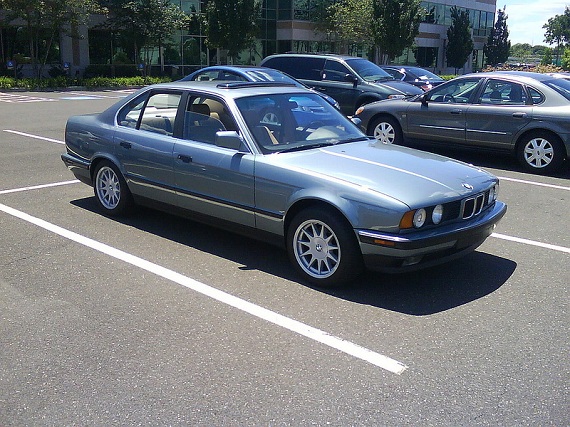 When I was a younger lad, I diligently followed the car magazines. It was in the late 80s that a small California-based firm named after its creator, Steve Dinan, started gaining the notice of the car magazines. The reason why was simply; just as Reeves Callaway had done on the East Coast, Steve Dinan was taking already potent cars and turbocharging them in the Golden State. In this case, it was E28 and E24 M5 and M6s that were getting forced induction, and the results were unreal. At the time, having 400 horsepower put you into the likes of Ferrari, Lamborghini, and a few other exotics. Dinan didn't rest on those laurels though, and since has become a defacto factory tuner in a similar vein to AMG, though they remain independent. That's a testament to the quality and reliability of their work. What they produce are improved versions of already fast cars, and today's 1989 535 is a great example. The E34 was a solid performer in its day, but with a turbo and 300 wheel horsepower, it's an undercover M5 assassin: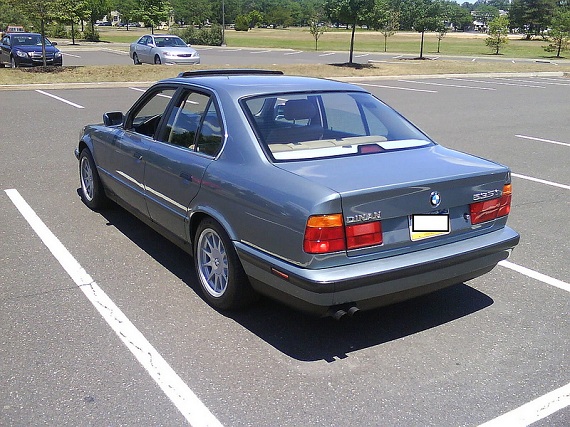 Year: 1989
Model: 535i
Engine: 3.5 liter turbocharged inline-6
Transmission: 4-speed automatic
Mileage: 77,000 mi
Price: $12,000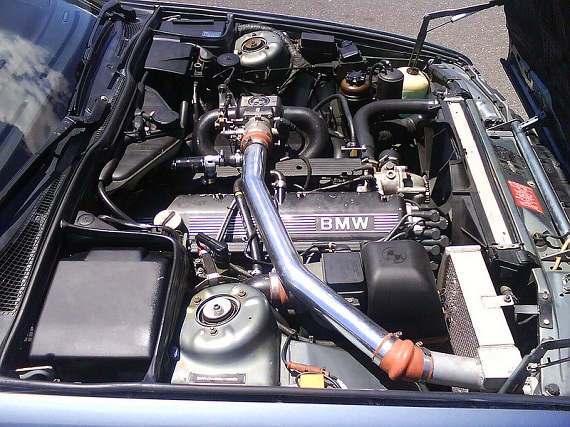 Vin: WBAHD2313K2091373. Clean title in hand.
77,xxx miles

Rare 535i Dinan Turbo. Not a kit put on by some mechanic, she's the real deal. I gathered 1 of 15 built in Steve Dinan's CA shop, 5 were automatic. Originally from Delaware it was shipped to CA and had an intercooled turbo, upgraded suspension, brakes, upgraded Dinan exhaust, Dinan 3 vdo gauge(oil temp, boost/vac, volt) panel, Dinan turbotronic computers, Dinan floor mats, safegaurd knock detector system all installed and was shipped back East. The Hartge Type A wheels were reconditioned, and the tires are less than 2,000 miles old.

The car was previously owned by a performance shop owner. It has a recently rebuilt head (complete with 3 angle valve job) and rebuilt transmission (both <2,000 miles ago). When the trans was rebuilt the converter was loosened (3,000 rpm stall) and a shift kit was installed (common in automatic hot rods). Have receipts. In his care the engine had been completely gone over including upgrading the injectors and install of a new fuel pressure regulator. All belts replaced. I have receipt for the trans and head work. Clean inside and out. It's been stored in garage all its life, well maintained and it shows. It has had one repaint. There is nick or two in the rear bumper, one but the driver door handle and two or three small dimples in the body. The turbo pushes ~12lbs of boost and pulls very hard with little lag. Even at 24 she remains world class fast. From the articles ~300whp feels right. Driven out of boost and she's pretty economical, ~25 mpg hwy. Recent: -PA Inspection -A/C recharged -New trunk struts -New ignition switch -New rear passenger door cable -New rear control arm dogbones -New front rotors -Oil/filter change It is what it is: -The CEL will randomly come on with your foot off the gas as the air/fuel ratios battle it out between the main computer and turbo computers installed Dinan. It clears as you drive. Code reads lean at idle. In speaking with Dinan about this it was said "it is what it is". My mechanic and Dinan believe it's fine the way it is but it could be tuned out. I just don't have the time and its fine the way it is. -The odometer was replaced at ~54k. There is a validation sticker on the door. The car was recently driven on a 700 mile journey through the Green and Adirondack Mountains without flaw. A new baby has changed priorities. Its more of a cruise missile than a twisty killer but regardless its a blast to drive. My wife and I rarely listen to music preferring the sweet sound of the turbo spooling. Its a wonderful car in super shape and I hope it goes to someone who will appreciate it. It will come with a framed original ad where I'm 99% sure it's the car in the picture. Will work with shipping. I can put you in touch with my mechanic. I'd also be willing to take her to renowned VAC Motorsports in Philly for a PPI at your expense. Asking 12,000. Reasonable offers considered. May trade for convertible and cash or car with similar value. Rob 4eight4-9four9-4six7six Pictures: http://www.flickr.com/photos/93289116@N06/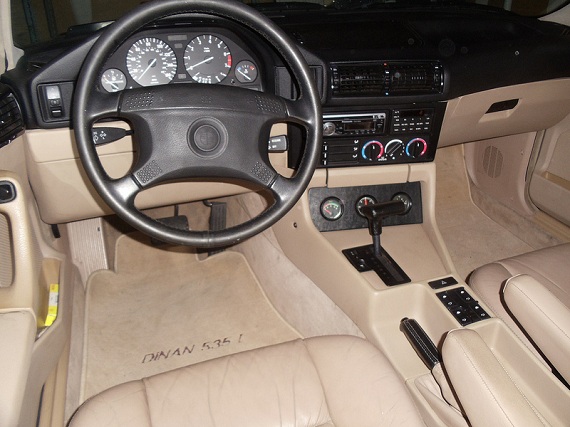 As a standalone, it's an impressive condition E34 with lower miles. Add some Hartge wheels for improved looks without going over the top, and that's another win. In fact, aside from the wheels and discrete "Dinan" badge on the back, this car is a true sleeper. It's also an automatic, which may turn off some enthusiasts but with ample torque and turbo power delivery, the automatic isn't necessarily so bad. The price is probably lower than you'd expect for a one of fifteen rarity, but I think considering what it is it's priced quite realistically and presented well. It will be sure to offer the next owner a lot of smiles per dollar spent and differentiates you just a bit from the typical E34s that people seek – the M5 and the 540i M-sport. Want to take a road that's less traveled? It's a quick one, for sure.
Thanks to our reader John for spotting this neat and rare ride!
-Carter