Warning!
This post is in our archives. Links in this post may have been updated to point to similar cars available to bid on eBay.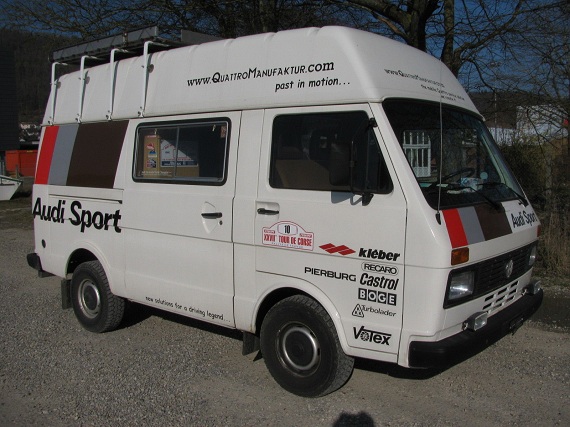 One of the more interesting vehicles that we didn't get in the United States was the Volkswagen LT. Much like more recent goes by Mercedes-Benz with their Sprinter, the LT was a heavy duty vehicle available in a myriad of configurations with different weight classes and motors, ranging from a re-tuned Audi 100 2.0 4-cylinder right up through a turbocharged and intercooled 2.4 liter inline-6 diesel. The chassis were utilized for everything from army vehicles to buses, but perhaps to enthusiasts one of the more unique uses was for assisting the Audi Sport works teams in the World Rally Championship. Over the past few years, these service vehicles have gained more attention by enthusiasts, interested in period correct details and having that trump card over their fellow gearheads. Today is one such vehicle; while it's not an original Audi Sport van, it's been faithfully recreated to something you might have caught Walter and Hannu hanging out in between stages while mechanics thrashed on their Quattros: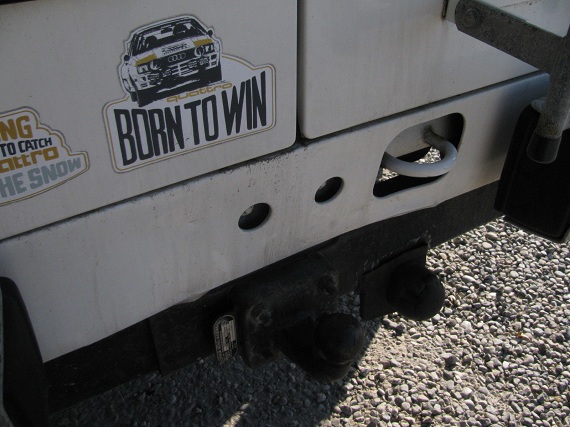 Year: 1990
Model: LT35
Engine: 2.4 liter inline-6
Transmission: 5-speed manual
Mileage: 119,000km (73,943 mi)
Price: Reserve Auction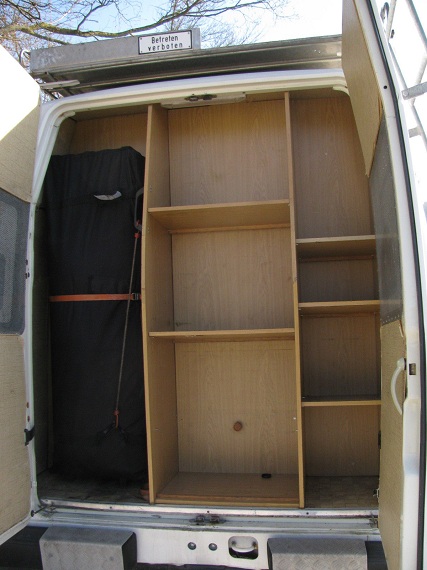 Up for auction is my lovingly constructed Volkswagen LT service van in the style of the former Audi Sport Service vehicles. You may recognize these design from trade shows or rallies. The reserve is set at a minimal price. This was calculated from a reasonable base vehicle, dis-assembly and painting, as well as maintenance. Thus, anyone can roughly calculate this isn't a €999 vehicle.

The reason for the sale is that it is only allowed to tow a trailer of 2000kg in Switzerland. With a reasonable trailer you could easily exceed this. Since the rule is 2% over in Switzerland, most of the time you're driving with half suspended license.

My newly acquired tow vehicle has a capacity of 3.5 tons which is significantly greater reserve for trailer loads.

But now to the VW LT itself :

It is a former civilian model which was converted to a camper (it's more than two pieces, after all). The listed 119,000km are original and believable. The interior was executed well without cost-cutting. Nothing chatters or shakes on bad roads. The arrangement of the storage compartments and shelves is very usable for service operation. The center aisle still accommodates 8 wheels and you can sit a couple of people at the table. The passage to the rear storage compartments is locked, but can be removed easily with only one piece. This means you have options for carrying different things inside. It has a Webasto air heater, a lighting system and ventilation, all operated by an additional battery. The heater should probably be checked. I have never needed it because it was never used in winter. The second battery I have kept only as required. The electrical system is designed professionally. On the driver's and passenger's doors there are vent windows. On the slider there is a sliding window mounted.

The LT has no power steering. It doesn't require excessive force. In addition, there are no additional repair costs there. The sink has an integrated fresh and waste water tank with a 10 liter capacity. The engine is a 2.4 liter inline-6 gas motor with G-Kat and Euro-1 certification. It was technically the most advanced engine at the time. It is not a 5 liter vehicle, it should be clear. Without a trailer, at 60 mph it consumes 12-14 liters per 100km. Fully loaded with trailer, it is 15-17l/100km. Oil consumption is .2-.3 liters per 100km. The brakes, engine and transmission are all without mechanical fault. Only the shift pattern takes getting used to – there is a lot of play around the neutral position. It never bothered me, I just assumed the shift linkage was worn from use. Originally, it had a lockable rear axle. However, at time of my purchase it already was making noise and broke after a short time. The parts were no longer available, and it was probably linked to incorrect operation. Now a slightly taller axle ratio is installed that lowers cabin noise and engine speed. It's about 10% higher than original. With the torque of the motor, this isn't a problem.

The cabin is clean and nothing is worn. A big issue with these Volkswagen LT cans is always body corrosion. In 2009, it was completely disassembled and repainted. A few rust spots were eliminated. The few bad welds were cut out and redone. All cavities were sealed with wax. It is in better condition than most of this time period. However, one problem is getting all of the potential rust spots. The body work is still good but there are always places on such a vehicle that will need to be redone from time to time. Part of the restoration was also a new windshield and seal. The roof rack is powder coated. The tires are good to very good. There are some small spots of rust and a small dent in the rear (see picture). The driver's seat is missing 10cm of piping. Half the center console is empty; it originally housed radios. The fresh water pump is broken, but they can be obtained from a mobile home dealer without issue.

The vehicle is registered in Switzerland . All original German papers are still present in the original .
When sold in the EU duty and customs fees fall on the buyer . These are mainly once the 19 % VAT on the sale price and 100 – € clearance costs. Return for advance payment of the auction amount , the expected 19% VAT and 100 – € shipping costs , the vehicle is ready to pass customs clearance for approval in Germany . (without full report and AU)
Gladly, the buyer can also do this yourself . It won't fail customs, since there is a purchase agreement with the corresponding declaration of origin .

So, now you have a go at the and keys to secure a unique vehicle for the upcoming season.
You probably know how much work and time in such a vehicle flows and what may be the cost then …

The sale is without any warranty .

Even at the end:
Since I need the tags and the insurance contract for my new car , a pick-up within 10 working days is part of the auction . I ask this be observed.
Failure to achieve the reserve price the winning bidder has the chance to get the vehicle , if the final bid came in the vicinity of the minimum price .

Happy bidding !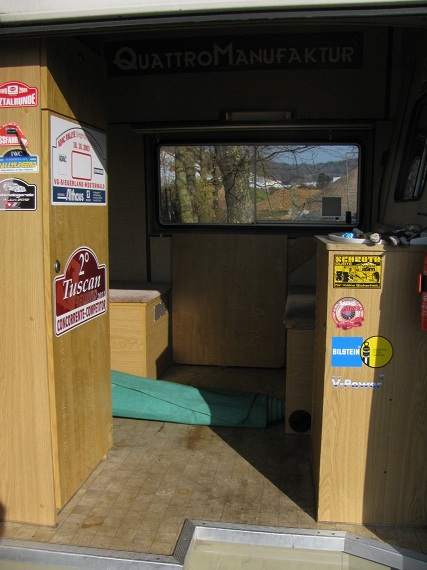 Obviously a lot of work has gone into this van, and while it's not perfect it is a neat piece of history. Amazingly, you can even get a model of this van and truth be told it looks pretty similar. I really like the details like the period Audi Quattro stickers, and anyone who goes to the track will tell you there can never be enough storage compartments. The 2.4 inline-6 should be plenty to tow a trailer and a Rally-spec Quattro to the next event and the LT35 was one of the highest rated LTs, even if unsurprisingly Switzerland forbids it. Obviously, this has a pretty limited market; but to the rally faithful in Europe, this is a neat piece of kit that we don't often get to see.
Thanks to Mike for sending us this neat LT!
-Carter