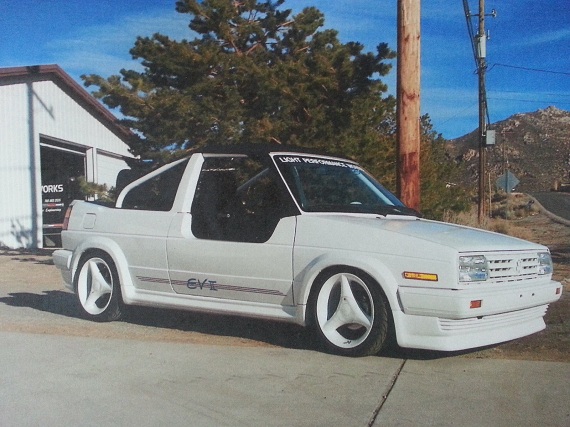 Do you ever wonder what happens to all of those wild magazine cars? You know the ones I'm talking about – the ones you flip to first, creations that make you wonder what the motivation of the builder was? Honestly, most fade into obscurity – but once in a while one pops up again for sale, and today's GTi EVII built by Guy Light is one of those cars that may just may you say "Oh, yeah….I remember that!" It's been a full 25 years since this car was new and a flash in the pan. Light chopped the top off the car, added a body kit and some great BBS wheels and Recaro seats, and Viola! He made the Mk.III Cabrio prototype. Seriously, look at this car – if it doesn't scream Cabrio to you, I'm not sure what would. Reading through the period article about the car, it was certainly an interesting and unique vision with an extraordinarily limited scope. The part that I found most fascinating? Light offered to charge individuals a staggering $13,000 – on top of the price of the car – to complete the conversion. Aren't you surprised that you don't see more of these floating around than the original prototype?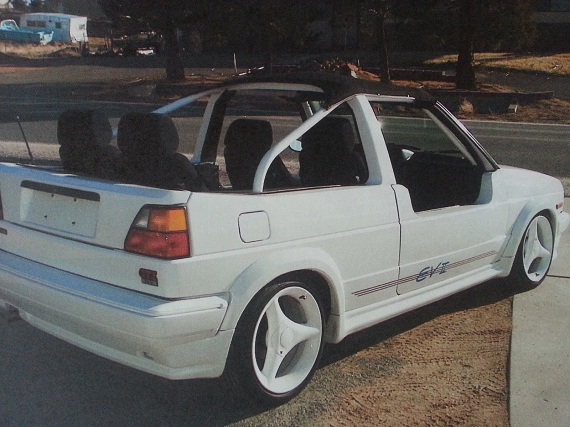 Year: 1989
Model: GTi
Engine: 1.8 liter inline-4
Transmission: 5-speed manual
Mileage: 5,600 mi
Price: No Reserve Auction ($15,000 OBO)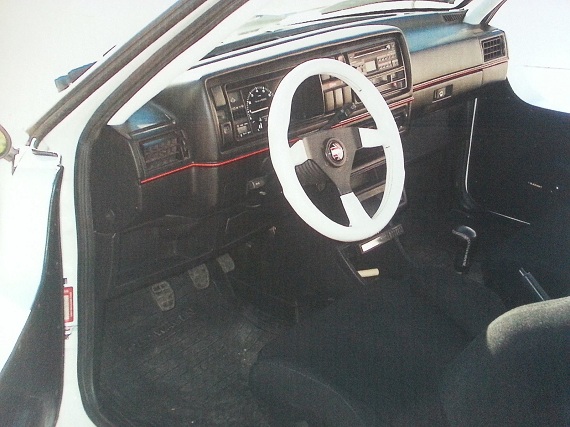 Up for Sale AS IS:

Show Car 1989 Volkswagen GTI EVII
VIN: MI0025A320L102789

This is a featured car on the front of and with accompanying article inside of the October Volkswagen & Porsche Magazine of 1989. Masterminded, built from scratch, and now being sold by 44-year Volkswagen Racing veteran Guy Light.

This beauty sports a DOHC 16-valve engine with a modified cut top with unique roll cage and specially formatted trunk. Doors open vertically by a touch-sensitive false spot on the interior. Four comfortably spaced Recaro Racing seats hold on firm within the custom interior. Car currently sits a few inches off the ground on 16" white rims with adjusted rear negative camber. Oh and did I mention it's a 5 speed manual transmission? With only 5,600 miles this car still has a long life of exuberant drive-ability!

This is a sweet deal for any Volkswagen enthusiast! Not to mention, a little piece of history.

Price is $15,000 obo. Local pick up only.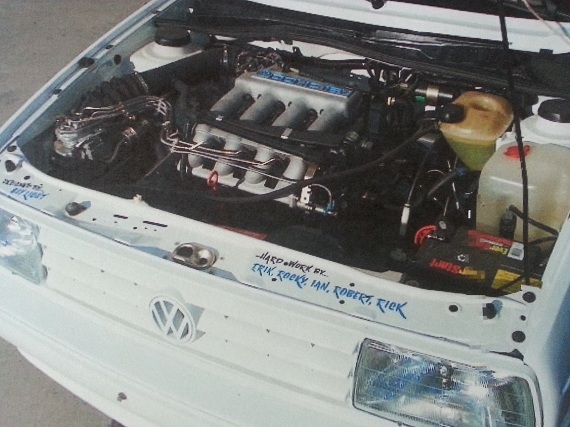 To put that $13,000 modification price on the original into perspective, I wondered what the original sticker price on a '89 Cabriolet was. The GTi, GLi and Cabriolet all hovered around the $15,000 mark base – meaning that for a tad bit more than the modifications to this GTi, you could have owned the GTi AND a Cabriolet. Or, you could have easily paid a shop to swap all of the GTi (or Scirocco 16V) running gear into a Cabriolet for much less money. Strange? I'd say so, but there are some interesting bits like the touch-to-raise doors and 4 post seating. This is probably one of the lowest mileage Mk.2 GTis on the planet, but unfortunately that doesn't necessarily mean that it's automatically very valuable. Gone are the original BBS RZ wheels that the car wore, replaced by some 3-spoke (Anterra, perhaps?) wheels. The body kit appears to be BBS and looks good, but the presentation in all-white is a bit overdone. Would it draw a crowd? Absolutely, drive up to any VW show in this and you'll be an instant star. Of course, that would have to be your only motivation and it will cost you. The pricing is all over the map; the auction is no reserve starting at $12,000 – so, in theory the car could be bought for $1 more. But in the listing, the seller says they want $15,000 – a full $5,000 more than they listed the car on VW Vortex earlier this year for. Even for $10,000, you'd think that they could post some better, more detailed photos or better scanning of the article – which I found here also on VW Vortex. As an oddity, some Volkswagen fan probably thinks this is awesome and would be willing to pay a lot more than I would be willing to front for the car. In all honesty, mount up the BBSs again and I'd love to take this car for a spin down some Southern California back roads, listening to that 16V sing. But at $15,000, or $12,000, or even $10,000, this will remain just a flash in the pan to me.
-Carter