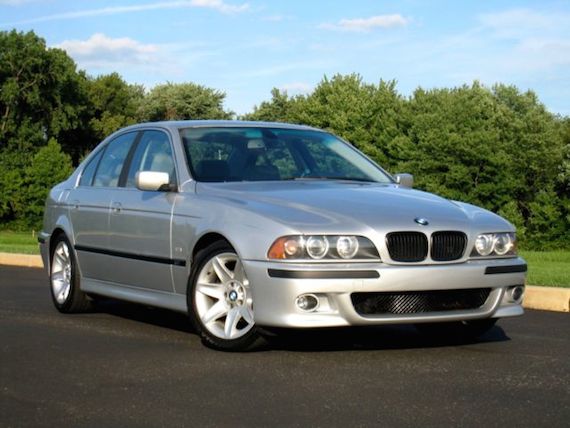 It's human nature to aspire after things that may seem out of reach in life. Such is the case with automobiles, as many of us can relate who read this site daily. Sure, we'd love to bomb around in high powered German vehicles but in practice, it is less than practical at times. So a car like this 2003 BMW 525i with the Sport Package for sale in Philadelphia could be an ideal compromise for those lusting after an M5 but who may not have an M5-sized budget. Equipped with a 5-speed manual gearbox, it will help make the most of the 184 horsepower produced by the 2.5 liter inline-6 under the hood.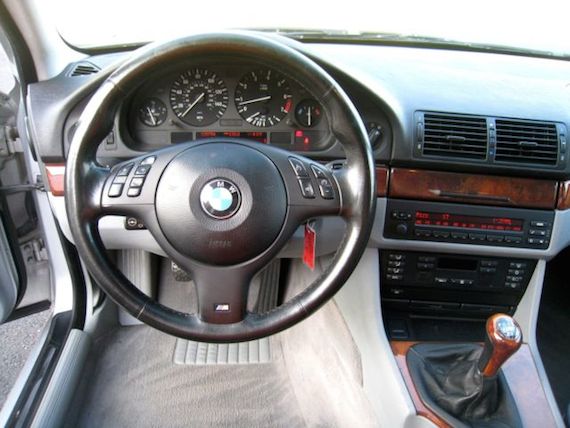 Year: 2003
Model: 525i Sport Package
Engine: 2.5 liter inline-6
Transmission: 5-speed manual
Mileage: 105,754 mi
Price: $9,995 Buy It Now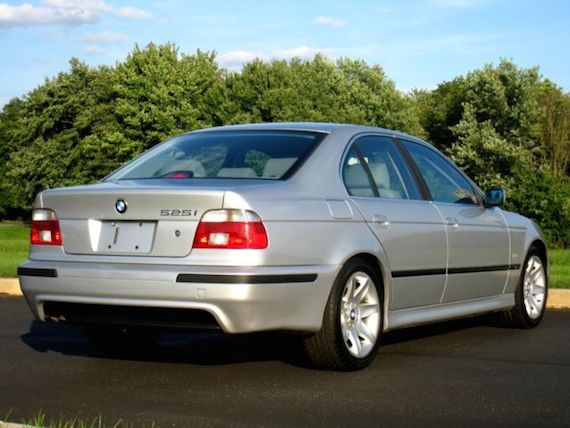 2003 BMW 525i "M" Sedan

For sale we present another GR8 buy and another beautiful and very RARE model BMW 5-series Sport Sedan (525i). This car looks to have been very well maintained and serviced by the previous owner. Low 105k Original, true highway miles (less than 10k miles per year average). Much lower than average travel by all standards which is 12-15k miles per year average. This is a great find: 5-series "M" Tech Sport package which are very hard to find in any package or options. This is a perfect Ultimate Driving machine which is great on space and camping commutes while still delivering the sports feel and BMW drive. Extremely rare find on 5-Speed Manual Transmission!!!

*******A very rare SPORT "M" PACKAGE (true sport pkg only available on 2003 Models) equipped model that comes with Sport Alloy 18′ Wheels, Sport Steering "M" Wheel, "M" Shifter Knob and Sport Suspension, also Xenon HeadLights, M-Tech Appearanced Bumpers (Front & Rear)*****

Engine sounds great, it is quiet and pulls strong. It yields very good MPG on the highway. No Leaks No Strange noises. Clutch is tight and grips extremely well you can change gears with minimum effort, GearBox is smooth and very responsive. The car drives and handles like a BMW Ultimate Machine should (no squeaks, no pull). Nice color combination SILVER Exterior, Gray Interior, Xenon HID HeadLights. Exterior is beautiful, the car shines like new, it looks very clean and well kept. A few ships on hood and fingernail scratches in few spots barely noticeable to the naked eye (very minimal wear for a car this age and mileage, driver's door handle has some clearcoat fading…..SEE PICS!!!!

Overall the exterior I would rate Excellent (9.5 out of 10) condition considering the year and mileage of the car.
Interior is clean and has been well maintained. There appears minimal wear on the seating upholstery. Absolitely no foul odors and no visible stains on the carpet or upholstery, Driver's seat does show some normal age wear…SEE PICS!

Overall the interior I would rate: VERY GOOD condition considering the year and mileage. Tires seem to have some tread remaining, RIMS show very minimal wear…..SEE PICS! Don't miss out on this gr8 buy. The next owner will surely enjoy this one for many years to come. These E39 "M" Sedans in 5-Speed Manual are hard to find and are very sought after. THIS IS THE NICEST ONE ON EBAY!!!

If you looking for one of these you know you can't find it anywhere on the net so, DON'T MISS OUT ON THIS ONE….you won't find another one like this!!!! Good Luck and Happy Bidding!

This is a smoke-free automobile. There is no damage evident on this vehicle. This is a garage kept vehicle. The engine on this vehicle is running properly. The mileage represented on this vehicle is accurate. There are no signs of prior damage on this vehicle. Vehicle has minor dings on the exterior body. This vehicle has a smooth shifting transmission. All power equipment is functioning properly. Overall, this vehicle's exterior is clean. The interior is clean and in good condition. There is plenty of the tire tread remaining. If you have any questions about this or any of my other auctions please feel free to contact Tony via e-mail or you can call me at (215) 645-2021. Thank you for your interest and I look forward to hearing from you.
I remember driving a friend's non-Sport Package 2003 525i with a 5-speed manual years ago and was impressed by the performance of the small six in the E39. The car embodied everything that made me love BMWs in the first place. A smooth gearchange, progressive clutch, an engine willing to rev and decent handling. It all added up to make for a compelling and lusty package in the mid-sized luxury segment. Given my penchant for something a bit more sharp, I'm sure the Sport Package suspension would go a long way towards tightening up the somewhat soft suspension of the standard 525i. This example looks good for having over 100k miles on the clock but the price could prove to be a tad bit strong, as it is verging in on the range normally reserved for V8 and M versions of the E39.
-Paul