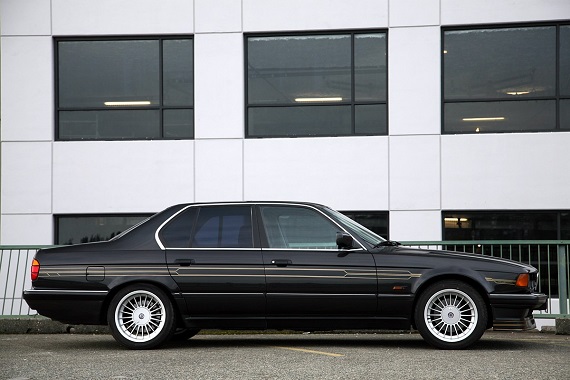 While many celebrate the E38 as the highpoint of 7-series design, I prefer the look of the E32. Perhaps that, in part, is because I was lucky enough to live with one for some time – one of the rare '88 5-speeds, it was a car that I always enjoyed driving and especially enjoyed looking at. Granted, you could rightly claim that the E32 was stylistically not much more than a stretched E34. Is that such a bad thing, though? To me, the design language transferred really well and the E32 was well proportioned, modern looking and yet immediately identifiable as a large BMW,and yet muscular flares and a slight tick up in the body line towards the trunk was a built-in spoiler. The E38 took this design and refined it even more, with sleeker lines and a more dramatic drop in front – probably one of the main reasons, along with some killer wheels, that people prefer the later design. But outfit an E32 with lower suspension, a deeper air dam and some killer wheels, and the design is pretty awesome. The stripes don't hurt, either – nor does the top-tier name Alpina painted all over: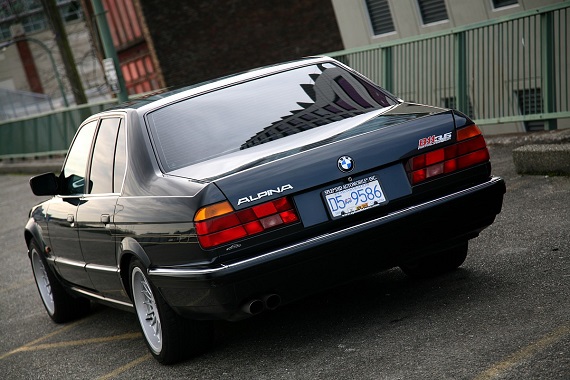 Year: 1990
Model: B11 3.5
Engine: 3.5 liter inline-6
Transmission: 4-speed automatic
Mileage: 90,000 mi
Price: $14,000 Buy It Now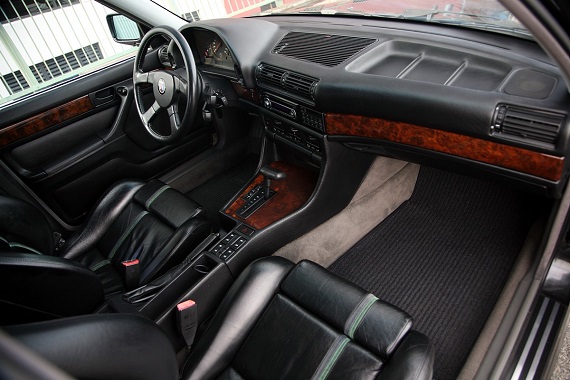 This is an original and very well preserved 1990 BMW ALPINA B11 3.5 Katalysator, which has covered only 144,900 Kilometers (90K Miles). since new. It was originally sold in Japan. We imported it to Vancouver, Canada in 2005 with 127K Kms and sold to a long time BMW aficionado who kept it for 10 years. The car is registered in British Columbia, Canada. The VIN number is: WAPBB35000BB30291 It is a #291 of 332 produced worldwide. This exquisite automobile is powered by smooth and powerful 3.5L M30B35 motor producing 254KP, Alpina tuned ZF 4 speed automatic transmission and 3.91 differential with LSD. It is equipped with Catalytic converters. As it can be seen from the photographs, this piece of automotive history is in excellent condition. The body and paint are original – no accidents, no repaints with the exception of the front spoiler, which we had refinished in 2005. The spoiler shows some rock chips from highway driving. Some of the striping has faded, some replaced over the years.

This Alpina B11 is fully documented – BMW and ALPINA build sheets, Japanese maintenance records are translated into English, complete service file since in Canada, all books, manuals, original keyless entry transmitter (it works), spare tire, tools, etc. I would be impossible to list all services, but here is a brief summary in the last 18K Kilometers:

– Replaced front pads and rotors, upper control arm bushings, front shocks (Bilstein Sport)

– Replaced valve cover gasket, vent hoses, fuel and oil filters, diff oil, rear pitman arms, all belts, transmission mounts.

– Replaced high pressure power steering line, fan clutch, brake flush

– New battery, replaced transmission output shaft seal, front pump seal, etc.

– Replaced rear pads and rotors, etc, etc, etc… We can provide copy of the service file to seriously interested parties. Very recent tires, the proper size. Fully sorted mechanically. The interior is very clean, no cracks on the dash. All electrical accessories work – power windows, mirrors, sunroof, climate control with ice cold AC. It drives great.

For more information, or to schedule viewing appointment in Vancouver, please call Splendid Automobiles Inc. (604) 516-6002 or visit

www.splendidauto.com

Complete safety and mechanical inspections were performed on this vehicle as part of our reconditioning process. There are no oil leaks; all fluids and filters have been replaced. This vehicle is fully operational and can be driven anywhere

Independent party pre-purchase inspection at your expense prior to bidding is welcomed and encouraged.

A NOTE TO OUR USA CUSTOMERS: As this vehicle is over 25 years old, it is exempt from US EPA and DOT compliance requirements. It is fully admissible to USA and NO modifications are required. We can assist you with shipping arrangements worldwide. Canadian residents are required to pay GST, BC residents pay PST and GST. No tax will be collected from non-Canadian residents.

We ship worldwide.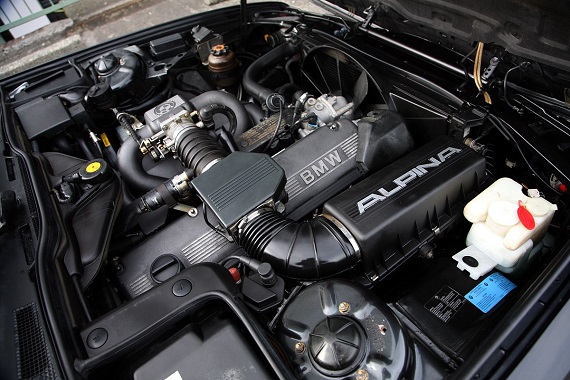 If we turn to the Alpina Archive, we find that this car was imported from Japan to Canada in 2006. A little more digging shows that this car has been for sale before; back in 2010, Evan wrote this car up and the then owner/seller chimmed in on the comments. This time around it looks like a different seller but the condition is quite similar to 5 years ago, hinting at a careful ownership over that time. Interestingly, this car is slightly different than the European 3.5/1s we've seen. Part of that comes down to the more restrictive air quality laws in Japan, resulting in the change to the badge – this car is a catalyst equipped model. I wasn't able to find exact power figures for this engine, but it should have a few less ponies than the 254 horsepower B11 3.5/1 normally does. And we have a comparable for this car, despite how rare they are to see since we logged a B11 3.5/1 with 75K selling for $10,500 this month. Granted, that car was in Japan, so you'd be looking at importation fees that would put it on par or slightly over this model's asking price with a lot more headaches. As with E36 Alpina models, this car offers a lot of style, a dependable platform, a dose of sport and classic looks on a modest budget and should hold value well if properly cared for.
-Carter