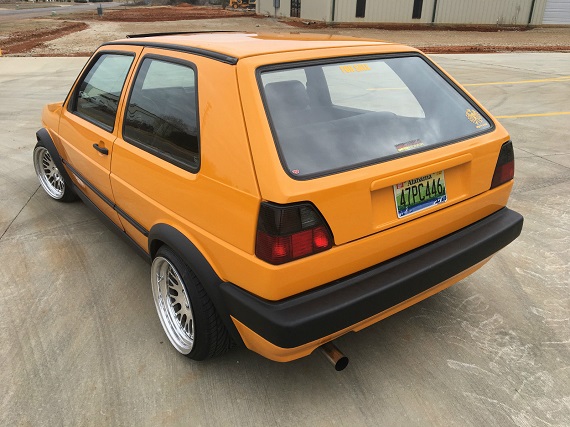 Frequently I see Volkswagen swaps. Infrequently do I think they're well carried out. There are a myriad of reasons why this might be the case, but often it seems that the details, the aesthetics, or the excuses are too questionable. However, once in a while one pops up that really is pretty well pulled off.
Now, to be clear, I always have a love/hate relationship with swapped cars. On the one hand, I love the creativity, the devotion to the brand, the attention to detail – the individuality that shines through. It's a general love of cars that can be expressed in so many different directions that makes the hobby refreshing. If we all had tan Camrii, what would be the point? But the hate also shines through, as in this case we lost one of the acknowledged VW greats; a late model 2.0 16V GTI. Was this swap executed well enough to excuse such an exacting high cost?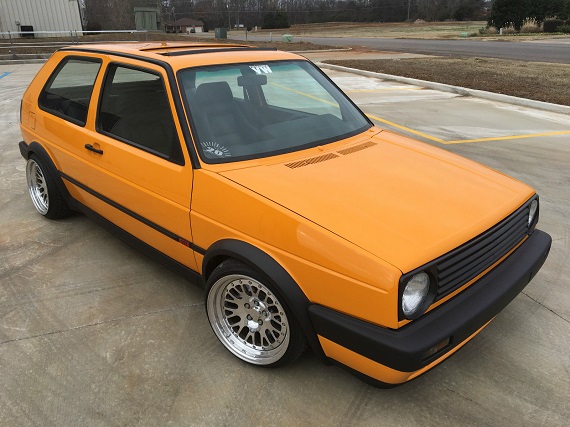 Year: 1991
Model: GTI
Engine: 3.2 liter narrow-angle VR6
Transmission: 5-speed manual
Mileage: Not Listed
Price: Reserve Auction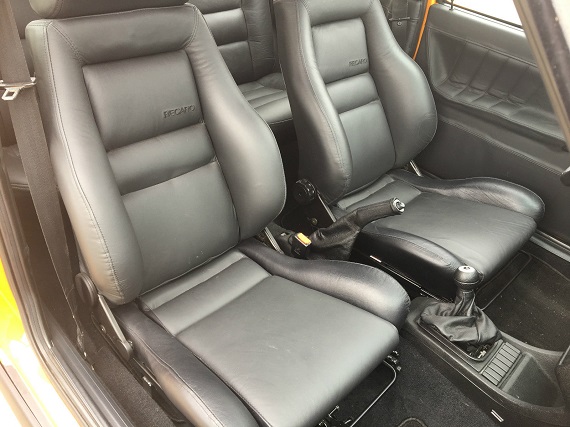 Auction is for a highly modified 1991 Volkswagen Golf GTI.

Cliff's Notes version: I have owned the car since 2000. It started off as a 1991 GTI 16 valve, 100% stock, purchased from a Nashville TN local, who was using it to deliver newspapers. I swapped the engine for a 2.8 12V VR6 in 2001, drove it like that for a few years, then tore it down 100% to build a show car.

The finished car was featured in Performance VW magazine (UK based enthusiast publication) in December 2012, as the cover feature. It has also won several show trophies / awards even though that's not really what I built the car for. It certainly has the potential to keep that up, and would only need a few small flaws addressed and a good cleanup. (I'm a passable builder, but I'm not really a good detail guy). The PVW feature tells a good story, but isn't 100% true. They had to freestyle some stuff, I guess, to make it more interesting because they are in the business of selling magazines, lol. I see that issue on eBay all the time, if you want to buy a copy and check it out for yourself.

Body has had some custom work (marker lights, roof antenna, emblems shaved and filled, shaved engine bay, door mirrors and wipers deleted) The mirrors and wipers can be put back on, but that is on the buyer. Was stripped to bare metal and sprayed Ford U3 Valencia (AKA '06 Grabber Orange) in PPG concept base / clear. A small amount of rust repair and panel replacement was done prior to paint. (body damage). Exterior locks were deleted and operate via a remote. All plastic trim and rubber was replaced, except for the rear bumper which were not available new at that time.

Interior is factory VW Recaros, recovered in real black leather. Mounted on Wedge Engineering manual adjust bases. Back seat is a solid bench, from a euro-market Golf, also recovered in leather. Door panels were recovered to look like Rallye Golf panels, also in black leather. Stock black carpet in good condition (best one I could find over the years) with new floor mats from a local trim shop. Headliner is recovered in black tweed, which is a pretty close match to OE. I sourced an NOS dash for the build, but it does have a couple flaws. Car currently features a MOMO Team 280MM steering wheel. can be swapped out if buyer wants a bigger wheel.

Engine is from a 2004 Golf R32. It is the 3.2L 24V motor, running on stock motronic management via United Motorsports software. Engine only had 80k-ish when purchased, so I chose to replace the chains / guides, add some Techtonics cams and call it done. Has a 24V swap – specific header made by company in the UK that has since folded. Even mostly stock the car sounds VERY good and pulls strong. I estimate less than 10K miles since completed, and probably a lot less than that.

All suspension components have been powdercoated. Has an older set of ST coilovers that I bought new circa 2004, and this is the only car they have ever been on. All bushings and bearings replaced. Car has been converted to a Mk3 style manual rack. Front suspension is from a Corrado SLC,car has been converted to five-lug. has Audi TT 12.3 front brakes, and Mk4 aluminum rear calipers. All brake hardlines have been replaced with stainless, and braided flex hoses.

Wheels are real CCW Classics (not reps) with NOS Dunlop SP9000 tires. 195/40 and 215/35 16.

Hope everybody is still with me, sorry I got so wordy but I wanted to let prospective buyers know they are getting a lot for their money. I don't want to sell, but sometimes need over rules want. Trying to thin the herd down so I can move out of state without dragging a bunch of vehicles like I did last time.

DISCLAIMER: this car is not presented or offered as being suitable for daily use. I built and used it as a weekend / good weather toy and show car. Please don't contact me asking if you can drive it daily. If you have to ask that then probably not. Also I have no way of knowing if it will pass inspection in your state. It is currently registered, insured and legal where I live (Huntsville AL).

On Jan-14-17 at 07:47:34 PST, seller added the following information:

EDIT: I got an irate text from a friend yesterday telling me I forgot to upload pics of the interior. Pretty sure I tried to load them but they didn't. They are up now, or should be. At least I can see them.

Also – the trans is a CCM from a Passat / Mk3. It was rebuilt (bearings and syncros) and had a Peloquin diff installed by Michael Strider at German Auto in Memphis. Clutch is a Clutchnet stage 2 (yellow) kit with a 6-puck sprung disc. Yes it is a little grabby and chatters when cold. Motor mounts are BFI urethane with a factory VW G60 solid trans mount.

Cooling system is a Mishimoto Mk3 VR6 radiator, with custom hard piping and a hidden filler bottle (it's under the intake pipe). Electric fans on a double-relay system, so it retains the high / low functionality on the fans. Have not had a problem with it running hot, gauge usually shows 160 – 180F.

On Jan-15-17 at 14:17:25 PST, seller added the following information:

2nd EDIT: To answer some bidder questions and clarify a couple things.

Please understand this vehicle is sold as-is, where-is, no warranty expressed or implied. That's already been made clear enough but the question was asked.

A NON-REFUNDABLE (that's usually how it works, right?) deposit due, via PayPal within 48hrs of auction end. This is intended to cover the eBay seller fees if the winning bidder backs out or otherwise fails to follow through, not to fatten my wallet. eBay still wants their cut regardless of what happens after the fact.

Located near Huntsville AL, about halfway between downtown and the TN state line. Unlikely that I can deliver the car myself (because day job) but I can make reasonable accommodations to meet or help arrange transport.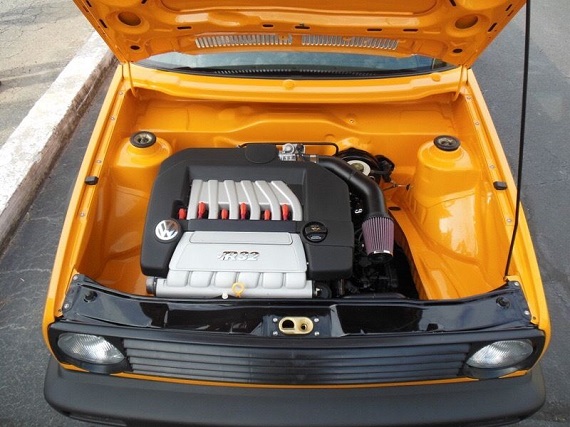 Before we get to the meat and potatoes of this car, I had an interesting thought. I wonder, in all honesty, if in certain states the removal of the side mirrors will pose an issue for annual inspection? In Rhode Island, at the very least, you could register the car as an antique and there would be no inspection, but other states? If nothing else, you won't want to drive it in the rain, as the non-present wipers may will present an issue.
Now, the main course. The 2nd generation GTI is a great looker, and the late model big smooth bumpers and GTI flare kit gave a upper-class appearance to the budget hatch. Badgeless grills aren't my thing, but they're popular, and the single round setup is a clean look. The smoked tails set off the unusual but cool choice of Grabber Orange well, overall, and the paint looks nice. I'm not personally a fan of the CCWs, but they're valuable wheels that could be sold for other stock if you were so inclined.
Inside, the stock Recaros stand out with new leather, though as always aftermarket leather jobs don't usually look quite as slick as the original material installation. The shift boot is ill-fitting and the steering wheel looks a bit silly, but again those are relatively easy fixes. What you're paying for here is execution, and under the hood is where things get great.
The shaved and cleaned bay has the fantastic sounding and grunt-laden 3.2 VR6 from the R32 shoved inside. While that makes the car a bit nose-heavy for sure, the doubling of horsepower from stock helps you forget the understeer a bit when you stomp on the loud pedal. Other items like the suspension and brakes have been thoroughly upgraded as well, so it should be a really entertaining drive and aural experience. As a package, it is well presented, will draw plenty of attention, and should go like stink.
What's it worth? So far, the bidding hasn't yet hit $8,000 with a bit of time left. That's a number a clean 16V will easily reach, and far short of the cost of the build here. However, these builds never really achieve a number anywhere near what it cost to assemble, so if you like the look, you're getting a lot of value in work completed. There's the love.
Still, as I'd expect most will agree, I'd take a stock one all day long over this, even if it wasn't as clean. And therein lies the problem.
-Carter