Warning!
This post is in our archives. Links in this post may have been updated to point to similar cars available to bid on eBay.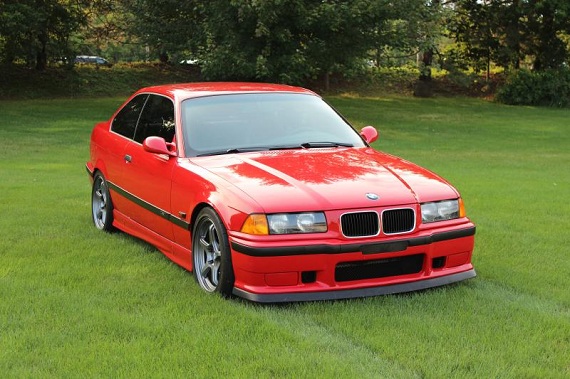 Why do I like posting American V8 swaps to German cars? Well, in part it's because they're a fantastic performance value. In dollar per horsepower produced, it's just downright hard to beat a package like the GM "LS" line. Yes, they're a blunt tool compared to the precision work that typically characterized the stock motors the original car came with – but sometimes, you just need or want a big hammer. The "LS" wasn't just a a unintelligent lump of iron, though – with aluminum construction, they're often lighter than the engines that they replace. Two of the favorite chassis to stick these engines in are two of the best regarded, best handling chassis out of the box that enthusiasts love to modify – the Porsche 944 Turbo and the BMW M3: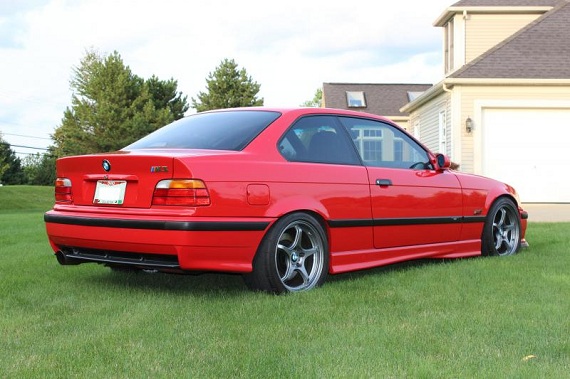 Year: 1996
Model: M3
Engine: 5.7 liter V8
Transmission: 6-speed manual
Mileage: 187,000 mi (chassis)
Price: $17,500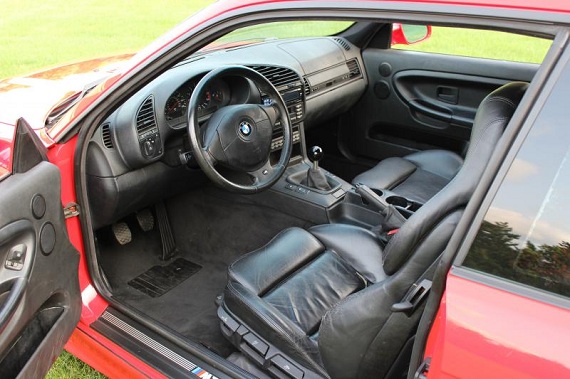 FS: 1996 E36 Hellrot LS1 M3

1996 E36 Hellrot M3 LS1 Conversion
187,000 On Chassis-No Rust
No Heat
No AC
No OBC
No Emissions
Vehicle sold "AS IS."

Hello,

Up for sale is my 1996 Hellrot LS1 M3, purchased in stock form back in September of 2010. Over that winter it received a laundry list of fresh OEM parts, proper maintenance and a complete suspension overhaul with the addition of the AST 4100's. August 2011 I decided to replace the S52 with an LS1. The LS1 conversion was completed by spring of 2012. That year I was able to track the car @ Mid Ohio, PIT Race and Nelsons Ledges, other than a wheel bearing the car has never had an issues. Over last winter the transmission was refreshed and installed a Monster clutch, a mild cam along with the necessary valve springs, pushrods, timing chain and oil pump. Erik Johnson from Back Street Performance in Medina, OH dyno tuned the car and it put down 374whp & 337wtq. The car is always garaged, only driven a couple days a week during the summer months. The car is extremely reliable, leaks no fluids and gets relatively decent gas mileage. This year I have not found time to enjoy the car to its full potential and believe it's time to pass this along and let somebody else enjoy it.

There are a couple issues:
1. Paint- I bought the car knowing it was going to need paint as someone keyed both sides of the car. My plan was to add fender flares in order to run 285's and have the scratches fixed then.
2. Driver's Seat – Bolster leather is worn out & seat bottom is torn. This wasn't an issue to me as I was going to install a cage, fixed back seats and safety equipment.

Below you will find a list of modifications & replaced parts. If there is an asterisk next to the item that means the part is brand new and installed this year. Due to my busy schedule please PM me with any questions and I will get back to you.

Interior-
OEM Clutch Pedal
AKG Clutch Pedal Bushings
Alpine Head Unit
Pioneer 6X9 Coaxial Rear Speakers
Reupholstered Headliner
Brake Switch
OEM Accelerator Pedal w/ OEM Bushings
OEM Shift Boot
OEM E-Brake Handle & Boot

Exterior-
Max Velocity RS Lip Spoiler
Motion Motorsports Underpanel w/ Radiator Baffle
Fog Light Block Off Plates Painted Hellrot
OEM Kidney Grills
OEM Roof Ledge Molding Right & Left
OEM Outer Window Weather Striping
OEM Rear Window Weather Striping
OEM Door Handle Weather Striping
35% Window Tint

Suspension-
Vorshlag AST 4100 Coilovers
Hyperco 550 Front Springs
Hyperco 650 Rear Springs
Vorshlag Camber/Caster Plates
AST Rear Spherical Shock Mounts
Rear Shock Mount Reinforcements
AKG Spherical RTAB's
AKG RTAB Pocket Reinforcements
AKG Rear Sway Bar Reinforcement Kit
AKG Rear Adjustable Lower Control Arms
AKG Front Control Arm 75D Bushings
AKG 75D Subframe Bushings
OEM Tie Rods
OEM Front Sway Bar End Links
OEM Rear Sway Bar End Links
OEM Rear Ball Joints
OEM Front Lower Control Arms
Vorshlag 10.9 Lower Shock Bolts
Rear Wheel Bearings

Engine-
1999 LS1- Stock Long Block -130,000 Miles
*FlowTech Induction Cam Kit
*Streetsweeper HT Cam 228/232 111 .612 .600
*.650 Lift Dual Valve Springs
*7 Degree Chromoley Retainers
*Hardened Seven Degree Valve Locks
*Steel Shelled Viton Valve Seals
*FTI Pro Series Hardened Push Rods
*ARP Crank Bolt
*Improved Racing Oil Pan Baffle
*New GM Oil Pan Gasket
*LS2 Timing Chain
*Trick Flow Timing Chain Dampener
*Melling HV 10296 Oil Pump
*New Timing Cover Gasket & Seal
*New Rear Main Seal
*Custom Speed Density Tuned By- Back Street Performance
LS6 Intake Manifold
*LS6 Rear Coolant Block Off Kit
*LS6 Valley Cover & Gasket
O2 Sensors
Stock Ported Throttle Body
Custom 3.5" Intake w/ K&N Filter
Katech Tensioner
Turn One Power Steering Pump
OEM Water Pump
OEM Truck Alternator
PowerMAX Starter
Vorshlag Ceramic Coated Headers
Vorshlag Engine Mounts
Vorshlag ABS Relocation Bracket
Corvette Fuel Rail Covers
Custom 3" Buschur Racing Exhaust
NGK TR55 Plugs
MSD Wires
Spal 16" Low Profile Fan
Modified Speartech Standalone Engine Harness
Lokar Throttle Cable
Lokar Throttle Cable Bracket
Summit Racing Coolant Catch Can
Stant Radiator Cap
Norris Oil Catch Can

Drivetrain-
1999 F-Body T56 6 speed Transmission
*1&2 Synchronizer Assembly
*3&4 Synchronizer Assembly
*Bronze Isolator Cup
*Timken Bearing Kit
*3/4 Steel Shift Fork
*Viper Style 2nd. Gear
*Bronze 1-4 Fork Pads
*OEM 5-6 & Reverse Fork Pads
*Liberty Gears Billet 1-2/3-4/5-6 Keys & Springs
*OEM Reverse Keys
*Tremec Complete Carbon Blocker Ring Set
* 1&2 Inner cones
*Tremec Input Seal
*Tremec Output Seal
*Tremec Full Shim Kit
*GM Slave Cylinder
*Monster Stage 2 Clutch w/ 18lb. Flywheel
*ARP Clutch & Pressure Plate Bolts
Remote Clutch Fluid Reservoir
MGW Short Throw Shifter
Stock LS1 Clutch& Flywheel
Vorshlag Clutch Line & Remote Bleeder
Vorshlag LS1 Transmission Mount With poly Bushing
Drive Shaft Shop 3" Custom Chromoly Drive Shaft w/ 6 Bolt CV Joint
Jim Blanton E32 210mm Differential w/ E60 M5 3.62 Ring & Pinion & GKN 7 Disk LSD
Rally Road 210 Diff Conversion Kit
Subframe Differential Mount Reinforcement

Brakes-
OEM Front & Rear Pads (street)
Hawk HP+ Front & Rear Pads (track)
Front DBA 4000 Rotors
Rear Cetric Rotors
Bimmerworld Stainless Steel Lines
Castrol SRF Brake Fluid
OEM E-brake Shoes & Spring Kit
New ABS Wheel Speed Sensors

Fuel-
Walbro 255 In Tank Pump w/ Custom 10 Gauge Hot Wire Kit
WIX Corvette FPR
Russell -6an Braided Fuel Line & Fittings- FPR to Fuel Rail
DEI Fuel Line Fire Sleeve

Wheels & Tires-
17X9 Dforce LTW5 Wheels-Custom Color
OEM BMW Centercaps
Front & Rear 255/40 17 Dunlop Z1 Star Specs
Vorshlag 75mm Stud Kit w/ Lug nuts
ECS 10mm Front Spacers

Price-
$17,500 OBO
Reasonable offers and trades welcomed. Pricing is negotiable.
Preferred trades- 2008-2010 135i/ e46M3/335i/ e39 540i or M5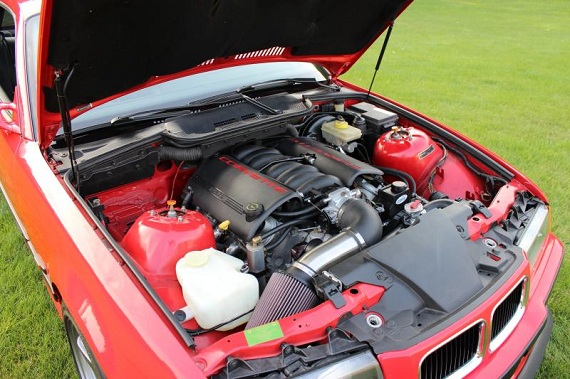 374 wheel horsepower out of a supercharged M-motor is possible, but it's going to cost you. This swap is not only powerful, but looks really well executed. Outside of the slightly larger single tailpipe, there are no clues as to the performance that lurks under the hood. To me, that's perfect – it's a true sleeper. Sure, the no heat/no air conditioning will eliminate a lot of the country's interest – but as a car you can drive to the track and spank most race cars with, it's impressive. The second reason I really like these swap, though, is that they seem to raise the blood pressure of purists. So what if it's not original? It's faster, handles better, is likely cheaper to fix and you gained a speed. I bet the fuel economy is even similar loafing in 6th to the original S50. This is one great package, and while it has some slight condition issues and I'd change the wheels pretty quickly, overall it's dollar per smile ratio far exceeds most M cars in my opinion.
Thanks to our reader Ry for the great spot!
-Carter