Warning!
This post is in our archives. Links in this post may have been updated to point to similar cars available to bid on eBay.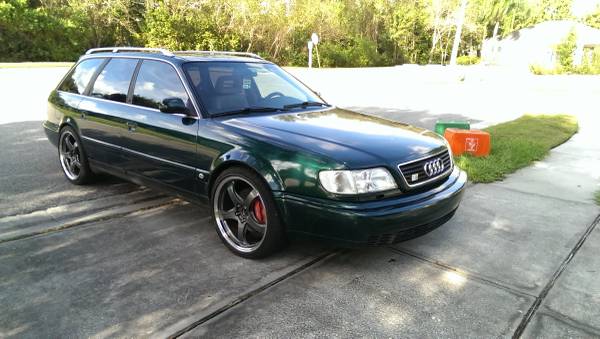 What would "Wagon Week" be without some fast Audi wagons? Starting in the mid-1980s, Audi cornered the market with its turbocharged all-wheel drive fastback "Avants" – starting with the 5000CS Turbo Quattro. The 5000 was replaced by the 200 in 1989, resulting in effectively the same car – now with BBS wheels and a revised interior and lacking the manual differential locks, but otherwise primarily unchanged. There was a minor revision in 1990 – the engine code changed from MC-1 to MC-2; the cam was slightly different and the engine ran higher initial compression and a lighter flywheel in order to drop boost for quicker response – but ultimately, it wasn't a major change. The big change came in 1991 with the release of the heavily revised double overhead cam version of the venerable inline-5. Dubbed the 3B, it gained about 50 horsepower over the standard 200 turbo. The 20V version also sported "UFO" floating brakes, upgraded suspension, 7.5″ BBS wheels instead of 6″ and some subtle flares. As I mentioned previously, the 200 20V was perhaps the ultimate "Q-Ship" – it had no external badges, so you had to know those flares and wider BBS wheels in order to differentiate it. The 200 20V was a one-year model, replaced in 1992 by the again heavily revised S4 with another revision of the 20V turbocharged engine. We didn't receive the initial C4 Avant version of the S4, though it was available in Europe in both turbocharged and V8 form. Audi finally corrected the problem in 1995 by releasing the S6 Avant; again revised with temporary overboost providing a bit more power through the AAN version of the inline-5 and with freshened bumpers, the limited run S6 Avant has become just as much a legend as the 200 20V version – if not more so. Our reader John spotted the two good looking examples found here: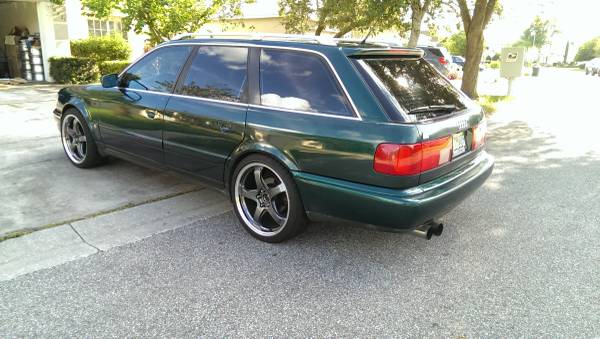 Year: 1995
Model: S6 Avant
Engine: 2.2 liter turbocharged inline-5
Transmission: 5-speed manual
Mileage: 195,000 mi
Price: $7,500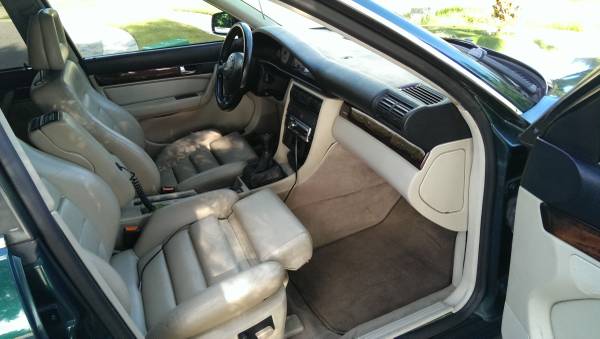 For sale is my URS6 Avant. If you know about these cars, they are very rare and very coveted. Quattro, 5sp, turbo, avant; need I say more? There was only 300 of these c4 5 cyl turbo wagons brought to the states. Also, this is a 1995 with the fully lockable rear diff :). There's a third row of seats if you're looking to haul a family around, or you can fold them all down and have a bed in the back. It's a sweet sleeper which you can fit everything into. I have maintenance records going back to when it was new. Here's a list of mods it has:

*MTM stage 2+ tune with wastegate spring
*RS2 exhaust manifold
*Bailey dv valve
*Custom 3″ exhaust with magnaflow muffler (sounds great, but it is loud).
*K&N drop in and airbox mod.
*Apikol coil harnes and 2.0t coil packs
*Porsche "big reds" brake kit with cross drilled and slotted rotors (studded as well).
*Rays g-games 99b (light forged wheels) 19×8.5″ with brand new tires.
*H&R springs on Koni shocks
*Spec segmented clutch
*Euro clear corners

Recent Maintenance:

*TRW Front and rear control arms and bushings (this is what came on these from the factory)
*Ngk spark plugs (one stage cooler)
*Timing belt/ water pump was done 60k ago
*Blower motor (A/c works great, as does the display/ control unit in the cabin)
*245/35/19 Goodyear Eagle gt's <5k on them *valve cover gasket *Audi 2.0t Coil packs 3k on them *New ignition switch *bosch 044 fuel pump *bosh Filter This is about all I can remember right now. This thing isn't perfect but it is nice. Aesthetically it could use some love on the outside. The paint is starting to fade, and there's dents all around. The leather is still nice and soft and probably one of the best I've seen for these. All I know it will need mechanically is perhaps rear brakes soon. I did a compression check on it not too long ago and it's around 160psi across all 5, so the motor is very strong. The trans is also very smooth. Feel free to text/call with any questions. Tags: 5x112, 5x120, 5x130, audi, vw, 5cyl, aan, turbo, k04, k03, k24, k26, borg warner, b5, c4, 2.7, biturbo, s4, urs4, giac, apr, revo, bmw, m3, m5, wagon, variant, touring, porsche, 993, 996, 930, 964, 944, 951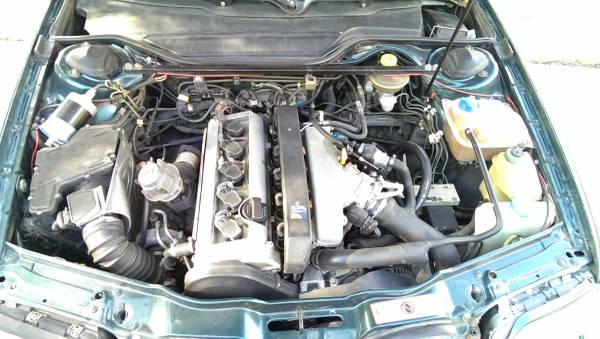 Outside of the wheels, this car looks really well modified and presented. The first line says it all – "If you know about these cars, they are very rare and very coveted." Indeed they are, and overall this car looks to be well cared for. As with most of the Emerald cars the paint is a bit tired and as with most of the Ecru cars, the interior also shows wear. But it does have 195,000 miles, so that's to be expected. At $7,500, there isn't much more versatile performance that you can buy.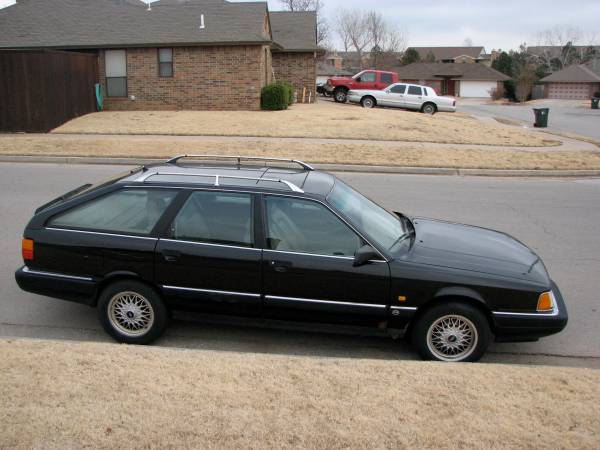 Year: 1991
Model: 200 20V Turbo Quattro Avant
Engine: 2.2 liter turbocharged inline-5
Transmission: 5-speed manual
Mileage: 165,000 mi
Price: $2,500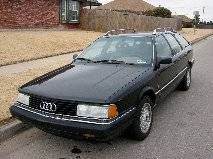 This 1991 Audi 200 Avant Quattro is from the one year when the 20V Turbo 5-cylinder was offered in this body style.

Description: AUDI QUATTRO TURBO 200 WAGON WITH ALL WHEEL DRIVE

This is a nice example of a very rare car. These were ahead of their time, and a 1 year only car
with this drive train. It has a 2.2 liter 5-cylinder 20-valve turbo that produced 217 hp and 228 lbs. ft. of torque in stock configuration. It runs and drives well and all major systems work except for the A/C, minor leak which requires Freon charge every summer.
The body is straight and has some rust from being driven in Pennsylvania by my brother.

Options:
Power Heated Sport Seats
Limo tint on rear windows, lighter tint on front windows

Technical:
Engine: 2.2 liter 5-cylinder 20-valve DOHC turbo
5-speed manual transmission
Quattro All Wheel Drive

Known issues:
Will need work on front locks. The roof liner will need to be re-glued.
Cruise control doesn't work
Drivers' seat has splits and needs repair. Heated Seat works
The odometer reading is 165,000 right now.
It started being difficult to start, maybe 3-4 times in trying. More likely the fuel pump inside the tank needs to be replaced. You can hear it hum, but it has weakened.

The Good:
The engine, turbo, clutch, transmission, steering, brakes, suspension, heating, a/c, lights, signals, instruments, doors, windows, hatch, all work. The body is in good shape with all trim pieces present, and with some rust on front (below the doors). Cargo cover in good condition.

Wheels and Tires:
Audi 16 inch wheels with Falken ZIEX 205/55R16 tires in great condition.

This car is sold with no warranty express or implied.

Please, only serious buyers!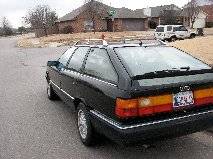 As with the S6, the 200 20V version is highly sought even when it's not pristine. Neither the horrible pictures nor the description tells us very much; what's described sounds about in line with the asking price. Failing headliners and seats as well as minor electrical issues are commonplace on these cars, so that's not out of line. The wheels pictured though are the original 15″ wheels, not 16″ as described – so it would be nice to know more about that inconsistency. While normally such an ad would have many running, the reality is that this car – provided it's real – is probably worth at least the asking price, even with its faults. There are so few remaining that this will hopefully be swooped up and fixed – doors are shared with many other models, so they should be an easy replacement.
Either leaves you with a supremely versatile, go anywhere car capable of carrying a sizable load fast. That's what wagon week is all about!
-Carter