Warning!
This post is in our archives. Links in this post may have been updated to point to similar cars available to bid on eBay.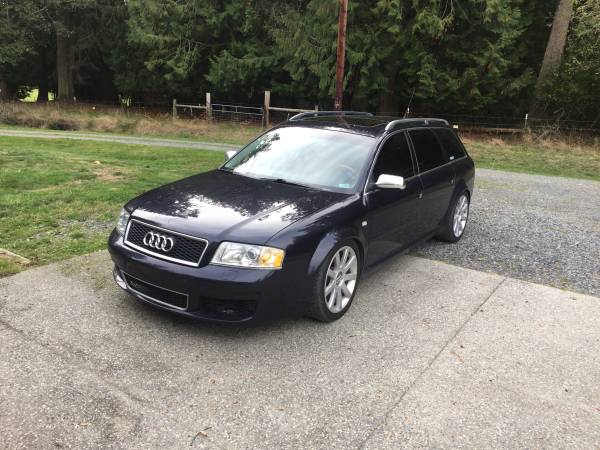 Just last week I was baffled by a C5 chassis swap. The seller took a 2.7T twin-turbo motor, a 6-speed transmission, and an Audi A6 Avant to create a unique package. However, in some ways its mission was lost to me; why not just buy an Allroad manual for half the price, or get the nicer S6 Avant with more and better go-faster bits? To answer my question, our reader Andre posted a response with the link to this car. Again, we have a C5 Avant with a 2.7T 6-speed swap. The price is pretty similar. But the base vehicle this time is the S6, with lightweight aluminum panels, flared fenders and bladed doors, great interior and a host of RS6 bits. Does this one accomplish being desirable and justifying the swap better?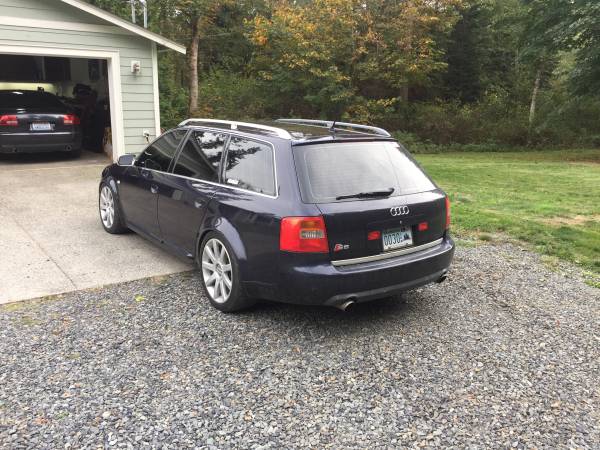 Year: 2002
Model: S6 Avant
Engine: 2.7 liter twin-turbocharged V6
Transmission: 6-speed manual
Mileage: 115,000 mi
Price: $14,000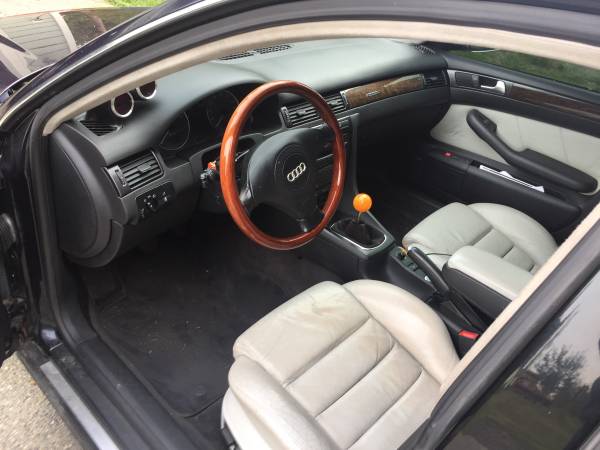 This is an incredibly unique car, one of 2 in the world with this swap as far as I know.

Car is daily driven, no issues, no check engine lights. All work completed in the last 5k miles.

Some highlights –

2.7 swap with SRM K24 turbos, SRM intercoolers
01E swap bought from Scotty @ AA. Trans rebuilt by him before installed.
TTV flywheel, AMD stage 3 clutch.
Rs6 front end including bumper, grills, as well as Wagner foglight delete grills.
H&R coilovers bought brand new from Ecs.
Tinted windows
Tiguan start button and relocated esp button for dual cupholders
iPhone adapter

Some extras I would include for the right price.

Oem rs6 fogs, grills and hardware
Oem rs6 door blades and sideskirts.

Would consider trades for euro cars + cash or something fun/rwd + cash. e30's, e39's, e36/e46m3's, urs4, urs6, avants, 20th GTI, and maybe some others like an older supra turbo, 240sx with a swap (must be nice) All trades must be manual and must have cash on top. Not looking for a straight trade.

Asking $14,500 or best offer. If you want to flame my price, please just move on and don't message me.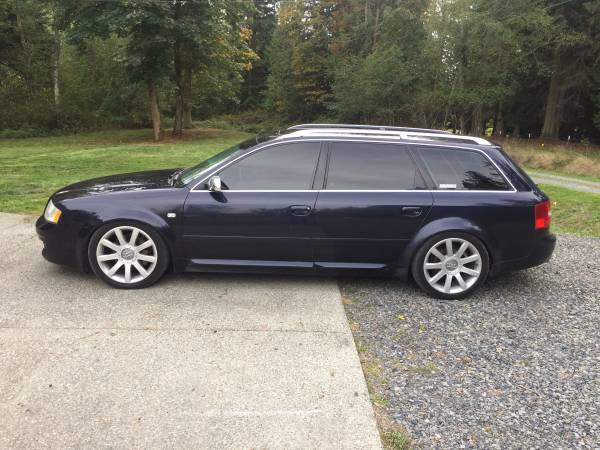 The question of why to go away from the V8 originally in the car must immediately come up. After all, it takes a fair bit of modifying the V6 to achieve the base level power on the V8, and with the V8 you get instant and seamless thrust from your right foot. The key motivation comes when you'd like to go that much faster in the S6; short of a supercharger, there just aren't many things you can do to the V8. Don't forget that in RS4 form, the BiTurbo managed an impressive 380 horsepower; enough certainly to make a V8 fan forget the rumble. On top of the swap, you get the better S6 interior and exterior look that is mated with an RS6 front end and RS6 wheels that work better on this application. The suspension is a good quality H&R kit, as well. The only lacking details are photos and condition of the engine, though it would seem the builder did some maintenance work as the motor went in.
All in all, the execution and package as a whole works here where it didn't on last week's example. The price is in line with other nice S6 Avants in the marketplace, and the sleeper nature of the conversion will certainly confuse some "faster" sedans if prodded. Even if the allure of a manual V8 Avant is strong, this is one really neat and compelling alternative to the normal 6-speed swap.
Thanks to our reader Andre for the great listing!
-Carter