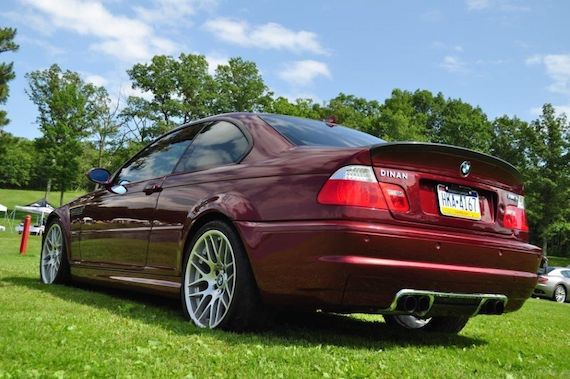 I posted a couple of Laguna Seca Blue E46 M3s yesterday that looked like they were owned and modded by a couple of similarly-minded fanboys. Today, we'll shift gears and look at one of the most tastefully and maturely modified E46s out there (chrome exhaust surround notwithstanding). Carter featured this car for Tuner Tuesday earlier in the month and it's received the full Dinan treatment, earning enough points via supercharger, exhaust, suspension, and more to get the official Dinan badge. The badges sit on a custom and beautiful red paint job, with CSL nods in the wheels and trunk spoiler. It has only covered 40k miles in its 10 years and was honored with the cover of BMWCCA's "Roundel" magazine a couple years back. The seller says its "generally considered to be one of finest E46 M3 in the country," and it's hard to argue against that.
-NR
The below post originally appeared on our site September 2, 2014: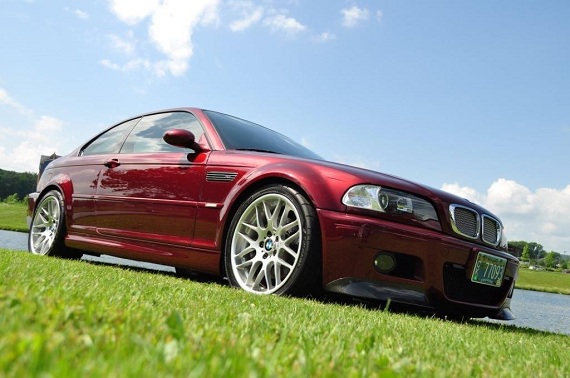 I've written up some pretty nice E46 M3s recently, and today is no exception. This one is a bit different than last week's low mileage Phoenix Yellow example; it, too has CSL-style wheels and trunk, but a custom color and Dinan supercharger help to set it apart. Indeed, it seems that this well-optioned 2004 model has really had a fair amount of money spent bringing it to the next level of performance. Dinan bits top the highlights, with suspension, exhaust, gears, cooling and of course the supercharger kit. It's an impressive bit of kit: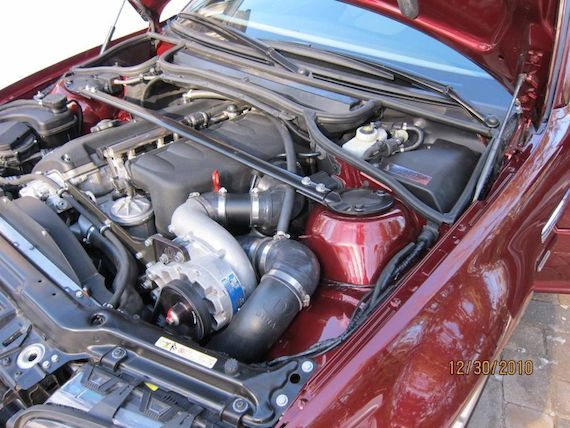 Year: 2004
Model: M3
Engine: 3.2 liter supercharged inline-6
Transmission: 6-speed manual
Mileage: 40,245 mi
Price: $44,900 Buy It Now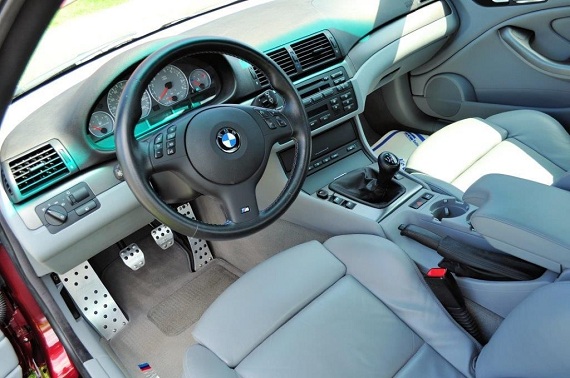 Roundel Feature Car Jan 2012 Issue 6 Speed with close shifter kit Every Factory option (except navigation) including Harmon Kardon and BMW installed Sirius radio. Three stage custom red metallic paint with light grey leather interior. Vorsteiner carbon fiber trunk lid and two additional carbon fiber trim pieces. 19″ lightweight CSL wheels with New Yoko Advan Neova AD08 tires. Complete Dinan supercharger kit including new radiator and exhaust. Dinan/Koni adj. susp. Sport diff w/3.90 gears installed by Dinan to maximize engine tune. European BMW brake rotors, Pagid pads, stainless brake lines with super blue fluid, front and rear radar system. Generally considered to be one of finest E46 M3 in the country. Hagerty appraised and insured for 55K, over 40K invested. Just turned 40,000 miles. This is a serious and unique vehicle in better than showroom condition. Serious Inquires Only. $46,900 Art: 570-646-1689 home or email ajajx2@epix.net (PA) More photos of this perfect car are available by email.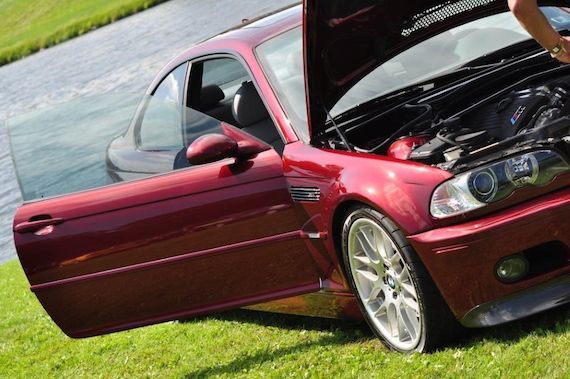 It would interest me to know if the car was painted by BMW in this shade or not; the scant photos seem to indicate that the engine bay and door jams are really well painted, including the hinges and underside of the hood. If it wasn't the factory, the job looks to have been well done. I could probably do without the glitzy carbon splitters, diffuser and chain-link kidneys personally, but outside of that this is a good looking M3. But then there's the price; asking $47,000 this car costs going on triple the rest of the M3 market. Granted, there's a lot of work and desirable modifications completed, but in all honesty I'd really prefer the less-moddedPhoenix Yellow car I wrote up last week. Less miles, a slightly more stock look in a color I prefer and $15,000 savings really seal the deal for me. It remains a pretty sweet ride, but it's a little too rich for my blood.
-Carter