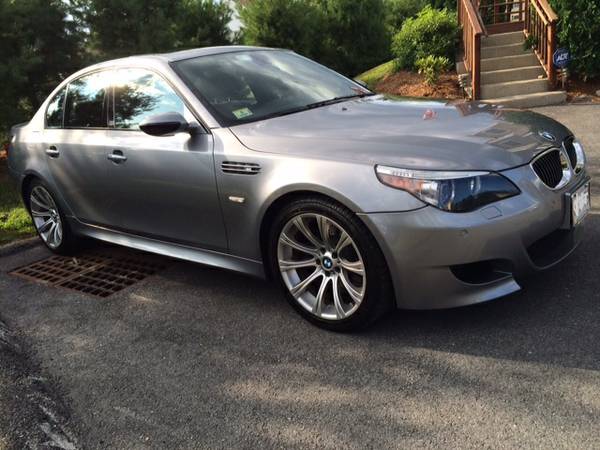 Nate's look at the E34 and E39 Dinan M5s over the past week is a poignant reminder of the factory-backed performance available in these super sedans. In the best style of "Q-Ships" – World War II merchant ships that hid surprising armament behind their docile exterior – they're turned up but never outrageous. When it came to the E60 chassis though, with 500 horsepower on tap how did one increase the already world-beating performance? In Dinan's case, there was no replacement for displacement, as they punched out the 5 liter V10 to 5.8 liters. The result was an additional 100 horsepower and around 80 lb.ft more torque while still maintaining the stratospheric redline. Yet that insane performance was available in a wrapper which looked no different than a standard M5: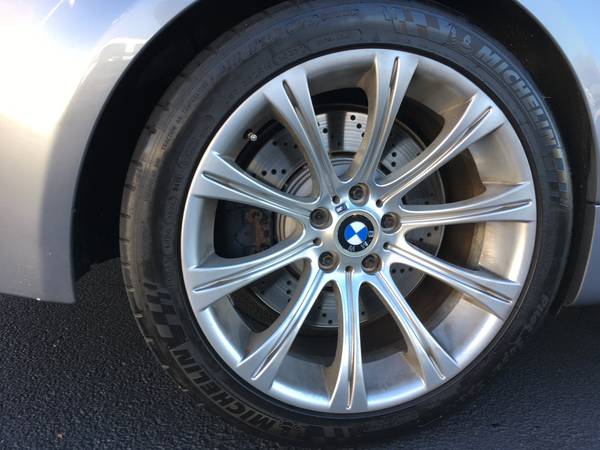 Year: 2006
Model: M5 Dinan 5.8
Engine: 5.8 liter V10
Transmission: 7-speed sequential-automatic
Mileage: 72,000 mi
Price: $40,000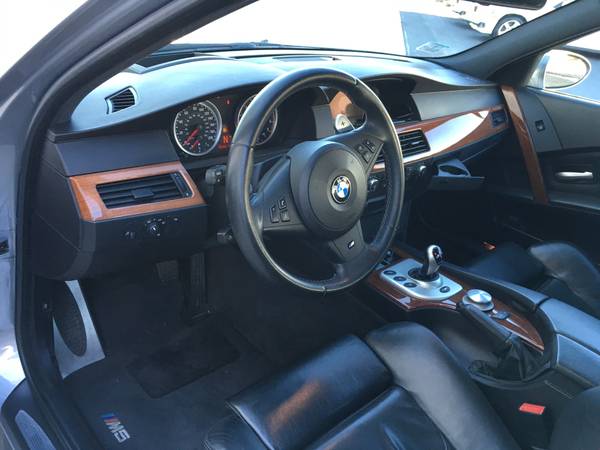 Dinan! One of 42 in the world! This truly special vehicle is no ordinary M5 with a measly 500hp. This M5 is one of 42 in the world with a 5.8L Dinan Stroker motor and required Carbon cold air intake producing approximately 600hp and 458 ft.lbs. This machine pulls furiously straight up to the 8,400 rpm redline. To build this vehicle on your own would cost you $70,000. She will hit sixty in approximately 3.7 seconds and has a top speed of over 200 mph. Dinan is the only aftermarket manufacturer sold, installed and maintained by BMW Dealership and matches BMW Warranties. The engine was swapped in around at around 47,000 Miles so the engine is still young. Otherwise, this machine is a prime example of a M Legend! There are newish Michelin Pilot Super Sport Tires installed at 60,000 miles. She is a great machine and I hate to sell her but with a second kid on the way it is time. Please let me know if you have any questions or would like certain pictures.

Factory options – Many standard features as the M5 was already the highest trim level. The extra cost features included:

Heads up Display – This is a crucial option when the road is coming up on you as quick as it does!

Comfort Access

Heated Rear Seats

Rear Electric Sunshade

Heated Rear Seats

Fold Down Rear Seat w/Ski Bag

Specifications of Modifications:

Dinan® High Performance Stroker 5.8L V-10 w/ Dinan® High Flow Air Mass Meter/Intake Assemblies

Features and Specifications:
Bore:94mm / Stroke: 83mm Compression Ratio: 12.0:1
Dinan proprietary forged crankshaft
Dinan proprietary lightweight forged pistons
Dinan proprietary light-weight connecting rods
Balanced and blueprinted
Dinan electronics and engine management software
Dinan serial numbered block

Make an offer, you never know!

Please make sure to include your name and a number were you can be reached. This way I know you are a real person and not another scam. Thank you for your understanding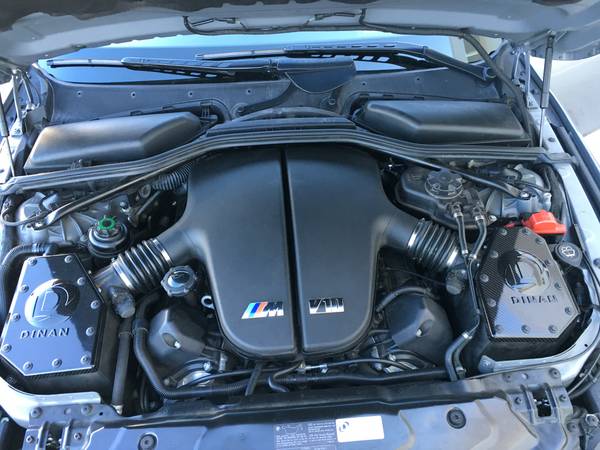 It's pretty amazing that only a claimed 42 of these Dinan 5.8s were made and I wonder if that number includes M6s by just referring to the motor or if there are just 42 M5 5.8s. As noted by the seller, the cost of the build from Dinan was as staggering as the amount of power produced. A decade on, the numbers don't seem quite as outlandish but are still capable of matching class leading performance – perhaps a testament to how amazing this motor was and still is. That said, is it a $40,000 example? When you can get a nice E60 M5 for half that amount with less miles, it's hard to consider it a deal. But in the performance realm, it's still a pretty serious top trump as long as it doesn't implode on you as the mileage increases.
-Carter