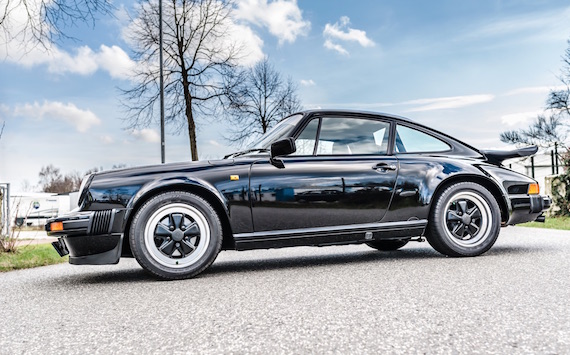 It's a rare day when I'll talk about a Porsche 911 on this forum, as my fellow contributor Rob has spent a lifetime devoted to this air-cooled sportscar. When we hang out together, one question has arisen from time to time: "if you had to have one 911, which one would it be?" That's a tough one, considering we have a model portfolio of 50 years to choose from. But one 911 stands out as the holy grail for me: the 3.2 Clubsport. To me, this is what the 911 is all about. Light weight, no frills and a pure driving experience. This 1987 911 Clubsport for sale in Germany was sold originally in Sweden and found its way back home in 2009. Looking for something a bit more unique in the 3.2 realm? Read further…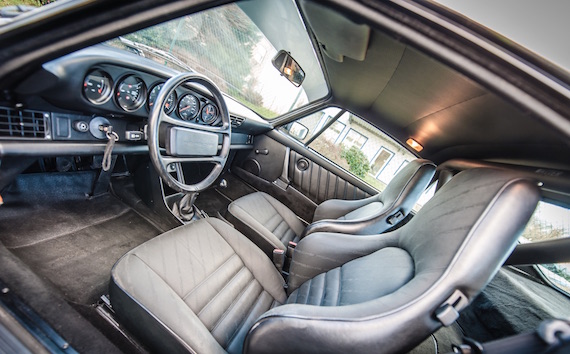 Year: 1987
Model: 911 Clubsport
Engine: 3.2 liter flat-6
Transmission: 5-speed manual
Mileage: 110,846 km (~ 68,876 mi)
Price: N/A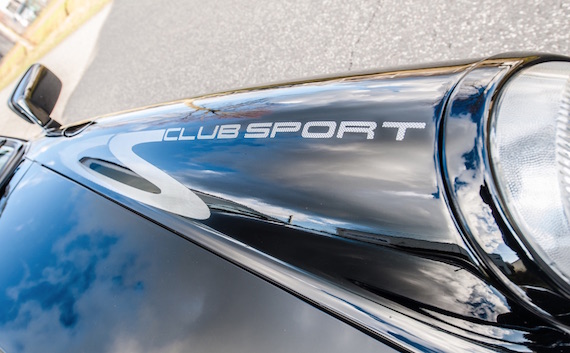 FULLY MATCHING NUMBERS CLUBSPORT (M 637)

Model history:

When the 1988 model year 911 was launched in September 1987, Porsche also introduced a lightweight high performance version aimed at the firm's hard core customers. No doubt inspired by the legendary 2.7 RS of 1972 this new Coupe-only car was the first to adopt Porsche's now revered Clubsport (M637) designation. The CS was a stripped out version of the 3.2, made lighter than most by stripping out non-essentials like the rear seats, sound deadening, electric windows, and even the passenger's sun visor. The engine revs more freely, and 300rpm higher, thanks to lightweight inlet valves and a reprogrammed ECU. Just 189 examples were made, so this is even rarer than any 2.7 RS model. Unsurprisingly with more power and less weight the Clubsport instantly became the quickest normally aspirated 911 available with 0-60mph requiring a mere 5.1 seconds whilst top speed rose to 156mph. Transmission featured revised 4th and 5th gear ratios and a limited slip differential. Bilstein sports suspension was specified and Fuchs alloy wheels in 16 inch.

Specific history of this car:

Chassis 105079 was delivered new as #79 of only 189 original Clubsport built. Built in the attractive color combination of black (A1A1) over a black interior with Porsche print canvas, this car was sold new to Sweden. It changed hands once in Scandinavia in 1998 and was sold on in 2004 to Austria. In 2009 the car was sold to the last owner in Germany.

The car is today presented in excellent, fully matching numbers condition. It is free of any accidents and is still in its original paint apart from the front hood. This is a very original and unmolested car with full documentation from day one, which includes the service book, a full key set and a lot of period documentation.

This is a rare opportunity to find one of the best 911 3.2 Clubsport for sale.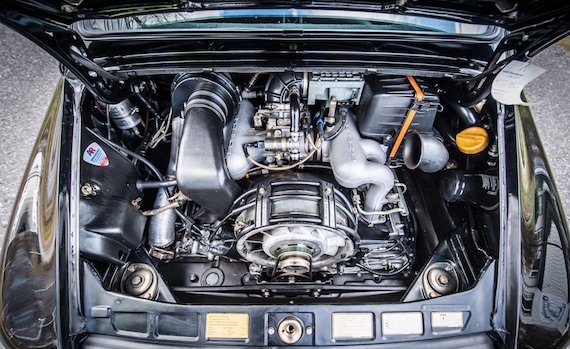 We've featured a number of cars from this dealer before, as they always have interesting stock. It's been a while since we've featured a 3.2 Clubsport, the last one being a heavily modified 1988 example for track duty. With air-cooled prices as they are currently, this car will certainly bring a premium over other 911s of the era. It wouldn't surprise me if this car was priced somewhere in the $150,000 to $200,000 range, putting it in line with other rare 911s of similar vintage, such as the Speedster and 1989 Turbo. While my interest in a lot of 911s has cooled with the skyrocketing market for them, a rare piece like this still grabs my attention. From the Porsche script cloth seats to its higher rev limit, this 911 has just enough flair to set it apart from the pack.
-Paul