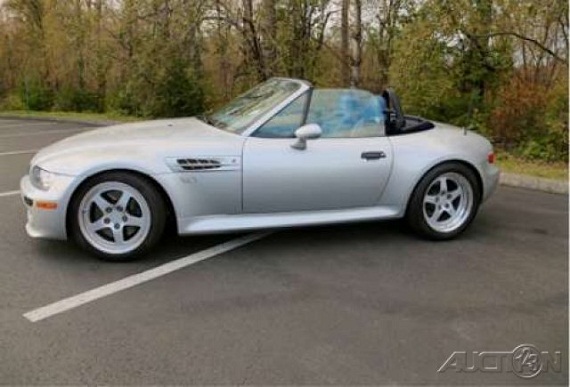 Steve Dinan is a wizard at building monster BMWs, and as such managed to make it into the inner-circle as a dealer-approved modifier of BMWs. This extends not only to the base models but also to the already specialized and quick M models. No one who has driven a M Roadster will accuse it of being a slow car, but Dinan took the S52 motor to another level by adding a supercharger and a host of engine and exhaust upgrades to match. But it didn't just end there; Dinan revised the suspension as well to better suit the increased power and offer more adjustability to the owners of these specialized cars. One aspect that I think is particularly nice about Dinan's creations is that they often retain the mostly-stock look that makes sleeper performance cars so special. Plop that performance into a M Roadster and you have a ton of top-down fun: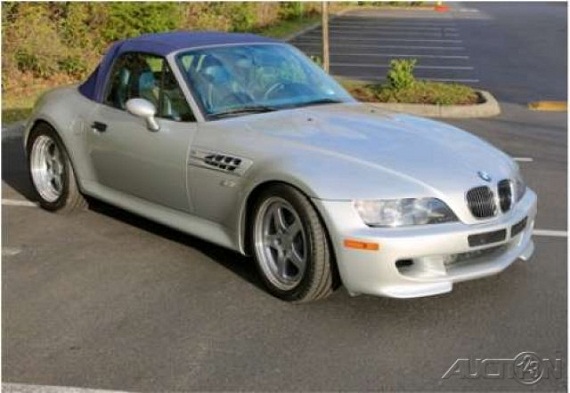 Year: 2000
Model: Dinan ISR3
Engine: 3.2 liter supercharged inline-6
Transmission: 5-speed manual
Mileage: 27,179 mi
Price: $50,000 Buy It Now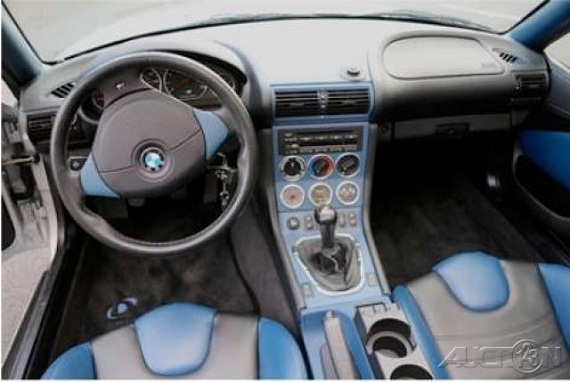 2000 BMW Z3 M Roadster. 3.2L I6 EFI Gasoline Engine.
Extremely Rare Stealth "SuperCar" – Dinan ISR3

400 Horsepower BMW M Roadster

Only 27,179 miles – Looks and drives like new! Washington State Emissions Test passed 11-13

One Owner – Great Condition – Supercharged – Intercooled – Enhanced Low Back pressure Exhaust – Enhanced Suspension & Much More… This is Monster Road Machine in an M Roadster body! Check out the Road & Track and Roundel articles on this car – Internet links below.

Only 6 of these Supercars were made and even fewer are still in existence. This Dinan ISR3 was the 4th BMW M Roadster converted (out of a total of only 6 ISR3 cars created by Dinan Engineering).

Extra Options Added beyond ISR3 Conversion:

Removable BMW Hard Top with rear glass window w/electric defroster/ rolling hard top storage stand

BMW Two-Tone Electric Leather Seats
Dinan Carpeted Mats

Dinan Boost Gauge: Shows Supercharger Overpressure

Escort 9500 Stealth Built-In Front/Rear Radar/Laser Detectors With Laser Jamming

BMW M Roadster standard features:

In-Line 3.2 Liter Six Cylinder Engine
5-Speed Manual Transmission
Blue Soft-Top Excellent Condition
AM/FM Stereo/CD Player
Air-Conditioned
Heated Blue Leather Two-Tone Seats
Cruise Control
Tonneo cover
Wind Screen

Each Dinan ISR3 conversion began with a new 2000 BMW M Roadster, which was in-turn superbly modified by Dinan in the following ways:

Engine: intercooled supercharged DOHC 24-valve 6-in-line straight six; aluminum block and head, Dinan/Siemens engine-control system with port fuel injection; Vortech helical-cut-gear-driven supercharger for quiet reliability; 10 pounds boost into 10.5:1 compression; 50-state emissions legal. Two different sized compressor bypass valves, one before and one after the intercooler to eliminate low-speed stumble and surging typical
with "high boost" aftermarket supercharger systems. Thermostatically controlled engine oil cooler, enhanced fuel delivery system with larger high-flow fuel injectors. Air filter located outside engine compartment to insure exposure to cool, dense air. Integrated bumper ducting provides ram air effect as road speed increases.

Displacement: 192 cu in, 3152cc
Power (SAE net): 396 bhp @ 6500 rpm
Torque (SAE net): 326 lb-ft @ 5500 rpm

High Flow Throttle Body: Internal diameter of throttle body has been increased for improved airflow. Throttle response is also faster as a result of the modified shape.

High-Flow Air Flow Meter: A larger-diameter air-flow meter is included in order to improve Intake airflow efficiency. The design incorporates a unique "labyrinth" for improved air-flow-meter-voltage stability as well as shielding it from cylinder pulses for a smooth idle and improved peak horsepower.

High Flow Intake Manifold: Polished and ported with larger-diameter intake runners for maximum intake efficiency and resulting power gains.

Engine Management System: The Siemens engine-management system has been programmed for maximum power gains, drive ability, and emissions compliance. System maintains all "On Board Diagnostic"

(OBD II) functions and ignition timing and air/fuel mixtures are optimal throughout the engine's operating range. VANOS (variable cam timing system) has been reprogrammed for maximum power gains throughout the engine's operating range.

Free Flow Exhaust: Stainless steel, free-flow mufflers insure that backpressure is kept to a minimum, without creating an unacceptable exhaust note.

Clutch: Stock "dual mass" flywheel and clutch assembly replaced with Dinan Stage 2 Clutch Assembly. Lightweight aluminum flywheel reduces clutch weight by nearly 15 Ibs. or 39%. Clutch clamp pressure increased by 20%.

Transmission: 5-speed manual

3.38:1 Limited-Slip Differential: Final-drive gearing has been lowered from the stock 3.23:1 ratio to compensate for the increased outer diameter of 285/40-17 tires in the rear.

Performance Springs: Increased spring rates and a modestly lower ride height provide greater control and traction in turns.

Moni/Dinan Externally Adjustable Struts and Shocks: Matched with Dinan springs for maximum control. Features custom digressive compression valving for more low-speed shock shaft velocity control, providing greater restriction of camber and toe-angle changes. Front struts are externally adjustable for personalized control of ride quality and handling characteristics

Anti-roll Bars: 22mm front and rear adjustable anti roll bars.

Front Camber Plates: Relocate strut pick-up points for two degrees negative camber in the front, greatly improving turn-in.

Camber Adjustable Rear Subframe: Provides adjustment of camber angles at the rear of the car.

Front Strut Tower Brace: Reduces flex at the shock towers for sharper handling.

Wheels and Tires:

Front: 1 7×8.5″ Dinan Three-piece modular wheels, 255/40-17 Michelin ZR Pilot Sport tires.

Rear: 1 7×9.5″ Dinan Three-piece modular wheels, 285/40-17 Michelin ZR Pilot Sport tires.

Brakes: Brake pads replaced with carbon/metallic pads.
Wheelbase: 96.8 in Length: 158.5 in Curb weight: 3103 lbs.

C/D TEST RESULTS (From Car & Driver article – link below):

Zero to 60 mph: 4.7 sec
Zero to 100 mph: 12.0 sec
Street start, 5-60 mph: 4.9 sec
Standing 1/4-mile: 13.4 sec @ 106 mph
Top speed (redline limited): 159 mph
Braking, 70-0 mph: 176 ft.
Roadholding: 300-ft-dia skidpad: 0.91 g
C/D-observed fuel economy: 10 mpg

CLICK HERE to See Barry Winfield's Road & Track's April 2001 article on the ISR3

CLICK HERE to See Roundel's article on the ISR3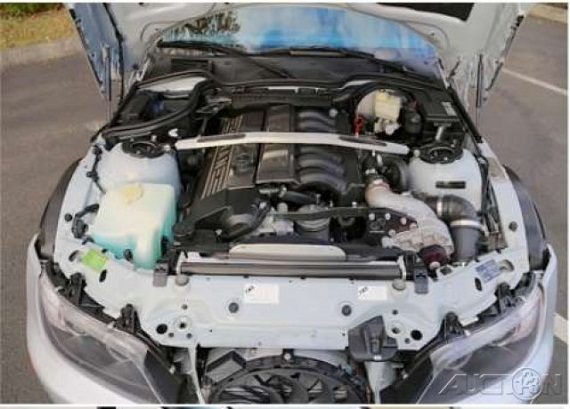 There aren't many of these little rockets floating around – the original article from 2001 claims that only 50 would be built. With 400 hp on tap, they're a potent package, too. Of course, that potency cost, and cost dearly; new out the door, these Z M Roadsters boasted price tags in excess of $80,000 if you ticked all the right boxes. Sound like a lot? It was, because shortly after the launch you could get into a 315 hp S54-motored Z M for around $45,000. The question then becomes one of exclusivity; do you want what no one else has? Perhaps, and if that's the case then this car is a good candidate for you.
Of course, it sure would be nice if the seller provided better pictures and some more information, specifically on the claim that the car is only one of 6 (though, I'm guessing perhaps in that color?). Though it has low miles, no mechanical history is provided of the car. Then there's the asking price – $50,000, which by my maths will buy you no less than three normal M Roadsters with change left over to spare. Much like last week's Ruf 3400 I think the asking price is far too high even considering the increase in performance. While I have no doubt the car is quick and rare, I just could never justify that sort of premium for this particular car.
-Carter