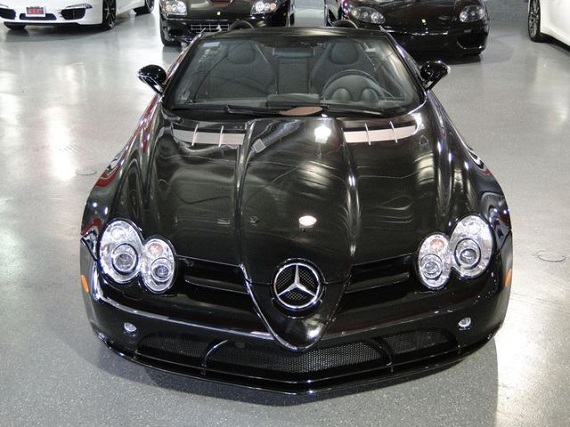 While I've always found the McLaren SLR an intriguing car, it's never been a car that I fully understood. Following in the footsteps of the "Holy Grail" of supercars, the F1, the SLR just didn't seem really that impressive in any way. Yes, it was fast. Yes, it sounded like a radial-engined airplane in full attack mode. Yes, the brakes caught on fire when it went too fast. But compared to the howling, scalded cat Carrera GT, the SLR just seemed a bit too main-stream. That was further hampered Mercedes-Benz itself when it offered supercharged versions of the SLs – which looked mostly like the SLR, had a nifty folding roof, offered most of the performance and cost a whole lot less. McLaren solved two of those questions in fairly short order; bumping horsepower up to nutty levels with the Edition 722 and also offering the McLaren SLR in convertible form. Today's example isn't a full blown 722 model, but has the big horsepower bump thanks to the wizards at Renntech: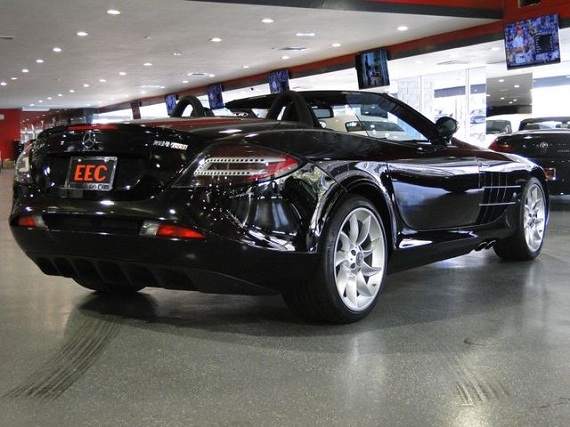 Year: 2008
Model: SLR Convertible
Engine: 5.4 liter supercharged V8
Transmission: 5-speed automatic
Mileage: 1,600 mi
Price: $279,900 Buy It Now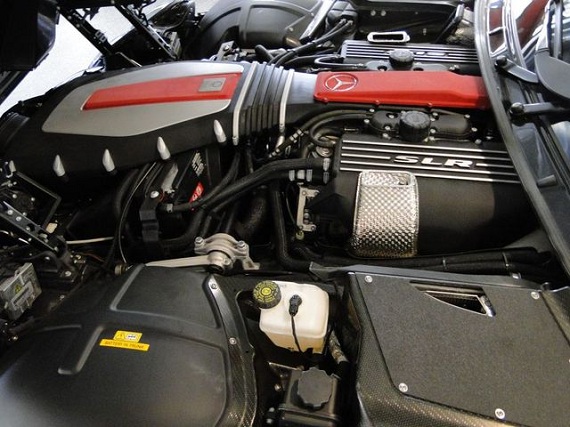 Description

2008 McLaren SLR Renntech Roadster

Exterior – Pure Black

Interior – Black Leather

R1 Renntech Package Which Includes

Upgraded ECU/Pulley and dual intercooler pump (cost $11,500) which increases the horsepower from 626 to 722 and the torque from 575 to 715 ft lbs! Factory Options Semi Automatic soft top Side Gill Ventilation Programmable daytime running lights Gullwing Doors Air braking rear adjustable spoiler large front air dam Bi-Xenon headlights with automatic level control Heated headlamp washers Power heated mirrors Rain sensing washers Aluminum interior trim Tire pressure monitoring system Bluetooth anti-theft system 6-way power carbon fiber front seats exclusive velour floor mats with SLR logo SLR leather sport steering wheel Matte chrome instrument panel Smart key system 6 Disc cd changer Bose premium sound Dual-climate control ABS 19′ aluminum wheels Carbon fiber reinforced lightweight ceramic brakes AMG sports exhaust system with dual side pipes Push button start Front torsion stabilizing bar

CONTACT INFO MIKE Cell PHONE 818-518-4775 OR MIKE@EXOTICEUROCARS.COM

AJ IPHONE 818-212-1314 OR AJ@EXOTICEUROCARS.COM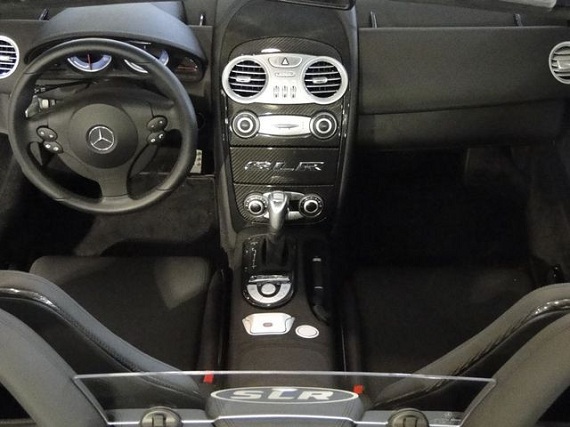 I was at Goodwood for the launch of the SLR, and distinctly remember Gary Paffett doing a burnout at the top of the hill – I was only about 40 feet away. The car was just nutty and sounded like the whole world was coming unglued. Perhaps that was what was special about the SLR versus the F1; the F1 was all business and it showed; the SLR was insane when you wanted it to be, but when you got off the loud pedal it was effectively "just" a Mercedes. With the top down you can really experience that nuttiness on another level. Is it worth $280,000? Well, if you have the funds and want a basically new SLR Roadster, then yes, it surely is. For the rest of us probably not, but like many of the overpriced cars we featured I sure am glad they exist and I've gotten to see them along the way.
-Carter