Warning!
This post is in our archives. Links in this post may have been updated to point to similar cars available to bid on eBay.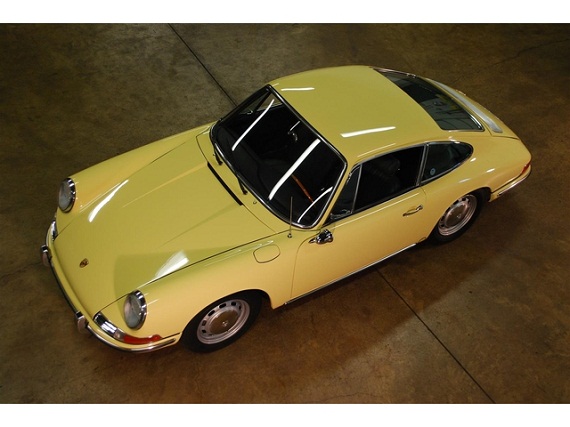 While we here at GCFSB usually try to find the best deal for your hard-earned money, the reality is that sometimes it's hard to find mint-condition cars at a budget price. Increasingly it seems that we find lots of examples of really nice cars that investors and speculators are trying to capitalize on by setting the price in the stratosphere. Such is the case today; two lovely examples of two very opposite cars that are both priced well outside of their respective markets. The question is, what is uniqueness and perfection worth? Let's take a look at the first, an impressive restored condition 912: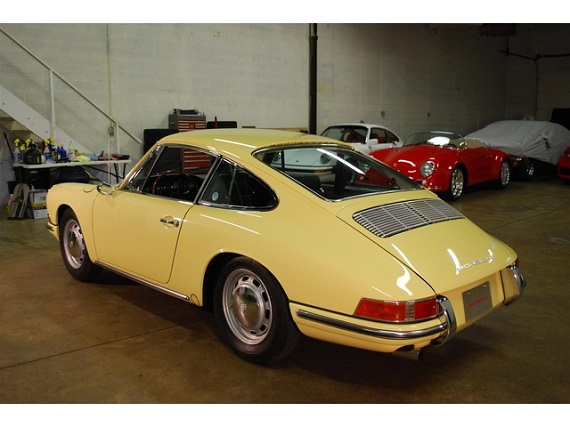 Year: 1965
Model: 912
Engine: 1.6 liter flat-4
Transmission: 5-speed manual
Mileage: 68,935 mi
Price: $59,980 Buy It Now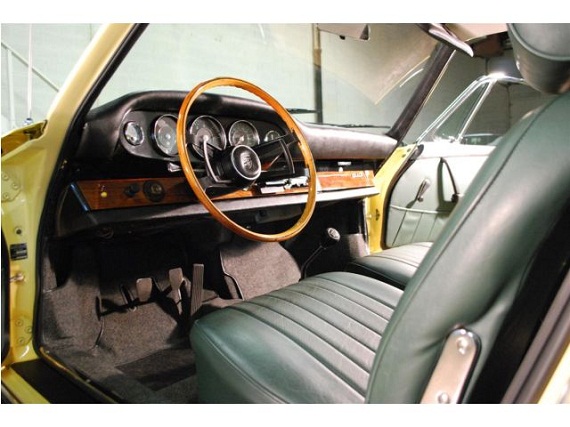 1965 Porsche 912 – Excellent condition, rust-free car with a fresh restoration. Rare 5-speed transmission. Shows beautifully and runs like a champ. Refinished in original Champagne Yellow with Green Leatherette interior. 68935 actual miles. Original motor redone during restoration; transmission was replaced with a correct 5spd. Recent Michelin XZX tires installed. Certificate of Authenticity included. An all-around stud that needs nothing to drive and enjoy.

—

Original Factory Options:

Antenna

Loudspeaker

2 Headrests – Leatherette

Tinted Glass All Around

Ventilated Chrome Wheels

Talbot Mirror

Wheel Caps w/Crest

5 Speed Transmission

Dunlop Tires

Call or Email us with any questions

Financing available for well-qualified buyers

Clean Exotic/Sports car trade-ins gladly considered

We can assist with arranging enclosed shipping anywhere in the world

SwitchCars – Toll Free 866-672-CARS, or local/international, +1-216-453-0507

Switchcars is the enthusiast's exotic car dealership. We buy, sell, and consign cars we like. We specialize in clean modern and vintage Porsche, Ferrari, and Lotus products, as well as other limited-production exotic cars, and are an authorized Trailex aluminum trailer dealer.

Switchcars gets our cars from private collectors, customers, and dealers/wholesalers with whom we have an established relationship – never from auctions. We strive to verify the history and condition on every car we purchase to the best of our ability, and only buy from trustworthy sources. We have a wide variety of cars for sale – some are concours winners, others are track toys, but all are described accurately and honestly with as much documentation as possible. We encourage buyers to verify condition on any car we have for sale, and we have a good network of independent and factory-authorized Porsche, Ferrari, Lotus, Audi, Aston Martin,and Lamborghini mechanics that service our vehicles and can handle any pre-purchase inspections or service throughout your ownership.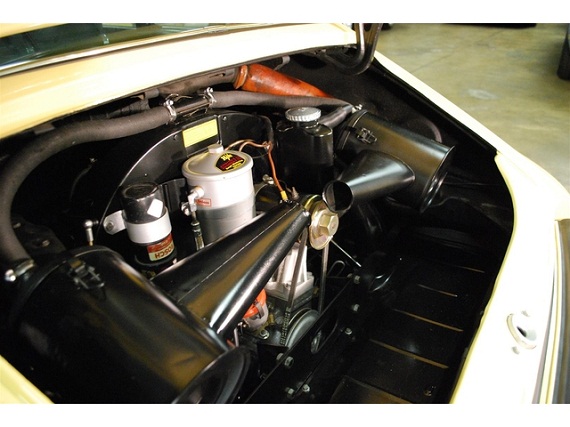 This is a beautifully restored car even if it isn't the most popular color combination. Rob has written up several 912s recently like this 1969 912; I agree with him that there is a beauty and simplicity about the original 901 design that makes it very special. The 912 captures that innocence well. As 911 prices have risen they've pulled the more-affordable 912 along with them. However, at roughly double the going market rate for even a really nice example of a 912 and well above Hagerty's top value estimate, is this the 912 to buy? Well, if you want a show-ready car, perhaps it is, though I still think it's priced too high. Speaking of priced too high….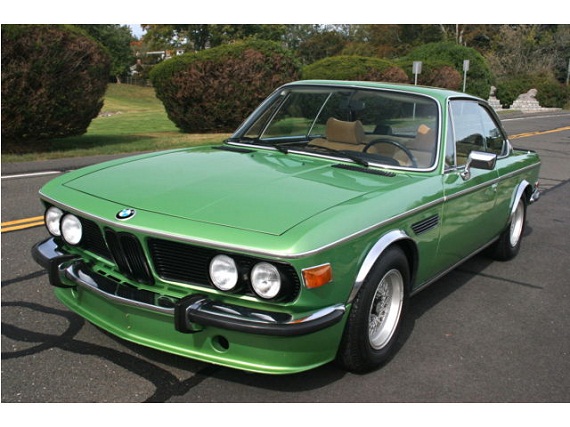 The BMW E9 is another steadily rising star in the classic German motoring world. Long considered one of the best looking BMW designs, finding good condition 3.0s is very difficult. This car is the polar opposite of the 912; big six in front, Taiga Green on the outside and tan inside. It certainly looks fantastic with the deep front airdam, Euro bumpers and trunk lip and BBS alloys. The green is also a really unique and period correct color for this example. However, as Paul showed with his recent 3.0 CSi post, value on these cars lies in between $35,000 – $45,000 for some of the better examples. While this example looks splendid, the seller claims the mileage may be off and the paint was redone, making you question the quality of the restoration and what – if anything – it was covering up. Still, it's drop dead gorgeous, so take a look: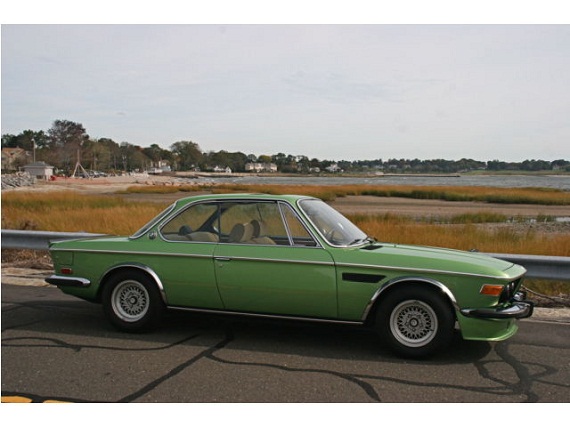 Year: 1975
Model: 3.0CS
Engine: 3.0 liter inline-6
Transmission: 4-speed manual
Mileage: 9,168 mi
Price: $63,900 Buy It Now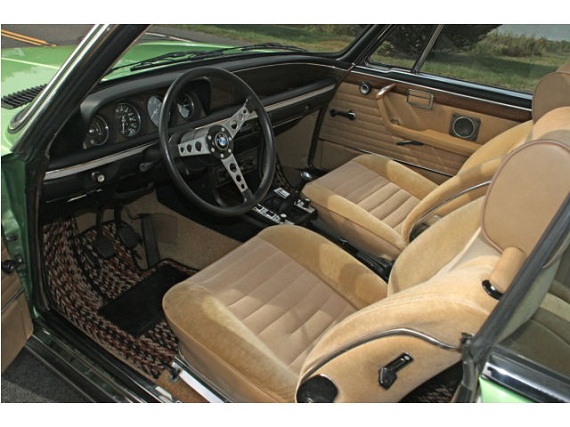 BECAUSE LIFE IS TO SHORT TO DRIVE A BORING CAR!!!

THE CLASSIC CAR GALLERY

3266 Post Rd

Southport, Ct 06890

203 256 9800

ClassicCarGallery.com

1975 BMW 3.0CS COUPE "ALL ORIGINAL, TAIGA GREEN!!!)

VIN 4300610

The Classic Car Gallery is proud to offer this 2-owner (2nd owner for the past 24 years) 1975 BMW 3.0CS coupe. The car was brought over from Europe in 1984, is a very low mileage original EURO car, in her correct TAIGA GREEN (she shows 9600 miles, but judging by condition, we believe her to have approx. 40,000 miles). She has not been driven more than 1000 miles in the last 15 years (we have documentation verifying this). The car recently underwent a comprehensive inspection by noted BMW E9 RESTORER MATT McGINN OF SPORTS CAR RESTORATION in Plainville, Ct. In lieu of a description, I have included Matts review of the car below;

Hi Steven,

I'm at the shop after a long day, I did forget your card at home, hope this generic email off your site gets to you.

We had a good time looking at the coupe yesterday, thanks for calling us in on this mission.

I am working on the written impression of the car, but as I am trying to really nail every detail that Dennis, Tim and I took in, it is taking longer than I'd hoped.

In short, you can quote me on any of the following if you have buyers prior to be sending you the report.

Car is in top ten percent of e9 coupes from a body/paint perspective. Driving up to the shop and seeing the car in the lot my first impression was positive. Period-correct Mahle wheels, the CSL wheelarch trim, color, cleanliness all spoke. I can't say the year/proximity to end of production adds value necessarily to me, as they were serially-produced, but the euro bumpers on a late CS are great and the color is great.

So,

Engine has compression leakage through piston rings into crankcase. As a weekend car, not something likely to cause major oil consumption or fouling plugs, etc. More driving may help the rings seat better. Plugs looked good when removed, not black and rich, not white and lean. We could not test on-road manners of car but a buyer can do this. Brake sticking issue may be solvable by fitting new front calipers, but double check the master cylinder and/or pedal linkage to make sure there is not a hydraulic issue (MC) or just a physical binding issue (bad bushing in the linkage) keeping some pressure on the calipers. Just a little pressure in the MC or linkage equals much more binding in the front brakes than the rear by nature.

Color is re-sprayed but likely original color and done well. Glass-out, doors-off good comprehensive repaint. Not cheap, now or ever.

Car has never had a panel changed, and has never had rust repair and does not need either as a high-level driver car. Rust areas in front of doors are an "option" fix as they are not likely to grow given a typical classic car's use. It will also not spread to adjacent panes. As a driver-level car, you leave that spot alone.. Areas of concern (front structure, frame rails) are dead-original, never-repaired, never-rusted and need no repair. Slight surface rust on isolated spots on floor pan. No evidence of repair. Rocker panels are original.

Trim, seals and interior excellent. Replaced with BMW factory parts and in great condition and fit well. Dash is excellent, no cracks. Wood veneer on dash, door-panels have appropriate age. Speaker grille on dash has original fabric behind grates. All seat trims, especially the seat rail covers excellent. Appears to be original upholstery. (I am researching this as this is one aspect of the late coupes I am not 100 percent familar with.)

I saw on your site that the car was for sale for $XX,XXX. You'd asked yesterday about my opinion on the value. That's tough for me as we're focused on building cars for owners, but I can tell you this, if you got a complete donor car for free, you could not build a car of this caliber for $XX,XXX. it would be double that, triple that for something REALLY nice And to boot, you'd have to really find a rust-free, never-hit survivor to build from, and even then then you could not do it.

Thanks again, much more to follow.

Matt

Since Matt's inspection, we have rebuilt the carburetors, installed new front brake calipers, brake lines and master cylinder. The car now runs and stops as she should. These E9 COUPES are among the most collectible cars of the 1970s' and is bound to appreciate. This particular car is stunning in its originality, (THEY ARE ONLY ORIGINAL ONCE!!!) and it may be the nicest original 3.0 CS on the market today. Feel free to call 203 256 9800 or email Steven@classiccargallery.com if we can answer any of your questions.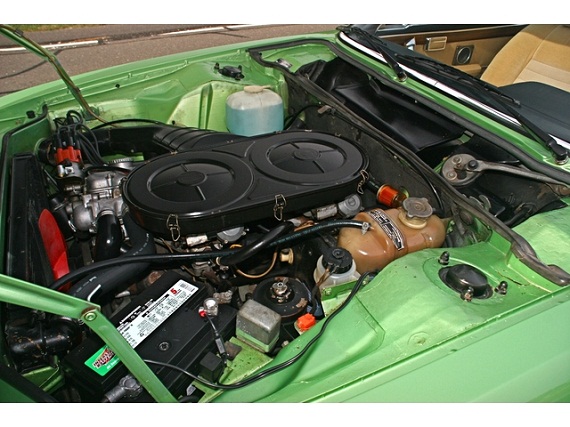 The 3rd party inspection of this car is interesting and unique to include, but the question remains as to whether this car is worth 50% more than most similar models? Well, again, if you want this color combination in a show ready vehicle, here you go. Preparing vintage cars to this level is not a cheap proposition, and as the 3rd party inspector notes you could easily spend 2-3 times the sale price on a free vehicle trying to make it perfect. For me, I think I'd rather have a slightly less perfect example that I'd be happier to drive, but since neither of these cars are museum quality the future owner could likely enjoy occasional trips without really negating value. Does that mean they're a good deal? Well, at the top of the market, no they're not – but if you want to take the easy way out, this is how to do it. Spend a little more up front and get the best car you can and it'll save you headaches in the long run. For me it would be a tough choice between these two, but I think ultimately I'd choose the 912 over the 3.0 just because it seems a little more honestly presented and has less questions than the BMW; though I have to say, I think the BMW is the better looking of the two by a margin.
Which would you choose?
-Carter