Warning!
This post is in our archives. Links in this post may have been updated to point to similar cars available to bid on eBay.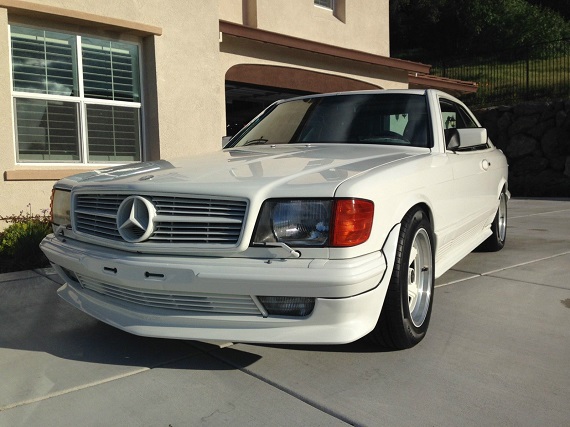 Edit 6/13/2017: the ABC Exclusive replica 560 SEC is back on a no reserve auction for a $15,000 starting bid. Click HERE!
Coupe versions of the Mercedes-Benz W126 chassis are popular fodder for these pages, and in particular we love to look at some period modified versions. Just last week Craig looked at a 1989 560SEC with period AMG bits, though that car was not an originally modified car. Today I have a comparison of two different directions modifications took in the 1980s on the C126, and in many ways it is a commentary on both how to properly present a car and…well, how not to. Whether these cars are to your taste is another matter, but we can certainly see the divergence in style pretty quickly. Which one is the winner? Let's take a look at the European specification AMG model first: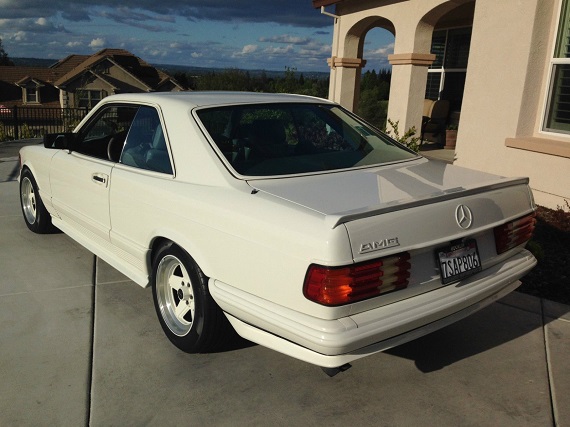 Year: 1984
Model: 500SEC
Engine: 5.0 liter V8
Transmission: 4-speed automatic
Mileage: 120,698 mi
Price: Reserve Auction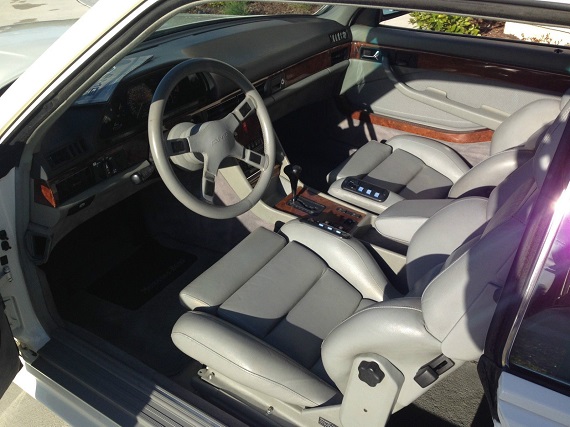 This is an outstanding and very rare euro model 1984 Mercedes Benz 500 SEC "Pre-Merger" AMG. This car began it's life in Germany in April 1984 as a "euro model," featuring a European spec engine, the more attractive European front and rear bumpers and the European H4 headlamps and European Tail lamps. The SEC is the part of W126 S-Class line up, but is the two door coupe configuration with the beautiful "pillar-less" window design. The car was offered with the following factory options:

258- Interior: Orion Gray

260-Elimination of Type Sign on Trunk Lid

410-Sliding Roof

470-Anti-Lock Braking System (ABS)

504-Outside Rearview Mirror, Right, Electrically Adjustable (LHD)

532-Automatic Antenna

543- Sun Visor with Make-Up Mirror (L and R)

570-Folding Armrest

581- Automatic Climate Control

592-Heat-Insulating Glass, All Around, Heated Rear Window

600-Headlamp Wiper/Washer

611-Courtesy Lamps for Doors

621- Headlamp ILS

630- Warning Triangle

737-Exterior: Classic White

Shortly after its creation, the car was brought to the California Bay Area, under the 1980's "grey market" import process. Evidence of this is found in the BAR (Bureau of Automotive Repair) sticker found in the inside driver's door jamb, which was necessary for the car to be titled in California under more stringent California Air Resources Board (CARB) requirements. The title is also denoted "Non-USA" as proof of its European beginnings.

Upon arrival in 1984, the car was sent to Sport Vehicle Specialists, a licensed AMG dealer to receive its transformation. The original sticker documenting this is also still located in the driver's door jamb. In the 1980's, wealthy car owners brought their Mercedes vehicles to licensed AMG dealers and special ordered cosmetic and performance upgrades which could be hand selected from a variety of options. A vintage copy of the catalog from this era is included with the sale of this car, and features a nearly identical Classic White 500 SEC AMG on the cover and inside. This was prior to the merging of AMG and Mercedes Benz, where customers could purchase a fully equipped AMG model from the dealer, hence the term "pre-merger."

This car received the following genuine AMG upgrades:

– All Exterior Body Moldings Painted to Match the Car (Window Trim, Grille, Bumpers, Etc. in Matching Classic White)

– AMG Aero Body Kit consisting of front, rear and side lower skirting (Matching Classic White)

– AMG Rear Spoiler (Matching Classic White)

– AMG Badge (Matching Classic White)

– AMG Lowering Springs

– AMG 16×8" "Penta" Style Wheels

– AMG Leather Steering Wheel (Matching Orion Gray)

– AMG Interior Enhanced Wood Trim Package on the Doors (Matching Burlwood)

– AMG Recaro Front Seats (Matching Orion Gray)

– AMG Speedometer Faceplate

The car also features a very unique "AMG-SK" 12 speaker audio system paired to the original Becker radio. On rare occasions AMG partnered with the German Audio Company "SK" to provide more enhanced car audio systems. This system features a custom rear hat tray in matching leather with (2) subwoofers, (2) mid-range speakers, and (4) tweeters. The front dash is outfitted with (2) mid-range speakers and (2) tweeters. The speakers are powered by vintage SK external crossovers. All of these speakers, including the custom tray, are marked "AMG-SK" with the serial number 81054.

There is no evidence of any performance modifications done to this vehicle (engine, exhaust), which was also available by licensed AMG dealers at the time. It is likely that because this car was commissioned by a California owner, that CARB restrictions precluded the modification of the engine and exhaust. Whoever purchased this car and had it outfitted was strictly interested in the 1980's, "over the top," look. They spared no expense to achieve the most audacious, most luxurious image to an already iconic styled car.

I am an avid car collector and over the past several years have focused my collection on the super cars of 1980's. I acquired this car in the California Bay Area early this year, where it has resided since 1984. The car was auctioned by the family of the previous owner, where it had previously sat unregistered for a period of approximately 7 years. It was not running (the fuel pump had failed) and the car had not been detailed for many years. Since then, the car has been lovingly brought back to exquisite cosmetic and mechanical condition. The car is 100% rust free as would be expected from a car that has lived entirely in California. The car's paint is entirely original and in spectacular condition for its age. Except for some very minor dings and small areas of cracking, the paint is superb and has been clay barred, polished, sealed and small chips repaired so as to maintain its correctness. The same can be said for the wheels, which also have never been refinished. They were removed, clay barred, polished and sealed with minor touch ups to preserve the correct finish. They still have the original pinstripe on the outer edge which has often been removed by restorers of these wheels. The AMG center caps were largely missing or damaged, but where replaced with NOS caps. The interior is also superb. The wood has some minor cracking on the dash, but the most expensive and elusive pieces, the AMG door pieces, are near perfect. The AMG Recaro seats are spectacular and show some bolster wear but are in very nice, fully functioning condition. The carpet beneath the vintage mats it is absolutely pristine.

Records for the car date back to 1991 and span three owners over $9,620. No modifications were made to the car since the original 1984 AMG transformation. Luckily the owners kept the original look of the car and simply maintained it for its beauty. I found that if any piece was missing or broken, I replaced it with NOS or original parts. New tires in the original 225/55/16 sizes were fitted, a new battery, fuel pump, filters, spark plugs, new hood liner and oil change were completed. I spent nearly $1,800 with Salerno Motorsports in May of 2016 performing some minor improvements – replacing the shifter bushings, valve cover gaskets, tightening the coolant hoses, an alignment, repairing the dimmer switch, and most importantly servicing the climate control, which was recharged with original R12 and is working like new. Everything in the car works as it should – all the lights, windows, buttons and controls are functioning. The glass is all original and there is no delamination of the rear window as may sometimes be common in the SEC and SEL models of this era. The car's engine and drivetrain have been inspected and show no signs of unusual wear. Salerno notes that the front ball joints should be replaced and that the mono valve (heater) and transmission should be serviced in the future.

The car comes with a complete original tool set, the spare valet key (never used), the original European safety reflector, the original first aid kit (the custom AMG hat tray was built to accept it), the original build sheet, owner's manual for the Recaro Seats, and owner's and repair manual for the car (with original stamps from Germany) – both are entirely in German. Finally, the car comes with the original AMG Kilometer Faceplate and gears which was removed from the car sometime after the original AMG conversion was completed so that the car would correctly show MPH for use in the US.

Prices for the coveted "wide body" 6.0L versions of these cars have exceeded $150k in recent years. But the narrow body SEC should not be discounted. In 2012, a very similar car, in all circumstances but the interior and exterior color, belonging to the Prince of Monaco (Rainier III) was auctioned for a similar six figure value.

http://www.artcurial.com/en/asp/fullcatalogue.asp?salelot=2231++++++23+&refno=&image=0

That car is practically a carbon copy of this car, down to the original Recaro seats, which were auctioned separately as part of the Prince's lot.

As with many AMG cars of this era, direct documentation of the AMG conversion is missing and records prior to the merge with Mercedes are forever lost. The car itself speaks to its genuineness – the completeness of the parts, the tags and the service history prove it is as real as they get. It was a very expensive car to build and a testament to excess and expense with no limits from the 1980's.

Please note that Ebay does not recognize the Europena VIN# WDB1260441A071836. The car was recently registered and comes with a current California title. The history is clean, and no tampering of the mileage has been conducted. It is a collector grade car, and original to the very core. As AMG continues to be a leader in factory modified performance cars, these rare examples that embody its history will likely climb in value over the next several years.

Please contact me at brianwhitmore@pacbell.net or at 916-626-1303 to inquire about the car. I am happy to provide additional pictures and video. No warranties expressed or implied. Deposit of $500 due within 24 hours of sale of the car. I will assist with preparing the car for shipping if necessary, but all costs associated from shipping will be borne by the buyer. Reserve on this car is set at an extremely reasonable value – trying to make room for more cars of this era.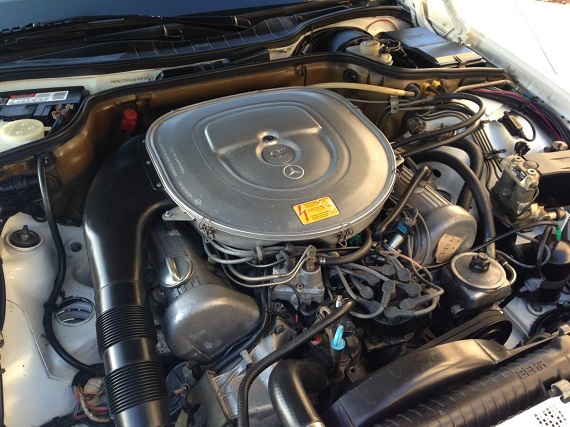 As with real estate, there are only three words that are really important in selling a pre-merger AMG: documentation, documentation, documentation. This car has apparently all of the original paperwork dating back to importation and modification by an AMG authorized dealer. And look at it – it is simply stunning in its presentation. The dipped all-white look is perfect and period, with the gray Recaro interior really stunningly fantastic and the perfect fit, though I'd guess some would prefer a different color (I'm looking at you, Brad). Nevertheless, this is about as good as non-widebody AMGs get. Pricing on similar modified models has ranged from mid-teens for those that need work into the high 20s from what I've seen previously. Despite what the seller says, and he's correct that there are some outrageous asks for the widebody cars, the narrow-body non-performance engine cars don't pull the same amounts as the later cars. Bidding has been appropriately active on this car, and with a few hours left at time of writing it was still below $20,000, seemingly unlikely to break the reserve. The best part for me, though, must be the staged photos with the iconic Testarossa. Speaking of…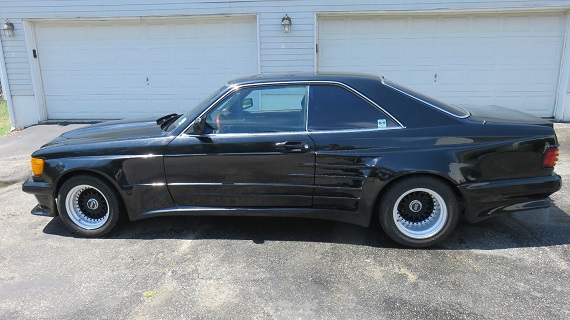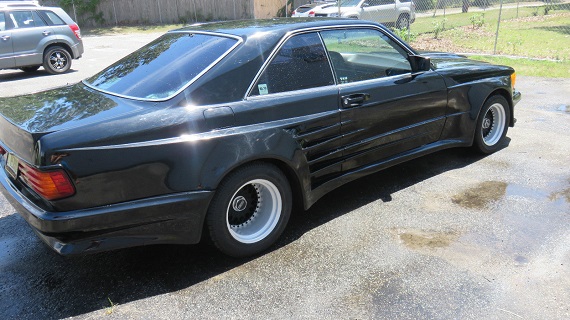 Year: 1987
Model: 560SEC
Engine: 5.5 liter V8
Transmission: 4-speed automatic
Mileage: 96,638 mi
Price: No Reserve Auction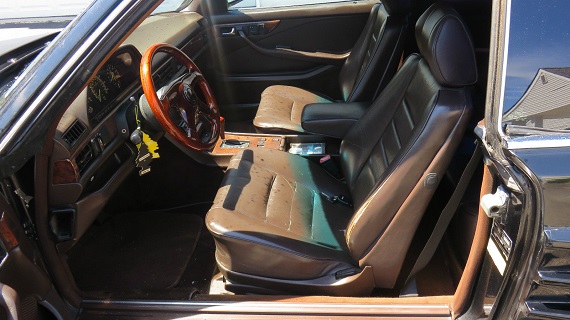 You are bidding on a very clean 1987 Mercedes Benz 560 SEC Classic. This car is my pride possession and has been garage kept since i bought it in 1995. It has a Ferrari Testarossa Wide Body Kit and BBS 3-piece rims. The car runs and drives great always well maintained and has 4- brand New Pirelli Tires and an upgraded sound system. please call for any questions Frankie 201-852-7003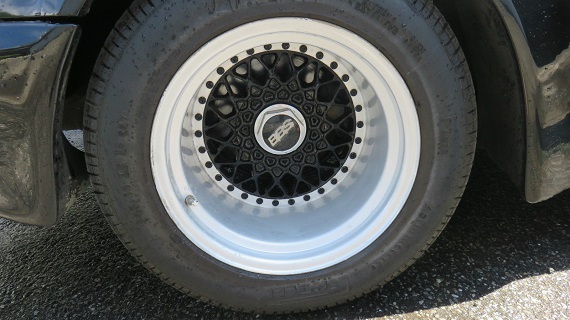 On the other end of the attractive spectrum are the Koenig Specials Widebody SECs. While the modifications are an appearance-only package just as the previous AMG is, the results are vastly different. Still, period correct are the Testarossa strakes and the ultra-wide BBS wheels sporting 345-35-15s – yikes. I have to admit I was skeptical that the seller mounted "brand new" tires, yet The Tire Rack still carries them for an amazing $590 each. While the miles are lower than on the 500, the condition doesn't appear quite as good and no under-hood shots are offered. Also, unlike the first car, there is almost no documentation offered or history of the vehicle – not reassuring when spending this kind of money on an old modified Benz, or any older car in general. You'd have to really want the aesthetics more than the AMG clones that are out there, and while the Koenig cars have a certain appeal they don't have the draw that the AMGs do in the marketplace. Bidding reflects that on the no reserve auction, which is still well below $10,000 though there is still a long way to go. Where this car ends up will be pretty interesting; I'd wager it shouldn't be worth what a completely original car would be, but then I don't find them very appealing beyond the "WOW, LOOK AT THE DISH ON THOSE REARS!" aspect. To someone who wants to listen to the Miami Vice theme on continuous loop, maybe that threshold in mid-teens but I'd be surprised to see more than that. Even then, if this car hits anywhere near that amount it only justifies an even higher premium on the AMG to me.
Edit: Our reader Luke correctly identified the black car as either a very unlikely original or more likely Erebuni copy of the ABC Exclusive body kit for the W126. Thanks, Luke! – Carter
-Carter