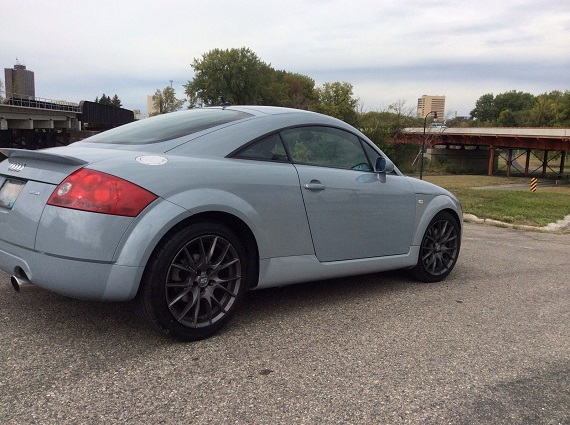 I'll get this out of the way off the bat; not everyone likes the Audi TT, and yes, it's not really a sports car. But excusing that it's not a 911 although it's similarly shaped, is it really that much of a pretender? Tight body curves that were really avant garde in the late 1990s reveal a beautifully crafted interior with lots of special details to let you know you were in a premium product. Under the hood, in its most potent form the 1.8T was quite capable as well, with 225 horsepower resulting in mid-6 sec 0-60 runs in stock form and punchy delivery. And while the Haldex-driven but "quattro" branded all-wheel drive wasn't as slick as Audi's other all-wheel drive systems, it works just fine in most conditions. So let's take a look at two nice examples of these budget sports coupes: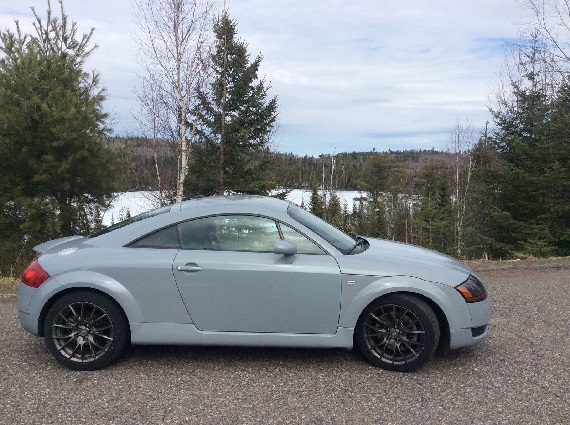 Year: 2001
Model: TT 225 quattro
Engine: 1.8 liter turbocharged inline-4
Transmission: 6-speed manual
Mileage: 125,000 mi
Price: Reserve Auction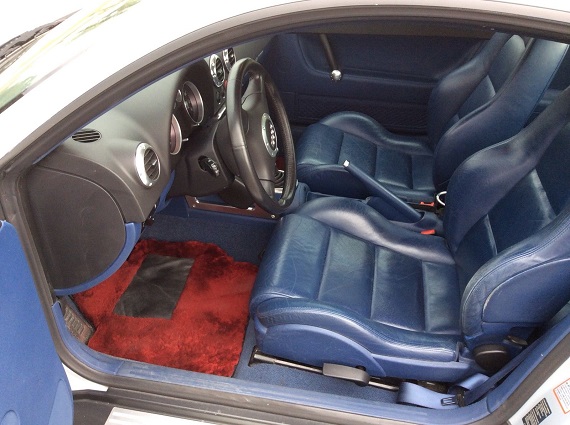 Unless money doesn't matter, you will never drive a car that's more fun. The only limits on corner speed and acceleration are the groceries in back and your passenger. With the upgrades the horsepower is somewhere north of 260. I've not had the chance to push it, that's a LOT for this little car. Don't be surprised if I cry when you buy it but I have to sell after becoming disabled and having to change jobs. Purchased from an auto broker that deals in high end cars In Minneapolis that had gotten it from an older couple in WI.
I did the following upgrades to have more fun driving on the street and have the ability to take it on the road course at Brainerd:
Neuspeed performance chip
Billstien coilover suspension
Borla exhaust with performance header
K & N intake
Dunlop speed rated tires with OZ rims
New: clutch (inc. discs), flywheel, front brakes/rotors, alternator
I still have the OEM rims, people put Blizzacks on the for Winter driving
I've been getting 30 mpg
All work was done at Valley Imports in Fargo, an expensive but worth it dealer.
The 2nd time I drove it I slid into a parked car in a parking at about 3 mph, Progressive took it and had all the plastic and lights replaced in front. I'll clean the air filter and change the oiled before you get it….it's stored in a heated garage.
Thanks for looking, Noel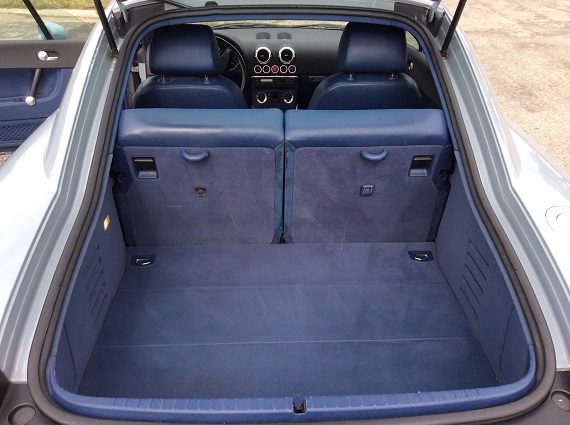 I've always had a soft spot for Aviator Gray Pearl Effect on the TT; it's a really striking color to see in person. Thankfully, often these TTs were paired with great interior shades as well, and the Denim Blue shows well. Most of the modifications are top-dollar items, though I'd drop the MSW wheels and remount the original forged "Fat Five" wheels which are included. Outside of the red floor mats that are pretty garish, there's a lot to like in this budget sports coupe. We'll see if it clears the reserve price, but it should be a sub-$10,000 pocket rocket.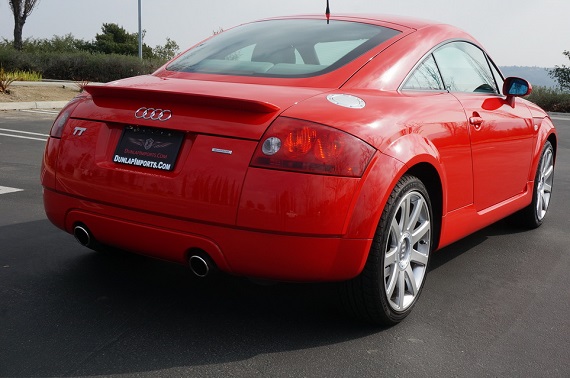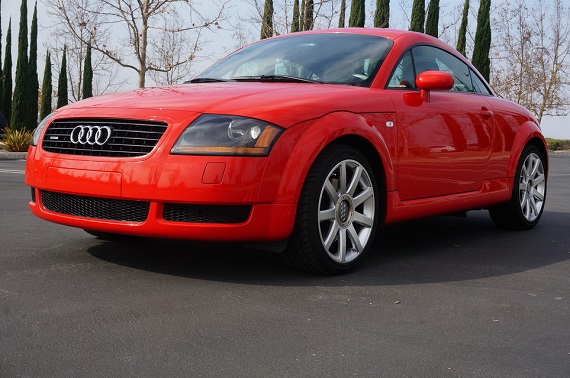 Year: 2002
Model: TT 225 quattro ALMS Edition
Engine: 1.8 liter turbocharged inline-4
Transmission: 6-speed manual
Mileage: 55,000 mi
Price: $14,888 Buy It Now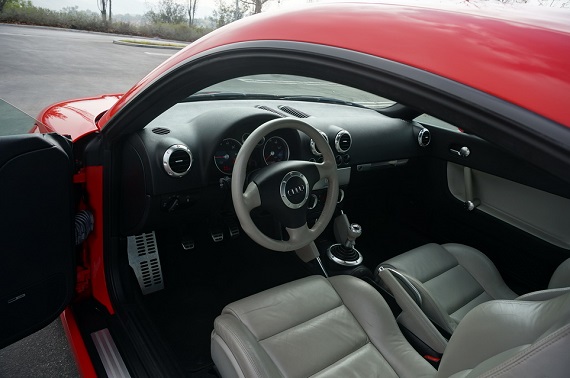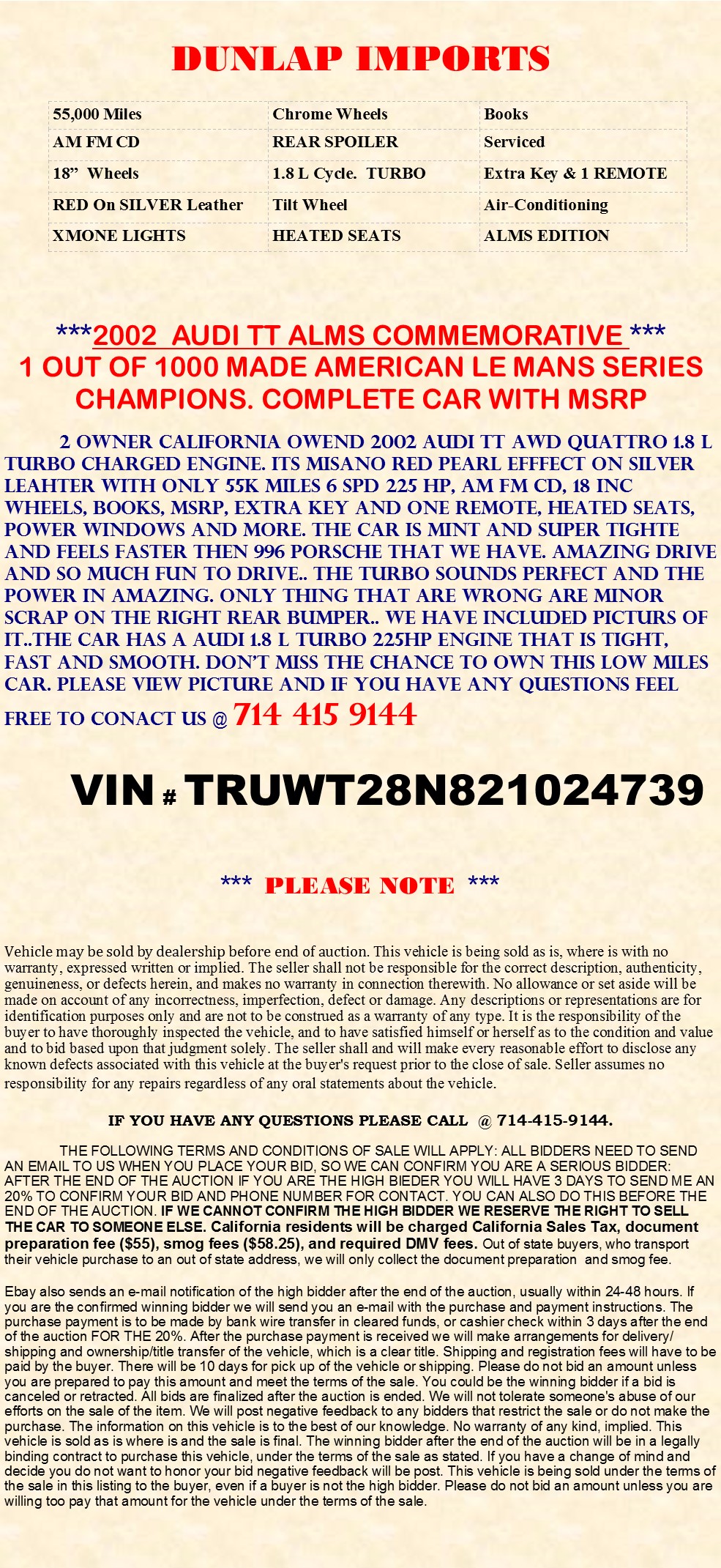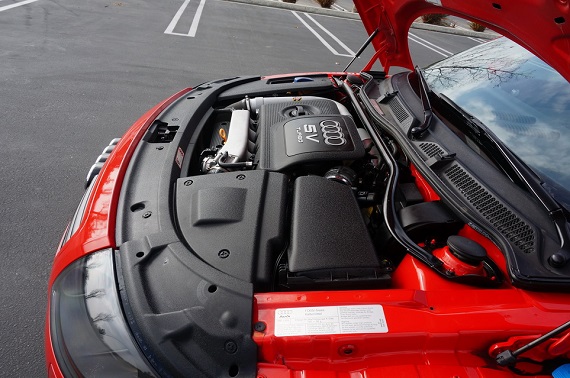 If you're thinking more on the potential collectable front, the ALMS Edition TTs are certainly one of the more highly sought models. Though there were no appreciable performance gains outside of some stickier rubber, the color combinations and limited status of the production meant quite a few were treated well. This is not the lowest mileage example I've stumbled across but it's right down there and the all-original condition is near perfect. Pricing is fairly high at nearly $15,000 so this will undoubtedly not be an easy sale, but it sure is a pretty spectacular example of a great looking design in the right colors.
For my money, I'd probably choose the Aviator Gray example. While the mods don't really add any value to me, they're relatively unobtrusive and could be undone fairly easily – though they likely enhance the driving experience. The TT may not be everyone's cup of tea, but they're great looking and good performing sports coupes that can be had on a very reasonable budget and should continue to be valued in the marketplace for the near future.
-Carter