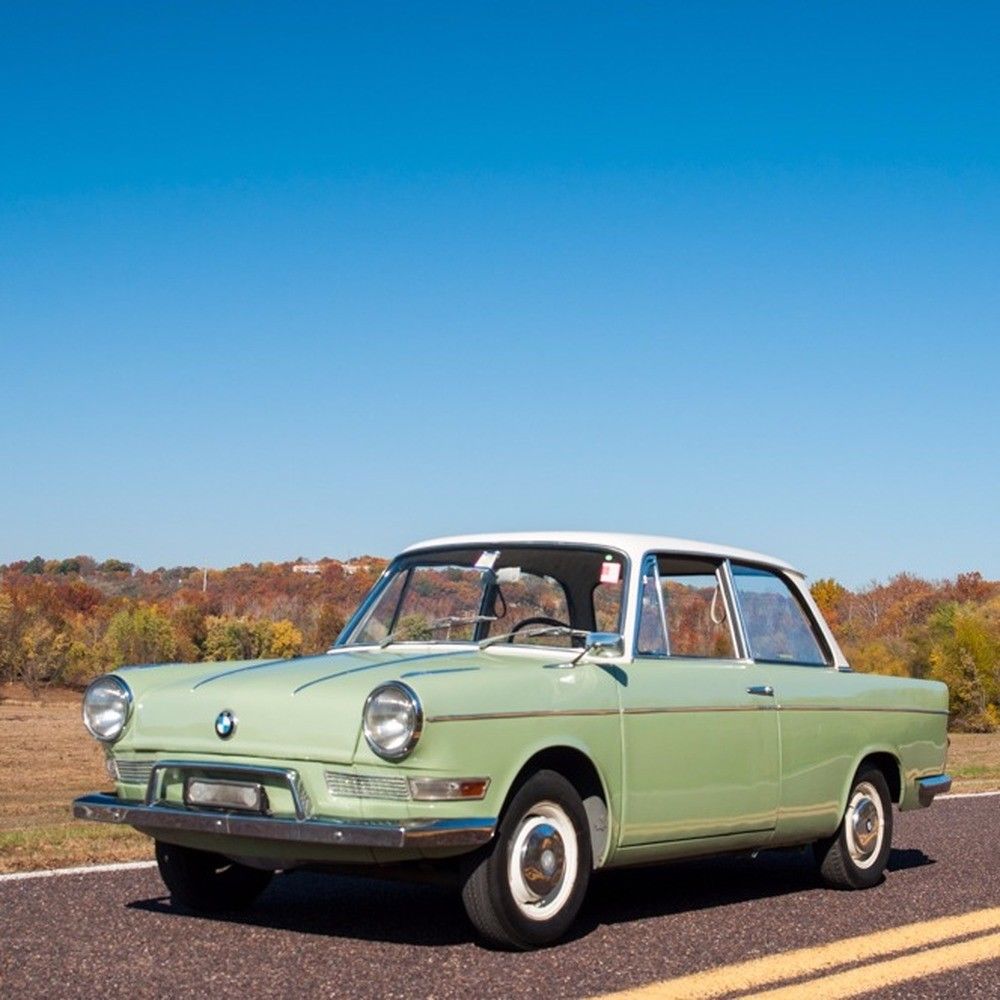 Update 1/30/19: The 700LS remains available on eBay here and via the seller's site, now for only $12,900.
Update 6/1/18 – the BMW 700LS has dropped a further $2,000 in ask to $19,500.
Update 2/6/18 – Unsurprisingly, the 700LS remains available on reserve auction (it is $21,900 on their site)
Normally, our dual posts have two comparable cars to consider. But while typically that manifests itself in one model, one price point or one performance group, today it's something very different.
Although both of today's cars come from one marque – BMW – there is literally and figuratively a huge chasm of development between them. There's also a vast gulf between performance, desirability and price. Yet each reflected the time point in which it was made; the austere 1960s, emerging from the fog of war into a bustling economy when average Germans could for the first time contemplate automobile ownership, and the exotic 1980s, with its new computer designs and technology rapidly forcing car designs forward. For the company, each car represented the future in many ways even if the results and their impact was so vastly different.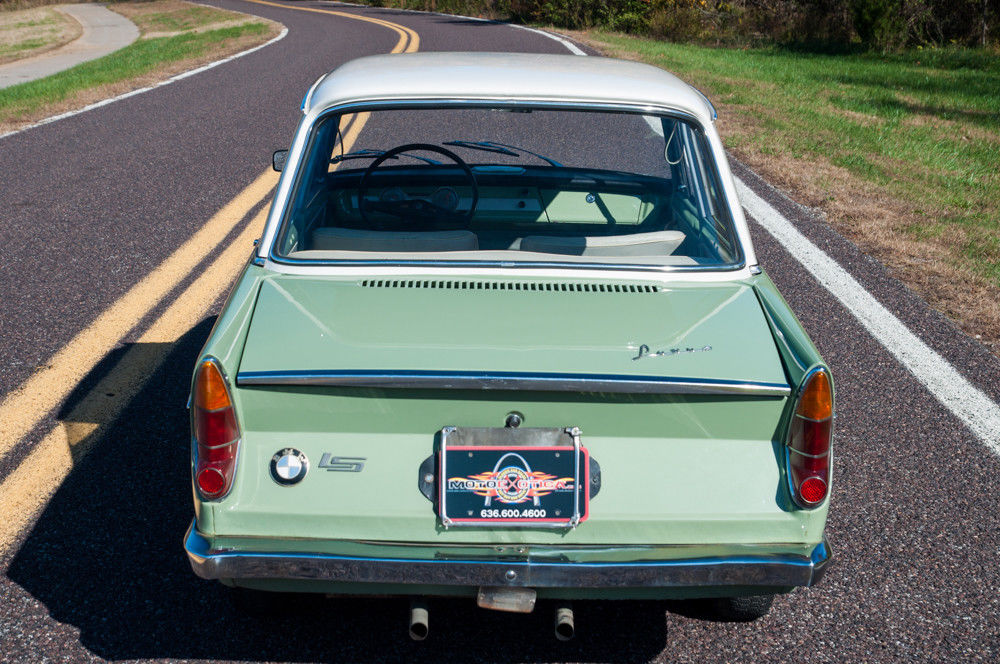 Year: 1963
Model: 700LS
Engine: 0.7 liter flat-2
Transmission: 4-speed manual
Mileage: 25,541 mi
Price: Reserve Auction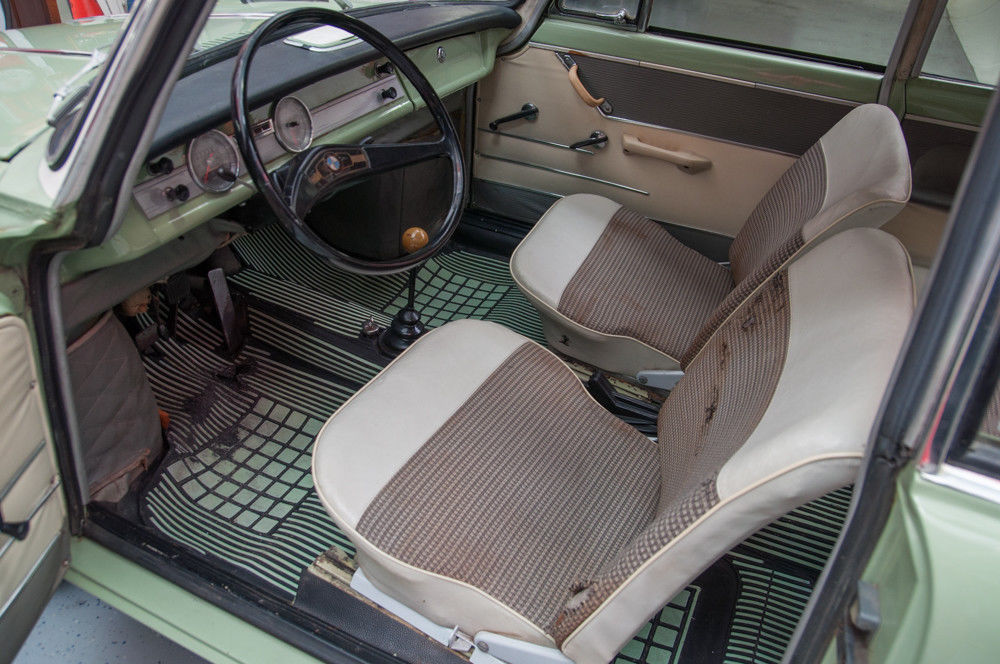 1963 BMW 700 LS Luxus Saloon (Long Version)

Rare vehicle, left hand drive Italian market BMW
Recently imported from a dry climate in Italy
Extremly original BMW with one recent respray, interior is completely original
Correct white over Capri Green exterior and ivory/gray interior
Rear-mounted 697cc flat two-cylinder engine producing 32HP (47 mpg)
Four-speed manual transmission
The first BMW to use a steel monocoque structure
Very nice original undercarriage
Produced in West Germany

Forty years before BMW unveiled its Mini, the company made its first foray into small but sporty models, pre-dating the famous 2002 model. MotoeXotica Classic Cars has an example of this early sporty rear engine BMW , which you may not have seen before unless you've been to classic BMW museums. We are pleased to present this rarely seen and very original 1963 BMW 700 LS Luxus two-door saloon. This BMW is a rare left hand drive Italian market car that was recently imported from the United States from a very dry climate of Italy. Other than a recent correct respray, this car is very original and hard to come by in such a survivor state!

Finished in correct white over Capri Green, the car's paint and trim are in overall good condition. The car's windows are clear and intact, as are the car's lights, including its Fintail-style taillamps.

This wee BMW rides on vintage Michelin radials, size 5.20-12 at all four corners. The tires are old and do show dry rot in the sidewalls

This car's bodywork is straight, including the hood in the rear overall very presentable, rare example with some bubbling in the paint. The engine bay is tidy, the battery appears new, the front cargo area is in good condition and the bumpers fit well though the rear one evidences some blemishes upon close inspection. The undercarriage is completely original, plus very dry and tidy.

Under that rear hood is the correct 697cc flat two-cylinder engine using a Solex 34PCI single-barrel carburetor mated to a four-speed manual transmission producing 32 HP with achievable mpg in the mid 40's.

Inside, the car's ivory and gray interior is in overall decent condition especially for being completely original. The thin-backed front bucket seats are in fair order, with the driver's seat showing blemishes and wear but the material is correct and original. There is no carpeting; instead, the floor is covered in the hard to find BMW rubber matting that is in decent order. The headliner is in overall fair shape but does show some blemishes. The instrument panel, with its VDO gauges, is in good order, as is the factory, two-spoke steering wheel, inner door panels, mirror glass and shift lever are all in good shape. This is a radio delete model and the horn is inoperable.

The 700 models were a sales success at a time when BMW was close to financial ruin. More than 188,000 were sold before production ended in November 1965. Upon discontinuing the 700, BMW left the economy car market and did not return until 2002 with the Mini.

Wolfgang Denzel, the distributor of BMW cars in Austria, commissioned Giovanni Michelotti to prepare concept sketches based on a lengthened BMW 600 chassis. In January 1958, Denzel was awarded a development contract for the 700. Denzel presented a prototype to BMW's management in July 1958. The concept, a 2-door coupe with a slanted roof, was generally well received, but objections were raised about the limited passenger space. BMW decided to produce two versions, the coupe, and a two-door sedan with a taller, longer roof.

The engineer responsible for the chassis and suspension was Willy Black, who had designed and engineered the 600. The drivetrain and suspension were similar to those of the 600, with a rear-mounted flat-twin engine powering the rear wheels, leading arm suspension at the front, and semi trailing arm suspension at the rear. The 700 used a steel monocoque structure and it was the first BMW automobile to do so.

These 700s are special cars for lots of reasons in addition to helping save BMW from being bought and picked clean by Mercedes Benz. That did not happen because the Quandt family stepped in to help keep BMW independent. Thankfully BMW remained independent, otherwise we would have had more bloated sedans for captains of industry instead of the M3, the M5, and now the M2, M4, Z series, and all those great handling small sedans powered by what were sometimes detuned race engines.

The engine was an enlarged version of that used in the R67 motorcycle and the 600. With a bore of 3.1 inches and 2.9 inches of stroke, the engine displaced 697 cubic centimeters. The engine originally used a single Solex 34PCI carburetor and had a compression ratio of 7.5:1. The 700 LS, a simplified Luxus with a lower price, was introduced in 1963.

If you're looking to add to your BMW collection or just looking for a unique European city car, make sure to come by our facility soon and look this one over for yourself. We guarantee you will be the only one with this model at your local BMW meets!

Competition to the BMW 700 in 1963 included Alfa Romeo's Dauphine, DKW's Junior De Luxe, Ford's Anglia Deluxe and Hillman's Minx De Luxe Saloon.

This car is currently located at our facility in St. Louis, Missouri. Current mileage on the odometer shows 25,541 miles. It is sold as is, where is, on a clean and clear, mileage exempt title. GET OUT AND DRIVE!!!

Click here for our YouTube video!

VIN: 41777

Note: Please see full terms and conditions listed below that pertain to the purchase of any said vehicle, thank you.
BMW barely survived World War II, and it emerged as a company with antiquated designs and a hardly functional production line. After nursing through the 1950s by producing the Isetta, a licensed bubble car, and the Baroque Angel 501/502 saloons (along with the achingly beautiful 507), 1959 signaled a shift for the company as it moved into a new model. Based around the engine and suspension layout from the Isetta-derived 600, the new 700 2-door sedan, coupe and convertible represented a quantum leap forward for the company and established the company as a more serious player in the German car market. The Michelotti styling would be the inspiration for the Neue Klasse later, and though the E10 would move away from the motorcycle-derived motor in the rear, this car was nonetheless the basis for the modern BMW sedan.
This particular example looks splendid in what is claimed to be Capri Green (684). I don't see verification of that color code listed, but it is an appropriate color from the period. I've previously looked at examples of the Coupes mostly because I honestly prefer them, but this sedan suits the bill pretty well. The carpeting is a bit odd and doesn't appear to be original and the seat fabric shows its age, but otherwise this is a very tidy example. The R67 flat-2 is no tower of power, but then you're not looking at this car and thinking about performance (though they did begin BMW's post-war track victory lineage and can still be seen running at events such as Goodwood). Pricing on the sedan is lower than the more desirable Coupe and Convertible models, and generally speaking there isn't a big market right now for small modern pre-2002s BMWs. Yet a few years ago a $100,000 2002 was pretty much unimaginable, so perhaps as the company gains more classic followers this car will swing upwards. As it sits, it's unlikely to break reserve at the current bid of $3,850.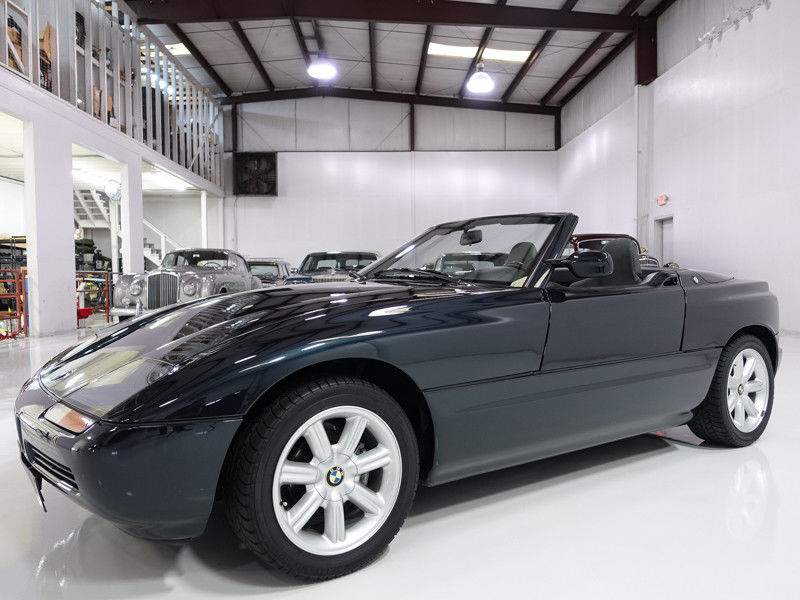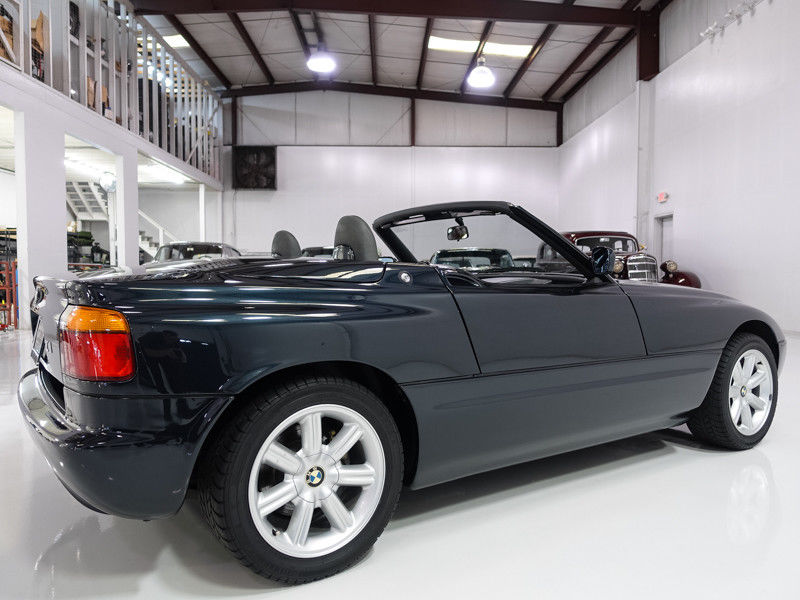 Year: 1990
Model: Z1
Engine: 2.5 liter inline-6
Transmission: 5-speed manual
Mileage: 9,836 mi
Price: $89,900 Buy It Now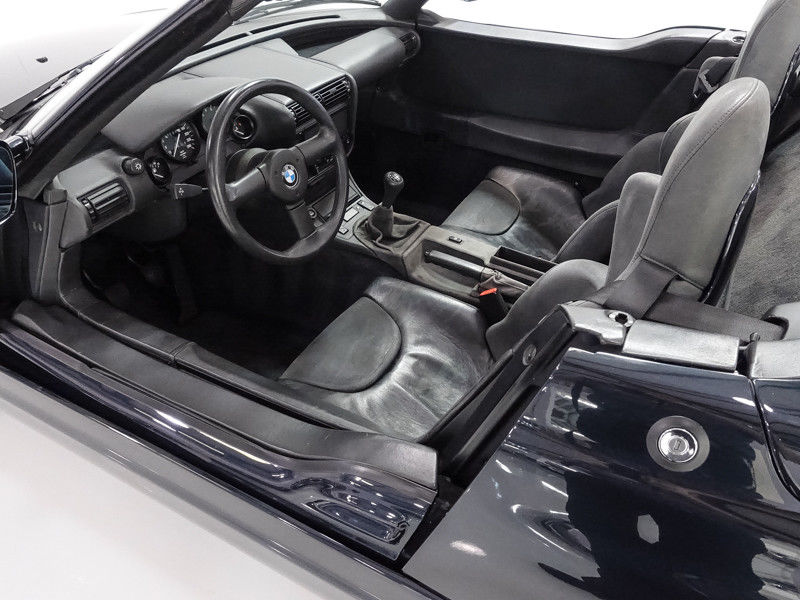 1990 BMW Z1 ROADSTER
Questions? Contact Us

Highlights
SPECTACULAR CONDITION!
RECENTLY IMPORTED FROM THE NETHERLANDS
ONE OF VERY FEW IN THE U.S.
RARE AND DESIRABLE BMW Z1 ROADSTER
ONE OF ONLY 4,091 BUILT
ONLY 9,836 MILES (15,829 KM)
BMW'S FIRST Z-SERIES ROADSTER
UNIQUE VERTICAL SLIDING DOORS
GORGEOUS FACTORY COLOR COMBINATION
PERFORMS WONDERFULLY
INCLUDES THE ORIGINAL OWNER'S MANUAL, DEALER DIRECTORY, SERVICE BOOK AND MORE
PERFECT FOR THE BMW COLLECTOR OR ENTHUSIAST!
Options Include:
REMOVABLE HARDTOP
POWER STEERING
POWER WINDOWS
POWER 4-WHEEL DISC BRAKES WITH ANTI-LOCK BRAKES
16" ALLOY WHEELS
The Z1 was the first product to be developed by BMW Technik GmbH, following a decision to build a two-seat sports roadster, handed down by upper management in early 1985. It was considered an effort to revitalize the company image as well as to demonstrate that BMW was a leader in innovation. Beyond that, the details were left for the design engineers to determine as they saw fit. BMW hired Harm Lagaay from Ford of Europe as design chief to work alongside Ulrich Bez, head of the new division.

Within one year, a fully operational prototype was developed. Much of the componentry came from the BMW's 3-Series, including its engine, drivetrain, front suspension, and interior. A front-engine design was chosen with the engine set far towards the center of the car. This made possible a near optimal weight distribution of 51/49 rear, providing the car with excellent handling characteristics. The rear suspension foreshadowed the multi-link design that was to appear on the next-generation 3-Series. Drawing on its Formula 1 racing experience, engineers designed a novel ground-effect system into the Z1, while the headlamps included the latest technology designed for the forthcoming 7-Series.

The body was fitted with unique electromechanical doors that dropped into the sills for easy entrance and exit by simply touching a button. The entire steel inner structure was coated with zinc to resist corrosion, and the base unit construction was covered with de-mountable injection-moulded thermoplastic body panels that were also capable of resisting impacts of 5 mph. Furthermore, the panels were lauded for being recyclable. Available in four colors, BMW also suggested to owners that the panels were easily interchangeable should the owner desire to change colors of his or her car! Alloy wheels, unique to the Z1, were also fitted.

The production model was introduced at the 1987 Frankfurt Auto Show with the intention of building 5,000 units on a special production line in its Munich facility. Production began slowly in 1988 with only 58 cars built that year; customer deliveries did not begin until March 1989. Due to the demand for the Z1 as well as other BMW models, BMW increased the numbers built but curtailed production due to the demand for its more profitable models. In the end, 8,000 Z1s (plus 12 pre-production units) had been built before production ceased in the summer of 1991. Due to their low production and limited availability, Z1s have become instantly collectible.

The 1990 BMW Z1 Roadster featured here is finished in gorgeous Traumschwarz Metallic with an impeccably kept gray interior. This magnificent motorcar is one of very few Z1s in the U.S. and is certainly one of the lowest mile examples available on the market today. This is an incredible opportunity to acquire an investment-grade Z1 Roadster at an investment price and we are proud to offer it the most particular collector, investor or enthusiast who demands the best. Classic cars have proven to be among the most resilient and rewarding investments in recent years with the Historic Automobile Group Index (HAGI) jumping 39% in 2013, 16% in 2014 and 17% in 2015 while posting gains of 467% over the last 10 years. Ready to make an investment you can actually enjoy? Please contact one of our expert sales consultants for more information. They will be happy to give you a complete walk-around, supply you with a more detailed description, and answer any questions you may have. Buy with confidence.
Year:
1990
Make:
BMW
Model:
Z1
Color:
Traumschwarz Metallic
VIN:
WBABA91030AL03161
Mileage:
9,836 (15,829 KM)
Stock Number:
406826C_Z1

Engine:
2,924CC 168 HP Straight-6
Transmission:
5-Speed Manual
Style:
Roadster
SHOWROOM PRICE
$99,900.00
DISCOUNT
$10,000.00
BUY IT NOW PRICE
$89,900.00

Daniel Schmitt & Co. is located in beautiful and historic St. Louis, Missouri. Our dealership spans 4 acres, boasts 3 luxurious showrooms, a state-of-the-art service department, a world-class restoration facility, and is only minutes away from Lambert International Airport. While we offer our cars for online sale and auction, we do also encourage you to visit our beautiful classic car showroom!
Daniel Schmitt & Co. Classic Car Gallery
3455 N. Lindbergh Blvd, St. Louis, MO 63074
Telephone: (314)291-7000
Fax: (314)291-0957
Email: info@schmitt.com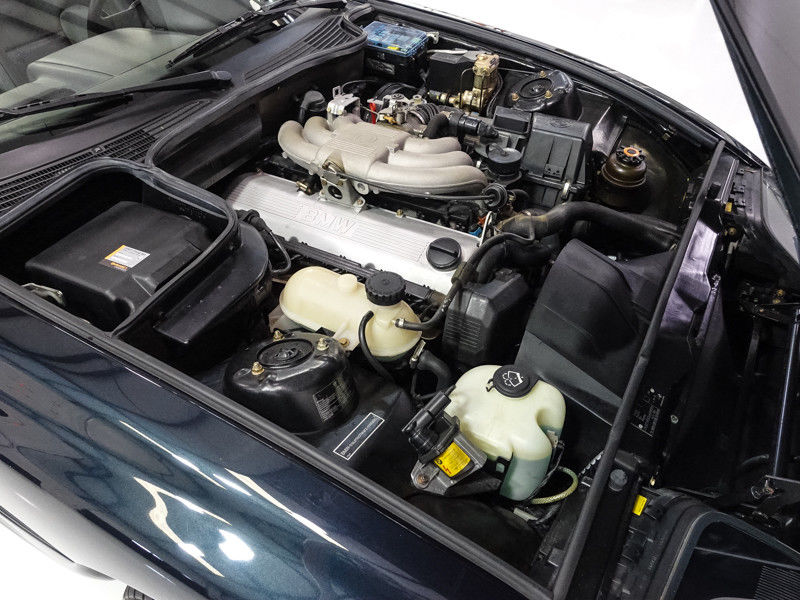 The Z1 and E31 8-Series represented an entirely different paradigm shift for BMW. They already had established themselves as producers of fine automobiles, but the 8-series and Z1 pioneered computer-driven design, new plastic materials and, like the 700 had in the late 1950s, these two designs signaled new design language for the 1990s. The mechanics of the Z3 were based upon the E30, but the body structure was completely different. That meant that although the shape of the Z1 was exotic, under that low-slung hood lay the same 2.5 liter M20 you'd find in a 325i. Performance was therefore not really in line with the image of the Z1 in many ways, and its relatively expensive price kept the production numbers quite small. This particular example is one of the best out there, with under 10,000 miles and in a pleasant combination of Traumschwarz Metallic (278) over dark gray leather. The seller doesn't offer much history, but fans of the venerable 3-series will know there isn't too much to go wrong with this package.
Unlike the 700, pricing on the Z1 has been relatively outrageous in the past few years. The last example I looked at bid to nearly $50,000 even with triple the mileage of this one, yet it still didn't clear reserve. Paul looked at a more fetching red example for $65,000. Another cleared $100,000 at an auction last year. , though that car had a scarcely believable 22 (that's twenty two – no typo) miles on the odometer. Like the 700, there's a limited market for these cars, but unlike the 700, they're about as hot as 90s BMWs get right now. Whether this one will show that the market has remained strong will have to be seen, but somehow I don't see it hitting the $90,000 ask. For me, even though I love the Z1's concept, I'd save a boatload of money and buy that 700LS.
-Carter