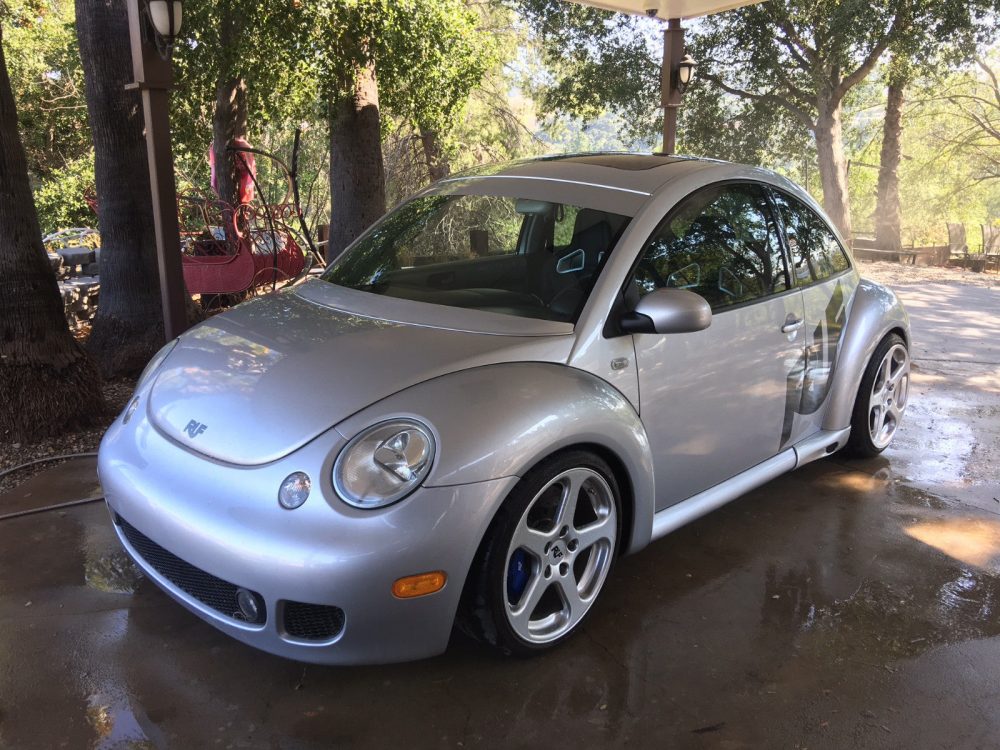 Update 2/16/18: After showing as sold in November for $14,900, the mega-cool Ruf Bug is back again for the same $14,900 ask.
It's back!
This is a car which has haunted these pages since we first began writing up German cars, if you can believe it. Originally, Aaron wrote this car up nearly 6 years ago to the day – November 8, 2011. Back then, the seller was asking an incredibly steep $60,000. Three years later in 2014, Paul spotted it again and revisited the concept. It was then up for sale for a scarcely more reasonable $50,000. In both cases, it was really hard to justify the substantial premium even if it was a neat looking car.
Fast forward to today, and we're finally getting somewhere. Although the car appears to have changed little since 2014, the asking price is now $14,900. Mileage is far below average at only 51,722 and condition generally looks very good. It has only accrued 10,000 miles in the last three years. Although this car lacks true RUF credentials, the general concept pulls together pretty well and the execution looks nice. Is this the one to have? It's certainly a lot more compelling than a standard Beetle in many ways and has big dollar mods, but do those mods justify a $11,000 premium over a standard Turbo S?
-Carter
The below post originally appeared on our site November 9, 2011: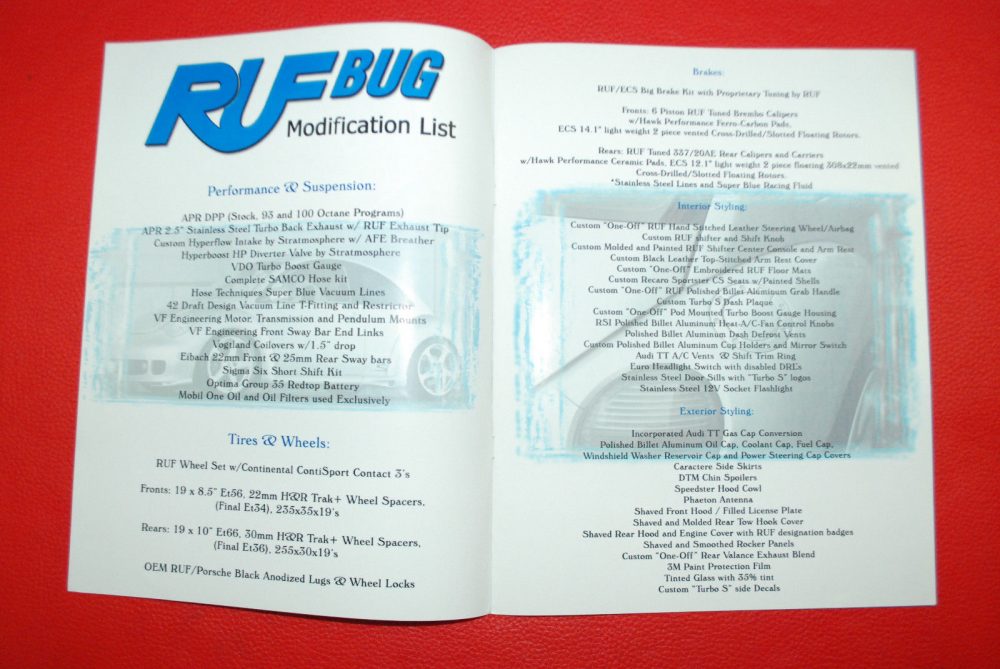 I am a sucker for all things rare, this is nothing new. Give me something low production or obscure and I am the first one on the bus. Regardless of price or taste the rarity of a given car will encourage me to overlook a multitude of sins.
Enter this one off 2002 Ruf built Volkswagen Beetle Turbo S.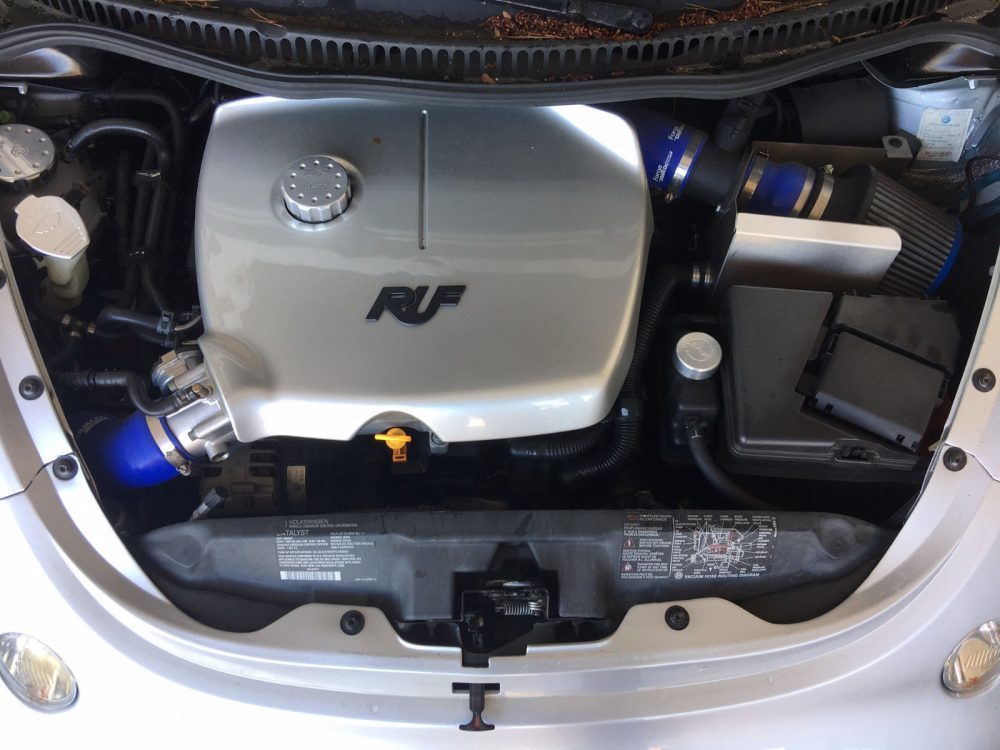 Year: 2002
Model: Ruf Beetle Turbo S Concept
Engine: 1.8 liter turbocharged inline-4
Transmission: 6-speed manual
Mileage: 51,722 mi
Price: $14,900 Starting bid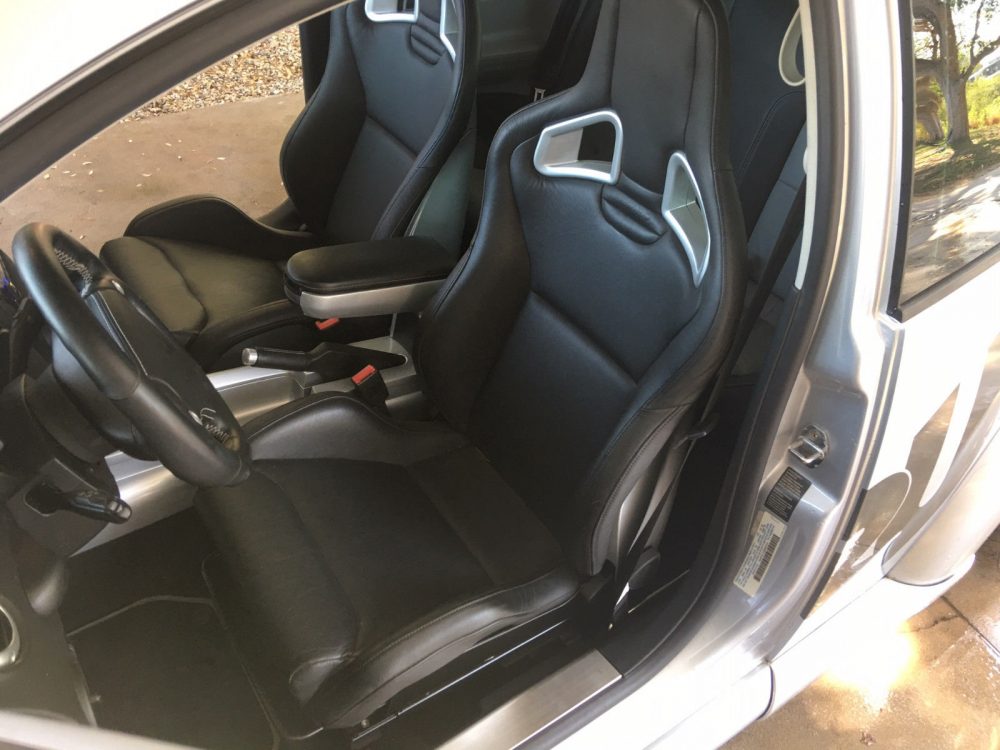 New Descrition

Featured in EUROTUNER Magazine April 2011, Magazine is included.

ONLY 51,722 MILES.

Call or send a message if you have any questions.
Daniel 818-767-7243

Excellent condition!!

Power comes from the original 1.8-liter turbocharged four-cylinder, but output is boosted to 225 hp thanks to APR software and lots of custom work. Power is sent to the front wheels through a six-speed manual. Some additional custom upgrades include a stainless steel turbo rear exhaust with RUF exhaust tips, hyperflow intake, turbo boost gauge, leather Recaro seats and stainless steel door sills.

The exterior features 19-inch RUF wheels front and rear, an RUF brake kit, 6-piston Brembo calipers, and tons of "RUF" badges throughout.

Engine: 1.8 liter 20v four-cylinder turbo with APR software and turbo-back exhaust, Ruf exhaust tip, Stratmosphere Hyperflow intake with aFe breather, diverter valve, Samco boost hose kit, Hose Techniques Super Blue Vacuum line T-fitting and restrictor, VF-Engineering mounts, Optima Red top battery, polished billet aluminum oil, coolant, fuel, windshield washer reservoir and power steering caps.

Drivetrain: six speed manual with Sigma Six short-shift kit

Brakes: 14.1″ front, 12.2″ rear drilled/slotted rotors with Ruf/Brembo six-piston front and 20AE GTI rear calipers, Ferro-carbon front and Hawk rear pads and stainless lines

Suspension: Vogtland coilovers, 22mm front, 25mm rear Eibach sway bars, VF-Engineering front sway bar end links

Wheels & Tires: 19×8.5" front and 19×10" rear Ruf wheels with 235/35 R19 front and 255/30R19 rear Continental ContiSportContact 3 tires, 22mm front and 30 mm rear H&R adapters, Ruf anodized lugs.

Exterior: Shaved hood, filled license plate holes, rocker panels and rear tow hook cover, Caractere side skirts, TM splitters, Audi TT fuel door, Speedster hood cowl, custom axhaust blend, 3M tint, Phaeton antenna

Interior: Recaro Sportster CS leather seats with color matched shells, Ruf leather steering wheel, whift knob, molded and painted center console, black leather armrest with top stitching, embroidered mats, billet aluminum grab handle, Turbo S dash plaque, VDO boost gauge, RSI polished climate control knobs, polished vents, billet cupholders and mirror switch, Audi TT vents and shifter trim, Euro switch and stainless door sills.

Don't let this one pass you by! Call for appointment *** SHOWN BY APPOINTMENT ONLY*

Please call Daniel at 818-767-7243 (9-5 PT) for questions, photos or concerns.

I have the car for sale locally, so I reserve the right to stop the auction early.

Buyer is responsible for shipping, sold as is where is no warranty of any kind.

$500.00 non refundable deposit due within 24 hrs of auction, end balance due by bank wire, certified funds(car will be release once funds clear) or cash only. Balance must be paid within 10 days of winning bid.

Transport options available upon request. Message or call for a quote.

WILL SHIP WORLD WIDE
MESSAGE FOR ACTUAL SHIPPING QUOTE

Old Description
The ONE & ONLY RUF Bug *(Priced to Sell)

With over $115,000.00 and six years invested, after winning countless awards and being featured in Eurotuner Magazine as well as the RUF Database, this Totally Custom, One of a Kind "Concept Car" can be yours, and is being offered for sale.

What if……..

Presenting:

The RUF Bug

An Extraordinary 2002 VW New Beetle Turbo S "Concept Car", Inspired by the great German Porsche Aftermarket Tuner Alois Ruf, built & designed as he might, given the inclination to modify a New Beetle. Built with the cooperation of RUF USA, with the same attention to detail as any vehicle rolling off RUF's own assembly line, this is the Original "RUF BUG".

Known around the world with an International following, it's been "Imitated", but never Duplicated!
The RUF BUG meets all US Emission, DTS, Crash and Safety Specs, is Street Legal and may be registered in all 50 States. Whether used as a very unique, one of a kind, attention grabbing "Daily Driver", or as an exclusive addition to an existing Car Collection, the Ruf Bug is without a doubt the epitome of a classic and the only one of it's kind in the world!

Take advantage of this rare opportunity to own the coolest New Beetle on the Planet! The one Volkswagen could never build! This 225hp, totally pampered vehicle is kept stored, covered on a trickle charger in Museum Quality Condition! For the Automobile Enthusiast who'd like something NO ONE ELSE HAS!!

Modification List

Performance & Suspension:

APR Direct Port Programming Software (Stock, 93 and 100 Octane Programs)

Full APR 2.5" Stainless Steel Turbo Back Exhaust, finished with a "one-off" custom fitted RUF Exhaust Tip

Custom Hyperflow Intake by Stratmosphere w/ AFE Breather

Hyperboost HP Diverter Valve by Stratmosphere

VDO Turbo Boost Gauge

Complete SAMCO Hose kit

Hose Techniques Super Blue Vacuum Lines

42 Draft Design Vacuum Line T-Fitting and Restrictor

VF Engineering Motor, Transmission and Pendulum Mounts

VF Engineering Front Sway Bar End Links

Adjustable Vogtland Coilover Suspension

Eibach 22mm Front & 25mm Rear Sway bars

Sigma Six / RUF Short Shift Kit

Optima Group 35 Redtop Battery

Mobil One Oil and Oil Filters used Exclusively

Tires & Wheels:

RUF Wheel Set w/Continental ContiSport Contact 3's

Fronts: 19 x 8.5" Et56, 22mm H&R Trak+ Wheel Spacers,

(Final Et34), 235x35x19's

Rears: 19 x 10" Et66, 30mm H&R Trak+ Wheel Spacers,

(Final Et36), 255x30x19's

OEM RUF / Porsche Black Anodized Lugs & Wheel Locks

Brakes:

RUF / ECS Big Brake Kit with Proprietary Tuning by RUF

Fronts: 6 Piston RUF Tuned Brembo Calipers w/Hawk Performance Ferro-Carbon Pads, ECS 14.1″ light weight 2 piece vented Cross- Drilled/Slotted Floating Rotors.

Rears: RUF Tuned 337/20AE Rear Calipers and Carriers w/Hawk Performance Ceramic Pads, ECS 12.1″ light weight 2 piece floating 308x22mm vented Cross-Drilled/Slotted Floating Rotors.

*Stainless Steel Lines and Super Blue Racing Fluid

Interior Styling:

Custom RUF "One-Off" Hand Stitched Leather Steering Wheel /Airbag

Custom RUF Shifter and Shift Knob

Custom RUF Molded and Painted Shifter Center Console and Arm Rest w/Custom Black Leather Top-Stitched Arm Rest Cover

Custom RUF "One-Off" Embroidered Floor Mats

Custom Full Leather Recaro Sportster CS Seats w/Painted Shells

Custom RUF "One-Off" Polished Billet Aluminum Grab Handle

Custom Turbo S Dash Plaque

Custom "One-Off" Pod Mounted Turbo Boost Gauge Housing

RSI Polished Billet Aluminum Heat-A/C-Fan Control Knobs

Polished Billet Aluminum Dash Defrost Vents

Custom Polished Billet Aluminum Cup Holders and Mirror Switch

Audi TT A/C Vents & Shift Trim Ring

Euro Headlight Switch with disabled DRL's

Custom Stainless Steel Door Sills with "Turbo S" designation plaques

Stainless Steel 12V Socket Flashlight

Exterior Styling:

Incorporated Audi TT Gas Cap Conversion

Polished Billet Aluminum Oil Cap, Coolant Cap, Fuel Cap, Windshield Washer Reservoir Cap and Power Steering Cap Covers

Caractere Side Skirts

DTM Chin Spoilers

Speedster Hood Cowl

Phaeton Antenna

Shaved Front Hood / Filled License Plate

Shaved and Molded Rear Tow Hook Cover

Shaved Rear Hood and Engine Cover with RUF designation badges

Shaved and Smoothed Rocker Panels

Custom "One-Off" Rear Valance Exhaust Blend

3M Paint Protection Film

Tinted Glass with 35% tint

Custom "One-Off" Turbo S Side Decals

Custom Concept. Not built by RUF Germany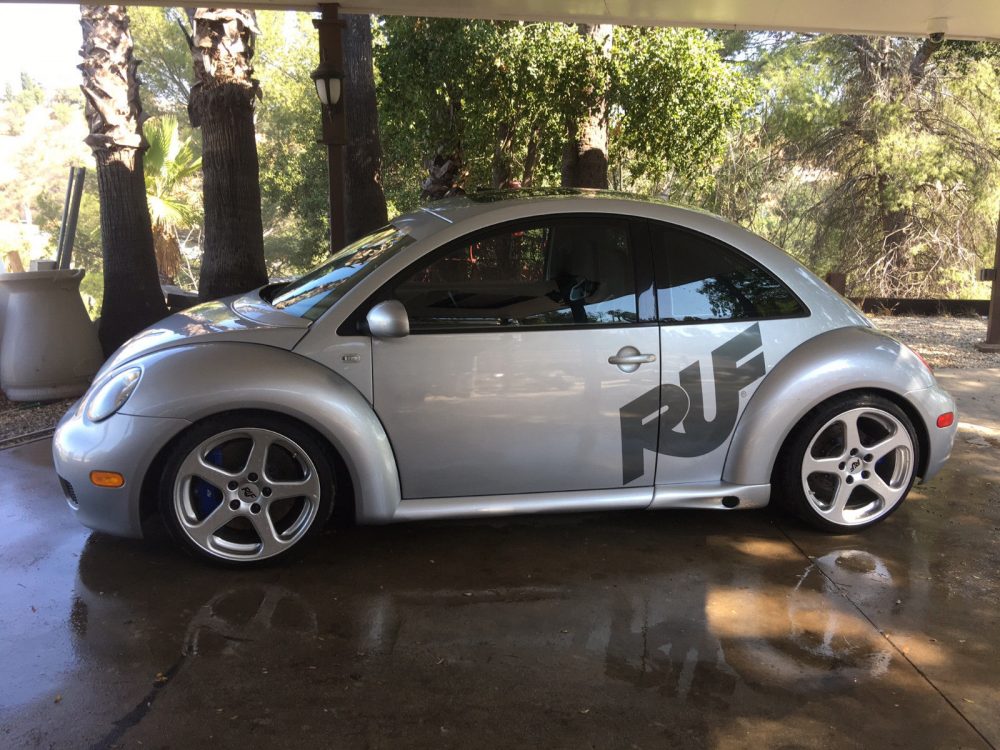 While I appreciate the seller's enthusiasm, and I really do, $60k asking price for this car is really high. It is a beautiful creature that has the panache of a much more expensive automobile. But if I am spending $60k I am going to need more than 225 HP and 2wd.
Tuners such as HPA have been tweaking these cars for over a decade. Transplanting Audi powerplants and Audi AWD into the much smaller Beetle with great results. That said, this Beetle has some amazing finishing touches that would be impossible to replicate. Which brings us to the age old question with tuner cars, even renowned ones such as this. Would you rather look good or go fast?  It is the rare combination that gives you both. I am sure there is an enthusiast out there with the want and cash to procure this RUF Beetle. To them, I say congratulations and enjoy this great looking car.
~Aaron