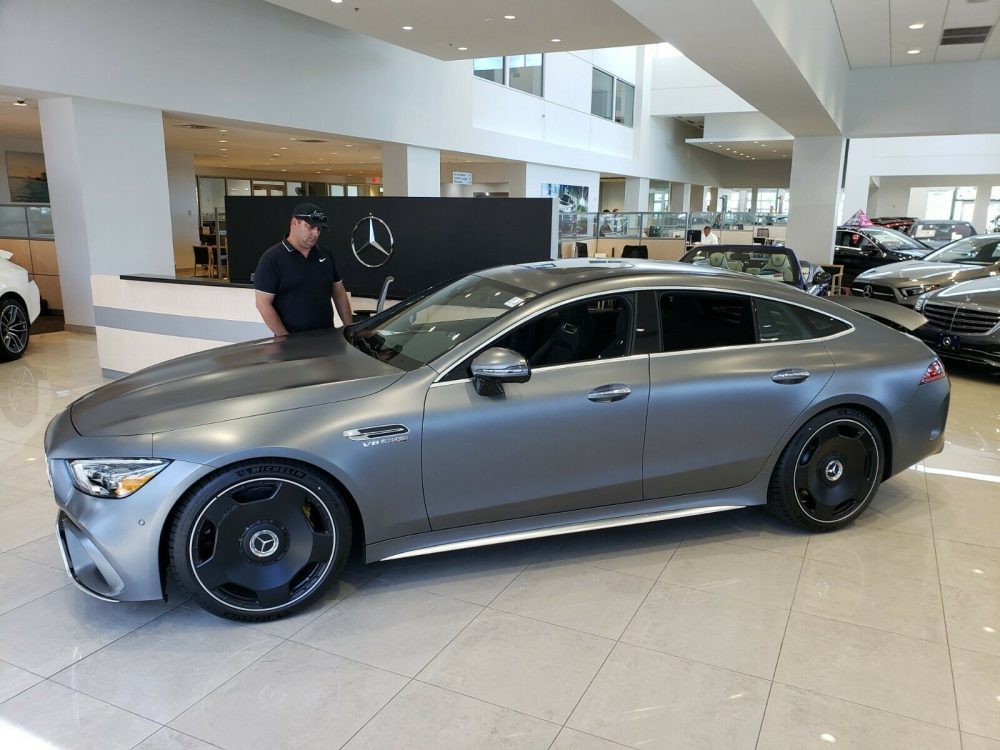 They are back! In a move no one really saw coming, Mercedes-AMG decided to re-boot the Monoblock-style wheel on two of their new AMG cars. The GT 63 S AMG as you see above will feature them in 21″, as well as the yet-to-be-released GLS63 AMG that will size them in 23". A 23" Monoblock! Yes, they do offer the in a polished look if matte black is your taste, but be warned, these are not cheap wheels. Not at all.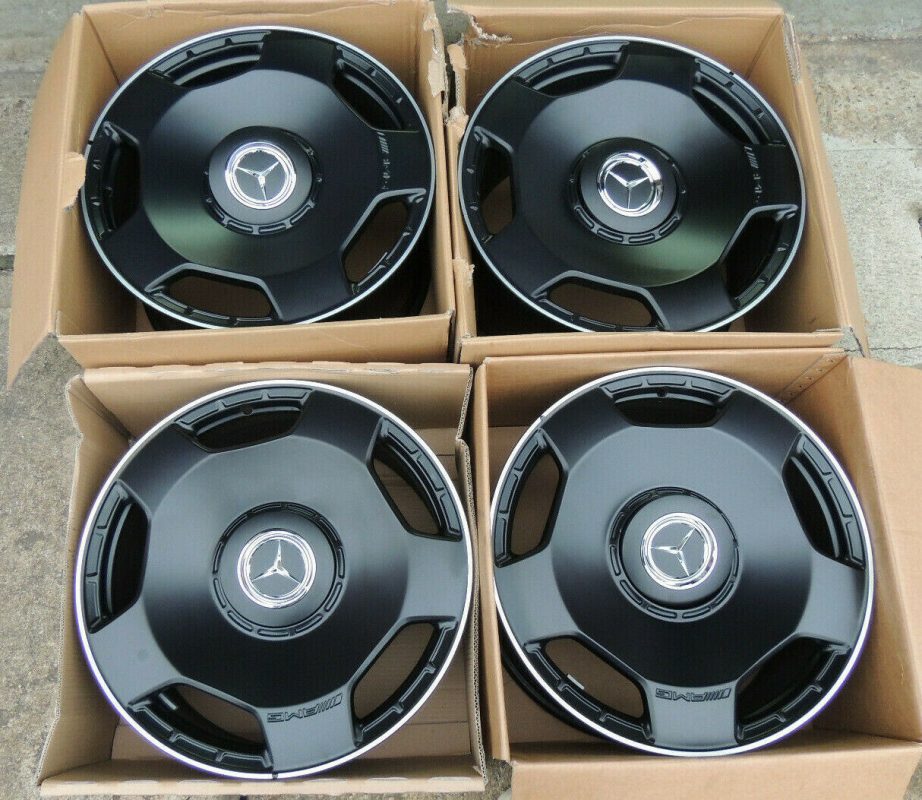 Size: 21″
Model: AMG Monoblock Wheels
Part Number: 290-401-1400 / 290-401-1500
Location: Holbrook, New York
Price: $6,500.99 Buy It Now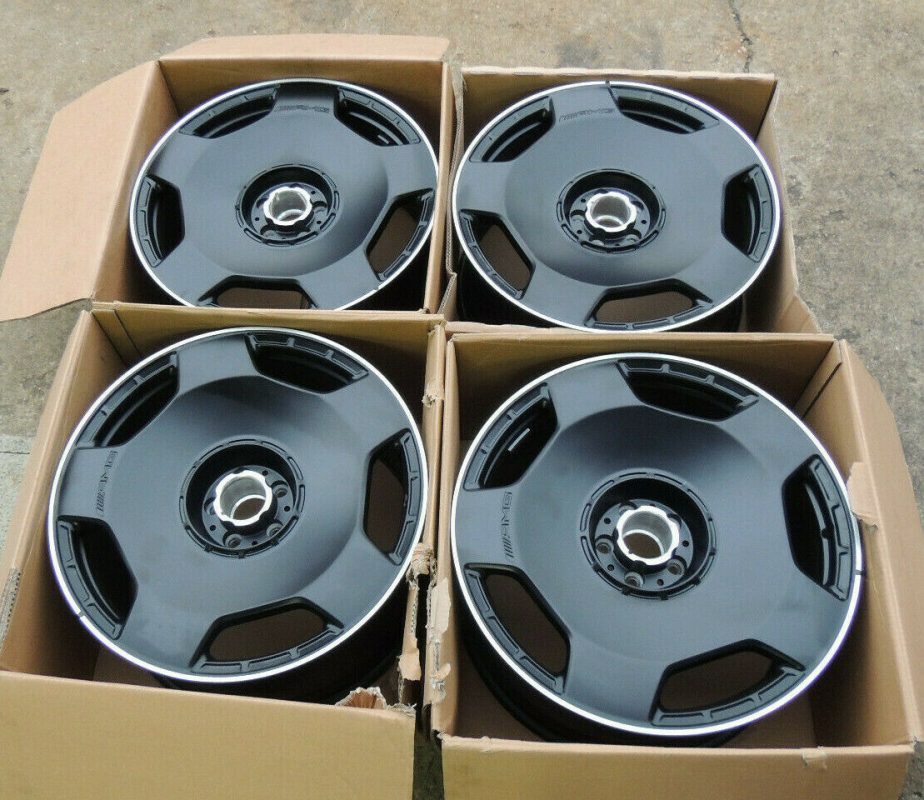 PLEASE CONTACT US IN ADVANCE WITH ALL OR ANY QUESTIONS
ILL BE MORE THEN HAPPY TO HELP YOU WITH ANYTHING I
POSSIBLE CAN JUST ASK , PLEASE ASK FIRST MESSAGE ME
AND OR SEND A NUMBER I CAN TEXT YOU AT
,
HERE IS A SET OF SUPER RARE GT63 AMG WHEELS
THEY WERE REMOVED OF CUSTOMERS CAR BEFORE IT
WAS DELIVERED TO HIM AT 1.1 MILES THE DEALERSHIP
THEY ARE PERFECT PERFECT CONDITION
HIS WIFE WANTED SILVER WHEELS

*** WILL FIT THE COUPE OR ROADSTER

*** ILL GLADLY SEND YOU MORE PICTURES OF ANYTHING
YOU WOULD LIKE TO SEE, MESSAGE ME WITH
AN EMAIL ADDRESS TO FORWARD PICTURES TO
AND A NOTE OF WHAT YOU WOULD LIKE TO SEE
I TOOK ABOUT 70 , BUT ILL GLADLY TAKE MORE
OF ANYTHING YOU WANT , JUST ASK

*** AND YES WE HAVE THESE WHEELS IN OUR POSSESSION
READY TO SHIP IMMEDIATELY

AND YES I HAVE BEEN ASKED THEY DO MAKE SNOW TIRES FOR THESE

THESE BEAUTIFUL WHEELS ARE THE MATTE BLACK AMG WHEELS
LIST COST IS OVER $10,000 AT MERCEDES BENZ

MERCEDES BENZ OEM PART #
FRONT WHEEL
PT# A290-401-1400
SIZE 21×10
OFFSET – ET 30
REAR WHEEL
PT# A290-401-1500
SIZE 21×11
OFFSET – ET 30

*** LUGS 14 MM LUGS INCLUDED

*** MERCEDES WHEEL LOCKS INCLUDED 14 MM

*** CENTER CAPS ARE INCLUDED
( WE JUST LAID CENTER CAPS ONTO WHEELS FOR THE PICTURES )

*** THESE WHEELS ARE 100 % ORIGINAL CONDITION

*** ONE FRONT WHEEL HAS A LITTLE MARK ON IT , ,AS
SHOWN IN PHOTO , ITS HOW THE WHEEL CAME FROM FACTORY
IT SEEMS LIKE POSSIBLE GLUE OR SOMETHING
I PREFERRED NOT TO TRY TO REMOVE IT , AS THESE WERE
REMOVED BEFORE CAR WAS DELIVERED TO CUSTOMER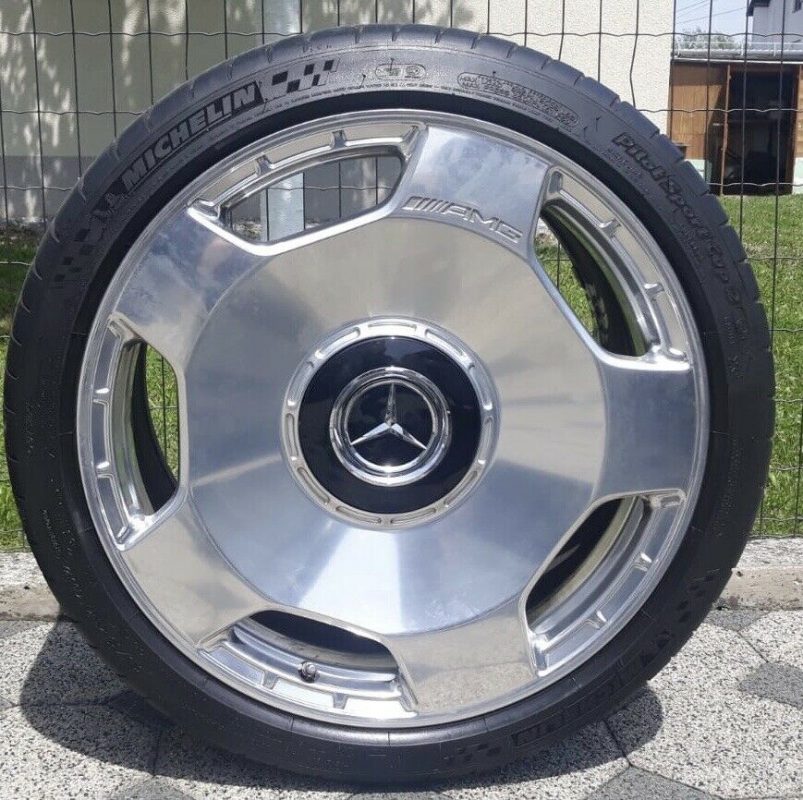 I know these aren't the same as the classic Monoblock that we all know and love, but I think they did a good job putting a modern spin on it. They look fresh and futuristic, without looking overstyled or trying too hard. Looking at the specs, the fronts are 10″ wide with the rears being 11″, which puts the tire sizes at 275/35 and 315/30. That's a cool $425 a piece for the tires. As for these take-off wheels, they'll set you back $6,500. Yes, that is a ton of money, but the Mercedes list price for them is $2,500 a piece. So it's actually a pretty good deal if you can deal with the little scuff on the one wheel. I can't wait to see how much the 23″ versions will be.
– Andrew