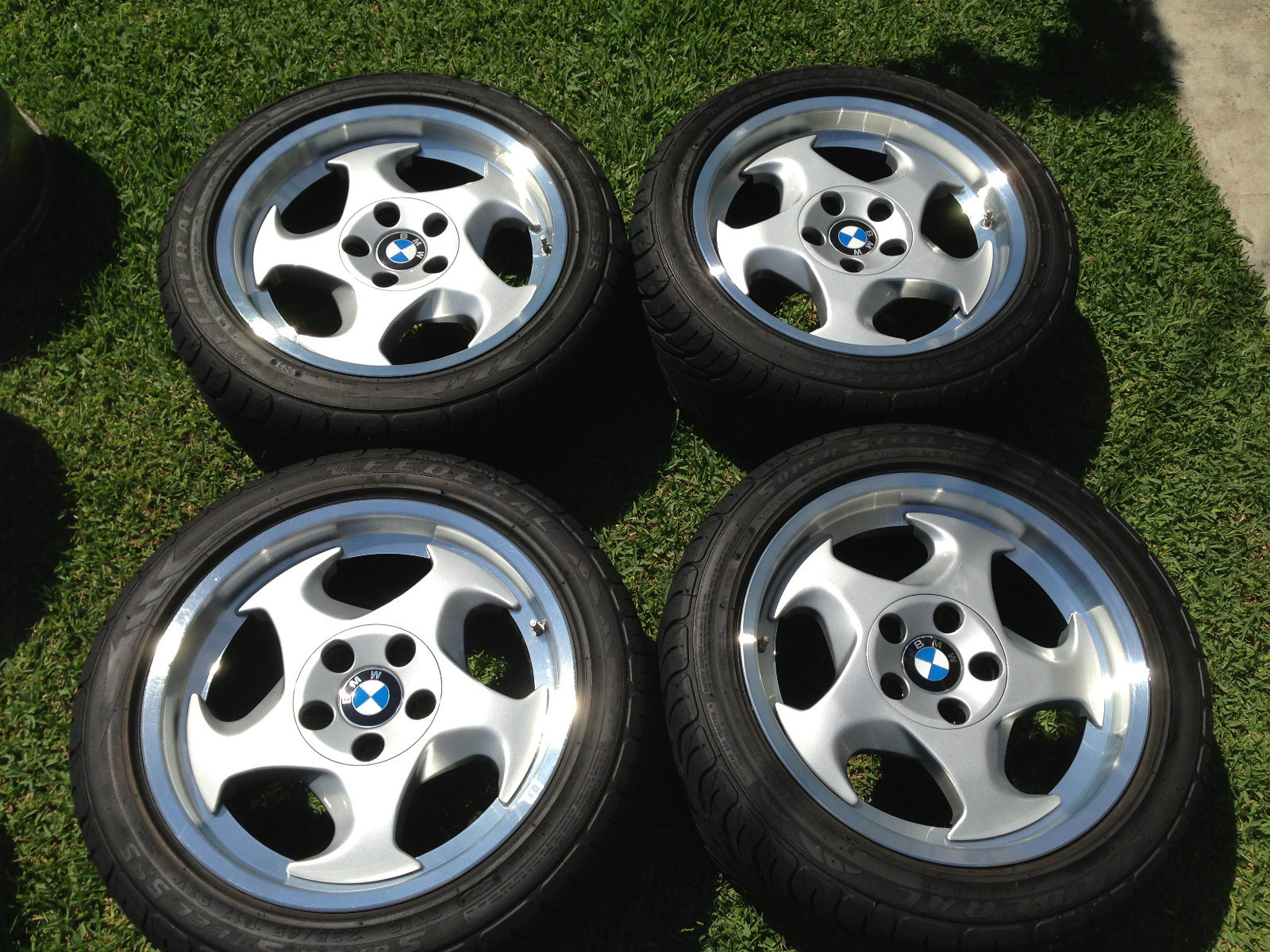 We're going to try out another new feature we're going to call "Wednesday Wheels" here at GCFSB.com. If you're like us, you have a passion for all aspects of cars, and one of the favorite items to change, replace or refinish are a car's wheels. Today we're going to bring you a few sets to dress up your BMW. We'll start with some M-System 2 wheels from a 1993 M5, often called "Throwing Stars". These arrived on the M5, the M540i, and the 850CSi but look good on many of the early 1990s BMWs. Got an E34 and looking for a set of wheels to dress it up? These might just be the ticket – light weight, the right OEM look, with decent looking tires and freshly refinished, this package looks like a pretty decent deal for some high quality and rare wheels: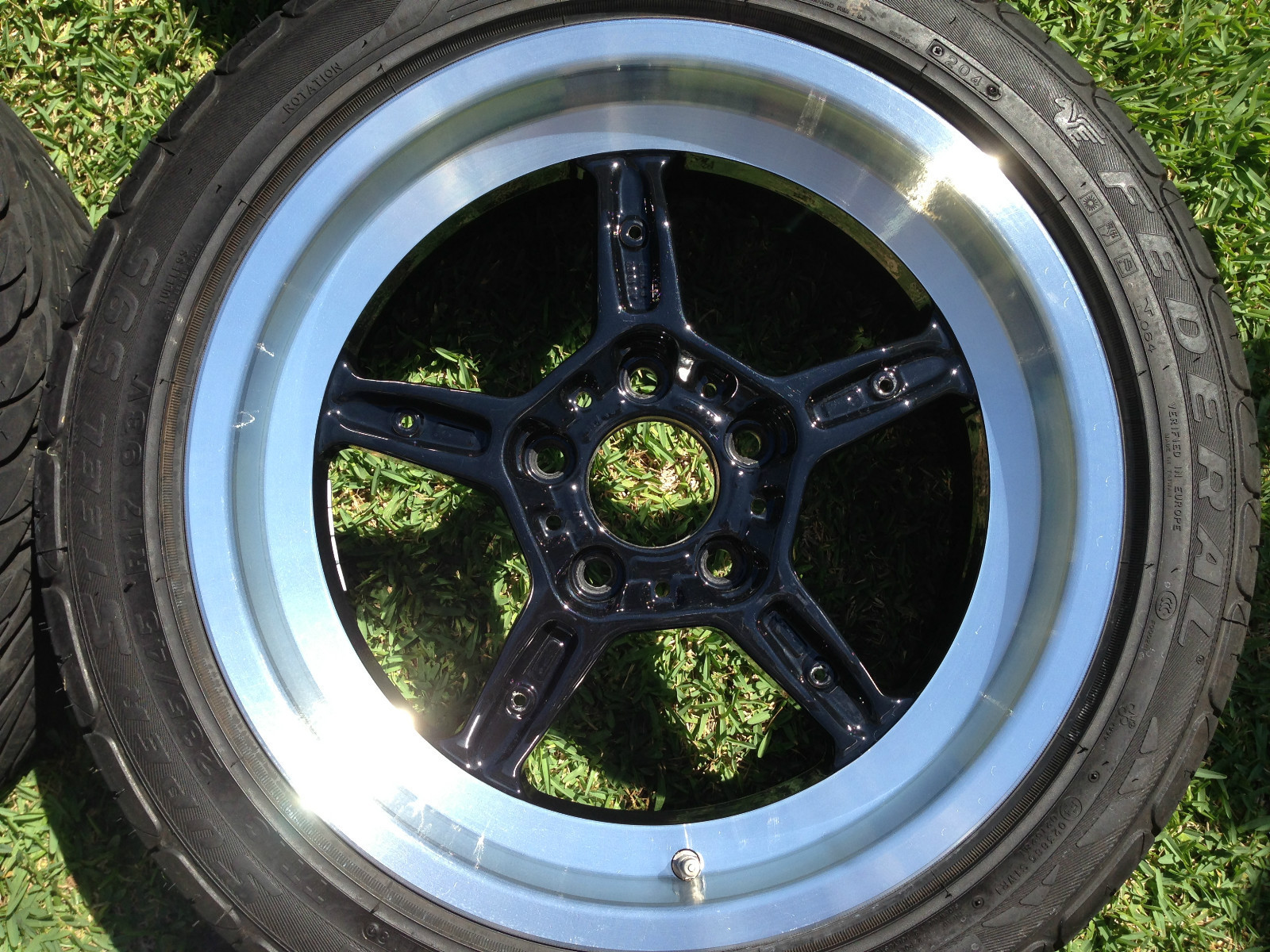 Year: 1993
Model: M-System 2 "Throwing Stars"
Diameter: 17″
Width: 8″
Bolt Pattern: 5 x 120
Offset: ET 20
Condition: Refinished
Tires: Included Federal Super Steel 595 235-45-17
Price: $1,899 Buy It Now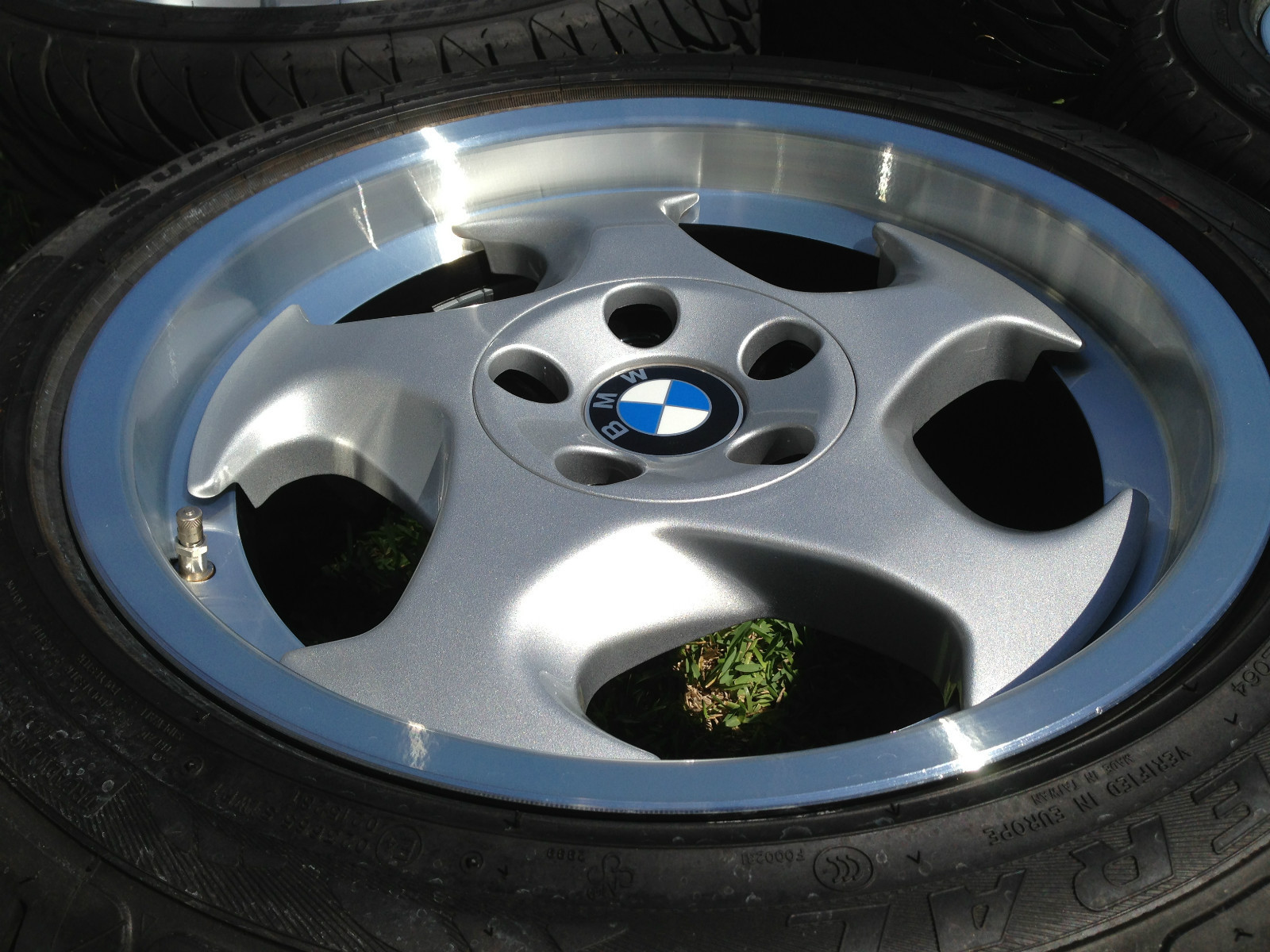 I have for sale a spare set of OEM BMW 17″ M System II Throwing Star wheels that were removed from my 1993 BMW M5. The size of the wheels is 17″ x 8″. The wheels were completely refinished professionally by the local wheel shop The lips were machined and clear coated. The centers and inner barrel were painted in OE black paint. The throwing star covers were stripped down to the bare metal and repainted in the original silver finish and clear coated. I also removed the old fading center roundel stickers and replaced them with new OEM stickers. The wheels are perfectly true and balanced. There are NO bends, dents or cracks. It was a perfectly good original set that needed some refreshing.

Contact for Shipping rates to your home or business

Items sold as pictured There are no returns, exchanges or refunds. There is no warranty on any of the items, written or implied.
The item you see pictured in this listing is the exact item you will receive.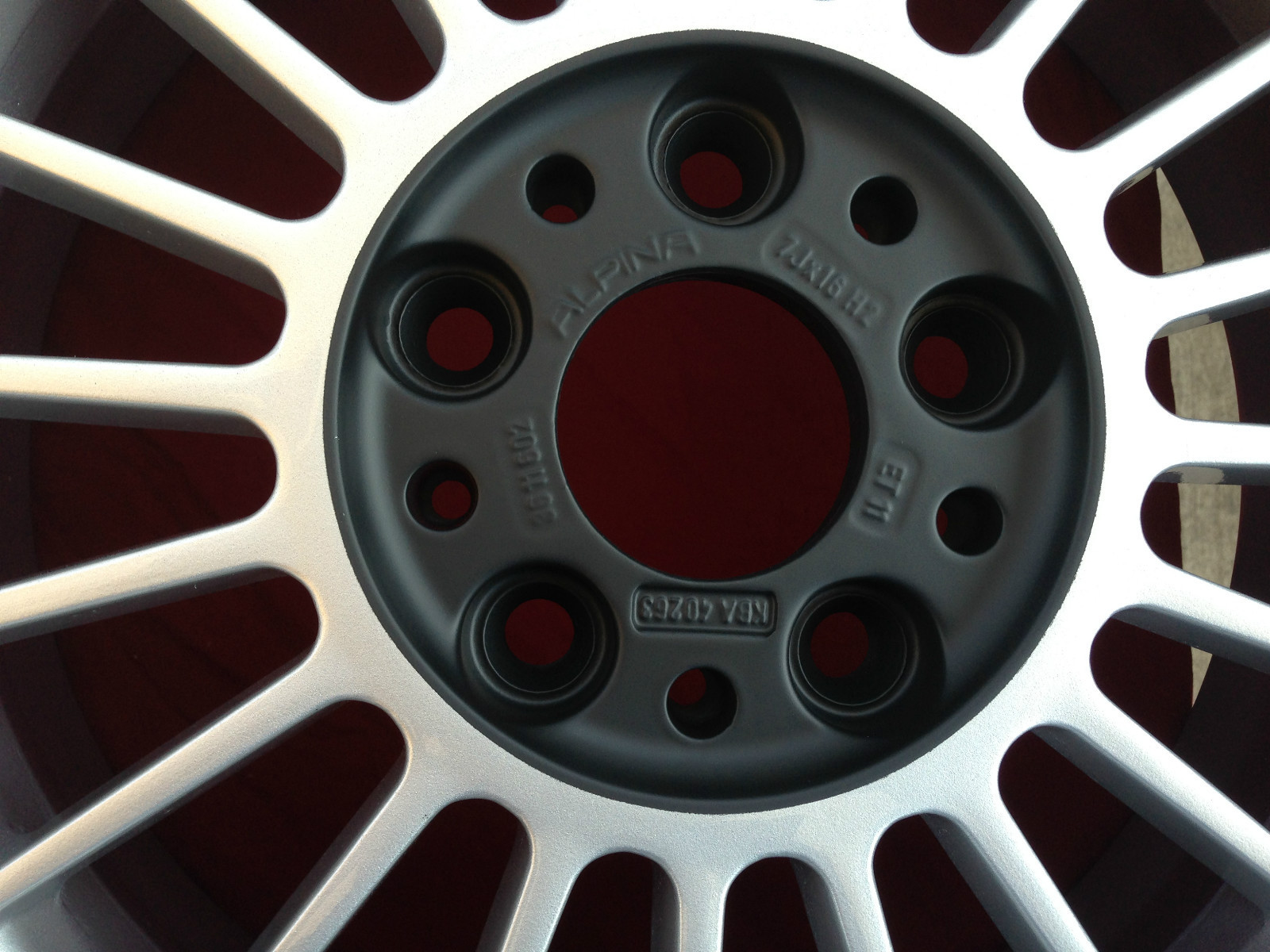 Have an E24, E12, or E28 and looking to dress it up a bit? One of the most popular wheel designs on these cars are the black-centered Alpina wheels. The staggered look fits these cars well and they are highly sought after. While replicas are available, today we found a refinished set of originals. Though not shown the seller will include center caps:
Year: N/A
Model: Alpina
Diameter: 16″
Width: 7″ front, 8″ rear
Bolt Pattern: 5 x 120
Offset: ET 11 front, ET 24 rear
Condition: Refinished
Tires: Not Included
Price: $2,850 Buy It Now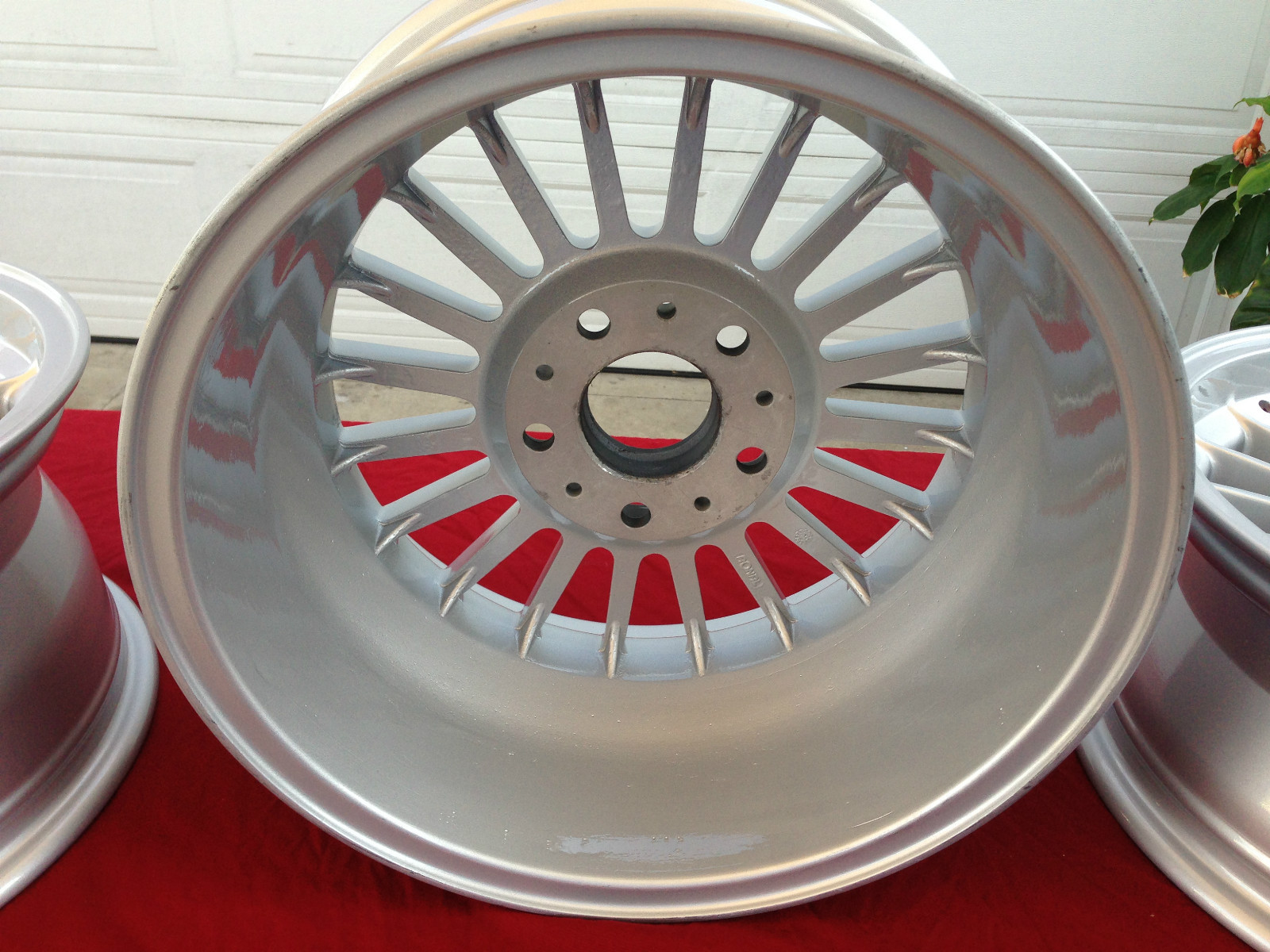 This is a set that I had refinished. They are genuine Alpina Wheels, staggered with the fronts measuring 16×7 inches and the rears 16×8 inches. The front wheels have an offset of et11 and the rears et24. They are stamped 7Jx16h2 and 8jx16h2 and have a bolt pattern of 5×120. These wheels fit the following BMW's: E3 Bavaria, E9 2800cs, 3.0cs, 3.0csi, and 3.0csl, e12, e24, e28, e34. You will need to confirm fitment for any other model other than what is listed. These wheels are used, they have been straightened as needed and refinished. I will include a set of center caps with the sale. I am willing to ship within the continental US (48 states) at the buyers expense. I will carefully package the wheels and ship them either via FedEx, UPS, or USPS. I will also accept local pick up. The wheels are located in Costa Mesa California. Please do not bid if you do not intend to honor your bid. Please feel free to contact me if you have any questions, I will try to answer your questions promptly. BMW e9 coupe e12 528i 530i 520i m535 e24 628csi 630csi 633csi 635csi m6 bavaria alpina b9 b7 turbo e28 528e 528i 533i 535i 535is m5 e34 525i 540i hartge bbs ronal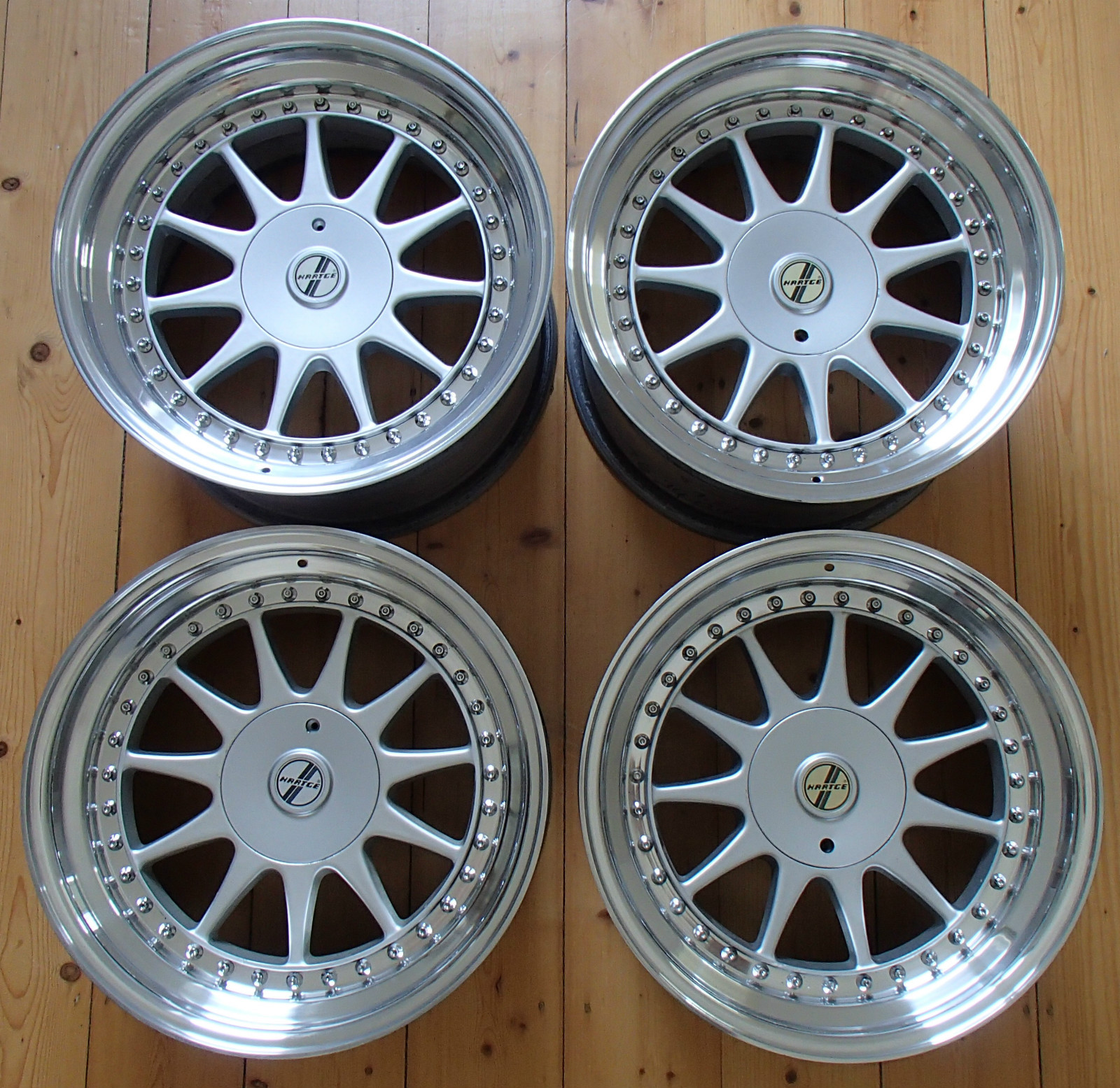 If you're more into the late 80s and early 90s, Hartge wheels might be your favorite. This particular set is made by OZ Racing and would look spectacular on an E28 M5 or E30 M3. While very pricey, they're also very rare, so you're not likely to see another set cruising down the road: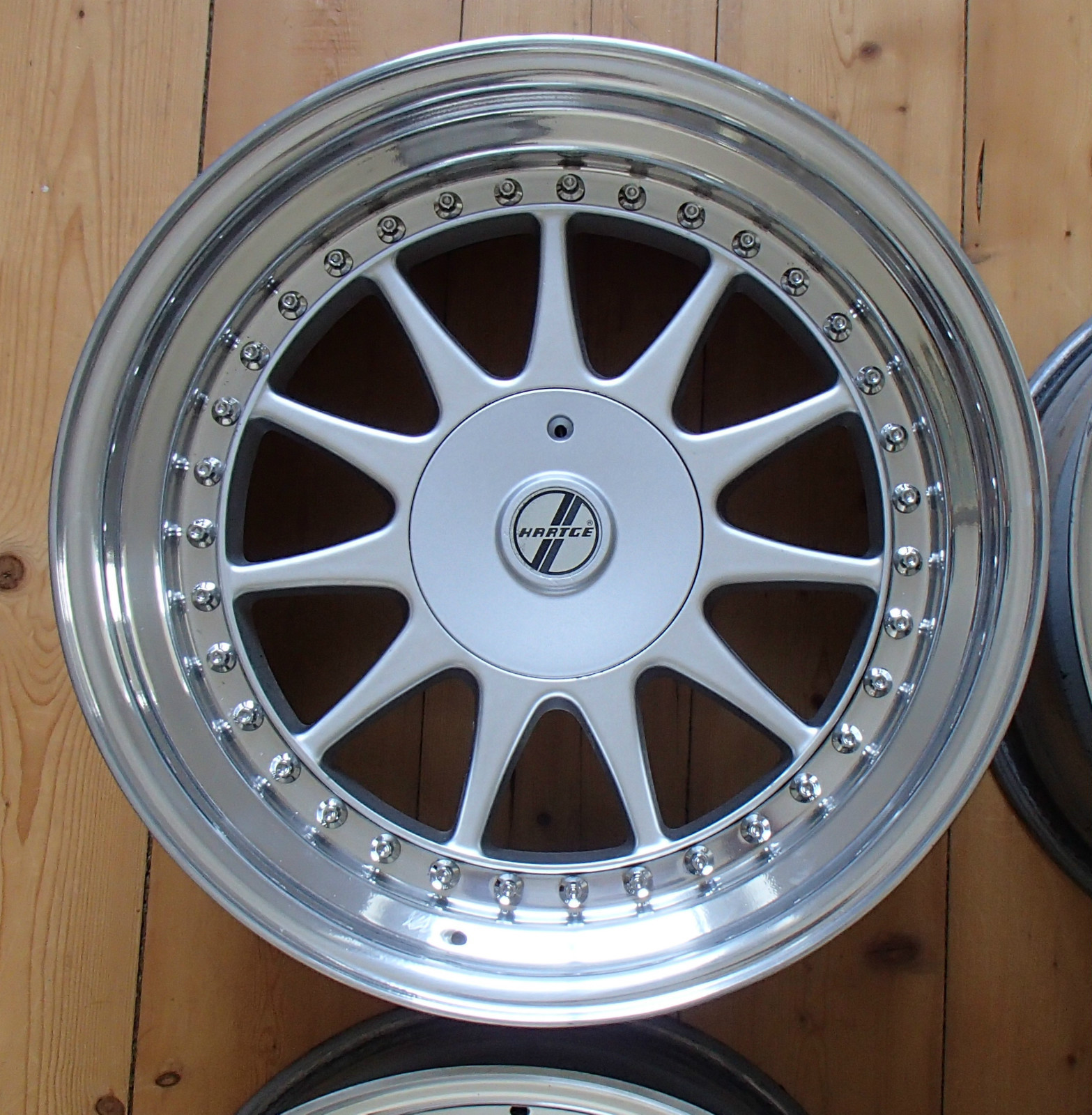 Year: N/A
Model: Hartge (OZ)
Diameter: 17″
Width: 8.5″ front, 9.5″ rear
Bolt Pattern: 5 x 120
Offset: not specified
Condition: Refinished
Tires: Not Included
Price: Auction, $3,199 Opening Bid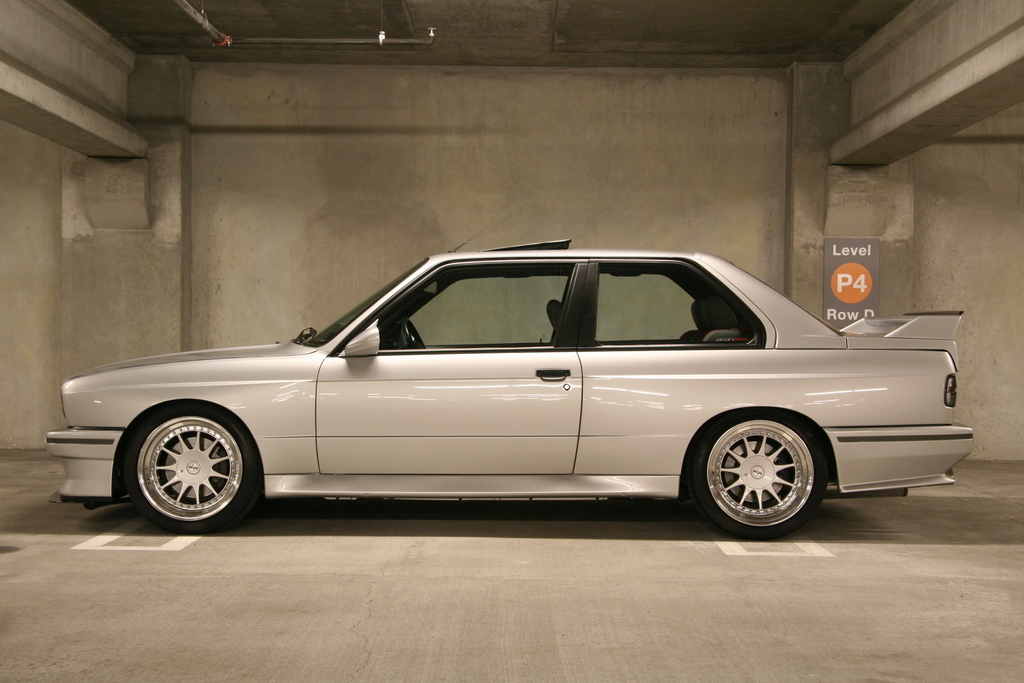 Up for auction are my super rare Hartge wheels,sized:

8.5×17(front) and 9.5×17(rear)

The wheels are original 3-pice Hartge wheels made by OZ Racing, made in W. Germany.

The wheels are used but in great condtion, no crub crash dents or other.
Of course thrue and correct.

The wheels sold only in the Europan marked on the Hartge e34 H35-24 or e30 H35-24.

Will fit to all BMWs with 5-bolt pattern:

E23 ( 728 728i 728iS 730 732i 733i 735i 745i )

E24 ( 628CSi 630CS 630CSi 633CSi 635CSi M6 M635CSi )

E28 ( 518 518i 520i 524d 524td 525e 525i 528e 528i 533i 535i M5 M535i ) E30 M3

E31 ( 840Ci 840i 850CSi 850Ci 850Ci 850i )

E32 ( 730i 735i 735iL 740i 740iL 750i 750iL )

E34 ( 518i 520i 524td 525i 525ix 525td 530i 535i 540i M5 3.6 M5 3.8 )

E36 (316i 318i 318is 320i 323i 325i 328i M3 M3 3.2)

Z3

"Sold As is"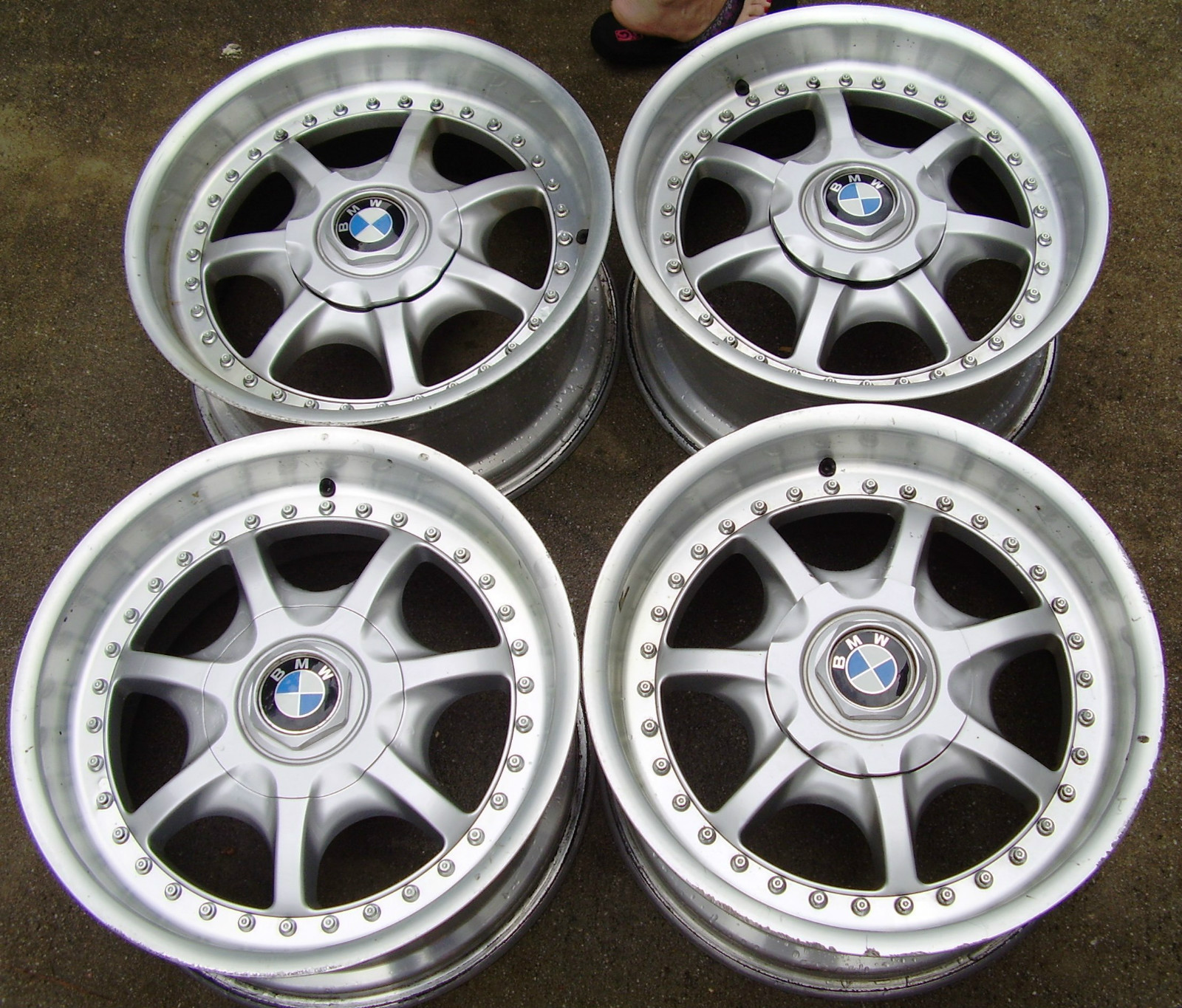 Lastly, if you're on a bit more of a budget, sometimes OEM wheels are a better option for you. These Style 19 OEM 540i Sport wheels aren't as popular as the Style 5s we often see on everyone's hit list, but the 19s are also BBS built and if properly refinished, can look spectacular. I've seen them on everything for 850s to 318s, and I still think they look sharp. These are not refinished and perfect, but the price reflects that. These would be great driving wheels or good candidates for a refinish project and would dress up a non-sport E39 or return it to original spec. A big bonus is the free shipping, often a costly item on wheels EDIT: these wheels sold just as we went to press. We'll keep an eye out for more!: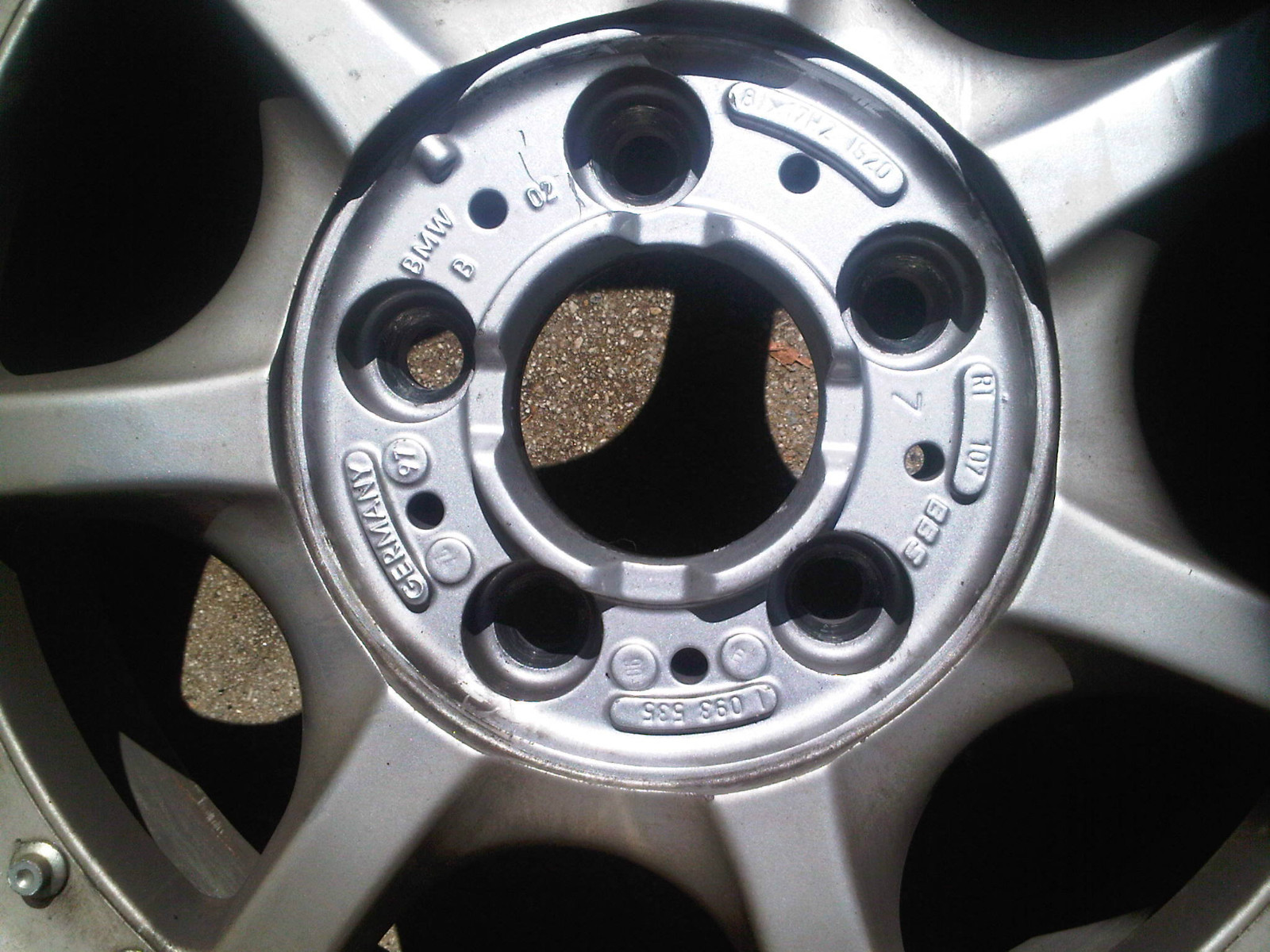 Year: 1998-1999
Model: Style 19 (BBS)
Diameter: 17″
Width: 8″
Bolt Pattern: 5 x 120
Offset: ET 20
Condition: Used
Tires: Not Included
Price: $429 Buy It Now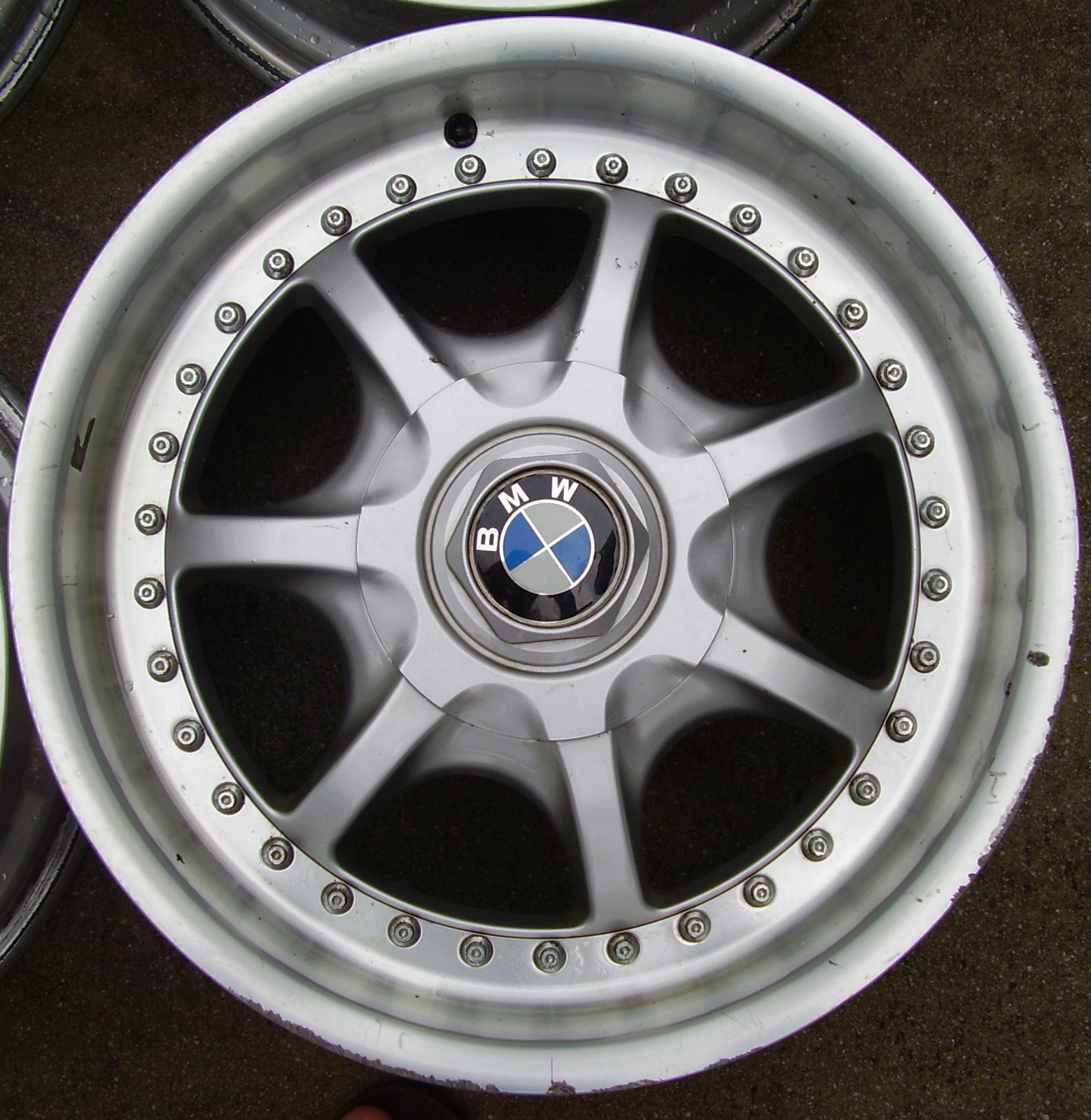 This is for four (4) rims – sold as a set. Fast Free Shipping to the US – email me for international rates. Rims are original OEM BMW – markings on inside state 8Jx17H2 IS20.

I'm glad to check any other specs on the rims before you purchase. They have some curb scuffs – will likely need to be reconditioned if you are concerned about these sorts of things – but even if you spend another $80 per rim on reconditioning, this would still be a considerable savings from buying these from other vendors.

Glad to answer any questions or feel free to call/text me at 410-340-6215.
Which are your favorite, and what would you like to see?
-Carter