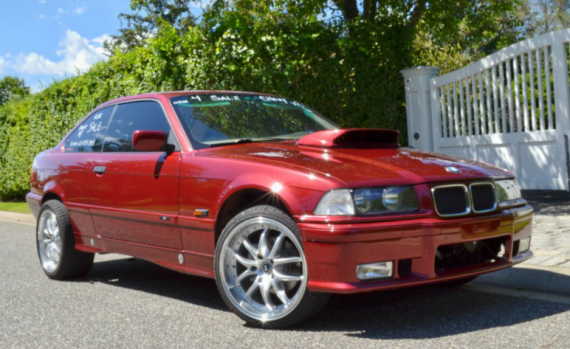 My appetite for engine swaps has waned as I grow up and appreciate originality and provenance, but that's not to say I dislike them. I still think an S38 in an E30 would be excellent, or a modern 2.0T in an older VW. I can usually even get past the uncomfortable feelings of cognitive dissonance when I see 3-series with 2JZs from Supras or RB26s from Skylines. There's been an LS1-powered E30 M3 that crops on eBay every once in a while that looks great and must be a wild ride. Hopefully I've convinced you that I'm not upset with this 3-series purely because of the engine swap. It's the whole package – the Subaru scoop, the terrible stance and wheels – piled on top of a Chevy 355 that makes me feel sad for the unwitting 318i that was the basis for this monstrosity. Sure, it does great burnouts, but why?!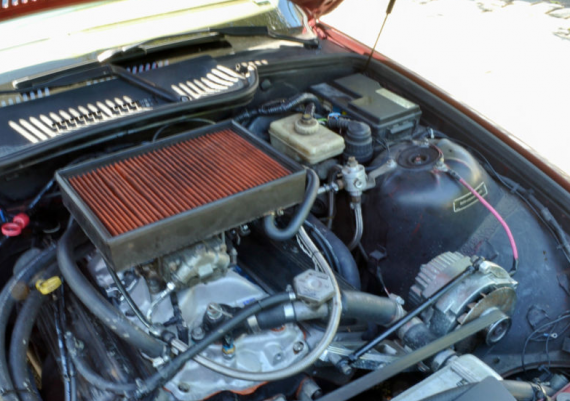 Year: 1995
Model: 318i
Engine: Chevy 355 V8
Transmission: 5-speed manual
Mileage: ???
Price: $11,900 Buy It Now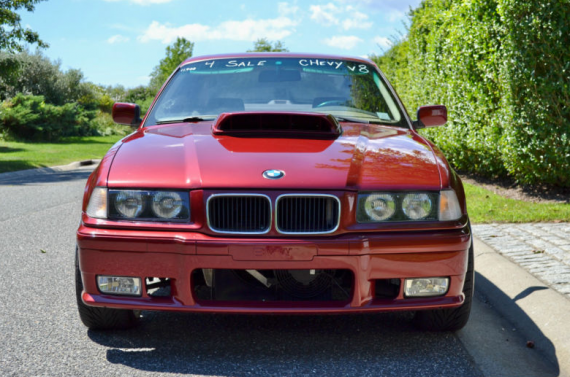 GetAwayCarz Performance Drivelines has just completed the newest addition to the lineup of fire-breathing mix-breeds. This car started out life as a 1995 BMW 318i (YES, as far as insurance is concerned, it's a 100HP 4 cylinder that doesn't require a high emissions inspection 🙂 ) The shell has 170k on it but is in excellent condition. We added a 355 cubic inch small block Chevy with 10 to 1 compression, 2.02″ intake valves and 1.6″ exhaust in freshly rebuilt heads, .465″ lift cam with 282/282 duration with a fresh timing chain, a new then modified edelbrock intake, a holley 4 barrel mechanical secondary double pumper carb with custom fabricated Ram Air box for dense cool air through the hood scoop, full MSD ignition system including 6AL box, MSD billet distributor, MSD custom taylor ignition wires and MSD's Blaster coil, adjustable fuel pressure regulator is on drivers side strut tower for accessibility.

The engine has a new high volume oil pump, new pan and pan gasket for a clean look when under. With the addition of extra horsepower you need extra cooling also, a large aluminum radiator with electric cooling fans does just that when combined the reverse spun, HD high flow corvette aluminum water pump All this is used to spin the 10.5 inch 3200 rpm stall converter thats in front of the manual valve bodied and shift kit'ed 4L80 HD 4-speed with overdrive transmission with custom bent hard line cooler lines to the front mounted transmission cooler, its own fan with its own temp controller. Custom drive shaft to the 3.91 Posi-traction differential in the independant rear suspension. The custom and beefy 4 wheel suspension system is adjustable and is set now for the best ride quality yet great launch and performance. This monster has the nicest stance and no need to worry about speed bumps with its clearance underneath. It has the perfect ride for even long trips compared to most hot rods that you need a mouth piece for. There is a custom subframe for the engine mounts and a custom fabricated transmission crossmember that you can trust not to twist. The brakes and rotors front and rear are brand new. While everything was apart the calipers, brackets and rotor hubs were cleaned and coated with a silver high heat coating to make sure it all looks better than everyone elses for years to come.

This is not just a race car, you have a luxurious leather interior that BMW is known for. With the addition of a ratchet shifter with custom shift boot, the interior appears untouched. Instead of aftermarket gauges all over the interior and out of place we decided it would be best to use the factory gauges, without any V8 conversion gauge adapter options available on the market GetAwayCarz fabricated their own. With a custom circuit board behind the needles all the original gauges work perfectly giving it a complete factory appearance. All the lights in the front of the car were replaced giving it a fresh showroom floor look. The functional hood scoop along with the FACTORY M3 body kit, not the cheap replicas, and the brand new unique offset 18 inch wheels really make the monster look like it wants to EAT other cars on the road!!! Horsepower is pointless if you can't get it to the ground. With 18 inch staggered wheels it has large 275mm wide tires in the back for the best acceleration without sacrificing handling. From the back you can see the high flow 3.5″ tipped Flowmaster muffler attached to the large custom formed exhaust all the way up front to the GetAwayCarz hand made headers.

A new Pioneer cd stereo was installed with aux input in front face for your ipod or phone to be used. A Rockford 350 RMS mono-amp was installed neatly next to the factory amp and is pushing an 8 inch Rockford sub. The amp can push much more if you would like it to. All around this is the perfect street rod combining the stylish looks and maneuverability of a BMW with the extremely blunt power of a large Chevy V8!!! Any questions feel free to ask. This will be the best addition to someones collection or the one and only for the street warrior!!! Check out the video for some audio!!!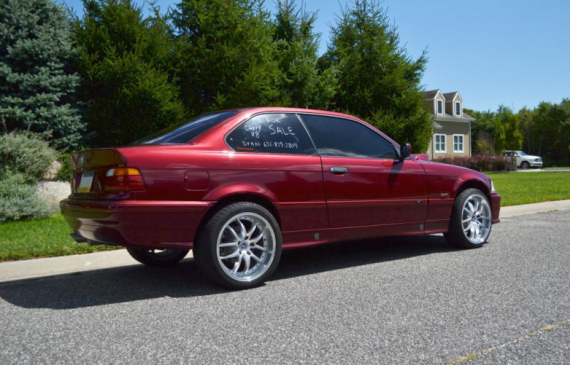 I'm glad this car is 3,000 miles away and will most likely stay that way (I see it fitting in great in Florida). I don't care that it started as a lowly 318i – a bone stock 318i is better than this. If someone buys this car they're obviously of a different mind than I, but you could get a decent E36 M3 for this price and not have to be laughed at everywhere you drove.
-NR