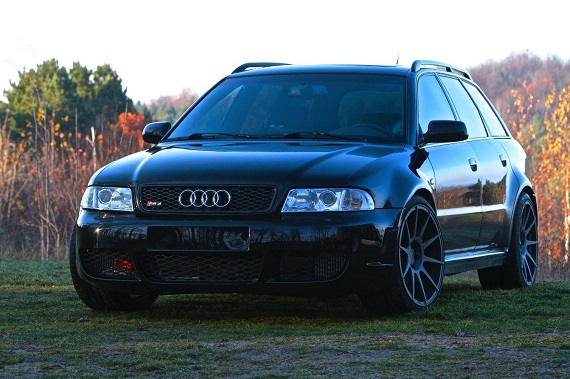 After a string of quick Mercedes-Benz wagons, it's time to take a look at the maker most associated with bonkers 5-doors. While Audi may have never imported any of their fastest wagons into the United States, since the 5000CS quattro Avant the maker has been intrinsically linked with speedy family rides. While we got some good ones in the former, the 200 20V quattro, and the C4 and C5 S6 Avants, the real speed was always in the "RS" line. With the exception of the S6 Plus, all of the top-tier models have carried the RS moniker and traditionally have been the engine blueprint many Audi fans have followed to get the best speed. If they're really devoted, they take it to the next level and copy the look as well. The result can be very impressive, as shown in this RS4-spec 2001 S4 Avant: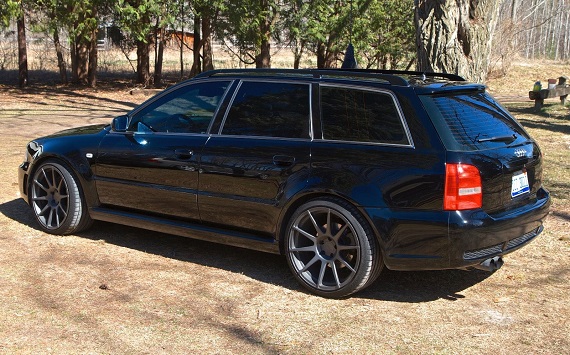 Year: 2001
Model: S4 Avant RS4-spec
Engine: 2.7 liter twin-turbocharged V6
Transmission: 6-speed manual
Mileage: 186,000 mi
Price: $30,000 Buy It Now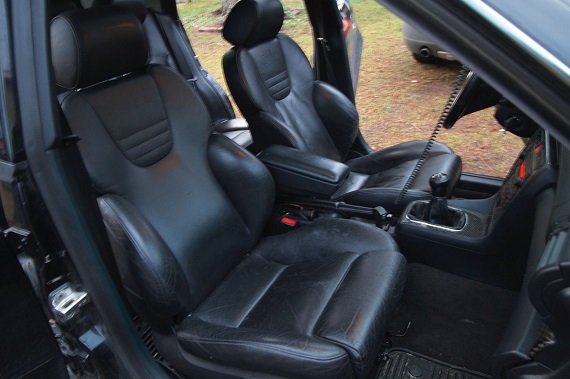 This is a 2001 Audi S4 Avant that was professionally converted inside and out to an RS4 and built engine making around 600hp. The car has been a summer daily driver and my kids are getting big so I am forced to sell to get something bigger. Please email me for any additional info you would like. Below is a list of what has been done to the car. I also have a folder of every receipt spent on the car including original window sticker that come to near $200K. It is a beautiful car and very well sorted and put together.

Details:
– 2001 S4 Avant
– 186,xxx miles on the chassis
– Winter Package
– Sunroof
– Convenience Package
– Bose

Modifications:
– Full OEM RS4 Widebody conversion (fully documented with hundreds of pictures)
– Carbon fiber interior trim by oCarbon
– RS4 interior black door pulls
– Black RS4 front and rear Seats
– OE RS4 headlights with 55watt upgraded lights
– Clear Bra applied to much of the car
– Wagner Engineering RS4 IC side grills
– AWE electric boost gauge
– 35K miles on built short block engine, stock Mahle pistons, Pauter rods w/ oil rifling, new crank and rod bearings balanced to 9500rpm
– Built Heads:2.8 heads Fully machined and built in Sept. 2015 @180K with SuperTech springs and titanium retainers, new lifters, stock 2.8 cams, new cam seals, new cam plugs, & 2.7T exhaust valves
– Just replaced 605.1Tial turbos with new improved 605.2 turbos (same as 770's but in smaller 605 housings for better spool @ 179K
– RS4 Y-Pipe
– Custom 4″ MAF pipe and filter with 034 heat shield
– 72lb Bosch injectors
– Two ECU's, one tuned to 25psi and one to 28psi, tuned by Mike Shimon (MBC in parallel with N75 to cut spikes)
– 4:1 Center Diff
– 034 Intake shroud and filter
– Custom Aux. oil cooler
– Bosch 044 fuel pump
– APR bi-pipe
– ER intercoolers with carbon shrouds
– 710N diverter valves
– Dahlback 3″ downpipes w/ 100 cell race cats
– Aquamist water/meth injection system with upgraded 160PSI pump
– Zeitronix Wideband with boost monitoring/logging
– Aluminum thermostat housing
– Red powder coated valve covers and various engine pieces
– Milltek dual exhaust minus middle muffler
– Autosport DTS
– RS4 engine and trans mounts
– AWE lightweight flywheel w/ Southbend Stage 3 clutch
– Stasis Ohlin Motorsport coilovers with 800F & 900R springs
– Hotchkis rear swaybar
– 355 Alcon front brakes. Rotors replaced at 175K
– Alcon 298mm rear rotors and brackets
– Stainless Steel front and rear brake lines
– ADV.1 10.1 custom forged wheels; 19 X 10 ET20 with matte gunmetal powdercoat
– 265/30-19 Continental ExtremeContact DW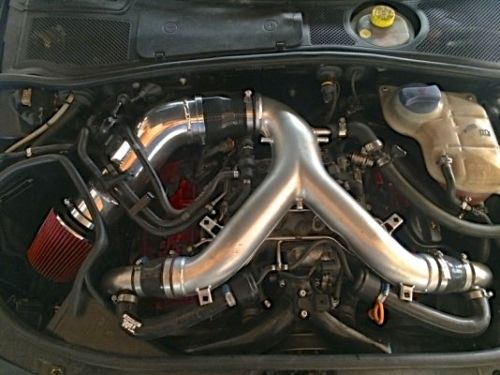 To me there are two way to look at this car. A labor of love, it's asking price is only a fraction of the price invested and – notably – significantly less than real RS4s that are still not legal for import. A few have been federalized, but asking prices range from double to quadruple the asking price of this example. The other way to look at this is that it's a very expensive S4 Avant that's been heavily modified and personalized. I would have done things differently, but I applaud the builder for seeing this one through tastefully. If you like the look and it was done correctly, it's a tremendous amount of performance and work for a budget price.
-Carter