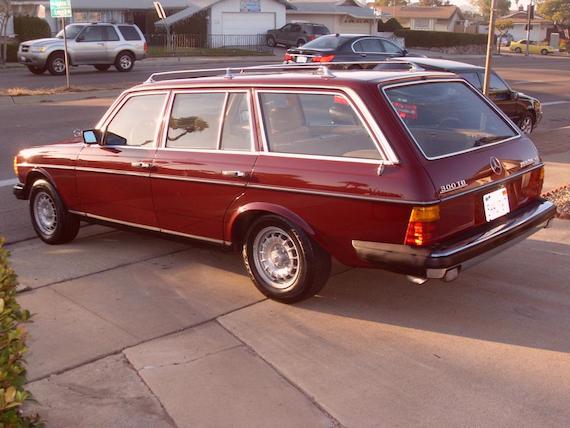 Having just embarked on a summer road trip, my thoughts wandered while driving towards fuel economy. My MINI Cooper S certainly does well enough, but sometimes you want something a bit more suited for cruising. Which is where this Mercedes-Benz 300TD comes in. It's not the fastest car out there, but once up to cruising speed, it's a capable motor with the range and reliability of diesel power and a good amount of carrying capacity. This particular 300TD for sale in California has been converted to run on biodiesel and is a two owner car, having lived its live out in the western US.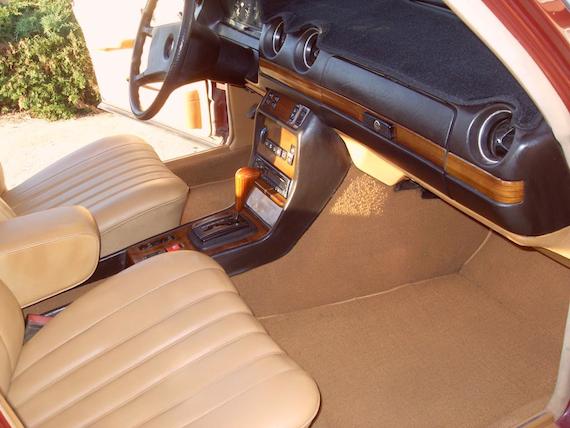 Year: 1982
Model: 300TD
Engine: 3.0 liter turbocharged inline-5 diesel
Transmission: 4-speed automatic
Mileage: 128,000 mi
Price: $17,500 Buy It Now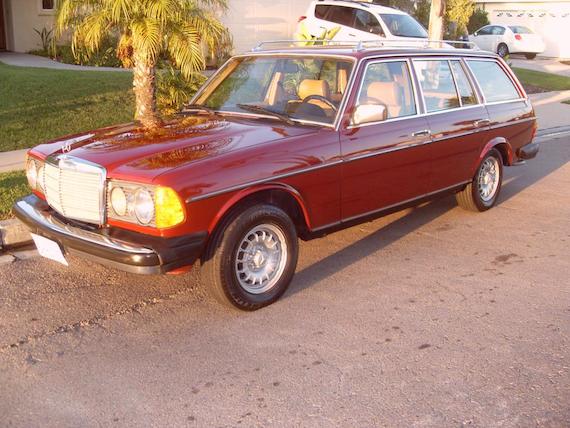 Vehicle is equipped with a brand new, unused "True Earth Motors" SVO/WVO/Biodisel conversion professionally installed. So this vehicle is running on, and has always run on diesel.

Though it can be filled with any form of biodiesel/SVO/WVO and will run at any time in any combination with diesel fuel. If you like, I will even fill it up with French fry grease for you to drive on when you come to pick it up.

Conversion Story: I have owned one of these converted wagons for the last 8 years and have saved enough money, by never having to buy fuel, to make a significant down payment on my house. I have converted over 50 Mercedes Turbo Diesels of this vintage ('81-'85), and shipped them all over the world. To my knowledge they are all running well to this day, even in the most frigid of climates. I have a deal with my local bowling alley to leave their used grease outside for me once a week and that is my sole source of fuel. You can arrange with your local restaurants to do this too. This system is a single tank conversion system. After much research the founders came to the conclusion that in almost all conditions this is a superior system to a 2-tank system. I won't bore you with the research on this here, but call me if it is pertinent to your decision to bid. Also if you are set on having a 2-tank system, I can give you guidance on how to accomplish that too, though I don't recommend it. In addition to the line heaters, there is an electric fuel heater/filter/water separator pictured multiple times. This heater is in the fuel system between the tank and the fuel injector pump. Its function is to heat/filter and separate water that may still be in the grease/diesel/veggie oil. It turns on automatically when the outdoor temperature drops to 60 degrees. At that point it automatically turns on and starts heating and thinning the fuel as it passes through. It acts as a particulate filter and water separator full time also. This is another fail safe in the system to ensure that the fuel is pure and of proper viscosity before it reaches the injectors. I proudly display a bumper sticker (VEGGIEMOBILE) which announces to the world that I am off the grid, not giving my money to oil companies, and leaving zero carbon footprint. I get approached by people constantly when they see the sticker, that ask questions about how they can do it, to smell the sweet french fry exhaust, and to shake my hand. It's a great feeling!

Conversion Company: I was trained by the founder of True Earth Motors of Carlsbad CA to do these SINGLE TANK conversions. The founder examined all of the conversion systems on the market that he could get his hands on. Some of them are quite well known. He took the best features from all the systems and combined them. He also added his own custom improvements to come up with the "True Earth" system. We have put "line heaters" on the fuel lines that extend right up to the fuel injectors. This is one of the main things that is lacking on all the other systems. YOU MUST HEAT THE FUEL AT THE POINT OF INJECTION! Most conversions rely on the hot water in the cooling system to warm and thereby thin the fuel before it gets to the injectors. The problem is that for the first 5-10 minutes that the car is running the water is not hot and is not warming the fuel. Therefore you are sending cold thick fuel to the cylinders and this damages the cylinder walls and leads to worsening engine condition, and eventual engine failure. That is why we have electric line heaters that you will allow to warm up the fuel before starting the car. Only warm and thin fuel reaches the injectors. We also put another electric heater, filter, and water separator in the system, to insure the fuel is clean, warm and proper viscosity, before it reaches the fuel injector. The founder cares deeply about the environment and the cars. So this system provides a ZERO carbon footprint when it burns this vegetable oil, or any other plant oil, or even algae oil. He has converted hundreds of these cars here in SoCal. I have known him and watched him, and I know this system and it's integrity. It is an honor to be associated with him and his company. We offer free unlimited tech support over the phone(or in person if you are local), we guarantee the parts and will resupply filters indefinitely.

CAR STORY: This beauty has been garaged and dealer maintained throughout its' life by 2 doting owners. It has been California (except for 1 year in Yuma, AZ which is even more dry than San Diego) owned so has never been on a wet, icy, snowy, muddy or salty road. It has been kept in pristine condition by the owners who have always cherished it. The veggie oil conversion is a recent addition. This does not affect the integrity of the engine or how it runs. Even though it has this state of the art system, the car has NEVER BEEN RUN ON VEGGIE OIL since the conversion system was installed or before that, ONLY DIESEL. So for you many demanding purists out there, that only want a diesel that has run on diesel, this is the one. So if you want to have a car that has always run on diesel and will always run on diesel, this is your car. If on the other hand you want to start running French fry grease, biodiesel, svo, wvo, algae oil and any one of a growing number of fuel oils this car will run on, then this is your baby too! If you want to run on a combination of these fuels, this is fine too. If you want to go back and forth between these fuels, that is also fine. Plus, you have me for life (depending on who dies first) to call and get any answers you need.

MECHANICAL CONDITION:

· Vaccuum system in door locks, trunk lock, engine and transmission works as it should.

· Adjusted the valves.

· Installed new valve cover gasket.

· Installed new fuel filters.

· New glow plugs

· New heater control valve

· Newly adjusted rear hydraulic system full of fluid of course

· New transmission cooler line

· Just aligned

· New crank sensor

· Installed new fuel lines.

· Installed new rear stabilizer links.

· Vehicle was inspected at Hans German Auto Service and passed in all categories.

· Compression is over 400 in all cylinders.

· Transmission shifts well at high and low rpm

· I have steam cleaned the engine above and below and can find no leaks of any kind.

· Transmission service was just performed and is running flawlessly.

· Installed a new fuel injector pump engine idle bolt to make engine run and idle more smoothly both in gear and out.

· I have taken this car through many road tests for cornering, bumps, stopping and starting, high speed, low speed, uphill and downhill, 100+ degrees and cold. This baby is solid.

· Brakes are in excellent working order.

· Tires are new.

· Service records for new ac compressor, accumulator, and expansion valve and recharge system. It is nice and frostyJ

· New vacuum modulator unit on the transmission

ELECTRICAL CONDITION: All the lights work, as do the wipers, electric windows, sunroof, sunroof, and radio. The heater blows hot, and AC blows cold, tachometer is intermittent so I am trying to clean off the pickup sensor to make it more consistent, electric mirror is working, dash lights, fog lights, turn signals, and brake lights all working. Rear window wiper and washers working. Dome light working. Instrument lights working. Horn working.

INTERIOR CONDTION:

No tears, splits, cracks or holes in seats, carpets or headliner.
The wood trim is in extraordinary condition as you can see.
I had new springs put in the seat, so it is firm as it should be. Seats are excellent.
Steering wheel, seats, knobs, switches and pedals have minimum wear.
I replaced the wood trim on the front doors to maintain consistent excellence.
Replaced drivers and passenger door rubber gaskets.
Professionally tinted windows
I took the shifter wood to a topnotch custom wood refinisher in San Diego and he restored the original zebrano wood shifter piece to all its original glory.

BODY AND PAINT CONDITION: Paint is excellent all around and is the original Mercedes color of China Red. No weak spots in paint that I can find. There is no rust anywhere on this body. No dents or scratches. The shine is consistent on the whole surface of the car. I had a new windshield put in, as pitting was evident on the original windshield. Bumpers are excellent. Chrome is consistently excellent throughout. Rubber gaskets around windshield and rear window were replaced to maintain excellence. I replaced front headlight bezels and rear tail light covers to maintain consistent excellence.

BIDDING INFORMATION: My experience has shown that the better the communication during an auction, the happier the parties are. This is a car you are buying, so PLEASE do not assume anything. Call and ask lots of questions. I am happy to take your calls and answer everything. ASK-ASK-ASK!!! Communicate, communicate, communicate!!! This is a fantastic vehicle and I have done my best to represent EVERY element of it in this description. It is a used car so I cannot warrantee it for the future, I can only prepare it to the nth degree, which I have done. My feedback shows I have 100% success record for the last 8 years shipping these converted vehicles all over the world and that EVERY SINGLE CAR I HAVE EVER SOLD HAS MADE THE BUYER HAPPY. You may assume 1 thing though: That this car is fantastic and you will be another one of my many totally happy buyers. Please do not bid unless you have the cash on hand. I accept cashiers checks, or personal checks, or cash on pickup(as long as it is within 72 hours of purchase). There is no cooldown period, so make sure before bidding. I have done my best to disclose everything in writing or pix, so there is no allowance for partial refunds for discrepancies or issues after you have been driving and using the vehicle. Make sure vehicle is as represented before you take delivery.

Remember: Please do not assume anything that is not in print, call and ask me anything ok. Best of luck to all of you and congratulations in advance to the Winner!

Regards,

Richard Chisholm 619-610-8525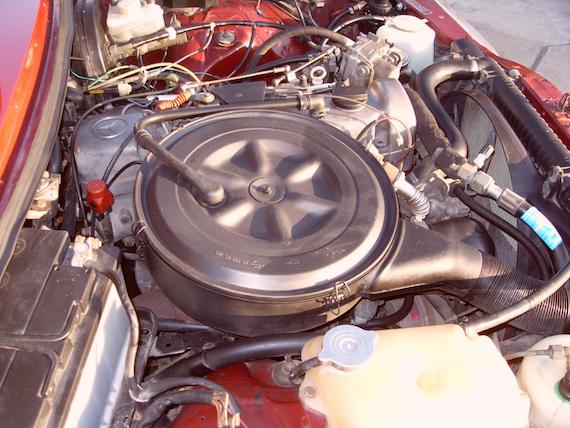 The mileage on this car is really nothing to shy away from. At this point, this car is just starting to get broken in. It also signals that it has been used as intended over the years, but not to excess, as many 300TDs out there have racked up three or four times this. Given the condition of this car at no reserve, the asking price is a bit high, no doubt taking into consideration the cost of the biodiesel conversion. Most 300TDs of this vintage with similar mileage are fetching between $10,000 to $14,000 on average, so it will be interesting to see if the reserve is met.
-Paul