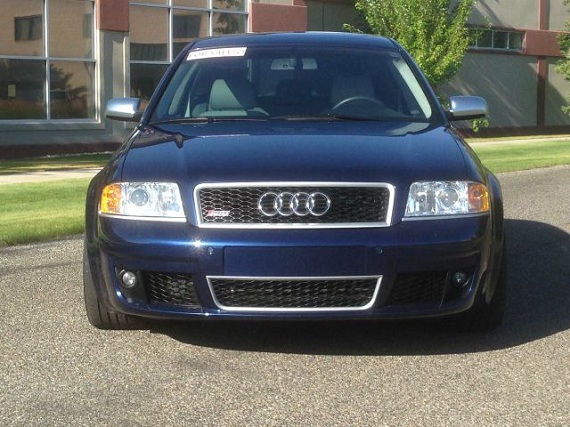 Up until the early 2000s, Audi always did things a little differently than its countrymen. Critics and enthusiasts have sometimes criticized the designs for not being optimal, overly complicated or ill-timed. But get into a RS car – any RS car – and it's hard not to be completely thrilled. Audi certainly pulled out the stops for it's top of the line, quattro GmbH assembled super-sedans and avants; the great details abound. Subtly flared fenders, special bumpers, larger wheels and massive brakes, lowered ride height and signature twin exhaust became the blueprint for the RS4 and RS5 to follow and hinted at the new bar that Audi set, but under the hood lurked something special in the RS6. Like the S6 the power was derived from a V8, but in the RS6 two turbochargers boosted performance to 440 horsepower with torque to match. The power was seamless and unabated; more a freight train that never let up than a rush of power. This car is deceptively fast, so quiet and unassuming it really was the ultimate Q-ship of its time. I was lucky enough to push one of these cars to its limit when new around Le Circuit Mont Tremblant, and while it's no lightweight sports car, the amount of speed and grip it generates is otherworldly, and it can easily keep up with many cars that should be quicker. Inside you were bathed in luxury; soft touch plastics, warm colors on the dashboard, excellent seats that managed to both be supportive and comfortable. There were small details too that helped to make the RS6 feel even more exclusive; the Alcantara headliner, alternating color piping on the leather, rich wood accents and carbon fiber details that were sprinkled in just the right proportions to make this car the ultimate Autobahn weapon: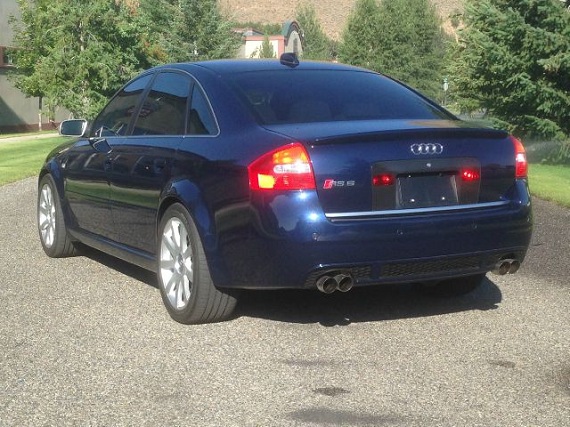 Year: 2003
Model: RS6
Engine: 4.2 liter twin-turbocharged V8
Transmission: 5-speed automatic
Mileage: 32,642 mi
Price: SOLD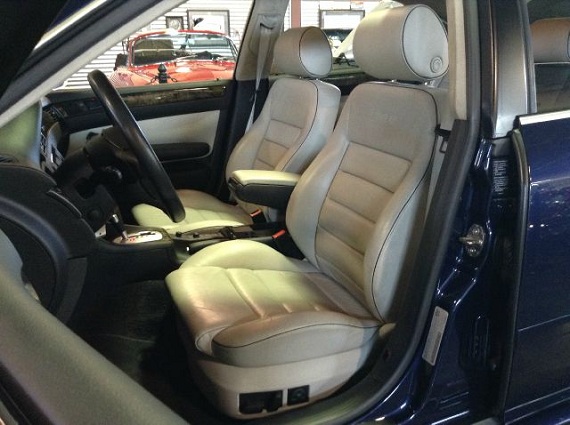 We have a German muscle car for sale here at the Sun Valley Auto Club. To quote Wikipedia, "The "RS" initials are taken from the German: RennSport – literally translated as "racing sport", and is Audi's ultimate 'top-tier' high-performance trim level. The RS6 pioneers some of Audi's newest and advanced engineering and technology, and so could be described as a halo vehicle." This is a wolf in sheep's clothing. 444 horsepower, 428 lbf·ft all being delivered through Audi's race proven Quattro system. This specific example may be the best kept one on the market. Almost no signs of wear. No pitting, rock chips, or oxidizing of the headlights, and no scratches dents or dings. Wheels are perfect. No curb rash. And the interior reflects the same. The seat bolsters are firm, and the soft touch switches have none of the typical Audi peeling. It is hard to look past the perfect suede headliner. The previous owner, one of our most meticulous clients, added a Billy Boat cat back exhaust system and tinted the windows. He also kept up on regular maintenance and we have receipts to prove it. This car features Navigation and OnStar as optional equipment. If you want to be one of the fastest on the highway welcome to the RS6. This is one heck of a machine for the right buyer. If you are the right buyer give Max a call at 208-720-4838 for any answers to your questions.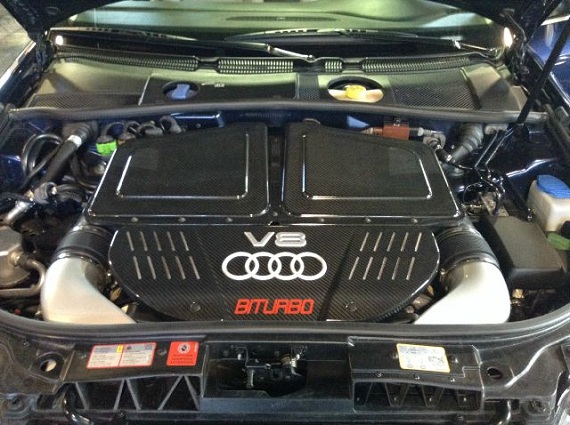 Presented in a more rare to see shade Mugello Blue Pearl Effect, this 2003 RS6 is certainly one of the best that we've seen on the market. Miles are less than a third of what a typical C5 has racked up at this point, and those miles are hard to replace on these cars. If you're serious about a C5 RS6, it's critical that you buy the best one that you can find. This car appears to be the right balance between lower miles and excellent condition, while not being so low that you're afraid to drive it. The opportunity to buy a pristine, low mileage example in the right color combination doesn't come up every day – this car checks all the right boxes, and the modifications are subtle and don't detract from the experience. At a fraction of the price of a new model, these velvet sledgehammers are truly an impressive amount of performance and luxury for the price.
-Carter