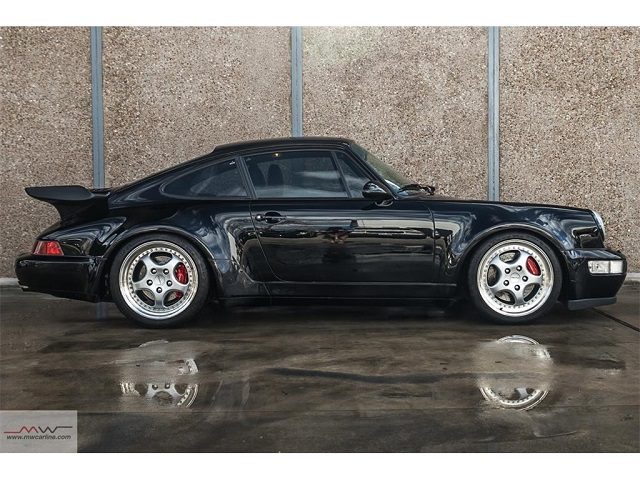 Let's move to the other end of the 964 Turbo spectrum because I'm sure yesterday's ultra-low-mileage Turbo, while beautiful and very interesting, would present most prospective buyers with plenty of issues. Notably the very high price and the fact that it is basically undriveable given that price. This Black 1991 Porsche 911 Turbo, located in Houston, possesses neither of those issues. For starters, it has 118,115 miles on it so there should be no problem adding plenty of extra miles just as Porsche's engineers intended. And it's $400K cheaper!
There is more: this doesn't appear to be an entirely standard Turbo. While the details are scanty we're told that the engine has undergone a Ruf conversion, which I presume is along the lines of the engine work that brought us the BTR. That would mean we're looking at something in the neighborhood of 374 hp, or perhaps this is the full BTR III Motronic treatment raising power to 408. In either guise it will be very fast!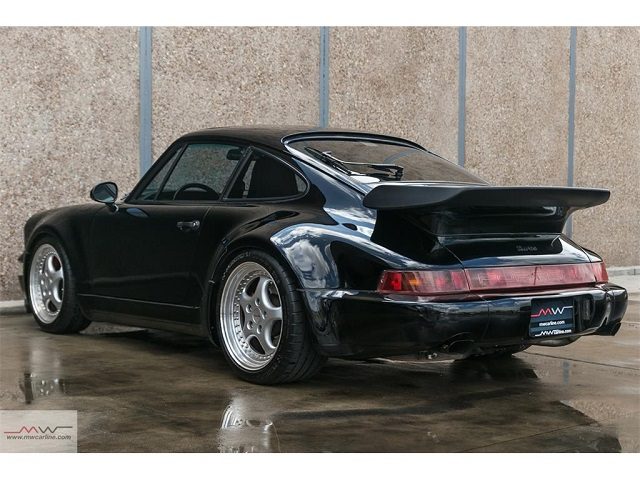 >
Year: 1991
Model: 911 Turbo
Engine: 3.3 liter turbocharged flat-6
Transmission: 5-speed manual
Mileage: 118,155 mi
Price: $89,750 Buy It Now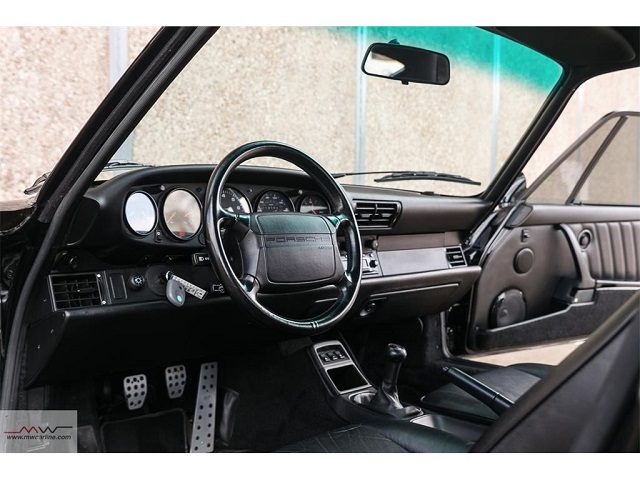 Documented with lots and lots of service receipts including an 8 grand recent one, bone dry with no oil leaks, RUF Conversion done by RAC, the list include;
.RUF BR 3.3 Build
.Cam, Valvetrain
.Tune
.Headers
.Exhaust
.K24 Turbo
.Suspension
.993 Big Red Brakes
.RUF strut brace
.Mats
.RH Wheels, (Speedline style).

Thank you for choosing MW Carline as your premier high line dealer. Our inventory is hand picked and inspected, only the top 10% is presented to our valuable clients, honesty, integrity, honor and passion drives us. We promise to treat you with respect before, during and after the transaction. We stand behind the vehicles we sell and have developed a loyal client base over the years. We accept vehicle trades, and can handle any of your vehicle needs, including: Financing, transport anywhere in the United States and in any corner of the globe, we can individualize your vehicle from cosmetic modifications to performance upgrades. We continuously strive to exceed our clients expectations. We also buy your quality car even if you don't buy from us.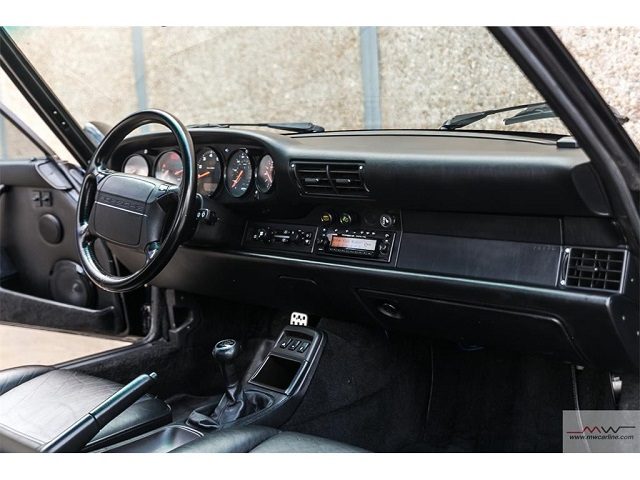 As with many 911s we find occupying the reasonable value side of the scale, buyers will need to do a bit of investigation. We aren't provided with much to validate any of the information in the ad, though we do see that there is a binder of records and that should provide a nice start for anyone to come to terms with this Turbo's current state. Obviously, the biggest piece will be documentation of the conversion. We know it wasn't performed in house by Ruf so that isn't our concern, but it would still help clear up any questions about what sort of conversion we have here. Naturally, a PPI also is a must and hopefully that binder has plenty of maintenance records.
Frankly, this 911 looks fantastic! Inside and out the condition appears quite good. It would be nice to know if this is original paint and interior, but just on appearance there isn't a whole lot that stands out. Not perfect, but at nearly 120K miles, not bad at all. Assuming our questions about documentation can be answered I also think the price isn't bad. We don't see too many 964 Turbos falling below $100K and those that do tend to have similarly high miles. But they lack the Ruf conversion. Purely on performance this could actually be a very nice value.
-Rob