The BMW L6 was meant as a more luxurious version of the E24 6 series and might have been better remembered if the legendary M6 had not appeared in the same model year. The L6 lasted for one year and the M6 was gone after 1988. Unlike the M6 which benefitted from a mechanical makeover, the L6 was standard 635CSi mechanicals with added leather trim inside and a standard switchable automatic transmission. This L6 for sale in Oregon has done but 56,000 miles and has a nice set of deep inset aftermarket wheels.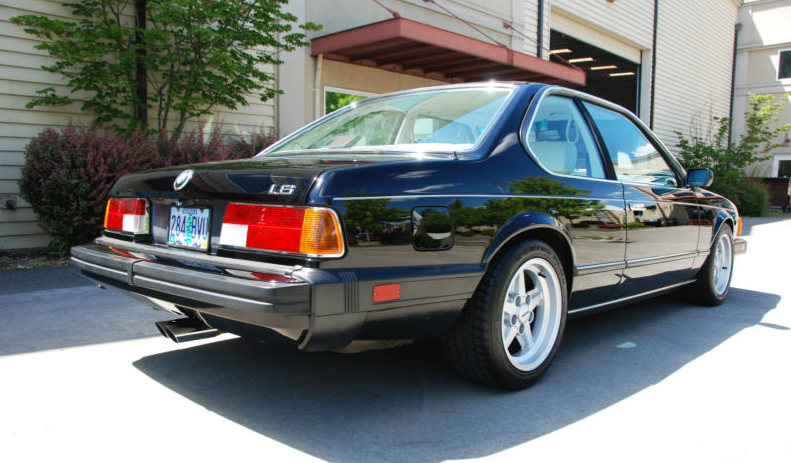 1987 BMW 635 CSI L6 (56k original miles). Up for bid is a stunning 1987 BMW 635 CSI L6 with 56k original miles. This car is the rare L6 version that has been kept in immaculate condition and is in great running order. The L6 was a luxury version made in 1987 for the USA with an automatic transmission. In the UK it was called the 635 csi Highline. The L6 has all leather details, including head lining, door skins, and dashboard, and other luxury features such as extra soundproofing and transmission mode selection in the cabin on shifter console.

VIN# WBAEC8400H0614951

Engine & Automatic Transmission: The L6 is powered by BMW built M30 six-cylinder inline, SOHC, 12-valve petrol engine that is capable of 305 Nm of torque at 4,000 rpm and 211 horsepower at 5,700 rpm. This car drives very smooth.

Body & Interior: The body and paint are very impressive, all the panels are straight with no waviness. The black paint is deep and extremely nice. The interior is like a time capsule (as if you just drove off the showroom floor in 1987), all glass and plastic are in as new condition. 4 new tires, clean rims, original tools and spare tire. Updated suspension ride control adjustment control installed.
Like the L6 featured last month, this is another great example of a well kept E24. That one had 40,000 more mileage but was in equally good condition with a wealth of history provided by the owner. If this was an M6, $18,000 would be more than a fair price. Even considering this is a rare version of a late model E24 with low mileage, this is priced a bit on the high side by a few grand. One sticking point I have with this L6 is the Tokico switch on the shifter console. This appears to be a period adjustable suspension, but it would be nice if the seller would have provided a bit more information on just how extensive a modification this is.
-Paul