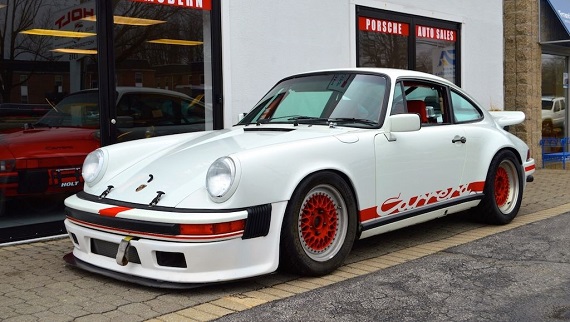 Over the past few decades, the classic car market has been so crazy in some cases that former race cars have been reverted expensively back to street models in order to capitalize on their greater value. Factory race cars obviously retain their appeal – sometimes even if they were never raced – yet cars that were converted by your average enthusiast retain the prospect of a return to their former street-worthy status. One of the most popular cars to convert to track use has traditionally been the Porsche 911, a car that since it's inception was a gentleman racer in the making. But with values in a shocking climb, will we see these 911s leave their ancestral home at the track and head for climate-controlled garages with heavy specialty insurance premiums?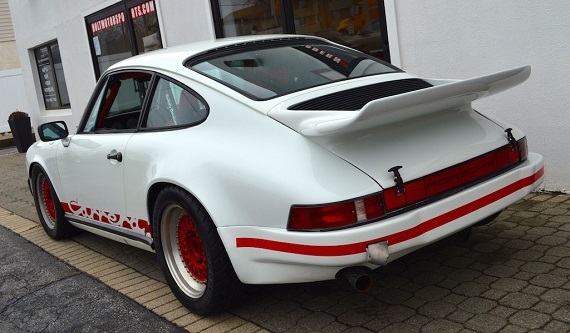 Year: 1987
Model: 911 Carrera Coupe
Engine: 3.2 liter flat-6
Transmission: 5-speed manual
Mileage: 79,985 mi
Price: $37,000 Buy It Now
1987 Carrera 3.2 Race car, Grand prix white over Red Recaro Race seats, NO sunroof. Was an "F" class Porsche Club of America racecar. Could run POC series or NASA series as well in Calf. Has PCA Logbook. Could also be a great entry level track car for PCA DE or Racing. Rebuilt motor by Memphis Motorwerks, Rebuilt G50 Transaxle with Limited Slip Differential, LWF, clutch, Full cage, Auxiliary center mount Oil cooler, 2 Set BBS RS 16″ wheels, Front and rear glass splitter and 3.0 RSR rear spoiler, Full monoball suspension, Smart Products adjustable Swaybars, Torsion bars Race shocks, headers. Fun Car ! Full compliment of receipts for race prep work done to car by previous owners. Call Tim Holt 610.405.2911 *** This car has a clean Pennsylvania title and clean, no issue, Carfax.*** ( Most converted 911's do not )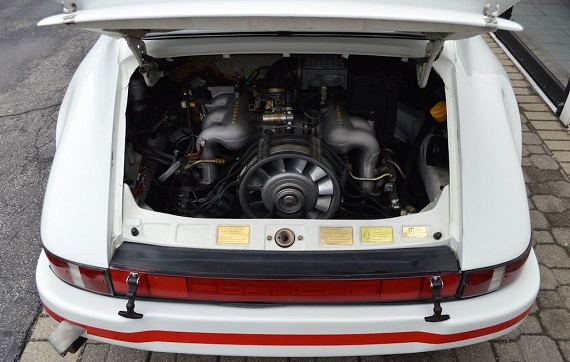 This car has a lot of appeal as a budget 911 racer; a 3.2 G50 car, it's got the go to back up the looks which channel some of the 1970s models. While not a favorite of the 911 crowd, I love the BBS RS wheels and color-keyed, they're period correct. While the spoiler looks purposeful, were it my car I'd probably opt to return to the original spoiler-less tail, or perhaps do a small ducktail spoiler. As it sits it looks to be channeling a mix of Carrera RS and RS America cars, without really doing either quite right in my opinion. Despite this it should be quite potent and entertaining on the track, with a properly setup suspension and plenty of motivation and safety items. But the interesting part is that the car comes with a clean title, once again opening that door to return it to street use. Are we at the point where value-wise that makes sense? I don't think so; but this still might be a good example to pick up, have a bit of fun at the track and keep in the back of your mind it's a potential investment down the road.
-Carter